Heart of stone
May 18, 2022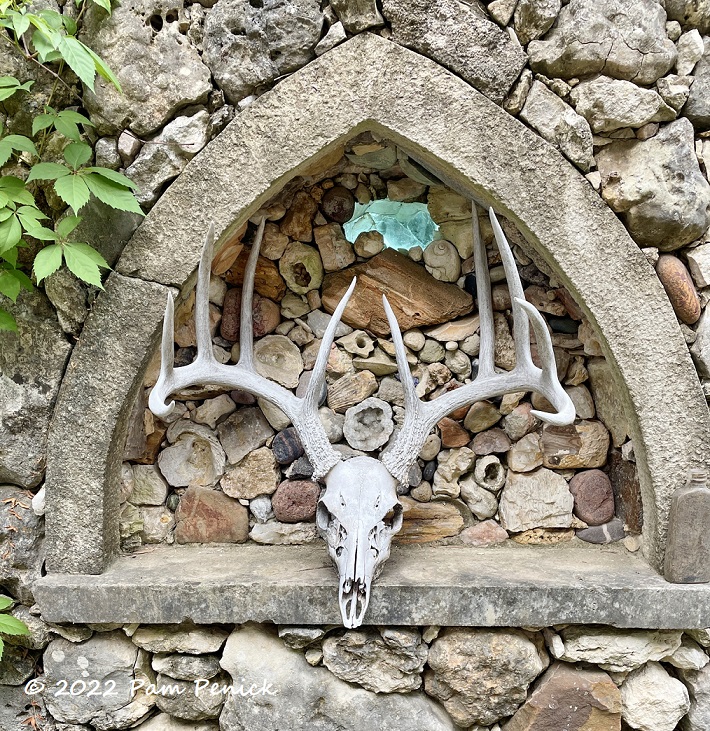 Amid the flurry of gardens I had the pleasure of visiting in late April, landscape architect Tait Moring's garden stands out, as always, for its evocative stonework and a magpie collection of found objects, boyhood collections, and castoffs from clients' gardens, which Tait assembles into art for his own.
Take the gothic niche in a boulder wall that divides the driveway from his back garden. When he had the wall built, Tait tucked in special rocks, fossils, geodes, glass, and other treasures. One day he found a skeletonized deer in the canyon below his house. He wrenched off the skull — anything for art — and placed it in the niche as a focal point. The vignette has the pensive poignancy of a Renaissance still life.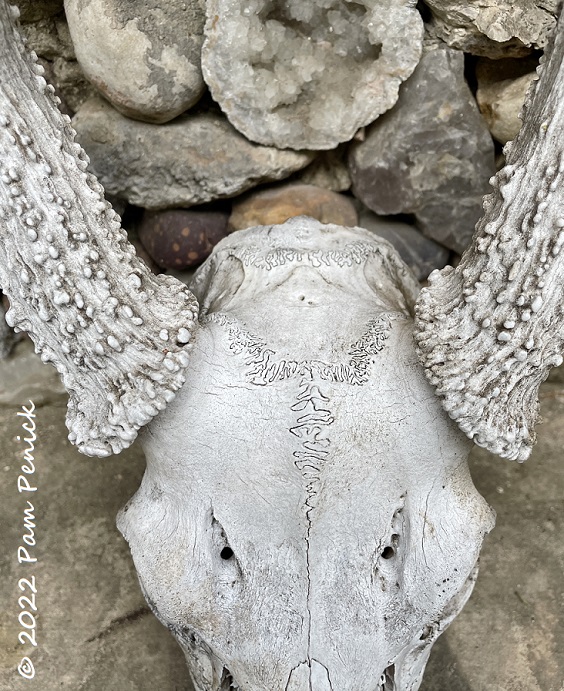 The skull itself reveals a scribble of etched lines — nature's artistry hidden for a time under flesh and blood.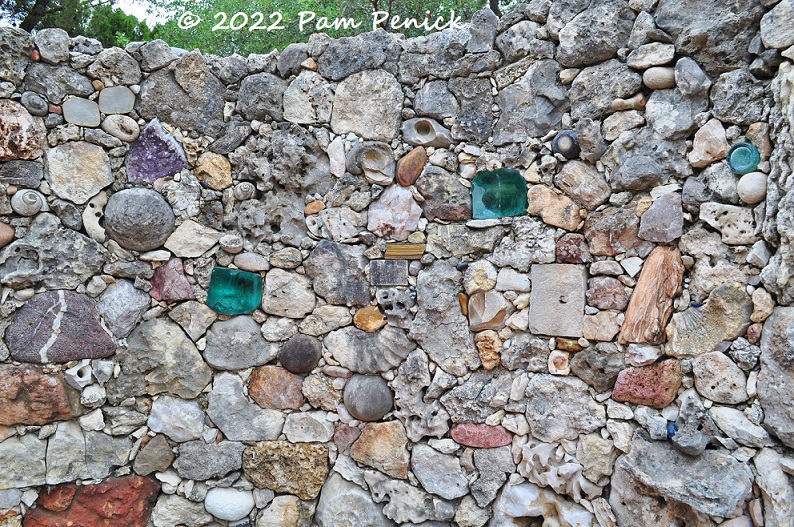 The other side of the wall reveals a well-fitted puzzle of treasures and rocks.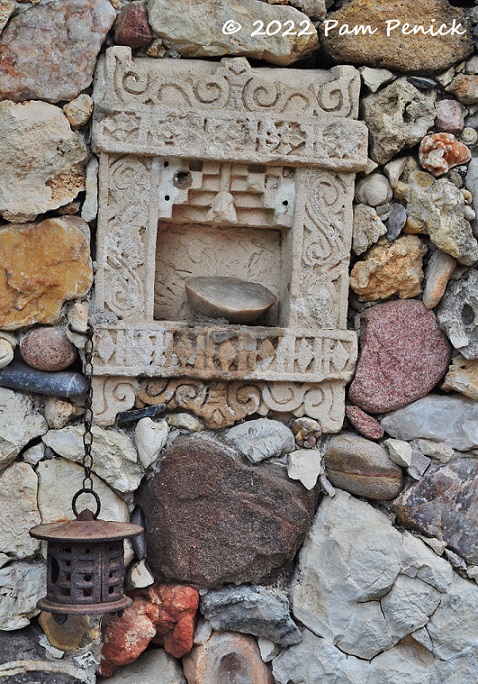 Little altars everywhere
The wall's gateway is rustic cedar, befitting the wild canyon just a few yards away.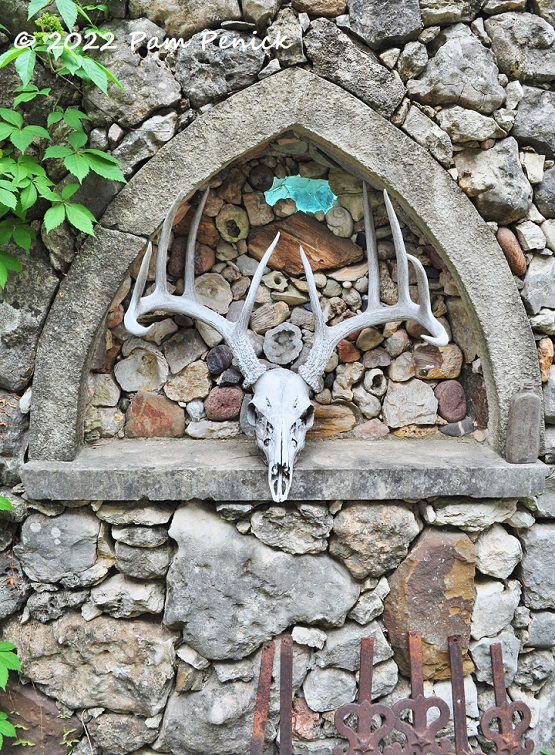 One more look at the skull niche, and now let's go through that gate.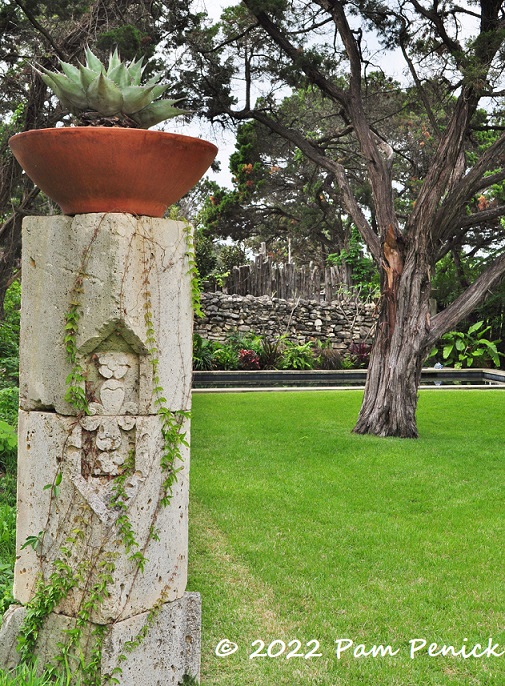 A neat, rectangular lawn lies like a green rug before a narrow swimming pool. This is a well-used party and lounging space, where Tait hosts family gatherings. Several carved cantera stone pillars — scavenged from a derelict quarry — with trailing ivy create a lost-in-the-jungle ambience…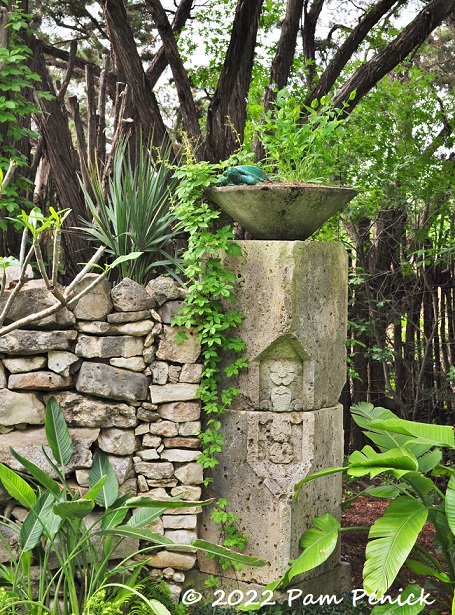 …especially by the pool, where Tait indulges in lush tropicals.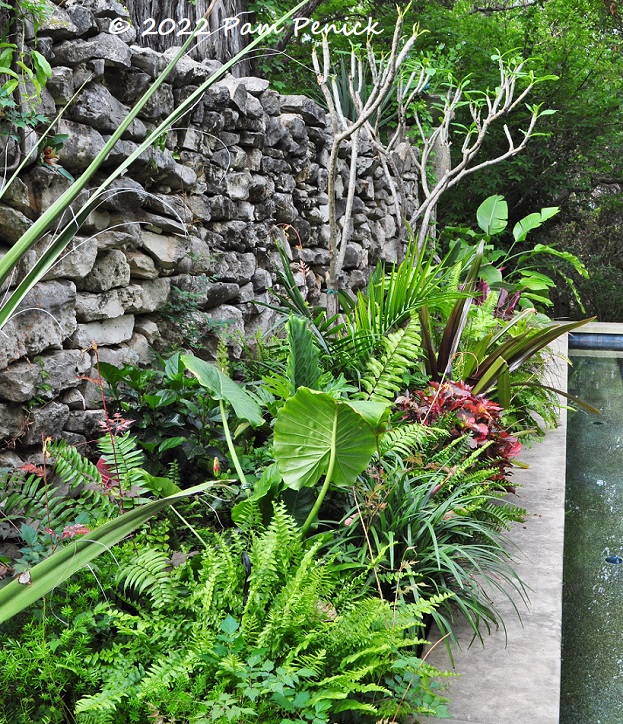 Summer-loving tropicals and ferns make a bold fringe between the pool and a stacked limestone wall.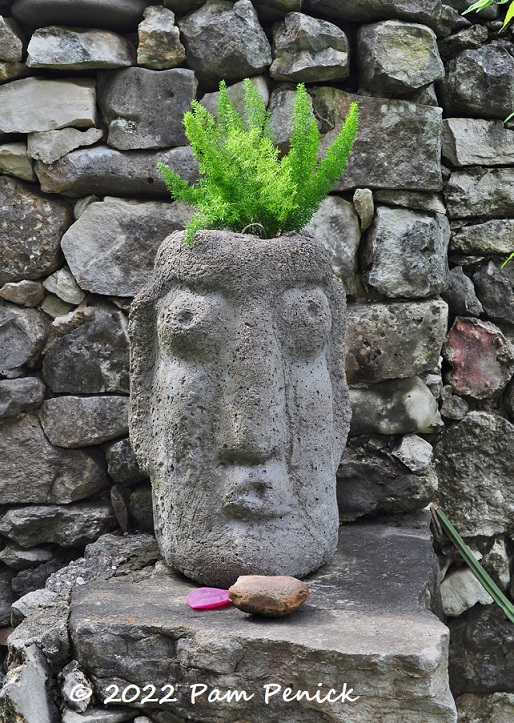 A stone head planted with foxtail fern adds a little humor.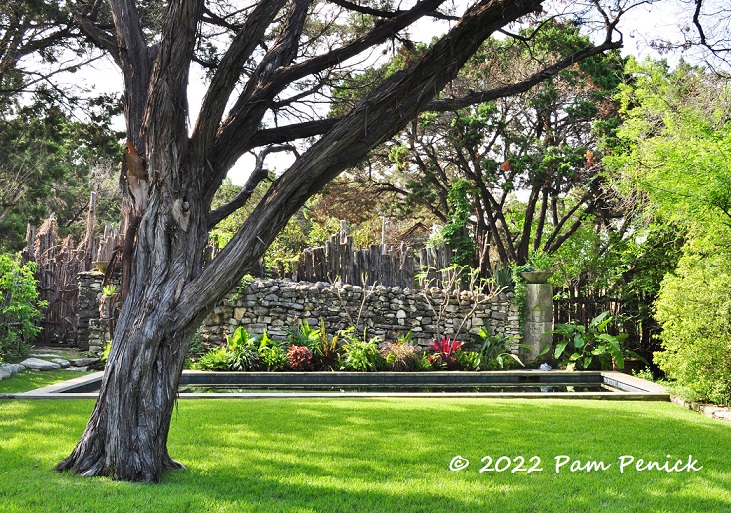 An old juniper, still recovering from the ravages of the Snowpocalypse, shades the lawn.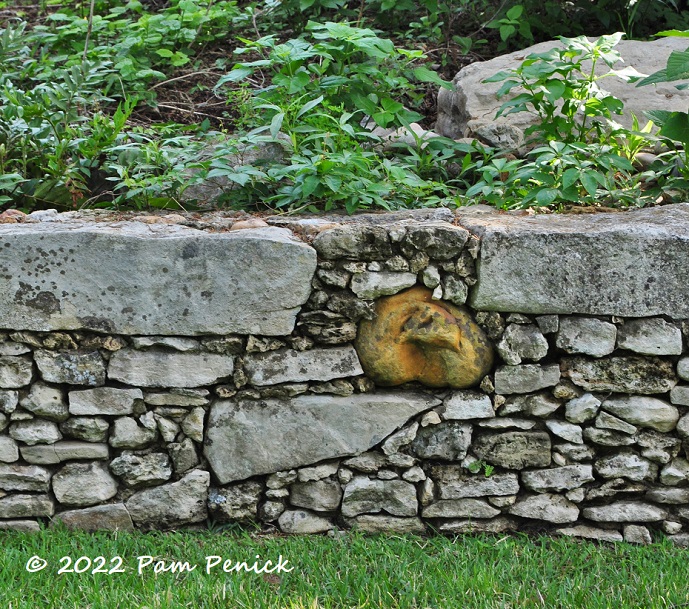 On the left, a stone retaining wall shows off a mason's talent.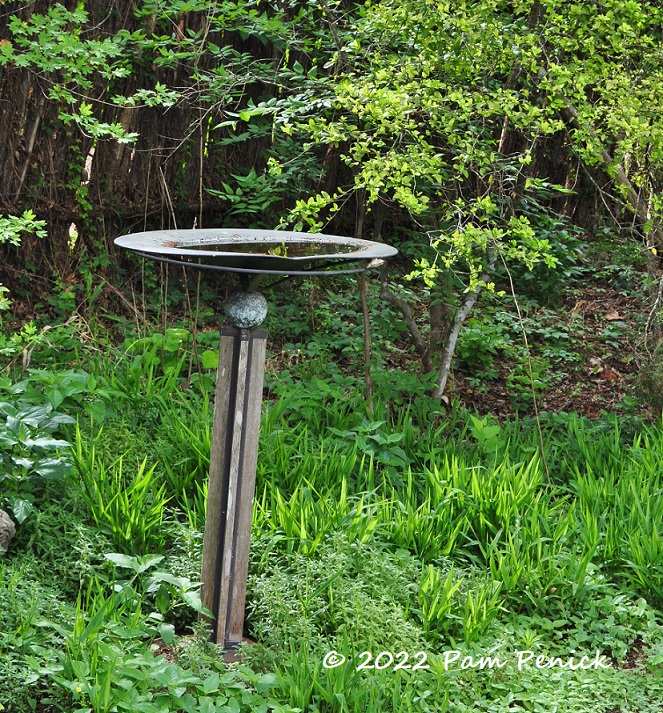 A contemporary birdbath makes a focal point in the shade garden.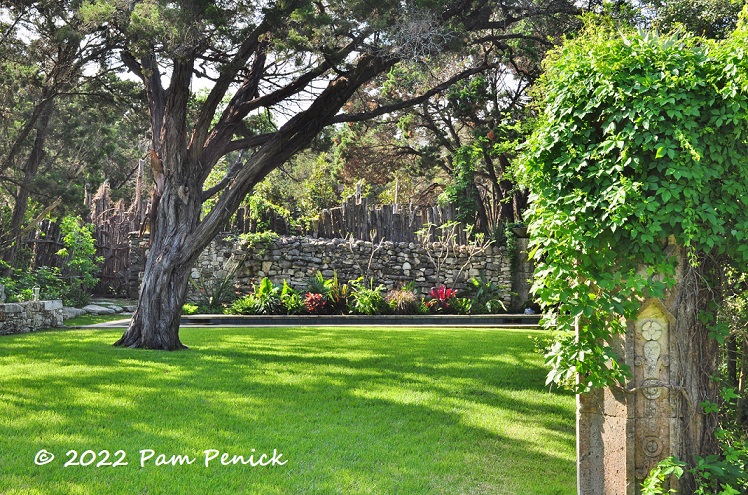 Another cantera column on the right is nearly hidden under rampant vines.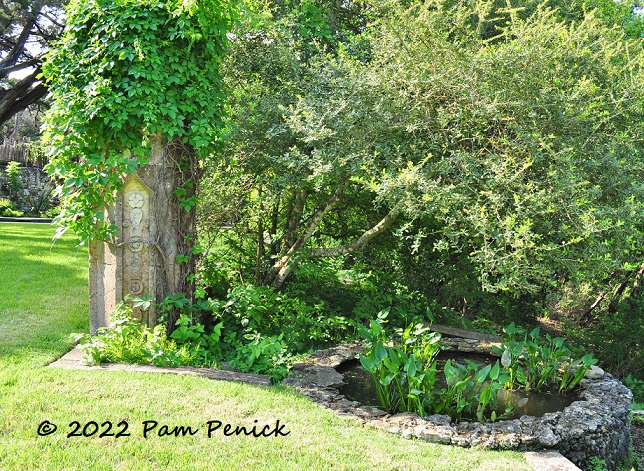 Just below, a circle of stacked stone gives a rustic facade to a stock-tank pond.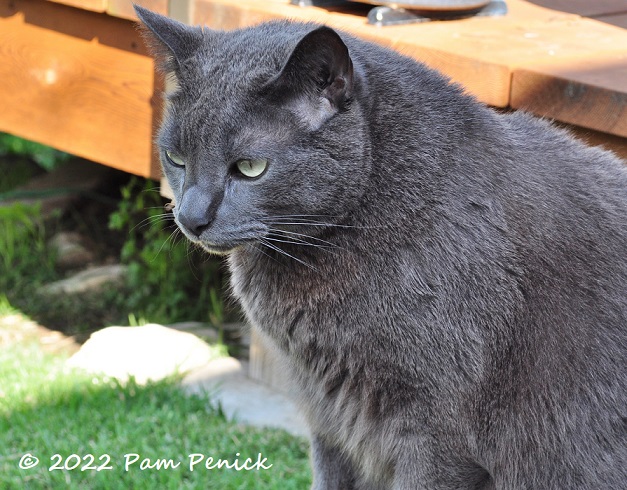 One of several handsome cats who have the run of the place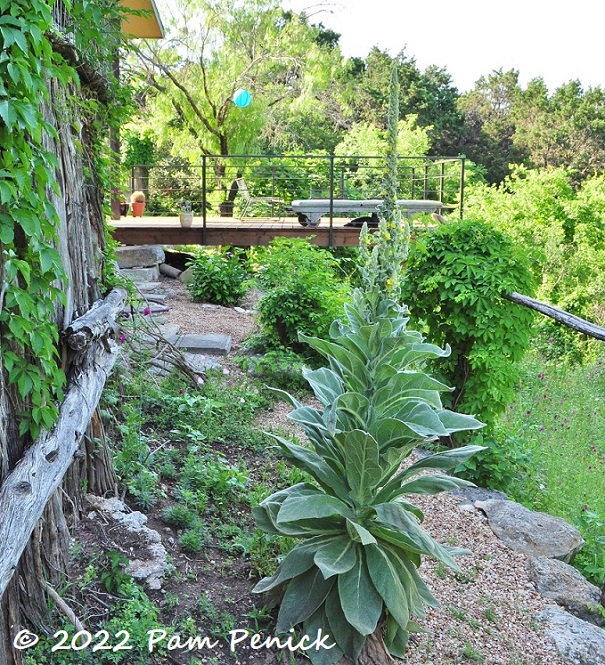 Tait's home and garden perch on the edge of a canyon. A deck extends seating space over the canyon's rim, while a narrow path runs along the edge.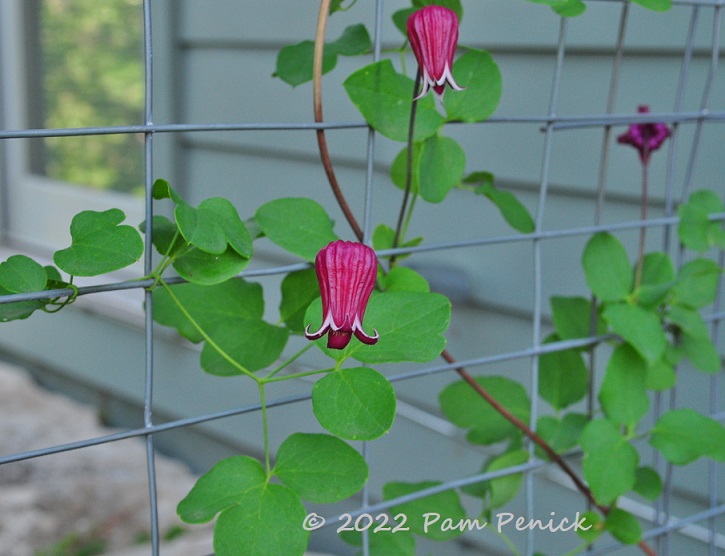 On a wire trellis, scarlet clematis displays its bell-shaped blossoms.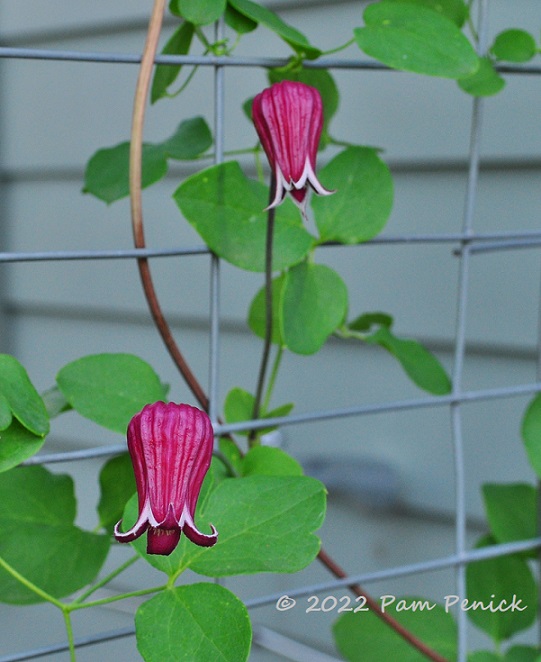 The stiff, fleshy flowers give rise to its common name, scarlet leatherflower.
Steps descend to a wildflower patch, where standing winecup holds chalices of morning light.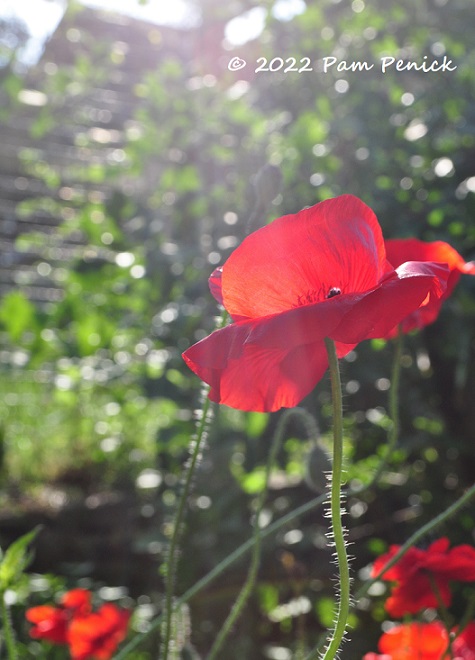 Red corn poppies were aglow too.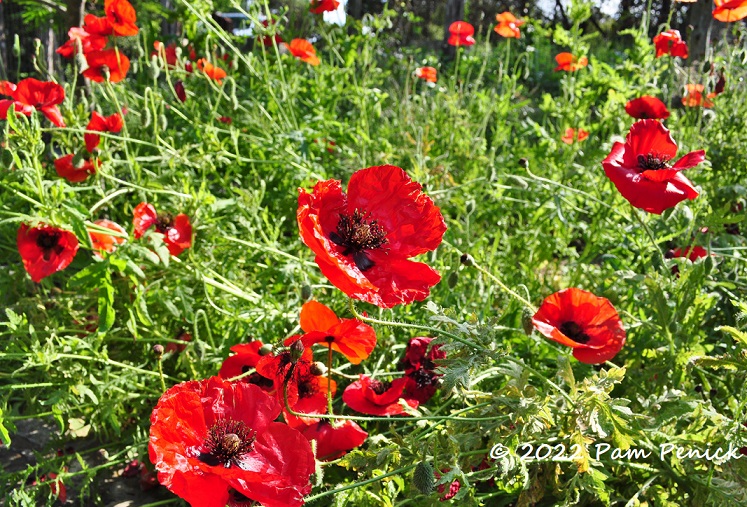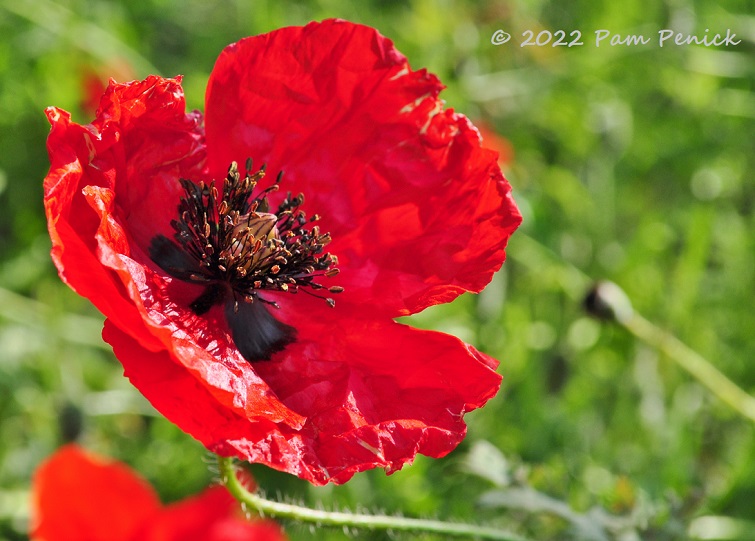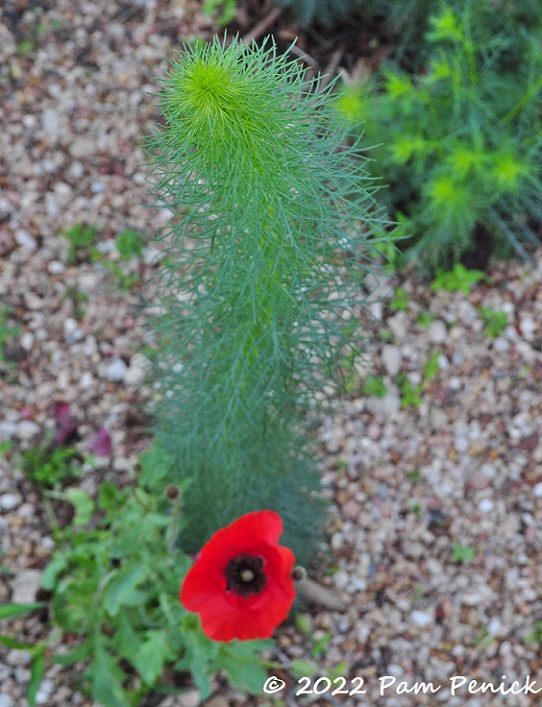 The feathery foliage of standing cypress promises more red flowers to come, after the poppies fade.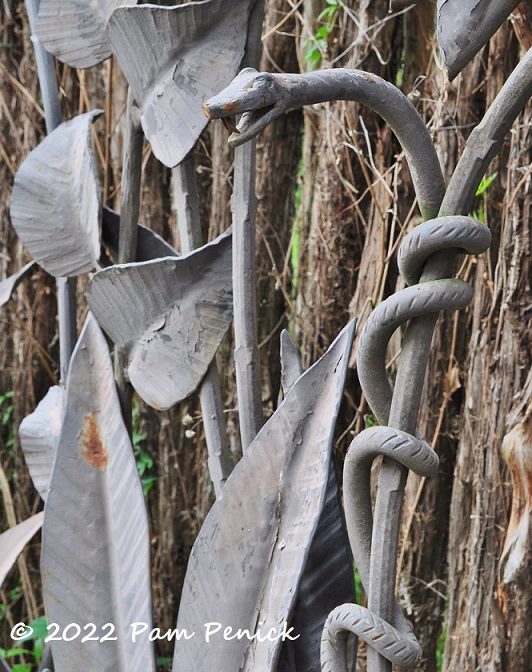 A hand-crafted gate seems alive with plants and creatures like this twining snake. A castoff from one of Tait's clients, the piece reminds me of a similar gate at Zilker Botanical Garden.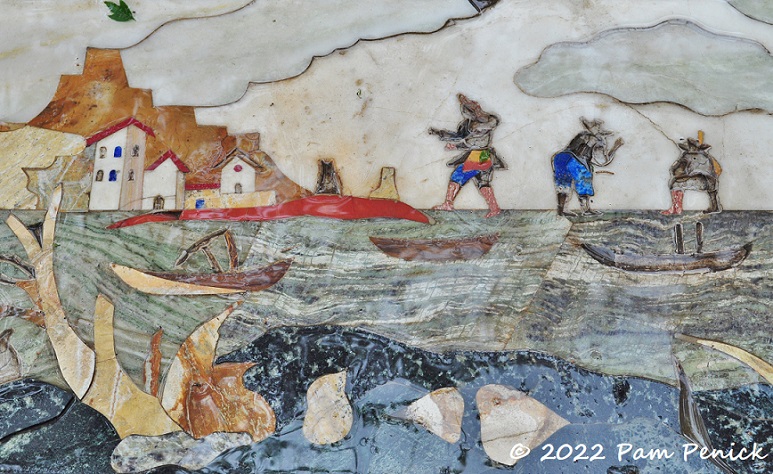 Tait recently scored another castoff piece, a massive inlaid stone tabletop. He poured water across it to bring to life its jeweled colors. Scenes of exotic lands…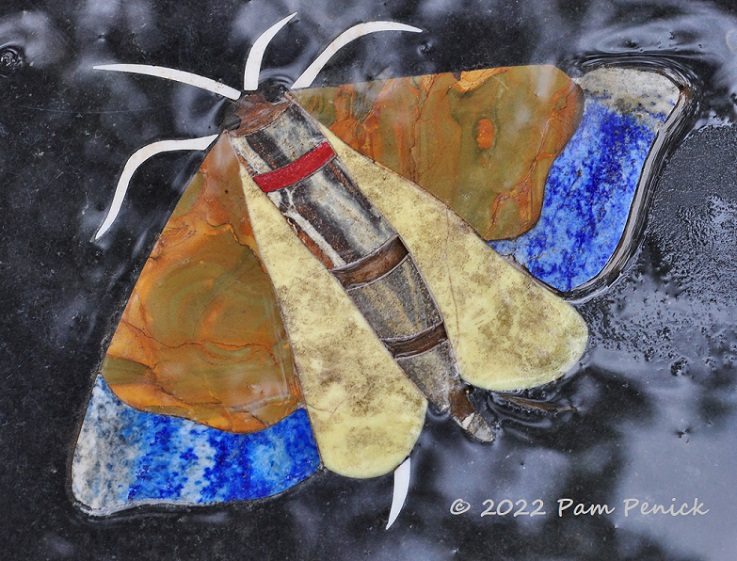 …beautiful moths…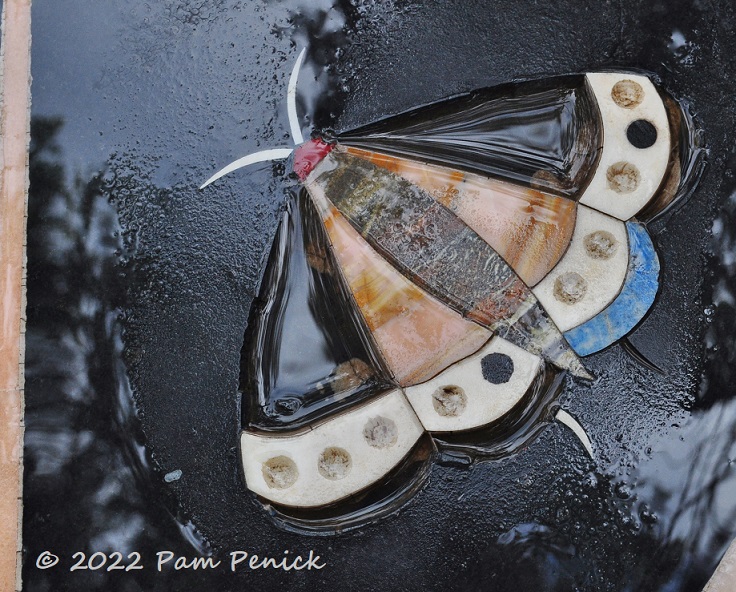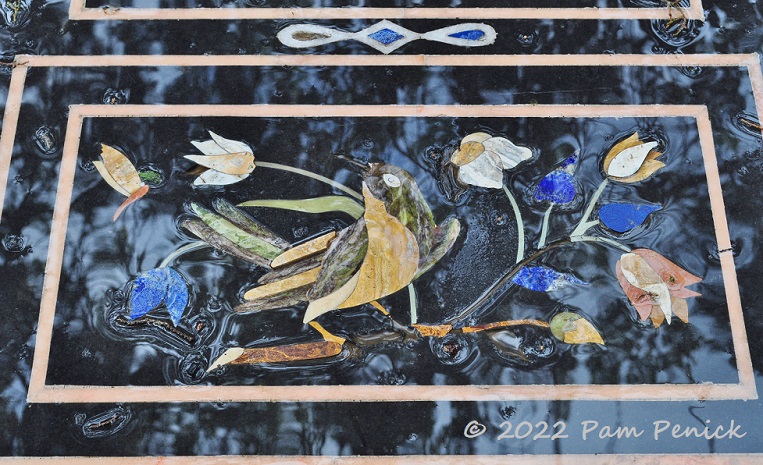 …birds and flowers are "painted" with inlaid stone. The tabletop is cracked and has some missing inlay, but it's still stunning. Tait is considering how to display it, perhaps as a wall plaque.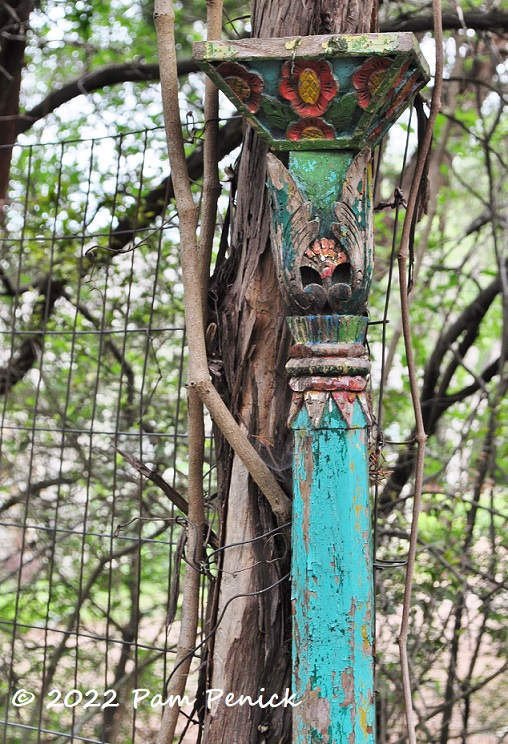 A painted pillar — another inherited piece, I expect — adds a dash of color to a cedar trellis.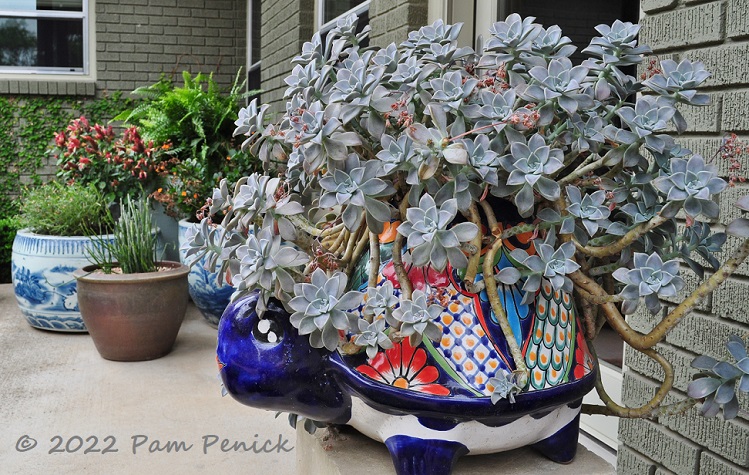 Porch pots include a turtle with a second shell of ghost plant.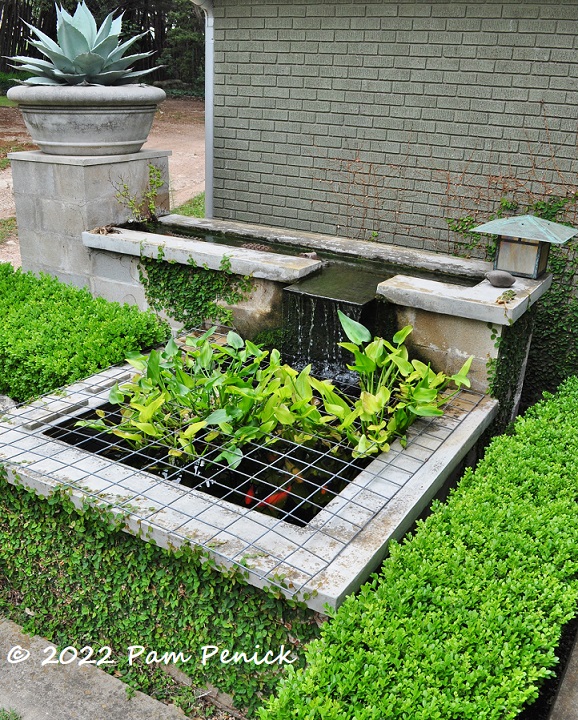 A contemporary fountain and raised pond trickle water next to the porch. A grid of cattle-panel wire spans the pond to save the fish from hungry herons.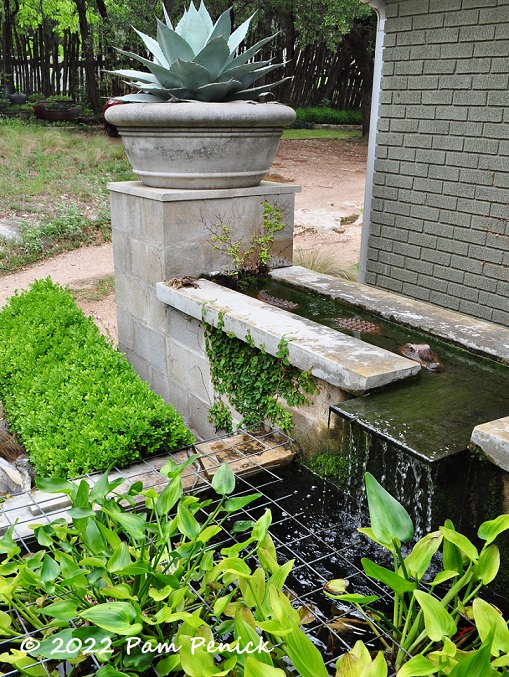 But another menacing creature lurks in the top part of the fountain.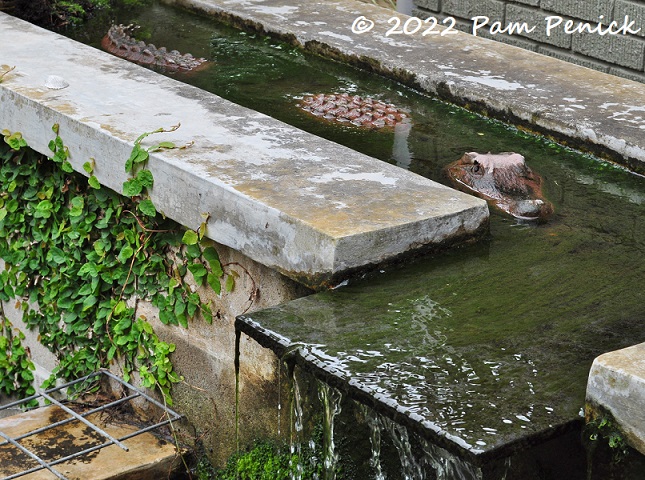 Hah — it's a garden-art 'gator!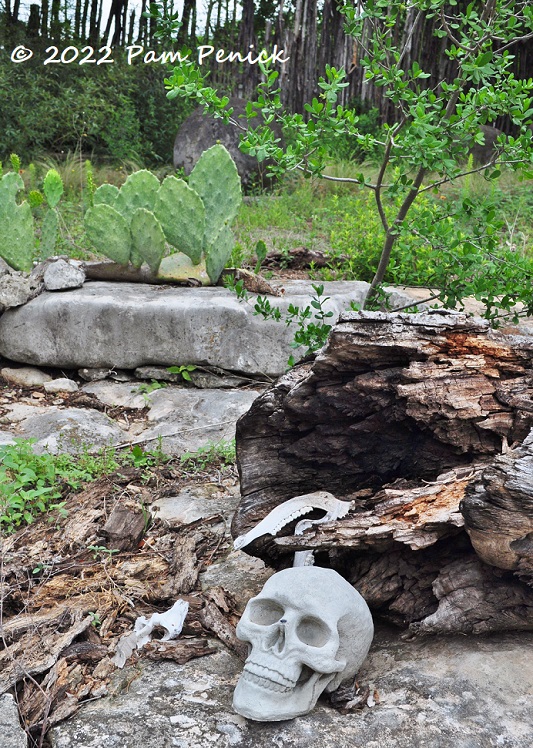 Life and death go hand-in-hand in Tait's garden world, as seen here with a concrete human skull, animal bones, a decaying tree trunk, and fresh new pads popping up from a freeze-killed prickly pear. As ever, limestone rock undergirds it all.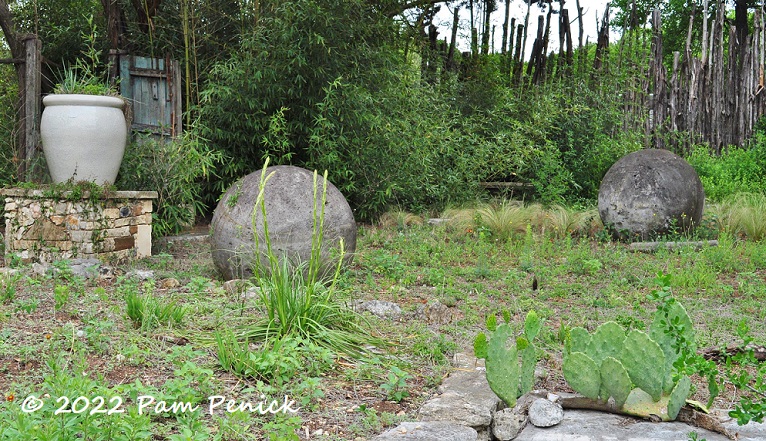 Along the driveway, a wildflower meadow would normally be in full bloom in late April. But this spring has been so dry and hot that flowers are scarce in unirrigated areas. Still, several moon-like stone orbs add interest. Tait got these from a nearby shopping center when its landscaping was overhauled. Lucky Tait!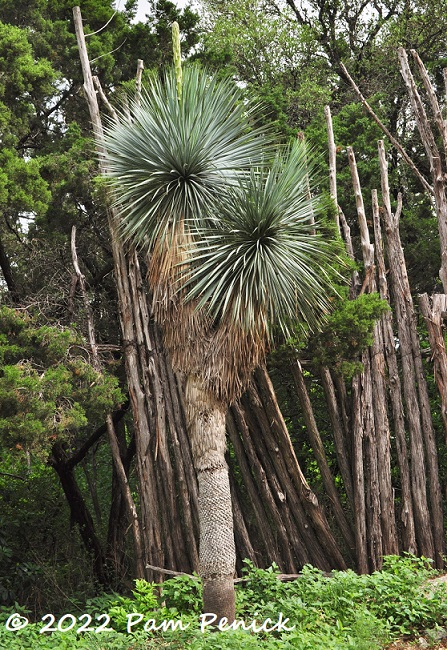 A tall beaked yucca was sending up a bloom spike on its left "head." Tait said the two heads take turns blooming each year. How cooperative of them.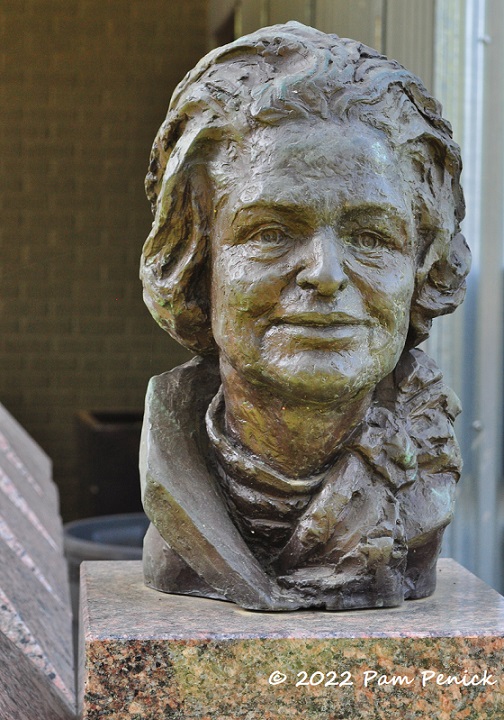 Speaking of heads and castoff treasures, Tait was given this sculpted bust of Lady Bird Johnson, which graces a wall near the entry. He's done work for the Johnson Ranch, so the piece has special significance for him.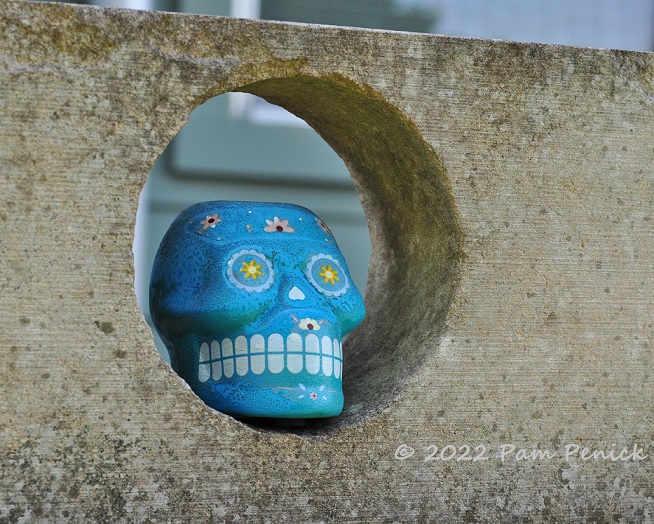 Nearby a blue Day of the Dead skull peeks out from a bored hole in a slab of rock — no doubt more of Tait's found objects. He has a great eye for turning these into captivating moments in the garden.
I welcome your comments. Please scroll to the end of this post to leave one. If you're reading in an email, click here to visit Digging and find the comment box at the end of each post. And hey, did someone forward this email to you, and you want to subscribe? Click here to get Digging delivered directly to your inbox!
__________________________
Digging Deeper
Join the mailing list for Garden Spark! Hungry to learn about garden design from the experts? I'm hosting a series of talks by inspiring designers, landscape architects, and authors a few times a year in Austin. These are limited-attendance events that sell out quickly, so join the Garden Spark email list to be notified in advance. Simply click this link and ask to be added. The 6th season kicks off in fall 2022.
All material © 2022 by Pam Penick for Digging. Unauthorized reproduction prohibited.
The post Heart of stone appeared first on Digging.
Heart of stone