Hiding Places
hiding places
a new page & a new class!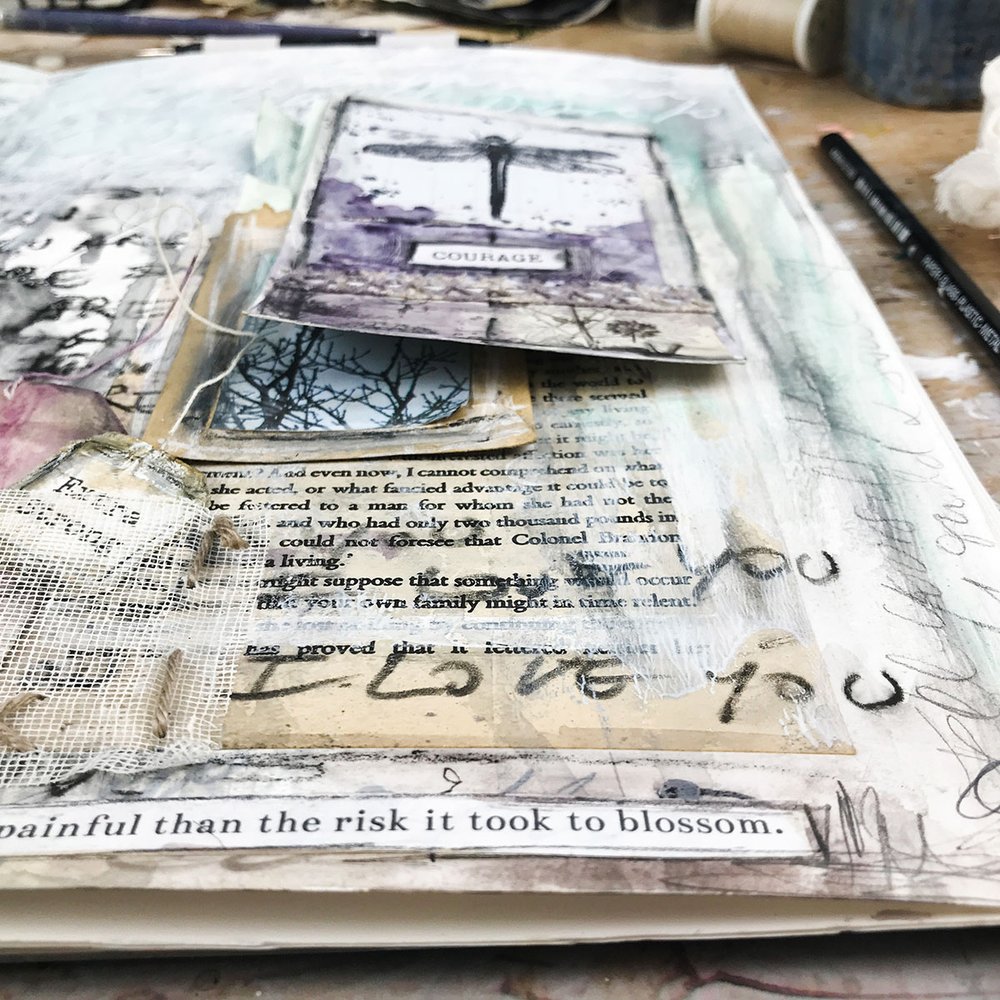 Hello my creative friend!
Today I have something extra special to share with you: a new page in my art journal, together with a new online workshop!
It's been a while since I released a shorter class and I'm completely in love with this one. I originally created it for Life Book 2021 and I'm so happy that I can now share it you. Because I created it for YOU, to give you plenty of new ideas for your art journaling practice (or if you're not into art journaling yet, I hope this will make you want to start!). So let's begin with my two favorite, magical words:
I'm so delighted to share this with you! Here is a little sneak peek video, and you can join this adventure here:
find out more and join!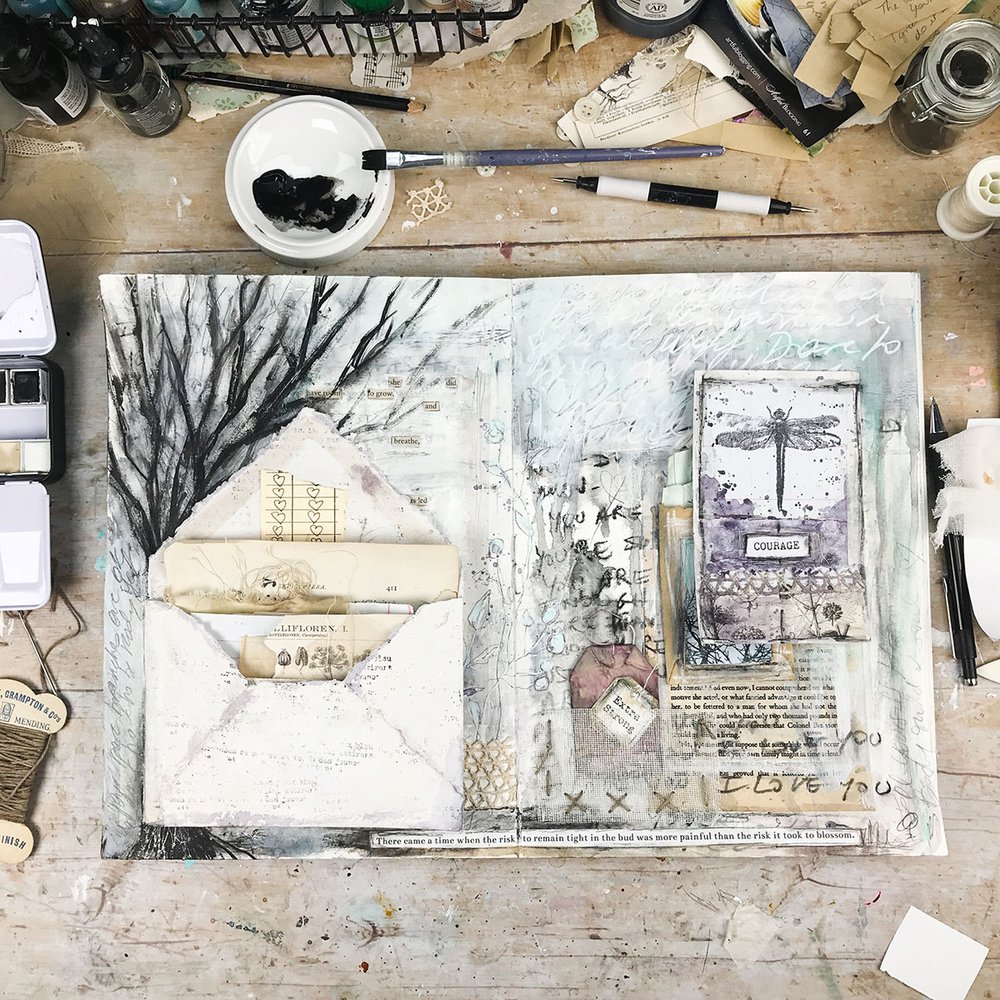 invite your stories
I love projects that are deeply meaningful, and at the same time fun and whimsical. I started this page by creating a variety of "story elements": a postcard, a mini junk journal, a special teabag... Of course, since I created this particular page as part of a class, I incorporated all these elements into one single spread. But my goal is really to show you lots of ideas, so that later on, in your personal practice, you can use some of them again, here and there, in your own way.
Using them all together turned out really fun though! They became the building blocks of my page, coming together like a story, speaking of courage and vulnerability.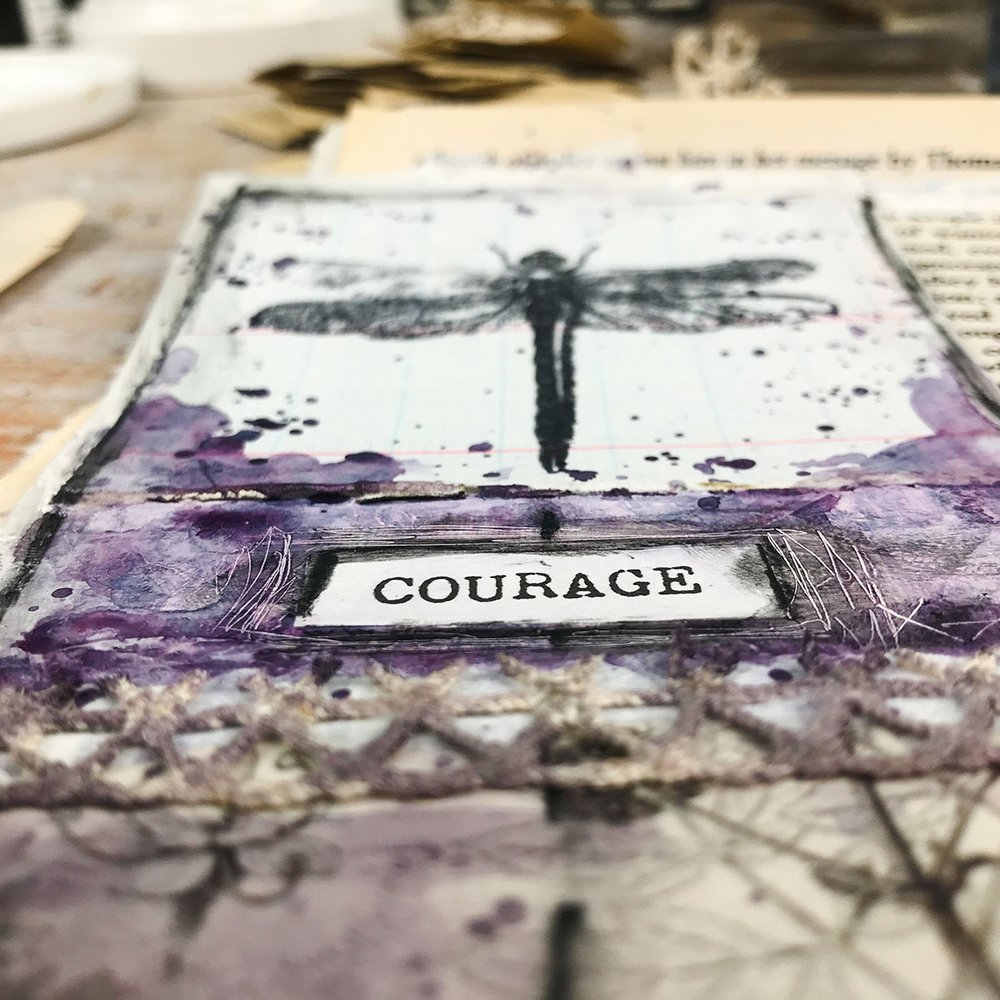 dare to show up
Making art, when it really comes from your heart and soul, that can feel super vulnerable. And sharing it? Even more so. But vulnerability and courage are two sides of the same coin: it all comes down to showing up.
When I open my art journal, somehow it feels safer. Through art and words, the journal can be a wonderful portal of imagination and I find myself unlocking emotions, stories and dreams on its pages. In our journals, we can find refuge and fully be ourselves, fragile, imperfect and vulnerable. By simply expressing and accepting who we are, we can find renewed strength and confidence. Courage. Joy. Beauty.⁠ And what I know from experience, is that it can ripple out into our art, and life, in the most magical and unexpected ways.
the magic of words
Art + journaling = Art journaling! On this page I gave myself complete freedom to play with one of my favorite creative devices: words! There isn't usually as much text in a typical page for me (although, what's a typical page really?) but here I took this idea of "hiding places" as an invitation to hide lots of thoughtful, encouraging words, like so many secret messages from my inner artist to me, and from me to her, like a conversation. Even though of course, we are one.
These words took many different forms: journaling, favorite quotes and poems, affirmations, permission slips, found poetry, cut-out words… Some of them were completely spontaneous and intuitive, others I had mindfully thought about, typed and printed out. The whole process was just so much fun, and the various words came together in a unique and often serendipitous way.
View fullsize
Print from books & a word-search game
View fullsize
Affirmation / permission slips
View fullsize
Found poetry
View fullsize
Intuitive journaling
View fullsize
A special teabag!
View fullsize
Cut-out words on a postcard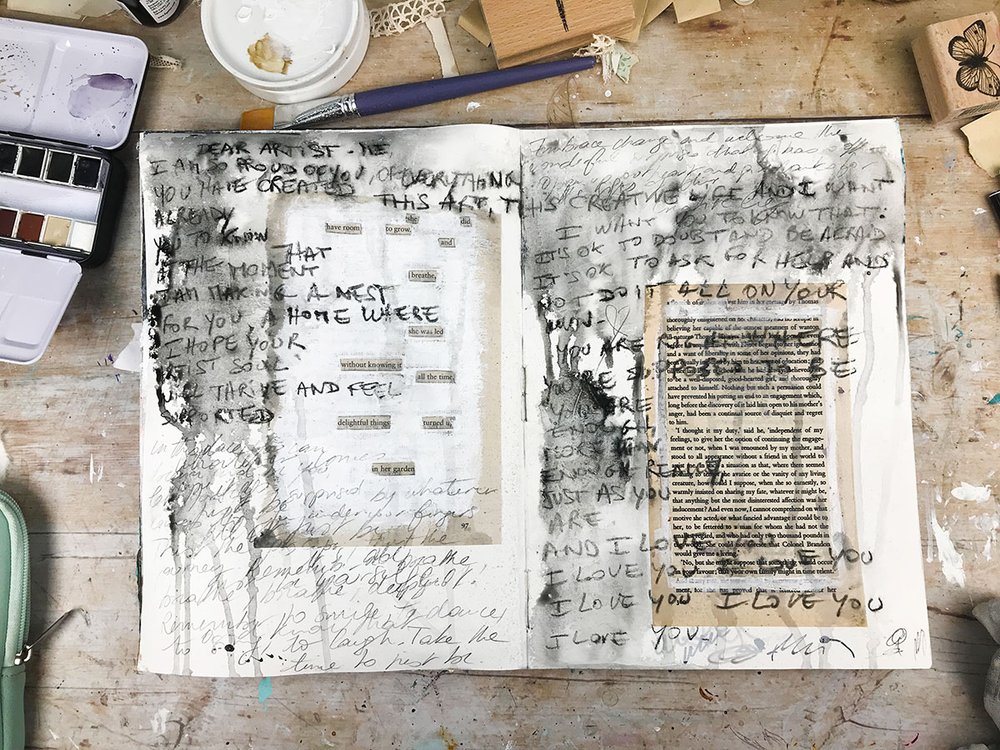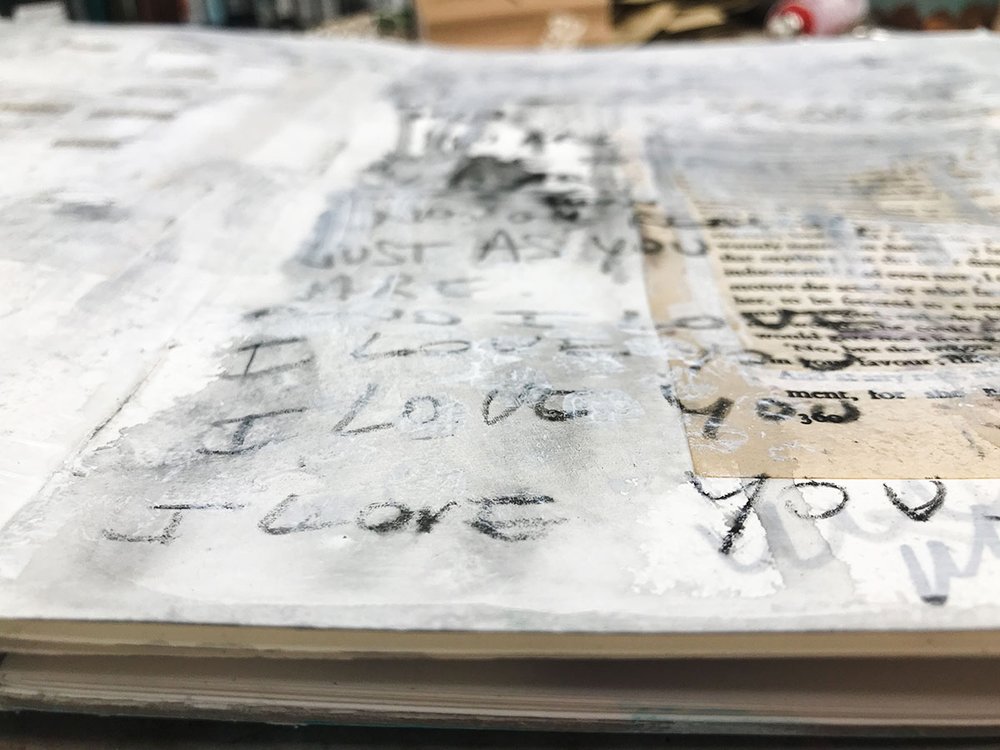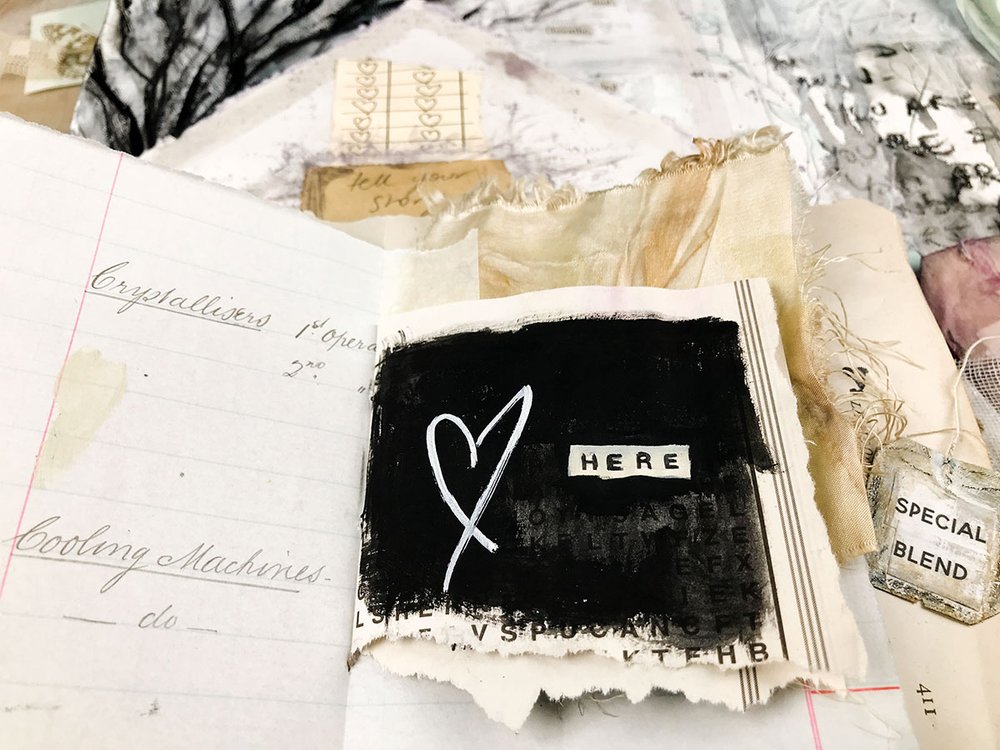 at your finger tips
When you open the page, the little flaps and pockets feel like an invitation to touch them and open them with your fingers. So it was really fun to go further by adding plenty of "touchable" materials: a textured envolope, some fabrics and lace, a feather tucked in a pocket and even some thread, stiched directly into the page!
But the most delightful bit is probably the little junk journal you can pull out of the enveloppe. It is lovely to flip through because it has such a variety of materials: different kinds of paper from super light tissue to heavy cardboard, fabrics like silk and bookbinder's cloth, and even a dried leaf... yum!
find out more & join
I so look forward to sharing this delightful project with you. My hope is that it will encourage you to really use your journal as a safe, intimate space to express your emotions, your beautiful inner world, and add little "hiding places" in your pages from time to time!
I also want to encourage you to follow your creative impulses, and dare to get messy: have fun with drips and splatters, smudge your words and embrace the grungy feel, the contrast of light and dark... and journal your heart out!
class now open!
What if we filled our art journal page with little hiding places: flaps, pockets and even a mini junk journal, to hold our dreams, our stories and the secrets of our hearts?
join the journey!
Leave a comment for me!
Hiding Places