HIGH LITHIUM PRICES MEAN MORE TAKE-OVERS ARE COMING
Everything in the market is struggling……. but LITHIUM PRODUCERS sure aren't. These stocks keep pushing relentlessly upwards and setting new highs. Albemarle (ALB-NYSE) hit an all time high of $300/share in September when the rest of the world's stocks were falling apart.  Another lithium producer, Livent, LTHM-NYSE—same thing; an all-time high in September and the stock is holding in.

And as I'll show you in a chart below, there is almost no volatility in lithium prices as they have plateau'd at US$72,000 per tonne for carbonate. 

My last HUGE lithium stock win was Neo-Lithium, which was bought out for CAD$960 million, or $6.50/share, just over a year ago (Oct 8/21).  I want you to note where the price of lithium was that day: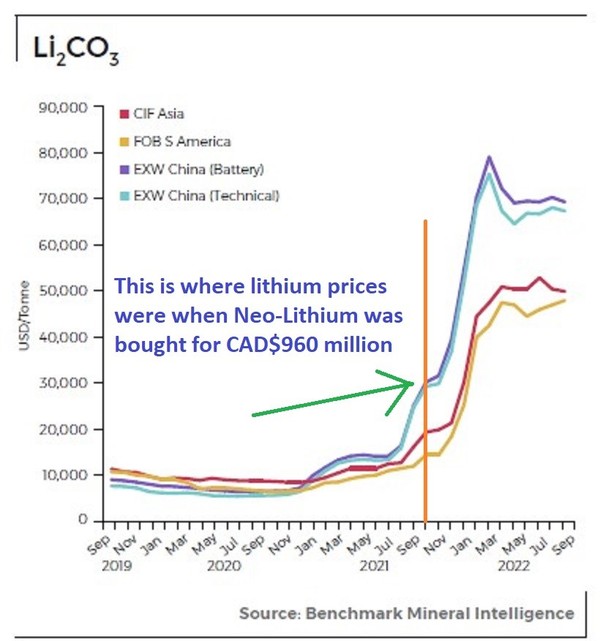 We are now seeing spot prices in both carbonate regularly hit more than $72,000 per metric tonne some days—and hydroxide is more than US$80,000 per tonne according to Platts–both those numbers are a double from last year and up 700% in two years.    
 

THE FRANTIC RACE TO GET LITHIUM SUPPLY

Lithium prices are staying high because it seems everyone in the world wants to buy an Electric Vehicle–global EV sales were up 62% in the first half of 2022—even as auto sales declined overall.  Again, EV sales are not up six-point-two but sixty-two percent.  China was up 113% in H1 22.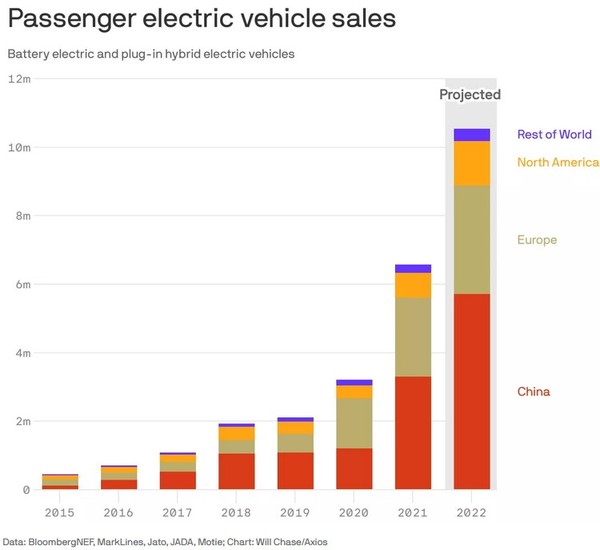 This year the world will cross 10 million in EV passenger car sales.  That is almost triple from 2020 and not far off double of last year—BUT—that is still just a small fraction, less than 10% of total global car sales.

Countries all over the world are starting to ban sales of combustion engine cars.  The EV sales number we are seeing now still has to increase tenfold and so too will demand for lithium!  That demand chart above leads to this chart below–which shows how many lithium processing plants are now going into production: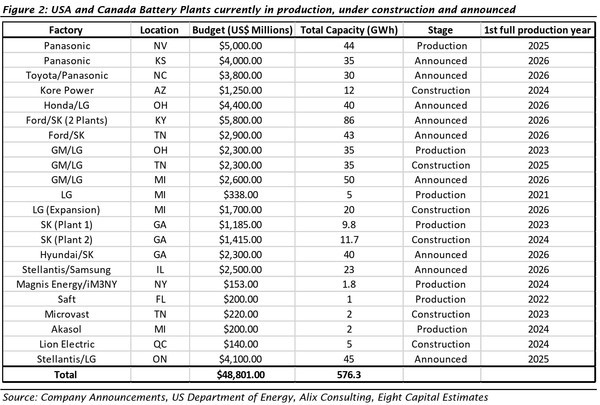 There are $48 billion of lithium battery production plants coming online in North America alone in the next four years and all of them need secure access to lithium supply—and they have to compete with China's non-stop quest for lithium in order to obtain that supply.

That's why Neo-Lithium and Millenial Lithium were bought out–and history quickly showed that Chinese company Zijin Mining got a steal of a deal when they bought Neo-Lithium and us shareholders (I wrote up NLC for my free subscribers in Nov 2020 at $1/share) still made HUGE returns at the $6.50/share buyout price.

The 60 cent lithium stock I'll reveal to you tomorrow may turn out be just as lucrative as Neo-Lithium was. 

That's partially because their asset—a brine play in Argentina—is so similar to what Neo-Lithium had. 

It's also partially because—buy-out metrics just have to go higher now.  Lithium prices are DOUBLE what they were last year.  

Neo-Lithium's 6.2 million tonne resource was valued at CAD$155/tonne with that $960 million buyout price—when lithium was half the price it is today.

Investors can expect a (much??) higher valuation on any buyout now.  That creates huge leverage for shareholders of this 60 cent lithium brine play.

MY NEXT BIG WINNER IN LITHIUM STOCKS
HAS SOMETHING VERY SPECIAL

But there is one more factor here at play that is unique to this company and its stock, that creates more leverage for investors than I have ever seen:

Theirs is a very, very, very porous lithium brine play.  Porous means full of holes or, not retentive.  A porous reservoir means that lithium brine can move a long way underground really easily. 

It drains like a dream. It drains so well, the independent reservoir engineers gave the hole a 48km2 drainage area for a 1.4 million tonne indicated resource. One drill hole could drain  forty-eight square kilometres of lithium brine.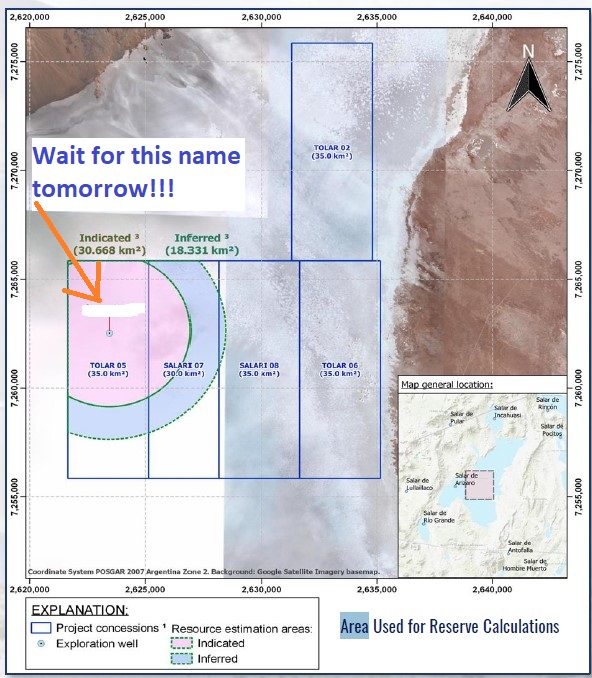 This is an incredible amount of value accrued to one single drill hole.  It gives investors incredible leverage—four more holes like that are a few kilometres apart and WHOOSH–there could quickly be a multi-million tonne compliant resource here–at remarkably cheap costs (just a few drill holes!).

This is SO key as this 60 cent stock already have a compliant resource. Less drilling means less money spent and a much more profitable development.

At today's prices, the 1.4 million tonnes of lithium from just that one well has a Gross Metal Value (GMV) of US$84 BBBillion at just US$60,000 per tonne. Lately, lithium carbonate is trading for US$72,000.

Folks, please don't think this 60 cent junior could be worth billions right away, that is HIGHLY unlikely.

But I do want to point some things out here that lead me to think this company does have a high likelihood (not a guarantee!!!) of quickly developing a multi-million tonne lithium resource that will be highly coveted by Chinese and non-Chinese players.

First off, there's over CAD$40 million cash in the treasury—just under half the market cap!  That means
They can drill a lot of holes and do a lot of chemistry testing—exploration and development will never stop—news flow will be continuous
There is no financing overhang on the stock.  With more really good drill results, the stock is free to run.
Second, this second drill program has the ability to make this deposit grow exponentially—in length, width and depth—very quickly.  They are drilling four holes in this program, and results will now be steadily released to the Market.

So far, a small sampling of grade has been 14% better than the hole that created their first compliant resource.

This first hole in the second program is 3.5 km–TWO MILES away from their first hole!  Most resource plays step out a few tens of meters–good news here could be a huge increase in resource.   With independent reservoir engineering firms including brine within 1 km of a hole, it would only take FOUR more equally successful holes to create a resource with enough size to attract a suitor from the lithium space. 

And folks, anybody with a resource now is getting bought out–look at this list of recent M&A history in lithium assets: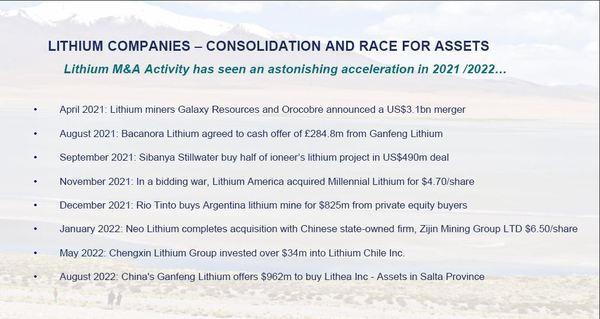 Of course, nobody—not even me—can guarantee that's what will happen here.

But there's another angle here.  For the first time, this (very well funded) 60 cent junior is drilling MUCH deeper—from 350 metres depth to over 600 metres depth.  They don't need to find high grade lithium down to that depth to create a multi-million tonne resource.  But it would sure be good for shareholders!

If the grade is 14% better, and they find the resource is much thicker–that bodes VERY well for the next resource calculation in early 2023 (not that far away anymore!).

When I wrote to you about Neo-Lithium at 85 cents before it went to $6.50, I knew it was one of those fat pitches that deserved a big swing.  I didn't know that the big swing would be a homerun———but I knew that it deserved a mighty cut at the ball.

I was right, and that stock paid out to all who played.  It was the right stock in the right sector at the right time.

I feel the same way about tomorrow's stock.  The only difference is that this pitch is fatter——less velocity and right in the middle of the plate.  Again, that doesn't guarantee anything, but if you are at the plate this is one that I think deserves a big swing. 
 
DO NOT MISS MY E-MAIL TOMORROW!!!!

Bottom line–this is my dream setup for a junior lithium stock.  I could not have imagined anything better.

It is the fattest pitch that I could ever deliver to you.

What we have is:

1 – Incredible geology—a very porous, homogenous reservoir that has proven it is capable of delivering 1.4 million tonnes of resource from a single well (independently verified!)

2 – Three additional wells into the same homogenous reservoir that may add a stunning amount of lithium, incredibly fast. Initial results already released have grades 14% better than their first discovery hole.  THIS IS OUR NEAR-TERM CATALYST!

3 – Incredible pricing power–a hot, hot, hot lithium price that is multiples of where takeover transactions were being priced just months ago

4 – Companies and entire countries that are now scrambling as they realize that they need to secure as much future lithium supply as possible as fast as possible

5 – $40 million in the bank

6 – An $100 million market cap, and with that $40 M in treasury they have an Enterprise Value of just $60 million.  

The reservoir is homogenous.  Each well is capable of massive resource recovery.  Drilling can create value here stunningly fast.  Note that Sigma Lithium (SGML-TSXv) developed a $5 billion market cap in 18 months with just $19 million of drilling for their lithium play in Brazil.

Neo-Lithium started at 85 cents and was acquired at $6.50 just 18 months later.

Tomorrow's stock is at 60 cents.  This team was able to show they a compliant 43-101 lithium resource of over 1.4 million tonnes of lithium with just one drill hole.  More wells in this super-porous reservoir are coming.

I'm pumped.

Watch for my e-mail tomorrow!
 
Sources:
https://www.wsj.com/articles/electric-car-demand-pushes-lithium-prices-to-records-11663749409?mod=djemMoneyBeat_us
Keith Schaefer
HIGH LITHIUM PRICES MEAN MORE TAKE-OVERS ARE COMING