How should construction approach Net Zero?
The independent statutory body the Climate Change Committee (CCC) has recently warned of significant risks in the government's delivery of their own plans to meet climate targets. The CCC have reported that only 39% of the required emission cuts were covered by well funded and timelined plans, and the remaining cuts required had either inadequate plans or no plans at all.
The UK Green Building Council (UKGBC) said "The Government needs to urgently fill the gaping holes in policy for industry to speed up, skill up and scale-up."
So what should the construction industry be doing? In this article we speak to Dr Aidan Bell, co founder, EnviroBuild.
What is net zero?
There is international scientific consensus that, in order to prevent the worst climate damages, global net human-caused emissions of carbon dioxide (CO2) need to fall by about 45% from 2010 levels by 2030, reaching net zero around 2050. Net zero refers to a state in which the greenhouse gases going into the atmosphere are balanced by removal out of the atmosphere.
Importance of Legislation
UKGBC's Roadmap  confirms that net zero is achievable for the built environment sector by 2050, but only with urgent government action.  The Roadmap quantifies the specific emission reductions across sub-sectors of the built environment that will need to take place year-on-year to meet the 2050 deadline. It establishes a net zero emissions budget and trajectory to 2050, consistent with wider UK carbon targets and budgets as set-out by the Climate Change Committee, enabling the government and the UK built environment to benchmark progress over the coming years and decades.
Industry wide changes can only be expected through Government action; where the private sector aims for profit, companies trying to do the right thing where it has a cost are competitively punished by those who don't make changes. As the climate crisis is one of the greatest challenges the world faces, this warranty legislation towards mandatory reporting of carbon emissions in the built environment, along with limiting embodied carbon emissions on projects. It is also required as a carrot in a lot of refurbishment projects, especially widespread insulation and alternative heat domestic projects.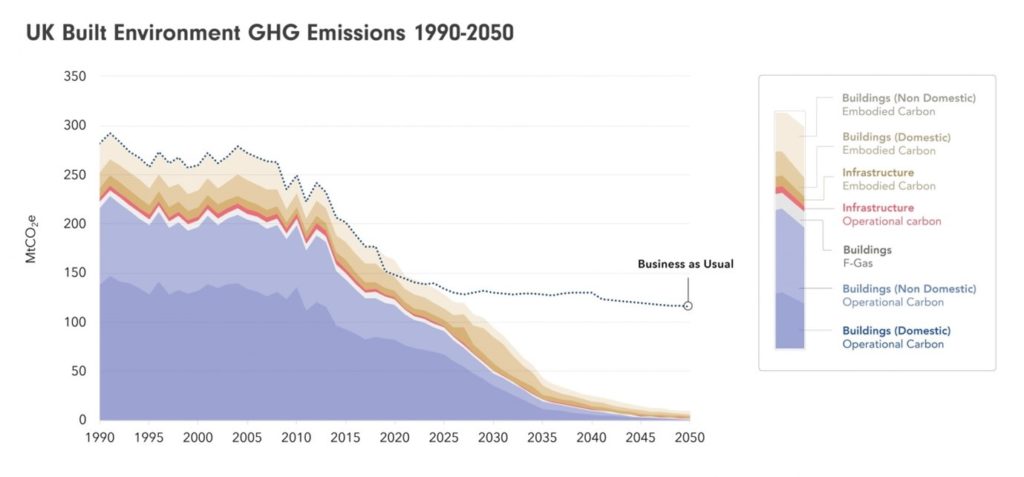 The importance of focusing on Embodied carbon
The matter of embodied carbon is becoming increasingly important. The Government's own report, Reducing the whole life a carbon impact of buildings, shows that in a standard Oxford Residential flat the embodied carbon accounts for 69% of the total carbon. As buildings become more efficient and the electrical grid becomes greener with increasing supply of clean energy, the importance of addressing embodied carbon will continue to grow. Plans to focus solely on reducing operational carbon rather than the aggregate of embodied and operational carbon addresses under half of the impact of a building.
Part Z, is an industry-proposed amendment to UK Building Regulations 2010, that is due to have its second reading as a private members bill by Jerome Mayhew MP. This would ensure that embodied carbon is assessed on all projects, as part of a comprehensive whole life carbon assessment. Over time this becomes a benchmark to limit the carbon for each type of build.
Can it be done?
Landsec and Bryden Wood have come up with an office design prototype created to be quicker, more sustainable and cheaper than conventional methods of construction. The Forge aims to be the UK's first net zero carbon commercial building. It is the first major commercial building to be built using a platform approach to design for manufacture and assembly, or P-DfMA.
The use of the P-DfMA method means that standardised components are assembled using a 'kit of parts' and that most elements are fabricated offsite in repeatable sections. Through this ground-breaking construction method, projects can be completed 40% faster than a similar sized commercial scheme using more traditional construction techniques.
What you can do
There are many tempting ways to offset your carbon impact, please don't do it first, it's required at the end, but it is imperative that we reduce our impact first as globally there will not be enough offsetting to go around.
It is important for companies to first understand and begin to analyse their own emissions. With larger, more complicated companies, working with a specialist may be necessary. Look to make the easy low cost changes immediately, allowing more time to take the harder expensive actions. Your competitors are going to make the easy changes, and the companies that drive the changes will look like leaders not followers.
Collaboration can play a key role in successfully achieving system level changes, so involve yourself in industry bodies like UKGBC, CIOB, RIBA, ICE where your voice can influence others.
Get buy-in within the company to decarbonisation. The easiest way beyond simple moral imperative is economic gain, so try to quantify the benefits: Greater revenue or margin where clients will pay more; decreased costs through energy or material usage efficiencies; compliance with legislation; recruitment and retention of talent within the organisation. In most cases these are likely to be KPI that are already monitored, but correlation with sustainability efforts should be specifically analysed. Ensuring that you have the correct management information is absolutely crucial.
Finally, importantly, recognise that legislation is required and use your vote for parties that align with your values in this regard in both local and national elections. Support representatives looking to make an impact like  Part Z.
1 – https://www.theccc.org.uk/wp-content/uploads/2022/06/Progress-in-reducing-emissions-2022-Report-to-Parliament.pdf
If you would like to read more stories like this, then please click here
The post How should construction approach Net Zero? appeared first on UK Construction Online.
How should construction approach Net Zero?