How to Cook Bok Choy
Right after radishes and asparagus, bok choy is one of the first vegetables to appear at our local farmers markets in the spring. I love this Asian leafy green. If you haven't worked with it before, it has a delicate flavor with hints of mustardy spice, and you can eat every part of it – the crisp, juicy stalks as well as the lush, dark green leaves. It lends itself well to all sorts of recipes. Try tossing it into a stir fry or soup. Steam it and add it to a grain bowl. Or enjoy it raw in a salad, sandwich, or wrap!
If you'd like some more specific suggestions for how to cook bok choy, don't worry, I've got you covered. Below, you'll find a quick and easy sautéed baby bok choy recipe, plus links to additional bok choy recipes worth trying.
So grab this tasty green the next time you're at the farmers market or grocery store! There are so many delicious ways to use it.
But first, what is bok choy?
Also known as pac choi, pak choy, and Chinese white cabbage, bok choy is a member of the mustard family. It's related to vegetables like turnips, napa cabbage, and broccoli rabe, which you can tell from its mild, mustardy flavor.
These days, numerous varieties are available at farmers markets and grocery stores. They all look slightly different – some have green stems instead of white, while others have gorgeous purple leaves. Have fun experimenting with them! In general, differences in color and shape won't affect how you cook this vegetable. But one factor will: size.
The recipe below calls for baby bok choy, which you see pictured here. These adorable little heads have relatively tender stems and leaves, and they range from about 3 to 10 inches in length. Before cooking, you can simply halve or quarter them. By contrast, if you have large, mature heads, I recommend separating the stems and leaves. Chop the stems and add them earlier in a dish's cooking process. Then, add the leaves close to the end, cooking until they're just wilted.
How to Cook Bok Choy
This sautéed baby bok choy recipe is one of my favorite methods for how to cook bok choy. Here's what you'll need to make it:
Baby bok choy, of course! You'll need 1 pound, about 3 to 4 heads, depending on their size.
Avocado oil – For the pan. It helps the greens brown as they cook.
Tamari or soy sauce – For salty, savory flavor.
Rice vinegar – For tang.
Mirin – This syrupy Japanese rice wine adds sweetness and complexity to this recipe. If you can't find it, feel free to use honey instead.
Toasted sesame oil – For toasty, nutty flavor.
Garlic – It adds savory, garlicky bite.
Red pepper flakes – For heat.
And sesame seeds – They're the perfect nutty, crunchy garnish for the tender greens.
Find the complete recipe with measurements below.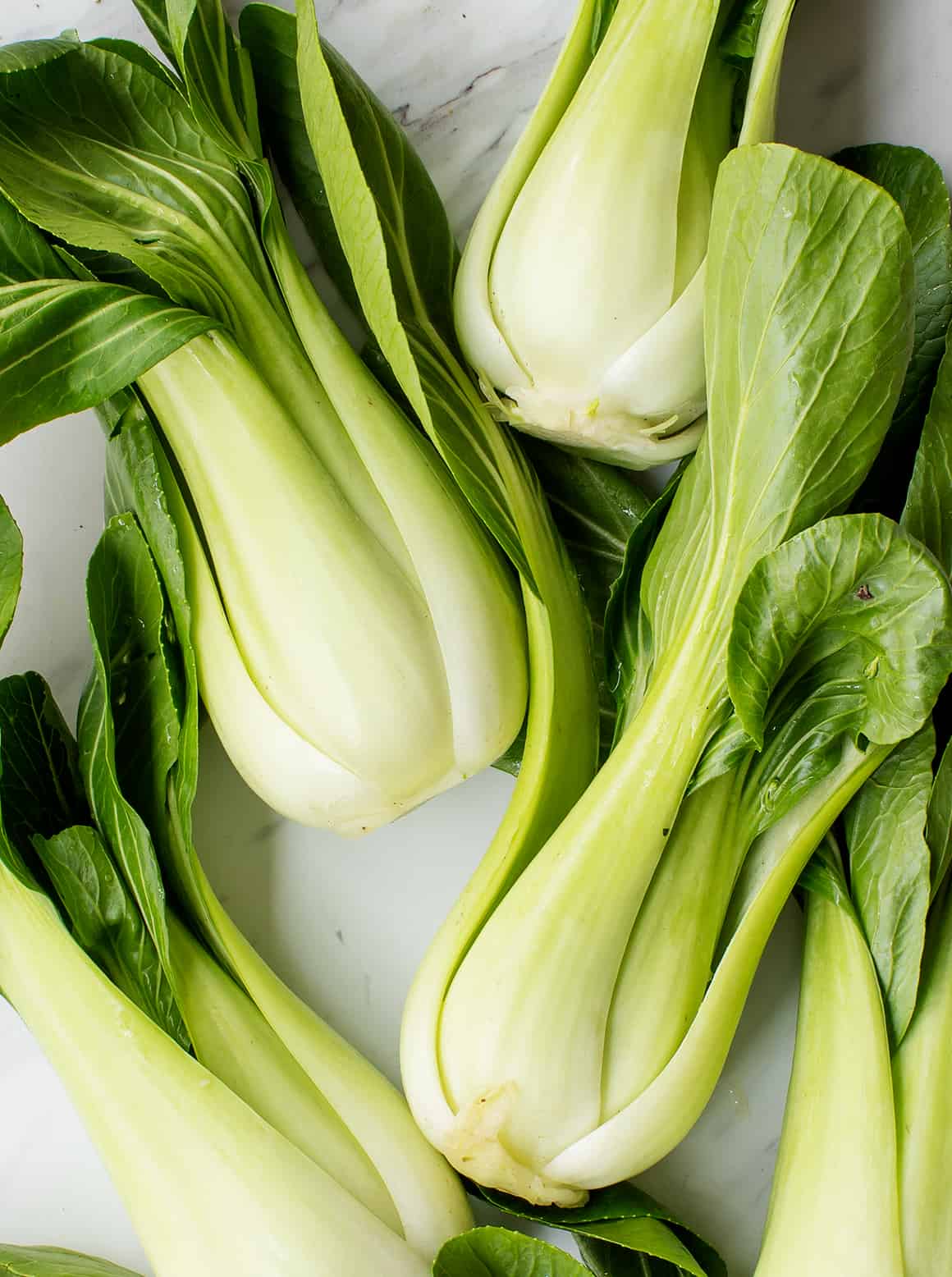 Start by washing the vegetables. Grit and sediment can settle at the base of each head, between the thick parts of the stems. Gently separate the leaves (but don't break them apart!), and carefully rinse between them.
Next, cut the heads. Slice them in half if they're very small, or quarter them if they're larger. Meanwhile, make the sauce by stirring together the tamari, rice vinegar, mirin, sesame oil, garlic, and red pepper flakes with 1 tablespoon water in a small bowl.
Then, cook. Heat the avocado oil in a large skillet over medium-high heat. Add half the heads, cut side down, and cook until browned. Flip, and cook until browned on the second side. Remove them from the pan and repeat with the remaining heads. Add all the veggies back to the pan and pour in the sauce. Toss, then cover and cook until the stems are tender.
Finally, serve. Transfer to a platter, sprinkle with sesame seeds, and enjoy!
Bok Choy Recipe Serving Suggestions
This sautéed baby bok choy recipe is an incredibly flavorful, easy side dish. Serve it with any protein you like. It would be fantastic with crispy sesame tofu, baked tofu, tempeh, or a sunny-side-up-egg and a scoop of quinoa or rice.
Looking for more ways to use this Asian green? Try one of these recipes:
What are your favorite bok choy recipes? Let me know in the comments!
More Produce Guides
Learn how to cook one of these fresh veggies next:
Click here to browse more recipes!
How to Cook Bok Choy