Infants with Covid-19 Separated from Parents: Shanghai 'Baby Quarantine Site' Sparks Online Anger
Young children who tested positive for Covid-19 are separated from their parents at an infant quarantine site in Shanghai's Jinshan District – even if the parents also tested positive for Covid. On social media, many find these anti-epidemic measures incomprehensible and "inhumane."
On Friday, April 1st, photos and videos of an alleged quarantine site in Shanghai where babies and small children are kept in isolation – separated from their parents – went viral on Chinese social media. As some photos and videos showed multiple children together in one hospital bed, some crying incessantly, many people were concerned and angry, especially when it was rumored that there were only ten nurses to look after 200 babies.
The topic attracted much attention amidst lockdowns and heightened epidemic panic in Shanghai, where on Friday alone the city reported 6311 new Covid-19 cases, of which 270 symptomatic and 6051 asymptomatic.
A video uploaded to TikTok was alleged to show the isolated minors at the Shanghai Public Health Clinical Center. The kids (including one 58-day-old) who tested positive were separated from parents. 10 nurses are taking care of 200 kids. The original video has now been removed. pic.twitter.com/OA9BCfmtpi

— Chu Yang (@ChuYang_Journ) April 1, 2022
On April 2nd, the Shanghai Public Health Clinical Center and Shanghai Women's Association responded to the viral photos and videos showing unaccompanied children at alleged Covid-19 isolation sites. Speaking to China Philanthropist (中国慈善家), the Women's Association expressed concerns about the situation and said that they were taking action to "coordinate" the situation. By Saturday afternoon, a hashtag related to the issue received over 180 million views on Weibo (#上海妇联回应婴幼儿被单独隔离问题#).
The same day, the Shanghai Public Health Clinical Center stated that the photos and videos circulating online were from its pediatric ward in Shanghai's Jinshan District, emphasizing that these were scenes from the ward in the process of "adjusting and improving" their hospital environment due to an increase in child patients with Covid-19. They said the videos and photos were not of the Jinshan "baby quarantine site," but they did not provide further details.
Since the Center also did not directly respond to the issue of children and parents being separated, many netizens were not satisfied with the official response at all. "It doesn't matter, [what matters is that] you can't separate children from their parents," one top commenter replied.
A report issued by Reuters on Saturday confirmed that the Shanghai Public Health Clinical Center in the city's Jinshan District does have a quarantine site for children who tested positive for Covid-19, and that parents are not allowed to accompany the children – regardless of whether or not they also tested positive for Covid-19.
In light of the online discussions about the children's isolation site, China Newsweek published photos on Weibo showing the actual circumstances of the infant quarantine area of the Shanghai Public Health Clinical Center (images below).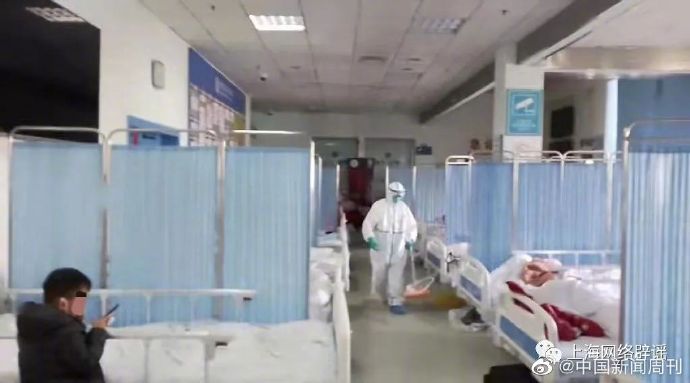 Although the post was supposedly meant to 'debunk' the ongoing rumors about the infant quarantine site, it did not seem to subside the online storm. One popular comment said: "This is the current situation? This is miserable. To be so young and without parents, even in concentration camps the kids and parents stay together."
China Newsweek also published a story about a Shanghai mother being separated from her 2-year-old daughter after they both tested positive for Covid-19. Ms. Zhu and her child were initially transferred to Tongren Hospital on March 26, but two days later, Ms. Zhu was sent to a temporary Covid-19 field hospital while her daughter was sent to the Jinshan location. Although a chat group was set up to inform the mother of her daughter's wellbeing, she was barely kept up to date on how her child was doing at all.
"Why can't they just stay together? The child is just two years old!", one person wrote. "I don't understand the logic behind these 'infant centralized isolation sites,'" one popular Weibo account (@云无心45) with over 4,5 million followers wrote:
"1. If the child is positive [for Covid-19], and the parents are also positive, why can't they all quarantine together?
2. If the child is positive, but the parents are negative, let one parent stay with the child, and just add one infected person for the sake of ensuring the child's wellbeing. Or, at the very least, at least give parents the option of looking after their own child at the isolation location.
3. If the parents are infected but the child isn't, then it's necessary to separate the parents and children for the sake of the child's health."
Others called the infant isolation sites "insane" and "inhuman." Official channels did not provide any answers on why children and parents were being separated.
Sudden, sharp separation between parents and infants can harm and even alter a young child's physical and emotional development. According to Jacek Debiec, Assistant Professor in the Department of Psychiatry at the University of Michigan, any serious and prolonged disruption of parental care, especially in very young children, changes how the young brain develops. In this article for The Conversation, Debiec claims that young children experience a spike in stress levels when they suddenly can not rely on their parents' presence and care anymore. According to studies, even short, abrupt separations can have a negative impact on a child's brain.
"These kids are getting a lifelong trauma, and so are their parents," a Weibo user named 'Sonia' wrote.
"It's ok for adults to go through some hardship, but it's not ok for kids, especially not for infants," one woman from Shanghai writes: "Shanghai's disease prevention policy has gone the wrong way (..), it breaks my heart."
Others on Weibo comment on the difference in Covid-19 measures between Shanghai ad other cities: "In Shenzhen people could even quarantine together with their pets, can you imagine? The disparity is so huge, it's inconceivable."
In January of this year, when Xi'an was fighting against a Covid-19 outbreak, news of a 3-year-old child being taken away after testing positive for Covid-19 went viral online (see tweet below).
This little guy tested positive for covid in Xi'an, here's him getting transferred to a designated hospital, probably feeling big, big feelings while wearing a big, big hazmat suit. pic.twitter.com/InTgvdMkiw

— Manya Koetse (@manyapan) January 7, 2022
At the time, the child's quarantine and treatment drew the attention of netizens who felt for the little patient, but the story was not controversial – the hospital ended up placing the 3-year-old old in the same ward as his mother.
The Shanghai 'infant quarantine site', on the other hand, is even controversial after an official explanation was provided in light of the videos and photos. One Weibo commenter responded:
"As someone who used to work for the media, I'm already trying as much as possible to rationally look at the news and stay calm and analytical. But, I'm sorry, I'm also a mom. This afternoon, the so-called mainstream media in big litters said they "debunked" the content below, but what exactly did they refute? Did they refute that this wasn't happening at Jinshan? What exactly does the simple sentence of 'care for life is guaranteed' promise? If the online rumors that there are only two nurses to take care of dozens of children are not true, then how many nurses are taking care of so many children? How do you achieve the "strengthening of communication between children and parents"? How do you communicate that to children who are just a few months old? They have a fever, they are thirsty, their diapers won't stay on, they have a rash that itches, they can't talk, how do you make sure they are taken care of?"
Among hundreds of comments, many outraged and many sad, there are also a lot of comments that are short and clear: "Just bring the children back to their mums."
Update April 6: Shanghai officially announced that parents can apply to accompany their children during central quarantine after signing an agreement, regardless of whether they've tested positive for the virus or not. Read more on this policy change here at Shanghai Daily.
To read more about online responses to the Covid-19 measures in Shanghai, click here.
By Manya Koetse
Get the story behind the hashtag. Subscribe to What's on Weibo here to receive our weekly newsletter and get access to our latest articles:
Spotted a mistake or want to add something? Please let us know in comments below or email us. First-time commenters, please be patient – we will have to manually approve your comment before it appears.
©2022 Whatsonweibo. All rights reserved. Do not reproduce our content without permission – you can contact us at info@whatsonweibo.com.
The post Infants with Covid-19 Separated from Parents: Shanghai 'Baby Quarantine Site' Sparks Online Anger appeared first on What's on Weibo.
Infants with Covid-19 Separated from Parents: Shanghai 'Baby Quarantine Site' Sparks Online Anger