It's not a bot — the truth about Botkeeper, the Google-funded, AI-powered "bookkeeper replacement"
Update, 29 July 2019: Since the publication of this article, Botkeeper reached out to me to say that they have revised their messaging from "building AI that replaces people, to building AI that enhances the work of accountants, allowing them to do more with less resources and management." They are also now working hand-in-hand with CPA partners and advisors to ensure that their content and messaging align with the priorities of not only the software community, but the accounting community as well.
Botkeeper wishes to clarify that their team has built and leverages machine learning and human assisted AI as well as other software in conjunction with the expertise of senior accountants. The company says it protects client data with 256-bit encryption, background checks, biometrics, and extensive permissions (bank-grade security). All of their systems and databases are located in AWS data centers within the United States. Botkeeper utilizes team members servicing clients from the U.S., Canada, Africa, and the Philippines with all policies and procedures regulated by US law.
As the industry transforms and changes, Botkeeper continues to welcome feedback as to how better support partners and clients.
Have you ever heard about a product or service that sounded too good to be true?
That's what I thought when I first heard about Botkeeper, a tech startup launched in 2016 that describes itself as "an automated bookkeeping and accounting solution through the use of machine learning and AI."
The company's charismatic CEO, Enrico Palmerino, claimed to have created an artificial intelligence that "mimics the accountant brain." He said that "the easiest way to think of botkeeper is as a robot bookkeeper" and that "since creating the botkeeper, we've never had to hire a bookkeeper." As recently as December, Palmerino told Accounting Today that Botkeeper is "a full bookkeeper replacement; it's a robo-bookkeeper."
Botkeeper has taken the accounting technology world by storm, earning mentions in Entrepreneur, Forbes, Inc., and even an interview on Fox Business News.
In the interview, the show host asks, "If I'm starting a company, could I hand my accounting business to you and your robotics and your artificial intelligence and you just take care of it for me?"
Palmerino answers, "...you could hand over your accounting department to Botkeeper, plug it in, and essentially rather than hire a bookkeeper or bookkeeping team, Botkeeper would do all the processing for you — classify your transactions, pay your bills, invoice your clients, and give you perfect financials, reporting, and dashboards."
Botkeeper raises $22.5 million from Google — for what?
That statement above could be a big reason why in 2018, Botkeeper raised $22.5 million from investors including VC firm Greycroft, Gradient Ventures (Google's AI-focused venture fund), former Microsoft CFO John Connors, Julian Brodsky, the founder and CFO of Comcast, and Mike Volpe, former CMO of HubSpot and current CEO at Lola.
But as anyone with a passing interest in artificial intelligence can tell you, for Botkeeper to have created a "full bookkeeper replacement" is simply not possible given the current state of AI research and development.
Google is experimenting with AI that can make hair salon appointments, but only in a highly controlled setting, and Facebook's chatbot experiment has thus far failed to deliver. The idea that a startup as young as Botkeeper could have developed in two or three years what it now calls an "AI-driven platform" that can replace a human bookkeeper is simply unbelievable.
Perhaps that's why on its homepage, Botkeeper describes itself as "a powerful combination of skilled accountants and automated data entry through the use of machine learning and AI" — a description that includes a human element notably absent from Palmerino's public statements about the company.
Setting aside Palmerino's own statements for the moment, Botkeeper seems to be sending mixed messages of its own. In dozens of articles about the company from 2016 through today, the human element is occasionally left out. But, more often than not, humans are mentioned. The arrangement, however, is characterized as AI doing the work, with human verification, or as a "combination of accountants, machine learning and AI" in which the balance of what is robotic versus human is not clear.
What Botkeeper is — and what is isn't
A few weeks ago, after a concerned CPA forwarded to me an email from Palmerino to his accounting firm partners suggesting inconsistencies in the public versus private portrayal of the company, I decided to look into Botkeeper for myself.
According to my research, while Botkeeper does employ a basic AI to automate one particular aspect of bookkeeping, it's not "bots" doing most of the work. It's people — people located primarily in the Philippines.
So what does the "bot" in Botkeeper actually do?
I interviewed Palmerino this past week to find out. (You can read the full transcript at the bottom of this article).
According to what I was able to piece together from questioning Palmerino, the bot is a machine learning algorithm that...
receives transaction data from a third-party OCR service or bank feeds,

determines what type of transaction it is,

determines what application to enter the transaction into (QuickBooks, Bill.com, etc.), and finally

creates the transaction and codes it to the appropriate account by line item, based on a combination of the company's own transaction history and the transaction history of all companies in the Botkeeper database.
In essence, the algorithm codes transactions into the general ledger and subledgers, but that's pretty much it.
That's not to say it isn't impressive — it's actually very neat, and it's easy to see how this machine learning algorithm could automate a significant percentage of basic cash basis bookkeeping work.
Shared our @Intuit results yesterday with investors & talked this morning with @jonfortt & @SquawkAlley, highlighting how we're building an AI driven expert platform to deliver the benefits customers seek with speed while digitizing the service industry.

— sasan goodarzi (@sasan_goodarzi) February 22, 2019
But I'm willing to bet that Intuit (which makes the QuickBooks accounting software Botkeeper plugs into) and Xero (Intuit's biggest competitor) are already working on building the same sort of coding algorithm into its own product. They'd be silly not to.
Sasan Goodarzi, CEO of Intuit, recently tweeted that Intuit is "building an AI driven expert platform," and Rod Drury, Founder, former CEO, and Non Executive Director at Xero, said as far back as December 2017 that Xero is working on what they call "code-free accounting."
Here's what Botkeeper can't do
The Botkeeper "bot" is much more limited than a human bookkeeper. It can't search outside the Botkeeper database of transactions to figure out how to code a transaction. It doesn't do journal entries such as month-end accruals or deferrals. It doesn't administer the payroll system, such as onboarding employees, and it doesn't pay bills or project cash flow. It doesn't do revenue recognition — this is programed as rules by humans.
Most significantly, the bot can't prepare bank reconciliations, one of the core functions of a bookkeeper. A human must complete that workflow manually.
The cognitive dissonance of bot vs. human
All this stands in contrast to the "How it Works" graphic on Botkeeper's website, which says under an icon of a computer that "Botkeeper categorizes expenses, pays bills, invoices customers, accrues revenue and expenses, reconciles accounts, and enters data into your accounting software." Under the icon showing a group of people, the text describes human accountants as reviewing data, taking care of complex accounting, and assisting as needed — not bookkeeping.
The graphic implies that humans aren't involved in doing the bookkeeping work, something Enrico doubled-down on in my interview with him.
In response to my question about the Fox Business News interview being potentially misleading, Enrico said, "It is not misleading, because we are not using a team in the Philippines to do the work. We're using a team in The Philippines to validate the work being done, and to assist in other administrative components, similar to how we tried to schedule this call, or meeting."
Yet Palmerino admits that Botkeeper isn't a bot that you can communicate with, unless you're asking for something highly specific, such as a particular report. So it's not a chatbot. That's despite an article in TechCrunch stating that Botkeeper "pitches itself as the chatbot for your bookkeeping needs."
When you communicate with Botkeeper, it's highly likely you're chatting with a human, not a bot.
Many customers may not even realize they're not talking to a bot, but at least one reviewer on Capterra seems to have caught on, writing, "The idea that a bot is doing anything innovative and life changing is not apparent at all. It still seems to me that they have a U.S. based CPA overseeing bookkeeping workers employed overseas."
Given that most of the work is done by humans, not bots, it's clear to me that Botkeeper is not primarily an accounting software company, as the top result from a Google search would have one believe. In reality, it's an offshore accounting firm with a bit more automation than the competition — and a very clever marketing strategy.
Is Botkeeper masking its offshoring of bookkeeping jobs with "AI"?
Nowhere on the company website does it mention offshoring of labor or data outside the United States. Google couldn't help me find a single press article or video in which anyone from Botkeeper talks about offshoring of labor or data to the Philippines. Even the public Terms of Service states (for the benefit of users outside the United States) that "client information must be transferred to, and processed in, the United States."
On social media, I could only find two official Botkeeper mentions of the Philippines operation — a tweet on January 24, 2018 announcing the opening of the Philippines office, and a Facebook page called simply "Botkeeper PH," which doesn't even spell out the word Philippines and also happens to describe the company as "a virtual robotic bookkeeper" in the "About" section.
Botkeeper's apparent lack of disclosure when it comes to offshoring is particularly troublesome because, last year, Botkeeper launched an accountant partner program. Palmerino and other company representatives made the rounds at major accounting conferences including AICPA ENGAGE and Scaling New Heights recruiting CPA firms as partners. The idea is for accounting partners to "white label" Botkeeper's services, allowing them to offload all the bookkeeping work so they can "evolve… from data entry and bookkeeping to advisory services."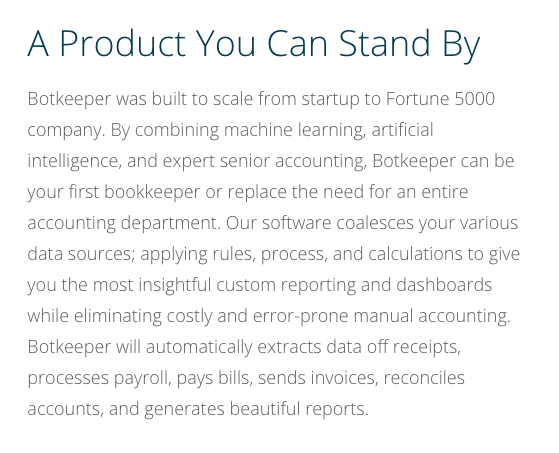 Yet nowhere on the "Become a Botkeeper Partner" webpage is offshoring mentioned — or any bookkeeping by humans whatsoever. All the magic is attributed to software and "senior accountants", and no mention is made of these accountants being located outside the United States.
After I began reporting this news on the Cloud Accounting Podcast earlier this month, a CPA partner of Botkeeper reached out and told me that during the sales process "the Philippines was not mentioned: on their website (not even now), in a lengthy sales discussion with their rep at ENGAGE [the annual AICPA conference] nor in a one hour private demo with Enrico that I received in late 2018."
The partner, who asked to remain anonymous, shared with me a screenshot of what appears to be a Botkeeper partner agreement. The partner highlighted a provision in the "Client Data" section authorizing Botkeeper to process client data within the United States.
Palmernio said to me in our interview that Botkeeper does disclose the offshoring to all its partners, but if this is the case, then why did Enrico feel the need to email all the accounting partners on February 12 to "clear the air"?
When tech ethics and CPA ethics collide
Other than potentially deceptive sales practices and breach of contract, this is an issue because the AICPA Code of Professional Conduct, which governs Certified Public Accountants, requires AICPA members to obtain "reasonable assurance that third-party service providers have appropriate procedures in place to prevent the unauthorized release of confidential information to others."
How can CPAs possibly be compliant with the AICPA ethics rules if tech companies are not up front about the offshoring of client data and/or labor?
It gets worse when it comes to state regulations, which carry much greater weight because it is the individual states that license and regulate CPAs in the United States.
In California, where I live, the California Board of Accountancy Regulations stipulate that "In the event that confidential client information may be disclosed to persons or entities outside the United States in connection with the services provided, the licensee shall so inform the client in writing and obtain the client's written permission for the disclosure." That means technology companies serving CPAs in California that fail to disclose offshoring may be causing these CPAs to fall out of compliance.
Is the Philippines offshoring of data and services being properly disclosed to Botkeeper partners? It's an open question. Palmerino told me in a message that he would provide a copy of the Botkeeper partner agreement by February 21, but as I publish this he has not. He has also not replied to my follow-ups requesting the agreement. But as you can see in the public Terms of Service, there is no mention of offshoring.
Why dig into this?
I've been asked that question more than once these past few weeks. I've got a few reasons.
It confuses the market for bookkeeping services
To claim so publicly that Botkeeper has developed an AI capable of replacing a human bookkeeper confuses the market. The lack of disclosure around the use of offshore labor is unfair to competitors including freelance bookkeepers, accounting firms, and outsourcing firms that are upfront about offshoring.
It creates risk for accounting profession and CPAs in particular
As a CPA myself, and someone who spent a decade of my career in some form of public accounting, I'm concerned for the accounting profession. Accountants are often rated as the most trusted advisors to small and midsize business clients. Millions of CPAs, CMAs, EAs, and CPBs abide by shared ethical standards to ensure that trust is earned. Technology companies that serve the professions should maintain equally high ethical standards, or they risk compromising the integrity of accountants and bookkeepers, and even could put them at legal risk.
It gives tech startups a bad name
As a CPA who now works in tech, I'm concerned for the tech sector. When VC-funded tech startups oversell their product, the resulting fallout reduces public trust in the sector in general. And when startups raise millions of dollars in a potentially deceptive manner, that reduces the pool of money available to other startups, such as FloQast, where I work.
Someone has to do it
Lastly, someone has to hold these smaller technology companies accountable. The press seems to be focused almost exclusively on data privacy issues at big tech companies such as Facebook, Microsoft, and Google. But there are thousands of tech companies that also need to be reminded that it's not necessarily OK to "move fast and break things," especially when it comes to confidential information provided by end customers to trusted advisors.
The good news is that I'm not the only one raising these concerns. Michael Ly, Hector Garcia, and Sean Duffy discussed Botkeeper on their weekly "Friday Night Live" on Facebook Live. Patti Scharf shared her thoughts on Twitter, and Alan Douglass was asking questions as far back as November 2018, when he received no response to his question about the Philippines.
I'm still hopeful about Botkeeper
Despite what I've uncovered, I'm still hopeful about Botkeeper. The firm has been growing rapidly and now claims to have 1,300 clients. With 23 accountants on staff, that's an average of 56 customers per accountant. If true, that's an impressive number. When I owned my own cloud-based bookkeeping practice, each of my bookkeepers managed an average of just 20 clients.
It's clear that the AI and automation in use at Botkeeper is also driving growth beyond a typical accounting firm in addition to the marketing angle. And the reviews online are excellent — Botkeeper has an average rating of 4.5 out of 5 on Capterra with 52 reviews.
The company boasts numerous positive testimonials from both accountants and clients, and one Botkeeper partner I spoke to says that he's impressed enough with the service and technology to stick with it for at least a few more months despite these revelations. Even since I started writing this article a happy Botkeeper CPA partner posted this testimonial.
It's my hope that Botkeeper tightens up its messaging and transparency when it comes to sales and marketing and continues to disrupt the accounting profession with openness and transparency.
For more details and discussion on Botkeeper, listen to Episode 61 of the

Cloud Accounting Podcast

: "It's people! The Botkeeper investigation continues"
Transcript and audio of interview
Click here for the transcript and audio of my interview with Enrico Palmerino on February 18, 2019
It's not a bot — the truth about Botkeeper, the Google-funded, AI-powered "bookkeeper replacement"