9 Black Chefs Changing The Food Game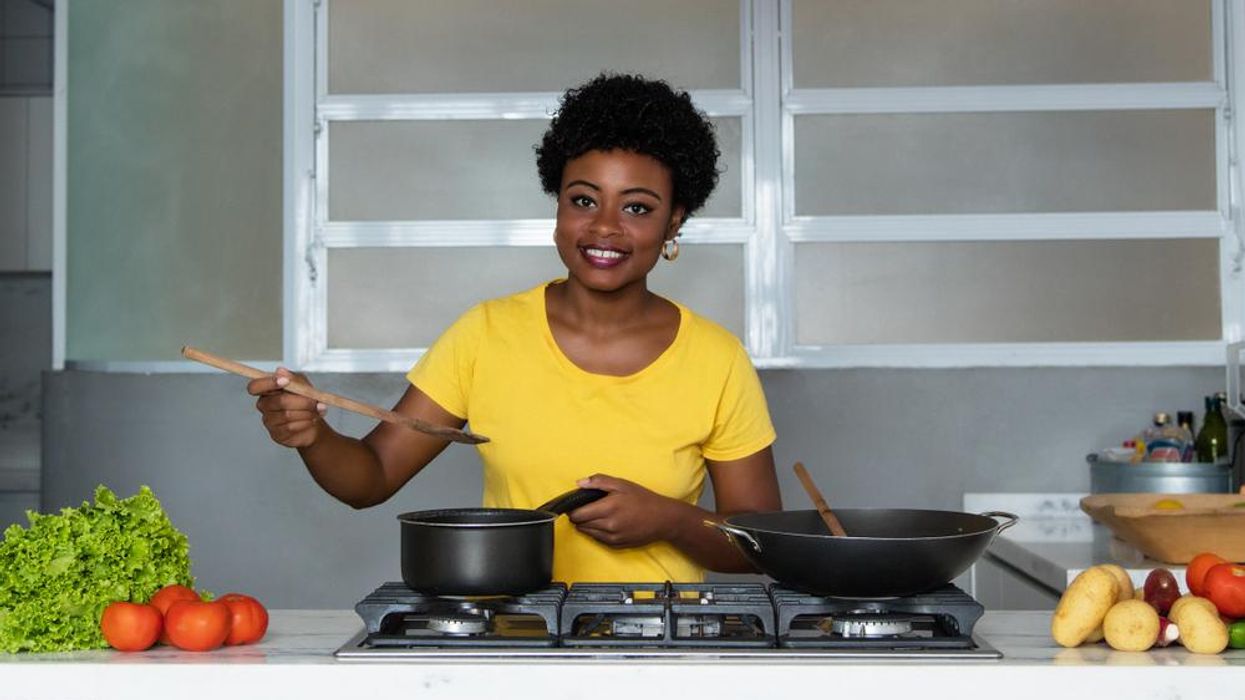 ---
We all love a good plate of food, and whether you're a vegan, vegetarian, pescatarian, or still deciding, you can't deny the heavenly feeling of sitting down to eat a well-prepared meal. As black women, we have always been innovators in the kitchen, whether it's making leftovers seem like they're brand new, creating fabulous meals out of bare-bones groceries, turning cooking savvy into successful businesses, or changing the food game altogether. Here are 9 black female chefs who have done just that, using their culinary prowess to win in business and in the kitchen:
Sunny Anderson
A military vet, she's got more than 15 years under her belt serving as a professional chef, and she's hosted several hit shows including Food Network's Cooking for Real, and The Kitchen. She's also a New York Times best-selling cookbook author and creator of Infadium, a fun snack holder sold at Party City and on Amazon. Her dishes combine everyday food with the diverse tastes and flavors of her international travels.
Kelis
We all know her as the Grammy-winning, gloriously curly-haired singer who had Neptunes-produced hits, but Kelis has done a total career change as a fab farmer and chef. She hosted Netflix's Cooked with Cannabis, launched her own line of food products called Bounty & Full, wrote a best-selling cookbook, and has expanded the brand to include Gold Mine boxes that literally sell out in minutes after being announced via her IG page. Kelis favors unique ingredients that reflect her Puerto Rican and African-American background.
Kardea Brown
Kardea Brown is the host of Food Network's Delicious Miss Brown, where she shares southern cuisine from her South Carolina kitchen. Of Gullah/Geechee descent, Brown infuses the culture of African-Americans of the coastal region like beef and okra stew, Gullah red rice, and "Charleston-style" shrimp and grits.
Nyesha Arrington
Nyesha Arrington brings her Afro-Korean heritage to the dishes she creates and was introduced to foods like bulgogi, octopus, and kimchi at an early age, helping to diversify her palate. She's appeared on Top Chef, opened two restaurants, LA: Leone and Native, and has done successful international pop-ups. She now runs her own full-service chef consulting and catering service.
Mashama Bailey
A James Beard award-winning chef, Mashama Bailey brings Bronx swag and grit to the South with her dishes that incorporate history and culture. She's the executive chef and partner at The Grey, a restaurant in downtown Savannah, GA that is built inside a 1938 art deco Greyhound Bus terminal. The dishes include traditional Sunday dinner classics with a refined twist that might inspire you to take your own fried chicken meal up a notch.
Nina Compton
Nina Compton is another alumnus of Top Chef, and her roots go back to the shores of Saint Lucia. Compton, also a James Beard award-winner, served as a chef in some of the best restaurants in New York and Miami before opening her own restaurant in New Orleans called Compere Lapin, offering flavors of the Caribbean, Italy and France on the menu. She then went on to co-found Bywater American Bistro in New Orleans. She also serves as the Culinary Ambassador of Saint Lucia.
Kia Damon
Kia Damon came on the scene as a young self-taught phenom who made headlines at 24 when she became head chef at the chic New York eatery Lalito. She's also dominated Chopped this year and became the first culinary director at Cherry Bombe magazine. She also hosts an IG-based show called "On the Line" where she highlights leaders in the culinary space as well as culture's link to cuisine, activism, identity, and lifestyle issues. On top of that, Kia has launched Auxilio Space, a New York-based community platform that provides services, support, and jobs for queer, trans, Black and indigenous communities, in collaboration with nightlife and hospitality leaders Zacarías González and Mohammed Fayaz.
Kiki Bokungu Louya
Born and raised in Detroit with Congolese roots, Kiki Louya is the founder of two award-winning food concepts called Folk, and The Farmer's Hand that supported fair treatment of food and farm workers. She also founded Nest Egg Detroit, America's first all women-owned hospitality group.
Mariya Russell
As lead chef at Chicago's Kikko, Mariya Russell made history in 2019 as the first black female chef to head a Michelin-starred kitchen. The restaurant is special in that it's an omakase, a Japanese concept where the sushi chef decides what you will eat and provides multiple courses of delectable goodies, making for a unique dining experience. She's known for using ingredients such as shiokoji, a fermented liquid used in sake, and creative dishes like pickled green almonds, house-made tofu, and dashi.
Are you a member of our insiders squad? Join us in the xoTribe Members Community today!
Featured image by Shutterstock

9 Black Chefs Changing The Food Game