LAST DAY: Get a hotel deal with a Melia 40% buy points bonus
MeliaRewards has running a 'buy points' promo in recent weeks which ends today.  Until tonight, 31st October, all points purchases up to 150,000 points will receive a 40% bonus.
1,000 points, plus bonus, are being offered for €5. The bonus is applied on top, so you will get 1,400 points for €5.  This works out at 0.36 Eurocents per point or €3.57 per 1000.

This is cheap – almost as cheap as it gets, although we have seen a 50% bonus in the past.
The minimum purchase is only €5, so this is also a cheap way to stop your existing points expiring for another 12 months.
However, unlike the last 50% bonus, these points do NOT come with any specific rules over how you can use them.  The bonus points are added to your existing balance and you can use them however and whenever you wish.
How good a Melia deal can I get here?
Here is a pricing example.  In London, the Melia White House is 24,126 points per night.  This is an absolute bargain at under £75, based on paying 0.357 Eurocents per point.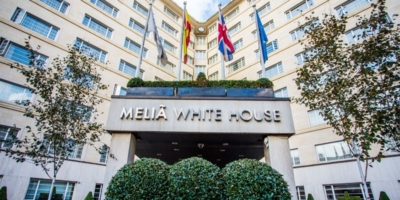 It is also worth noting that Melia makes ALL room categories, including suites, available for points.  Standard rooms are usually the best value but you should save on the normal cash rate whatever category you book.
The funky lifestyle hotel ME London on The Strand, below, is 41,360 points, which would cost you £127.  You would pay double that for cash.
There is also the new Melia London Kensington if you want to stay in West London, and Innside Manchester (we reviewed Innside Manchester here).
Innside New York NoMad, reviewed here and website here, is an excellent way to use up MeliaRewards points but that is a bit risky to book speculatively given that there is no sign of US tourism opening up for a while.
You could, on the other hand, take a punt on the UK quarantine situation and get an excellent deal in Spain or Portugal for 2021 (Melia is a Spanish-owned chain) by buying and redeeming points.  It looks like Melia is trying to quietly sell rooms at heavily discounted prices via the back door without having to reduce its headline prices for those willing to pay the standard rate.
LAST DAY: Get a hotel deal with a Melia 40% buy points bonus