Let's Get Cooking Baton Rouge! Red Stick Spice Cooking Class
Let's Get Cooking Baton Rouge!
Local, independent spice and tea shop, Red Stick Spice, hosted the most wonderful group last week to check out their outstanding Cooking Classes. And let me tell ya, it was SO MUCH FUN. Chef and store-owner, Anne Milneck has the most beautiful teaching kitchen. It is the perfect idea for a girl's night out, work team bonding, date night or if you just want to brush up on your cooking skills. I have my eyes on the up-coming Registered Dietitian led, Anti-Inflammation cooking class!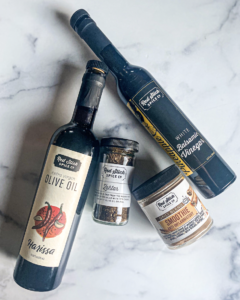 Home Cooking is Our Shared Passion
Red Stick Spice believes in home cooking, that it is for everyone and important for health and happiness! Which of course lines right up with Team Holly. Holly Clegg has shared with us for many years, never wavering from her passion that healthy home-cooked meals can be easy and delicious – TRIM & TERRIFIC! Not only are Red Stick Spice's Cooking Classes amazing, the shop has the most delectable variety of spices, blends, teas, vinegars and oils. Their Anti-Inflammation Blend is on my counter waiting to be blending into our No Bake Energy Balls very soon!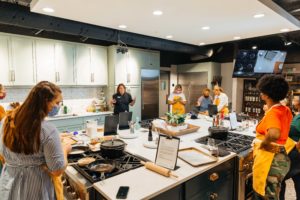 Oil Tasting Fun
Anne gathered the coolest group of new friends! We enjoyed an oil tasting lesson, and wow, Anne is such a wealth of knowledge – she knows her stuff! I have the best time paired with Meredith, who also happens to own my favorite t-shirt shop in all the land, Sweet Baton Rouge. I definitely have a good collection going – and get complimented on them all the time!
Delicious Healthy Easy Green Beans
Meredith and I made the appetizer, Sweet Potato Tahini Dip with Zahtar spice blend (which I had to purchase immediately) and our green side, Cold Crunchy Green Beans with Garlicky Pistachio Vinaigrette. Anne gave me the okay to share the recipe with you here and you are going to WANT to make this dish! I have already made it again this week.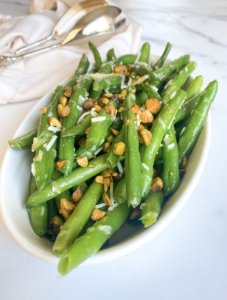 Red Stick Spice's Cold Crunchy Green Beans with Garlicky Pistachio Vinaigrette
1

lbs

½green beans

trimmed

1

garlic clove

2

lemons

1/3

cup

Parmesan cheese

cup

¾pistachios

roasted, salted, chopped

1/3

cup

Arbequina Extra Virgin Olive Oil

Salt and pepper
Bring 4 quarts water and 1 ½ cups salt to a boil in large pot. Once water boils, stir in green beans and cook until tender 5-6 minutes.

Fill large bowl with ice water. Using spider strainer or tongs, transfer cooked beans to ice bath to stop the cooking. Rain beans on a towel and dry them off and put into bowl.

In large bowl, combine grated garlic, zest of 1 lemon and juice of 2 lemons. Season with salt and pepper and stir to dissolve salt. Slowly stream in 1/3 cup olive oil, whisking as you go. Stir in 1/3 cup of Parmesan cheese. Taste for seasoning.

Add green beans to bowl, toss to coat. Place dressed green beans in serving dish, top with pistachios. Serve cold.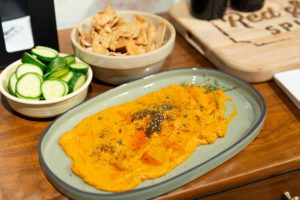 Red Stick Spice's Mouth-Watering 6 Course Meal
Other dishes the group made include Crispy Smashed Potatoes with Salt n' Vinegar Sour Cream, Herby Meatballs with Crispy Cabbage and Tahini, Yogurt Flatbreads with Zahtar Butter, and mouth-watering Pan Banging (we very much banged pans!) Chocolate Chip Cookies.
We drank wine, we cooked, we learned about Red Stick Spice's incredible oils, spices and teas, did oil tasting, ate a 6 course meal and best of all, we made the coolest new friends!
Thank you so much Anne and the whole Red Stick Spice team for such a wonderful evening. I cannot wait to go back!
The beautiful photography from the Red Stick Cooking Class provided by the uber talented Raegan Labat.
Get All of Holly's Healthy Easy Cookbooks
The post Let's Get Cooking Baton Rouge! Red Stick Spice Cooking Class appeared first on The Healthy Cooking Blog.
Let's Get Cooking Baton Rouge! Red Stick Spice Cooking Class