Lila Dasso: A New Color and Lots of Flavors Come to Dasso in Lima
How it began
Imagine this: 2018, lunch someplace in San Isidro, a 20 something years old guy goes to lunch with his boss and, while Gaga and Bradley Cooper are singing "Shallow" in the background, during the conversation she asked him about what his dream restaurant will be; that conversation kept going over the years every Friday they will say something about the chairs… or the lights…  what will be the mood. So daydreaming they were, then one of those Fridays she was not available for lunch but her husband, the financial mind was, and the conversation turned into daydreaming to let's make this happen.
Within months they were turning Lila into a Reality. Rocío, Jorge, and André had worked together at Troppo, so this is an evolution of that work; they found the space in the heart of Miguel Dasso, and then… 2020 happened!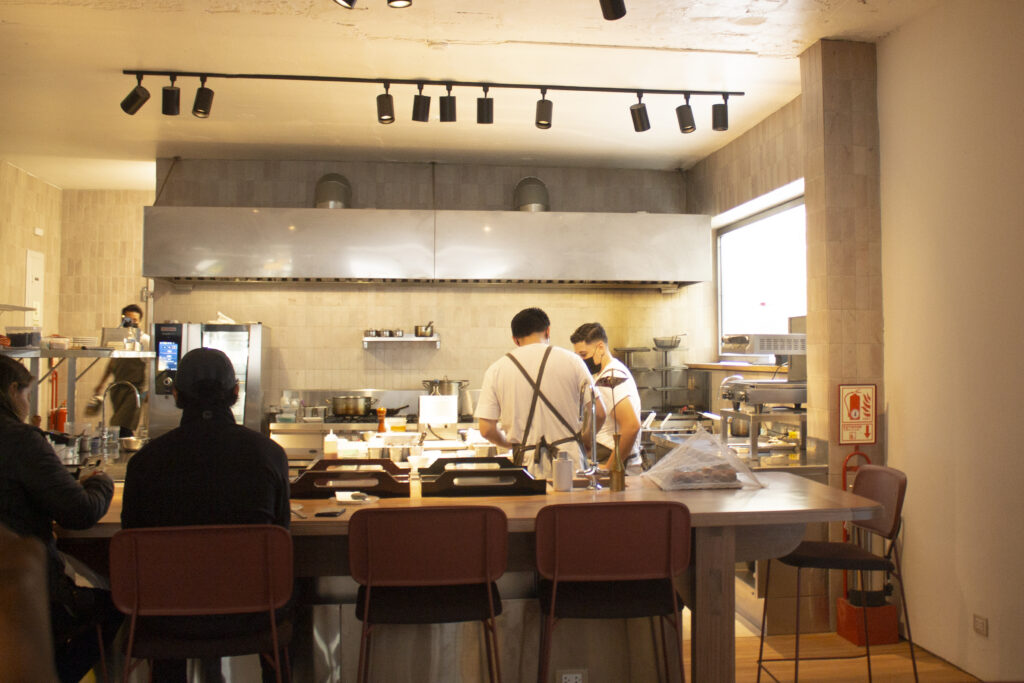 Planning during the pandemic
While everything was under lockdown, they kept working towards their idea; they had a chef in mind, Diego Gutierrez, however, he was tied to a 2-year contract with Rene Redzepi's Noma at Copenhagen, with the pandemic he was released of that. So he was free to join them on this project. Finally, to complete their service triad, they got Lizz Diaz, a Colombian bartender working at Troppo.
A dream team coming together
Triad indeed, André the owner, a young artist, has found his place being the mastermind behind the experience of Rafael Osterling's Mercado, then Siete (Barranco), then Troppo (San Isidro) and now is the owner and the "head of the experience" of Lila. This introverted guy has his eyes everywhere; he quietly keeps the mood up, from the music to chairs to the lights. Lizz, the pink-haired Colombian bartender, has her mind set on creating drinks that can work by themselves or as part of their menu, not too boozy but packed with flavor. Then there's Diego, a Young Chef that has made a name from Mistura's and San Pellegrino Young chef awards, to work on Michelin Star places Like Celler Can Roca (Spain) and Noma (Denmark), he sees the food as a way to travel and create flavors that are portrayed on his food.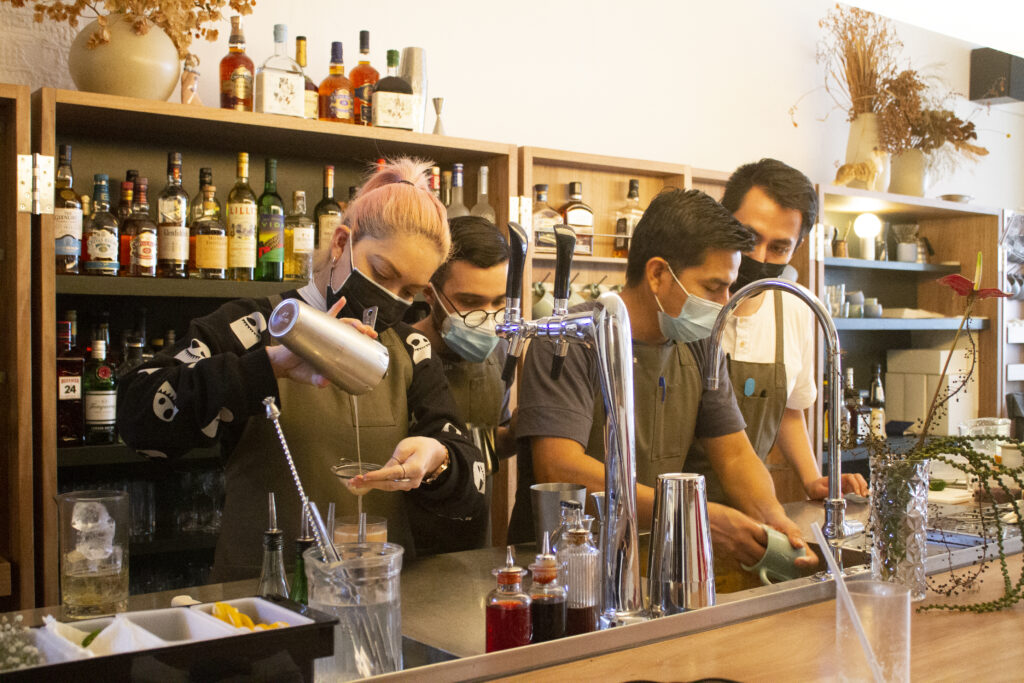 The opening
The place finally opened to the public on June 15 with a modern-bold-comfort-food style, with many open-air spaces, a front terrace, and a back garden. Their menu is packed with flavor punches that carry on from breakfast to late at night.
Breakfast, pastries, and more
They are serving Ricardo Roble's Coffee from the morning, a blend specially made and served by himself, which works as the perfect companion for their breakfast and pastries. You should try their white donut; the glaze is made with white chocolate, kombucha, lemon zest, and brazil nuts. With their espresso, it explodes with herbaceous notes on your mouth. It was a bit trippy to close the eyes and feel the flavors developing with the Beatles singing in the background.
Some of their sandwiches include a grilled cheese with tomato kimchi, or their croque monsieur. Both are packed with melted cheese, and what's not to love about cheese? If you feel like having a light breakfast, their take on yogurt parfait has a berry confiture on the bottom a yogurt white chocolate topped with cauliflower and popped wheat granola.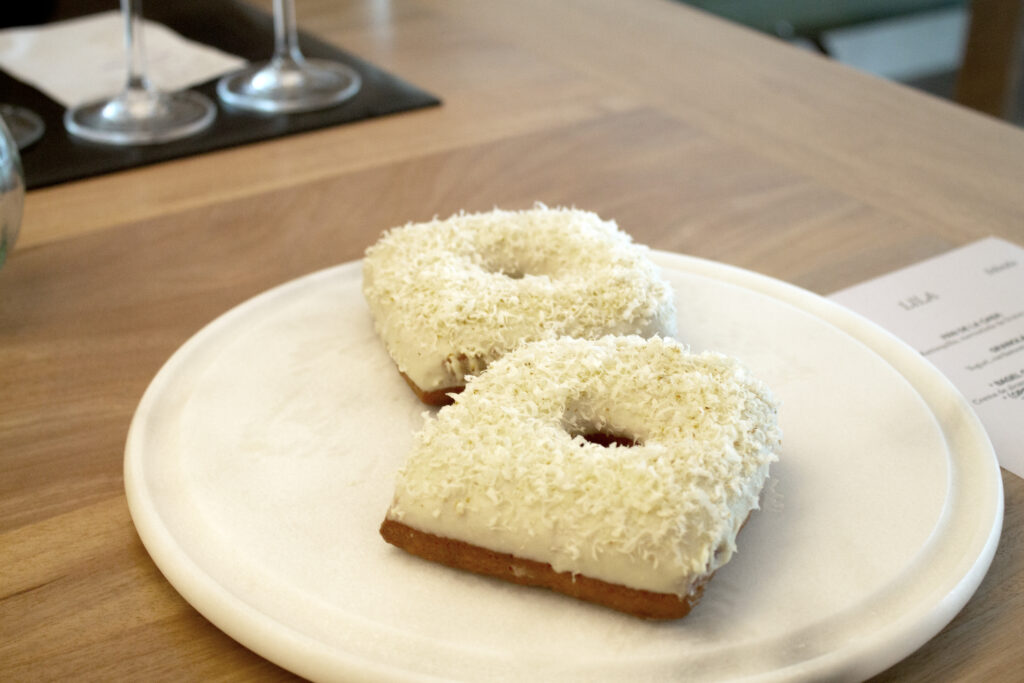 If you're dropping by for lunch, you will find vegetables, like their roasted cauliflower that has (here come the flavors) a miso made from amaranth (kiwicha) , and a sauce made with sunflower seeds and raisins.  Classic veal tartar comes with a sauce made with butter, cured egg yolks, and Ají Amarillo. Both are great affordable options for a first course. The grilled swordfish is packed with the flavor of a homemade Tucupí and pepper sauce — I love their sauces; you can eat them by the spoonful—.  And the closing staple is their French toast with a Corn Miso-homemade-mascarpone, a coffee kombucha sauce, and a tonka bean crème inglese.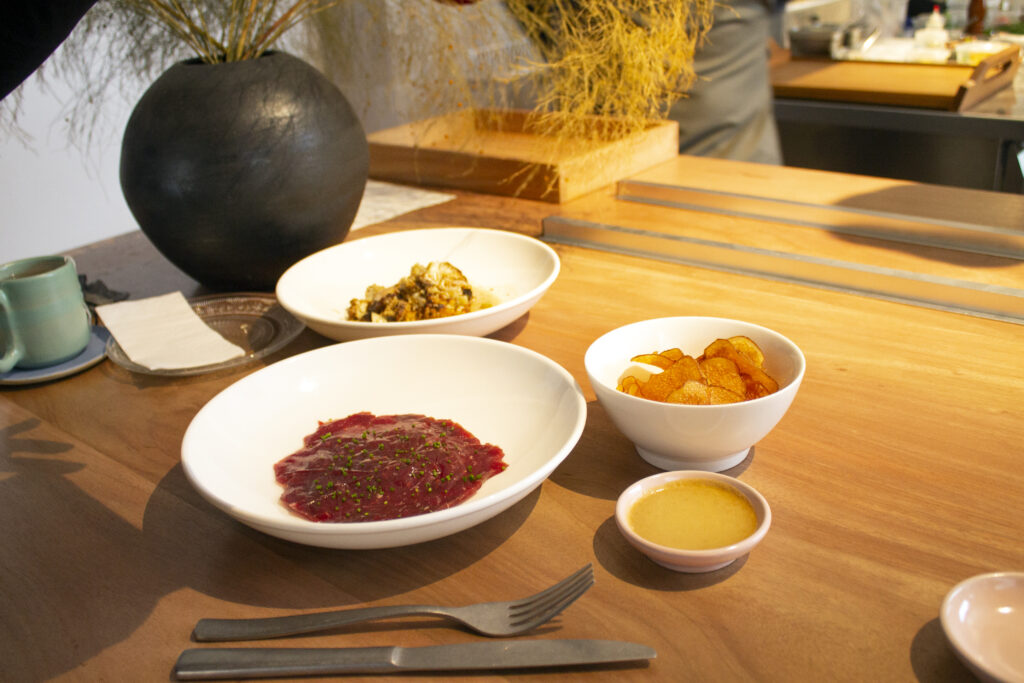 A swift shift at 7pm
Past 7 pm, the focus tends to the bar, and that makes Lila place to be. Lizz has reinterpreted the cocktails to portray the bold flavors with not-so-high alcohol content, so you can take a couple of them and still be ok to keep a conversation. Her Dirty and Blue it's an ode to the dirty martini using sherry and Salqa (a Peruvian spirit made out of sugar cane with 46 botanicals at the sacred Valley). As Madonna once said, Rita Hayworth gives a good face, which is a perfect descriptor for their coconut margarita. These drinks have perfect companions on their sweetbreads or their deep-fried yucca with honey.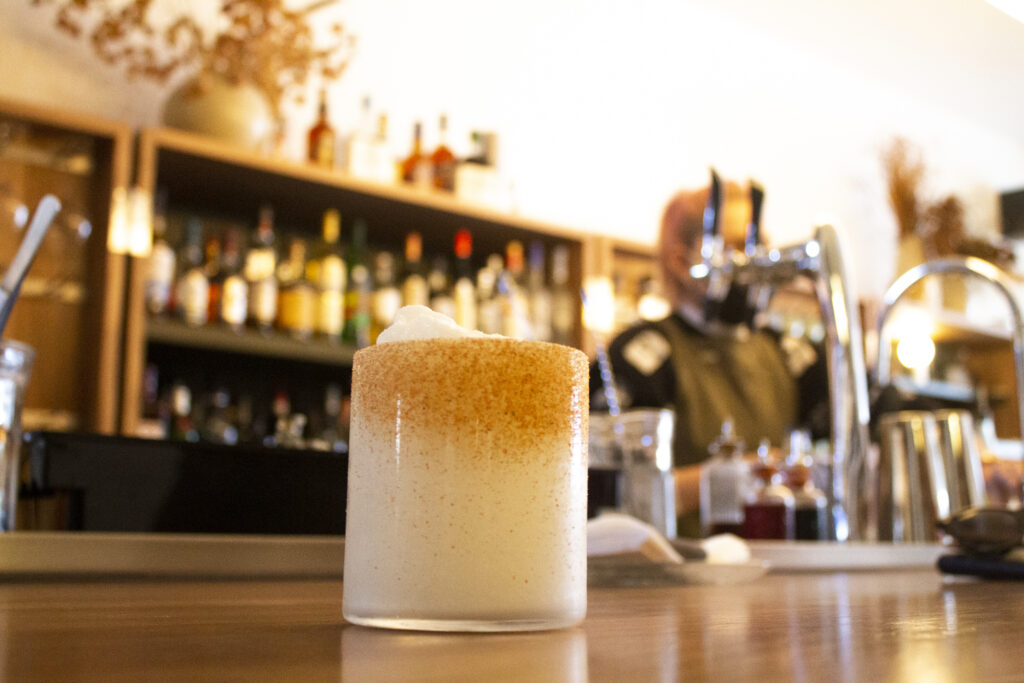 Come and visit!
You better come to Dasso and try it by yourself, Lila is open to the public Monday to Saturday from 8 am to 11 pm, and Sundays from 8 am to 5 pm. The average price per person is S/ 150 for lunch, S/ 40 for breakfast, and S/ 100 for cocktails and snacks.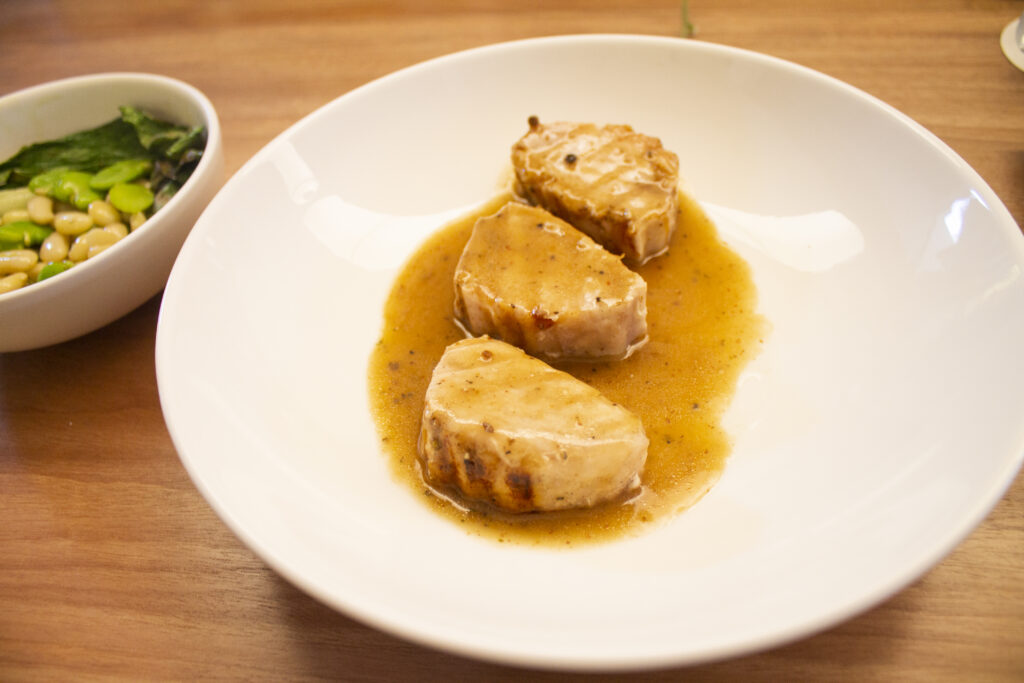 Now, go out and eat well!
PS: While editing this note, I had their overnight oats (part of the breakfast menu). They're well balanced, don't use any sugar, and have fruits and nuts and caramel, and I just couldn't leave them out.
All photos: Daniel Quintero
Lila Dasso: A New Color and Lots of Flavors Come to Dasso in Lima