LITHIUM CHILE LITH-TSXV / LTMCF-OTCQB IS THE FAST GROWING LITHIUM PLAY INCREASING SIZE AND GRADE
Lithium Chile (LITH-TSXV / LTMCF-OTCQB) is my Top Lithium Brine stock–especially after today's news that it has almost doubled the thickness of its Arizaro lithium brine reservoir from 132 meters to 255 meters with its latest drill hole.

I think this drill hole–Argento-2–is a game changer for the company and the stock.  The Arizaro reservoir is now twice as thick in places, and initial grades in Argento-2 have already tested at 14% higher than the discovery hole Argento-1.

Argento-2 is a 3.6 km–TWO MILES–from the discovery hole Argento-1.  This is a HUGE step out. Not only is the Arizaro lithium reservoir active 3.6 km away, it's twice as thick as it was at Argento-1.  Arizaro is so porous, that Argento-1 was given a drainage area of 48 km2, and created an independent resource of 1.42 million tonnes of lithium.

That sets up the potential for a large increase in lithium tonnage in a new resource estimate (thicker reservoir/higher grade)–which management says will be out in early 2023.

So folks, today's news is just the first in a series of near-and-medium-term catalysts for Lithium Chile that will keep going right through 2023. And with such positive results to date, investors are in a good spot with this team, and this asset (and the $40 million cash still in the till!).

Its Arizaro project in the Lithium Triangle is incredibly porous, allowing the lithium brine to flow easily—so easily, an independent reservoir engineer gave Lithium Chile 1.42 MILLION TONNES of lithium carbonate resource from just one drill hole (Argento 1).  This comes from a drainage area over 48 km2.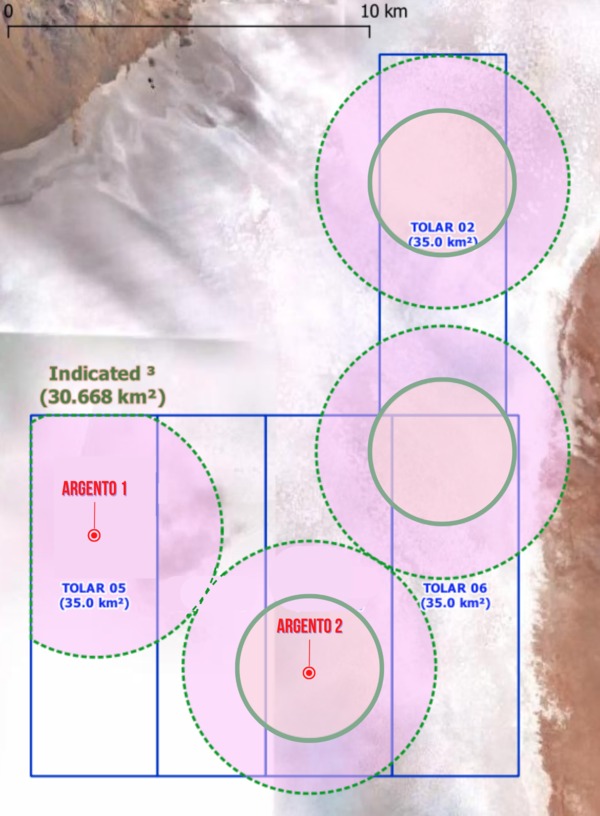 With just a $60 million Enterprise Value, investors get to see a company at an advanced stage–at a valuation that is 1/10th of what Millenial Lithium and Neo Lithium–two recent Argentinian asset buyouts–were when they were bought out.  And Lithium Chile already has a resource and a clear path to a new, larger resource in early 2023.
Lithium Chile could be in play now. Just yesterday, the Canadian government said several Chinese companies—including one which owns a position in Lithium Chile—must divest.  Management says they want to continue to work with their Chinese investor—but that may not be able to happen now. If the Chinese must divest, it will create a much broader take-out potential for Lithium Chile, as they build out their fast-growing Argentinian brine play.

Millenial Lithium was bought by Lithium Americas (LAC-NYSE/TSX) in November 2021. Millenial had 4.1 million tonnes of measured and indicated lithium resource, for which LAC paid $491 million. That equates to roughly CAD$121 for each metric tonne in the ground.

My big win that I alerted you to in 2020 at $1/share–Neo-Lithium–had 6.2 million metric tonnes and sold for $960 million—that equates to $155 per metric tonne. 

So, there is an established range per tonne of resource of between $120 to $155 per metric tonne.  But note that these take-out valuations were set at the lower 2021 lithium prices. Lithium prices have since doubled.

Lithium Chile—with an Enterprise Value of $60 million now–already has 1.4 million tonnes of resource on a single well, and another well that doubled the thickness of its lithium brine reservoir AND had 14% higher grades so far.

This is now a development play, not exploration, but hey, there is still risk here until a buy-out offer is made and completed.  But the numbers today from Argento-2 have to give investors a lot of comfort about the future of this company.  Even without a buyout, think about this current valuation, even before a new resource in early 2023:

1.4 M tonnes x CAD$120/t = $168 million vs the current Enterprise Value of $60 million—and the need for lithium is growing by the day.

LITHIUM GIVES INVESTORS
THE BEST LEVERAGE


 
When your commodity is priced at $70,000 – $80,000 per tonne, you can generate a huge Net Present Value for any resource you can drill out.

You see that in Sigma Lithium, which announced an NPV of US$5.1 billion in their last quarterly—after only US$19 million in drilling costs (19,000 metres of drilling).

That's incredible isn't it?  But understand the potential for Lithium Chile to have as much or more leverage for investors—and have it get realized very quickly—is very real.

Because when you think about it–
that they received 1.4 million tonnes of resource off one drill hole—including a drainage area of 48 km2
The initial resource estimate is from only 29% of the main concession block leaving abundant area for resource expansion.
AND they are now drilling up to as many as 7 additional holes into the Arizaro salar,
AND they have found the reservoir thickens to 240 metres net pay
AND these drill results will be announced to investors continuously
The potential for a very large and very rapid increase in the Arizaro lithium deposit becomes very, very real. 

It only takes a small number of drill holes (and there is up to 7 in the current program) to create a large resource—just like Argento-1 did.

Events are now happening fast here!  The next several holes could make a HUGE difference in shareholder value.

Now folks, I know this sounds exciting—it is–BUT…there is no guarantee here. 

 
The World Almost Missed Arizaro


 
Lithium Chile's Arizaro project is located in the Arizaro Salar (makes sense) which is in the Salta province of Northwest Argentina.  Canadian think tank The Fraser Institute considers Salta to be the single best investment district in the entire Lithium Triangle.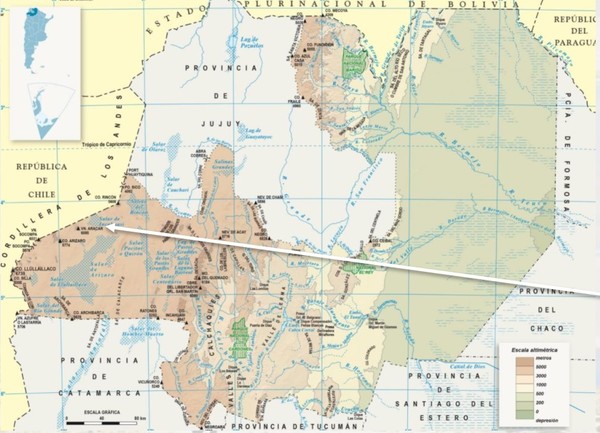 Incredibly——prior to the Lithium Chile team becoming involved this asset was viewed as not being commercially viable.  That seems impossible to imagine now, given that the first well delivered a 1.42 million tonne resource with exceptional flow rates——but it is true.

Arizaro was a known asset before Lithium Chile got it—but nobody put the right thinking behind it. 

So many people misjudged it–nobody thought to drill it deep enough.  The top 300 meters here is all rock salt.  It's a solid, non-porous, low-grade rock salt cap.  There is brine in the upper 300 meters, but it is very low grade, 90-100 milligrams per litre and no porosity.

Rock salt is like concrete.  It won't allow anything to flow.

That's why previous owners gave up—and given Arizaro's high rent district (it's in the best part of the Lithium Triangle)–few can afford to sit on an asset.

The Lithium Chile team had a different view.  They knew that the rock salt had to come from somewhere and that the actual lithium brine resource lay below.  They had conviction that it was worth drilling deeper.  They were the first company to drill down to 450 meters in the entire salar and wouldn't you know……….in that 330-to-450-meter range lay the exact aquifer that everyone had been looking for.

The porosity of the reservoir and the flow rates made it an even better reservoir than anyone could have imagined.  Management was able to raise CAD$28 million at 95 cents a share (the stock started this week at 55 cents).

It's a great discovery story—a bit of outside-the-box thinking proved very fruitful very fast.  Now, each new well gets them galloping faster towards a multi-million tonne resource that will attract buyers from around the world–China, the United States, Brazil–everywhere.

Now Lithium Chile is off to the races.  And this high price lithium market could last for YEARS.

The EV revolution has barely started, and it is already clear that we have a major lithium supply problem.  Look at this chart one more time: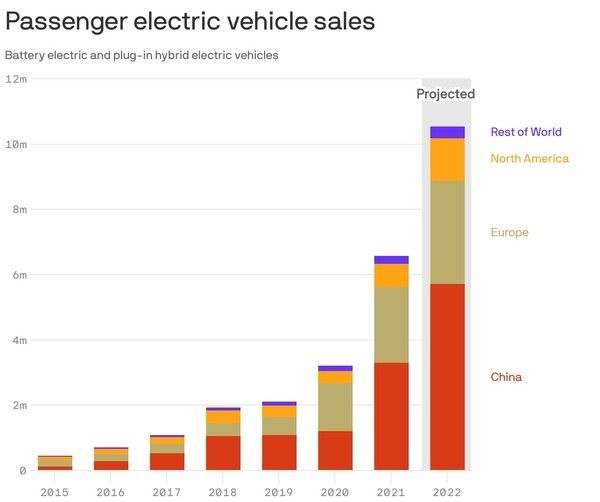 https://www.axios.com/2022/01/19/electric-vehicle-sales-expected-surge-2022
The demand growth in lithium that is now underway will last many years.  If you think commodities are cyclical, this is going to be one l-o-o-ong cycle.

Sigma Lithium, Neo Lithium and Millenial Lithium show investors that defining a large lithium deposit can make huge, and rapid gains in shareholder value.  It is the reason why we have to be on top of profiting from this.  Just like I did with Neo-Lithium at $1/share, and now Lithium Chile at 60 cents a share.

Lithium stocks have had some big runs in the last year.  I'm closely watching Lithium Chile to see what happens next.  I'm excited—and I'm long!
 


LITHIUM CHILE management has reviewed and sponsored this article. The information in this newsletter does not constitute an offer to sell or a solicitation of an offer to buy any securities of a corporation or entity, including U.S. Traded Securities or U.S. Quoted Securities, in the United States or to U.S. Persons. Securities may not be offered or sold in the United States except in compliance with the registration requirements of the Securities Act and applicable U.S. state securities laws or pursuant to an exemption therefrom. Any public offering of securities in the United States may only be made by means of a prospectus containing detailed information about the corporation or entity and its management as well as financial statements. No securities regulatory authority in the United States has either approved or disapproved of the contents of any newsletter.
Keith Schaefer is not registered with the United States Securities and Exchange Commission (the "SEC"): as a "broker-dealer" under the Exchange Act, as an "investment adviser" under the Investment Advisers Act of 1940, or in any other capacity. He is also not registered with any state securities commission or authority as a broker-dealer or investment advisor or in any other capacity.
LITHIUM CHILE LITH-TSXV / LTMCF-OTCQB IS THE FAST GROWING LITHIUM PLAY INCREASING SIZE AND GRADE