LongHouse Reserve ramble, Part 2: Woodland garden, Yoko Ono sculpture, and Red Garden
January 06, 2022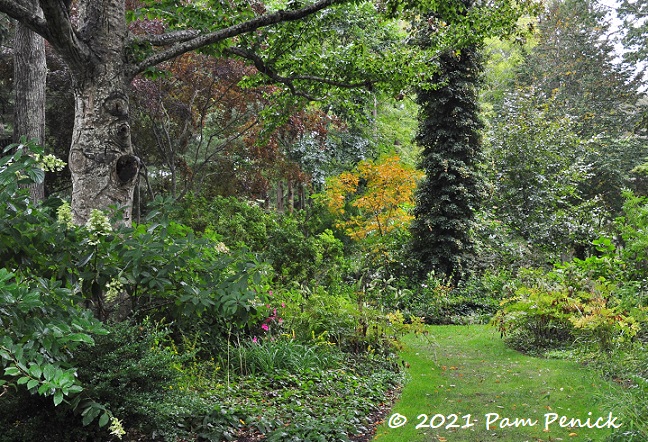 When textile-artist Jack Lenor Larsen created his garden at LongHouse Reserve in East Hampton, New York, one of his goals, according to online interviews, was to encourage people to be nonconformist. He wanted to show that more can be done with a suburban backyard than the typical lawn and a few shrubs. Of course Larsen had 16 acres and a fortune to lavish on it, but LongHouse doesn't have a showoffy feel. In both the formal and naturalistic spaces, the garden exhibits a generous but human scale and an approachability. I really liked it.
In my last post, I shared the sand-dune entry, pavilion garden, tropical rill, hornbeam allée, and Black Mirror pool. Let's continue with a woodland garden starting to turn with the changing season.
Woodland garden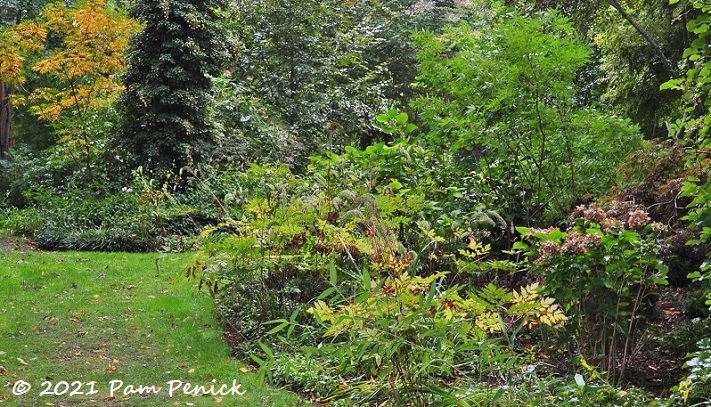 A dripping rain perhaps kept other visitors away on this mid-October afternoon. I saw only a few others on Peggy's Path (several paths are named for people, with no explanation who they were). It was lovely to stroll the quiet paths, not knowing what would be revealed around each bend.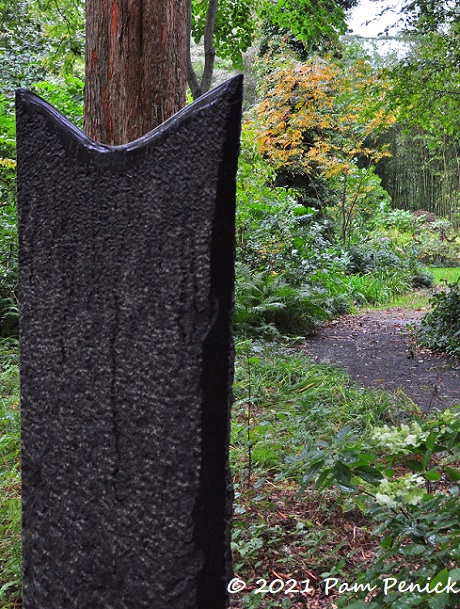 Doesn't this totem-like sculpture remind you of an owl's silhouette?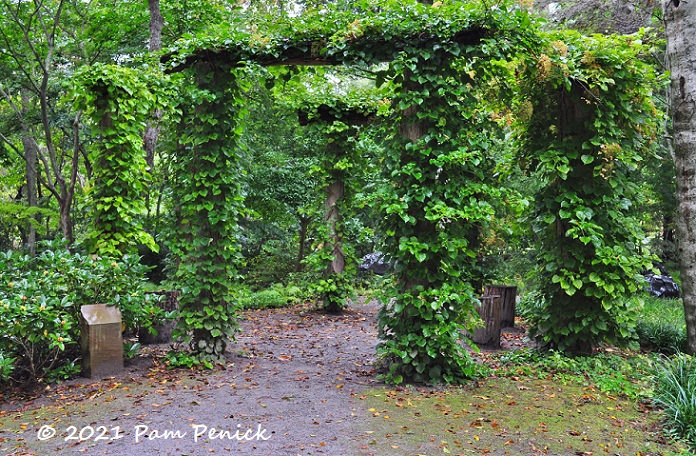 A vine-swathed arbor encircles the path, with a few stumps inside for seating.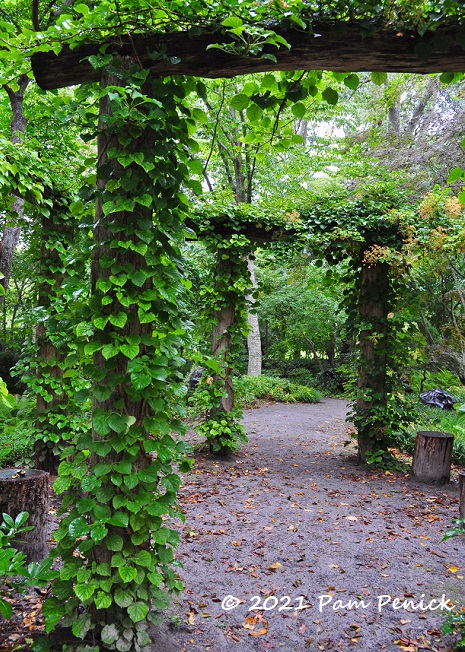 I liked the energy of this Stonehenge-evoking space.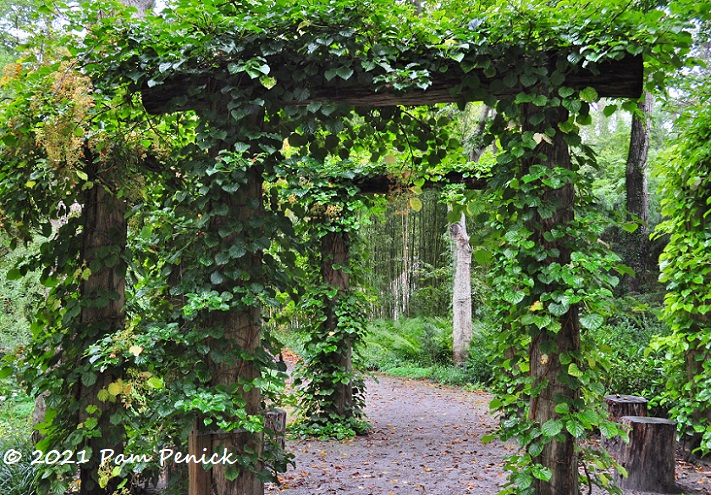 It's like being embraced by the woods.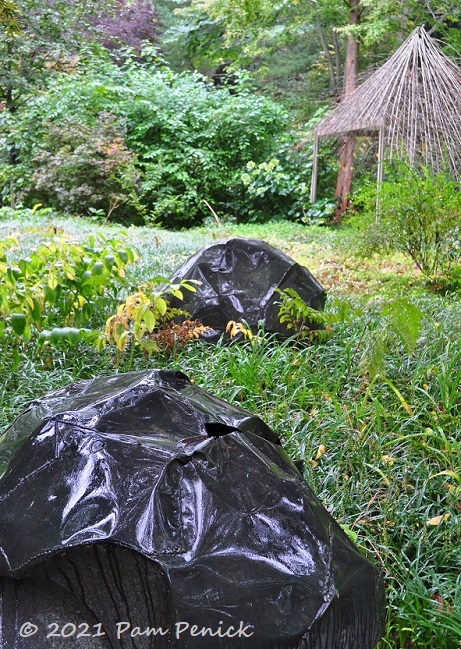 Soon a conical stick hut came into view, with a collection of dented metal balls strewn about in the liriope and bracken.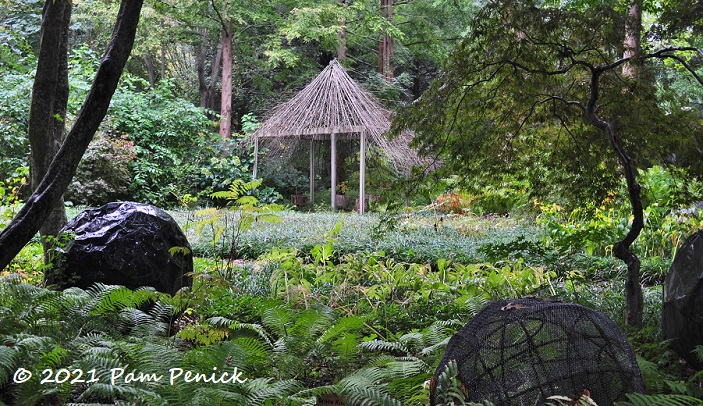 I'm a sucker for any spherical object in a garden, and I took a million photos of these pieces by Grace Knowlton, which are made of crumpled roofing copper.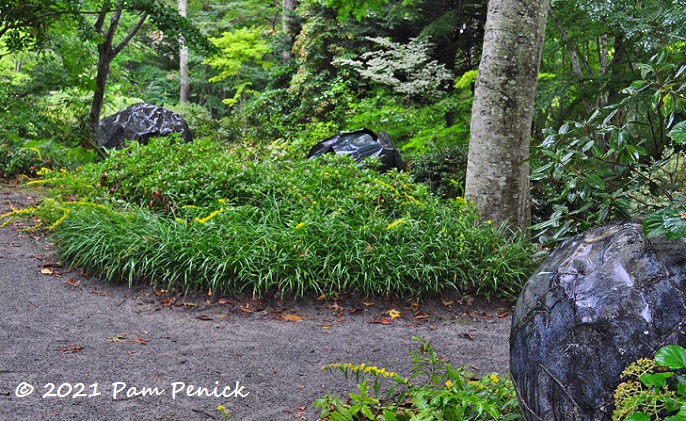 In early spring, no doubt, they stand out prominently amid emerging foliage. But in fall they were half hidden in the plants, like monochromatic Easter eggs.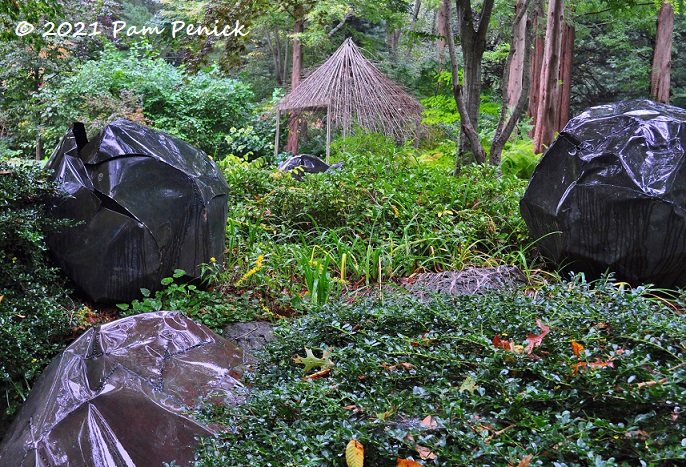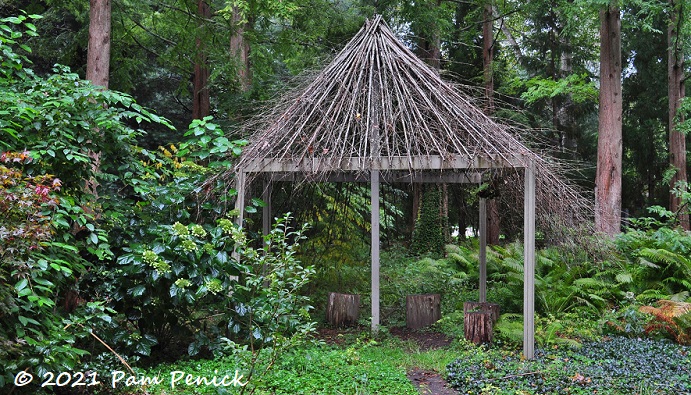 A shade structure of twiggy branches offers a resting spot with stools made from stumps.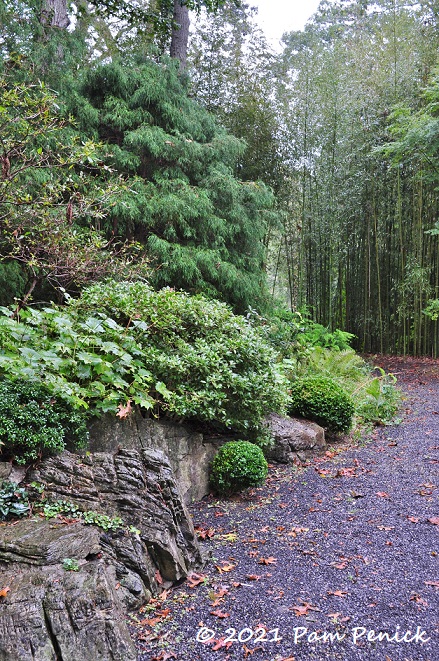 A ridge of boulders lines the path — dubbed Kreye Canyon — leading out of the woodland garden. Pines, clipped shrubs, and towering bamboo give it an Asian garden vibe.
Tumbling Woman and Bridge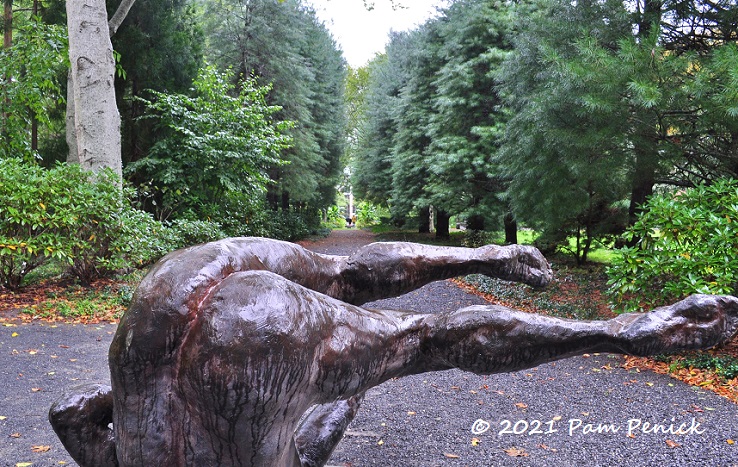 Emerging into a clearing, with a white pine allée (called David's Walk) framing the view, this surprising work greets you: Tumbling Woman by Eric Fischl. Not knowing its original inspiration, I confess I found humor in the in-your-face posture of the figure as you approach it from behind. Haven't we all felt this way, stumbling through the past two years of a world-altering pandemic?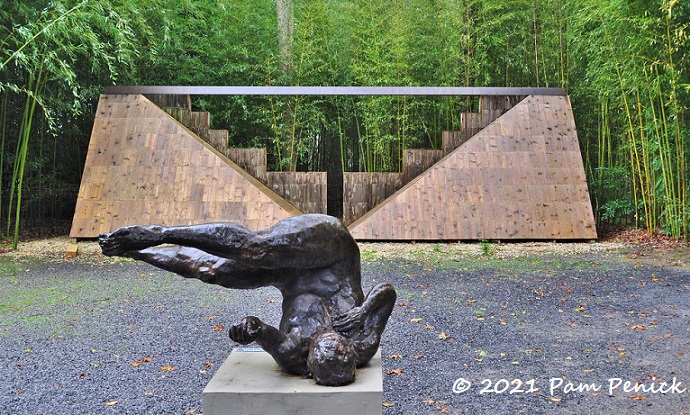 That melted away when I learned Tumbling Woman was created in response to the horror of 9/11. The work generated outrage when placed on public display in New York City a year after the attacks. Even now, 20 years later, I'm not sure I can appreciate its literal rendering of falling bodies. It makes me wonder, can a work of art be divorced from its original meaning? Should it be? Will this piece affect people differently in another 20 years, when seen by those who weren't even alive then, who know of 9/11 only through news stories and grandparents' where-I-was-that-day recounting?
As I said in Part 1, LongHouse is a garden that makes you think.
Behind it, the cypress and corten steel Bridge by Claus Bury is an homage to the Brooklyn Bridge centennial.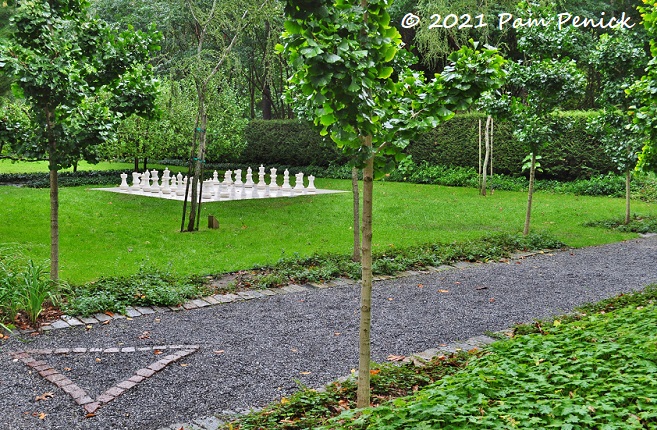 Instead of walking the pine allée, I turned onto a perpendicular path, where an inset brick triangle points the way. Across a small lawn, Yoko Ono's all-white chess set called Play It By Trust appears.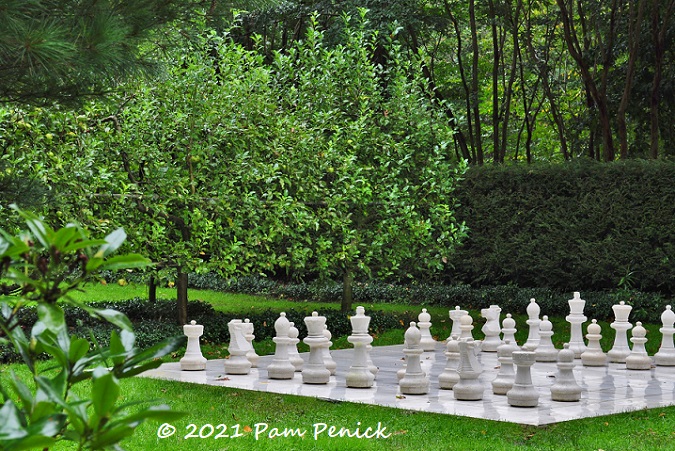 As described online, Play It By Trust "is a chess set where all the pieces are white. Because of this, it is virtually impossible to play a normal game of chess. Sooner or later, the players will be unable to tell whose piece is whose. How can you proceed when the opponent is indistinguishable from yourself?"
Ginkgo allée and rose sculpture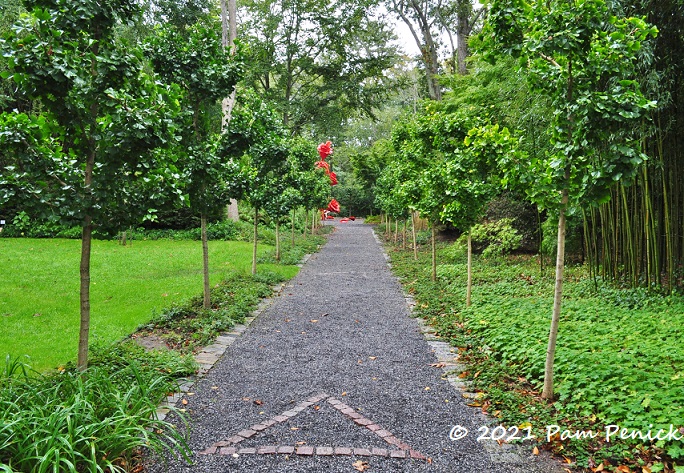 A young ginkgo allée is in the works along this path. At the end, off-center, you see something tall and red.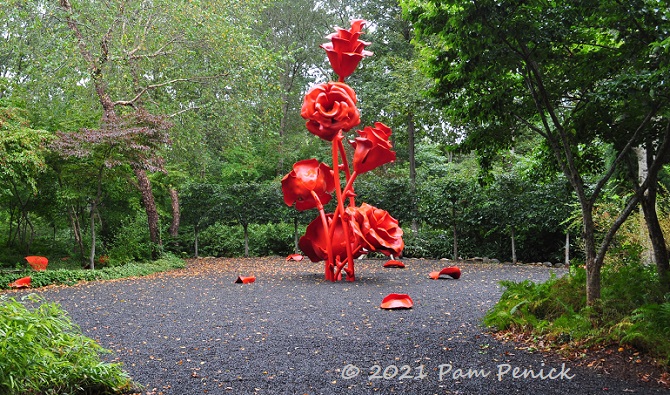 The LongHouse 6 by Will Ryman stands 24 feet tall, a Jack-and-the-beanstalk-sized rendition of our national flower, the rose. According to the website, "the sculpture's exaggerated scale, artificial appearance, and missing petals it has shed around its base contribute to an improbable representation of this romanticized symbol of natural beauty and perfection."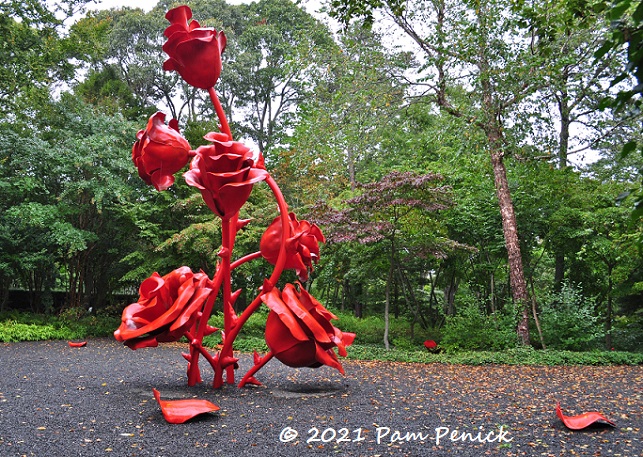 With oversized thorns, snaking branches, and blood-red flowers and stems, the roses give me fairy-tale vibes — not just Jack and the Beanstalk but Sleeping Beauty as well.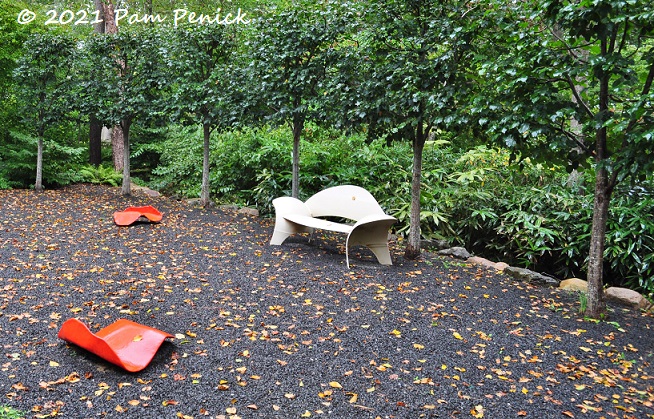 Enormous rose petals lie strewn about, and a curvy white bench backed by espaliered trees gives you a place to take it all in.
Holy Daughters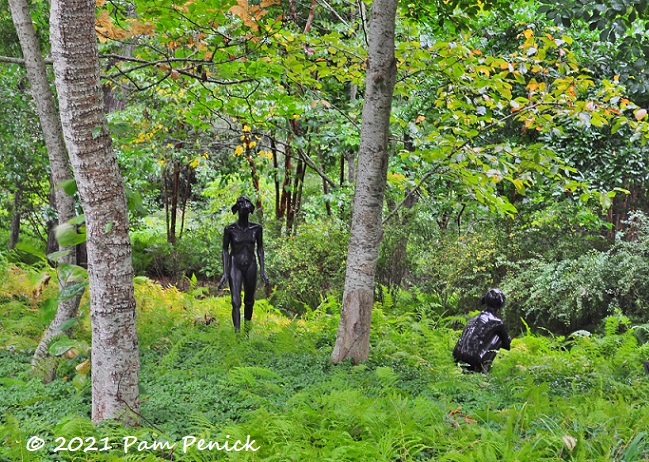 In a ferny glen among white-trunked trees, I spotted two human-sized figures. They seemed a little spooky to me then, with faces that are part animal, part human.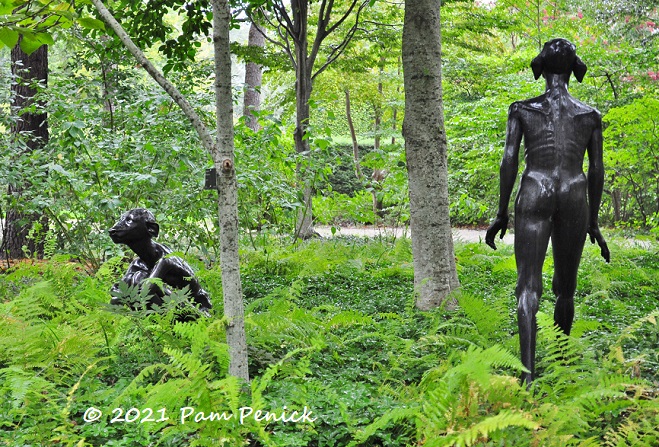 Gaunt, with ribs and shoulder bones jutting, one figure strides through the ferns while the other squats like a child, both with eyes uplifted. They are striking.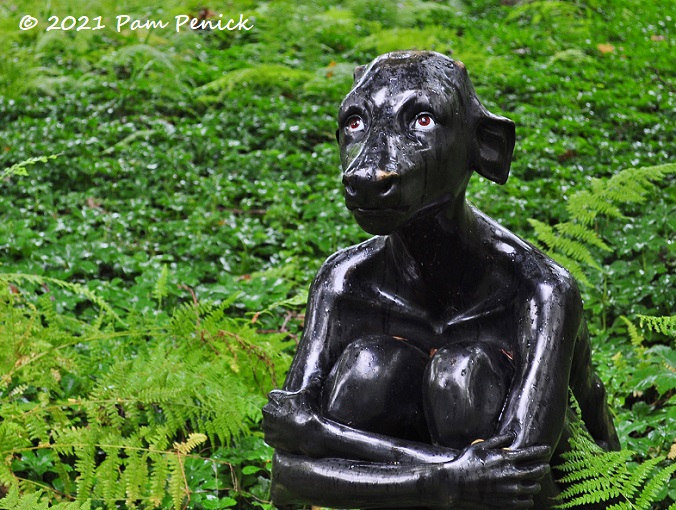 They are Holy Daughters by Prune Nourry, and a commentary on sex selection favoring sons in Asian societies.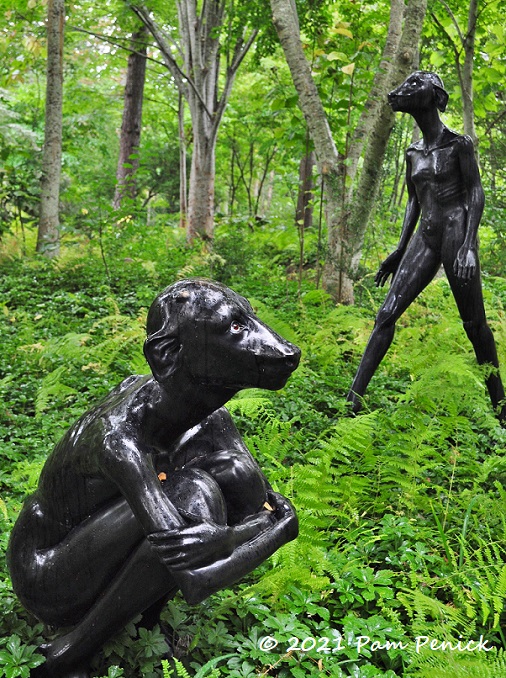 According to Nourry's website, "Holy Daughters is the first part of a project spanning several years in Asia, regarding gender imbalance and the misuse of new scientific techniques for the purpose of gender selection. The Holy Daughters sculptures, hybrids between cows — sacred animals and fertility symbols — and girls — instruments of fertility but undesired — challenge the preference for male children in India." It's worth watching an 8-minute video on her website where she puts these works in public places in India and films people's interaction with them.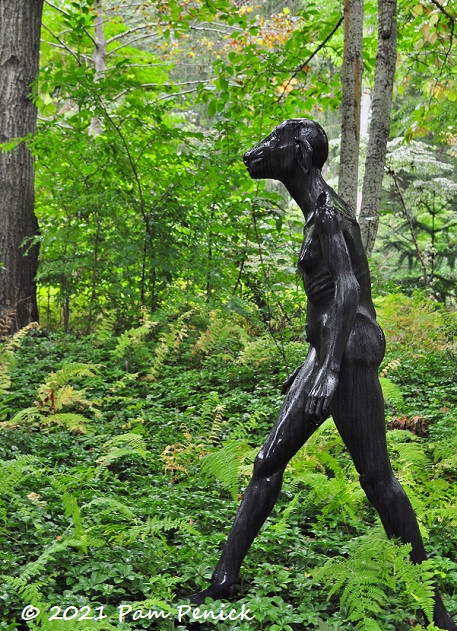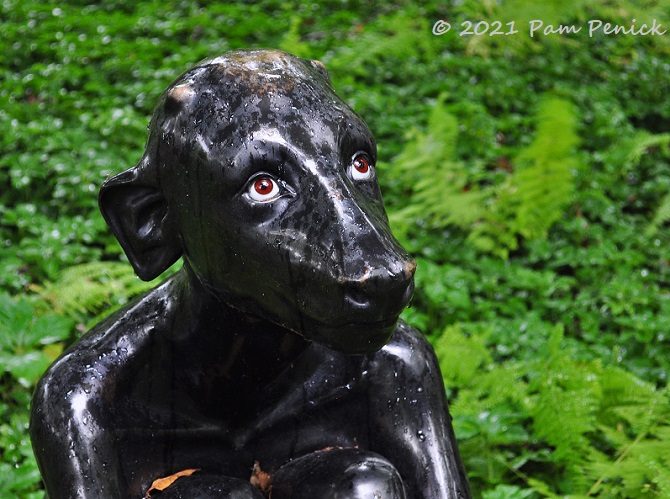 Boxwood path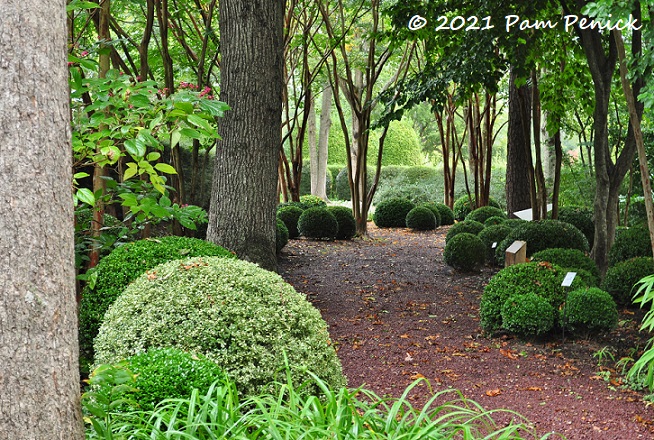 Along a tree-shaded, winding walk (known as Abby Jane's Path), boxwood balls cluster and seem to roll into the path itself. I wonder if this was inspired by nearby Madoo's boxwood-ball Ginkgo Grove?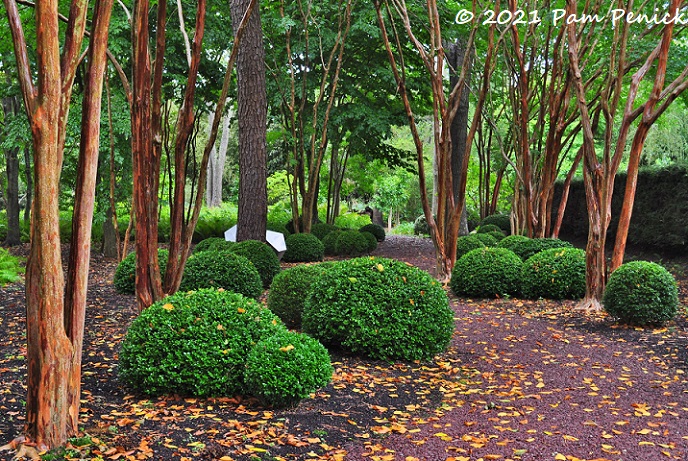 It's just two or three species of plants, but I love the play on shape and strong, nonlinear geometry. A dry-country rendering that's similar in spirit is (was?) at Cornerstone Sonoma's Garden of Contrast, where big sinuous agaves rise from feathery grasses, with gnarled olive trees all around.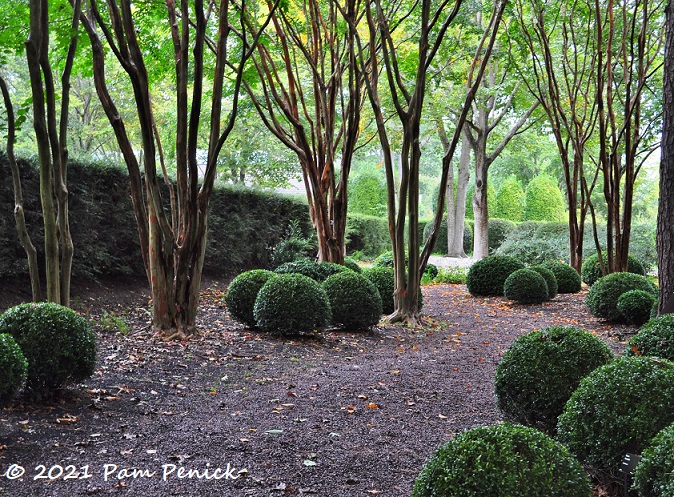 Massing, geometry, movement through space, and an element of surprise — it's all here. It seems simple but it's difficult to be so effectively minimalist.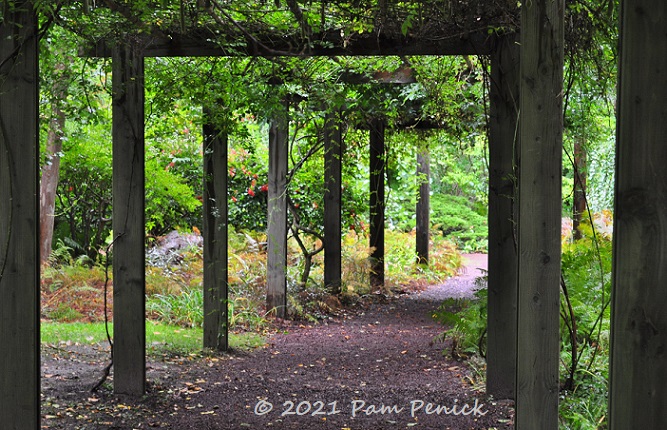 Moving on, I enjoyed framed garden views inside a long pergola that makes a gentle S-curve.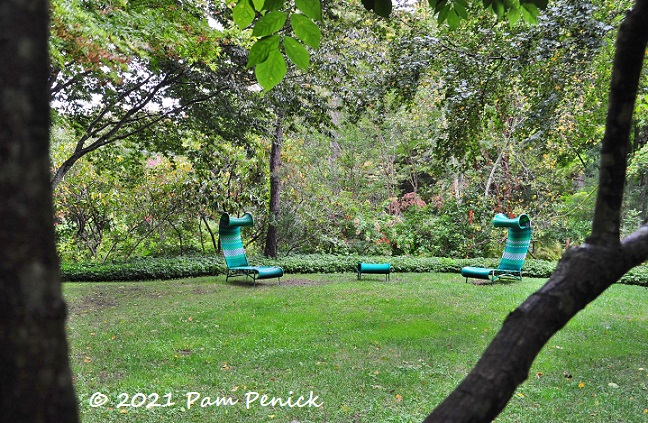 Another surprise moment — a couple of Dr. Seussian chairs and table on a secluded lawn, ready for very covid-safe conversations.
Sol LeWitt sculpture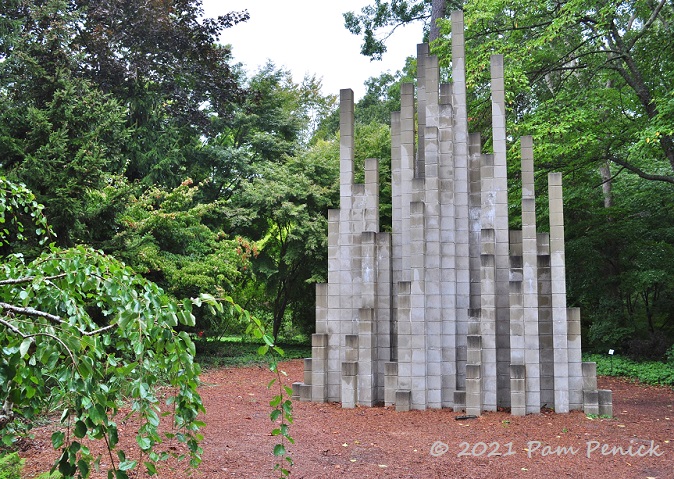 A castle-like construction of concrete blocks appears in another clearing: Irregular Progression, High #7 by Sol LeWitt.
Council Ring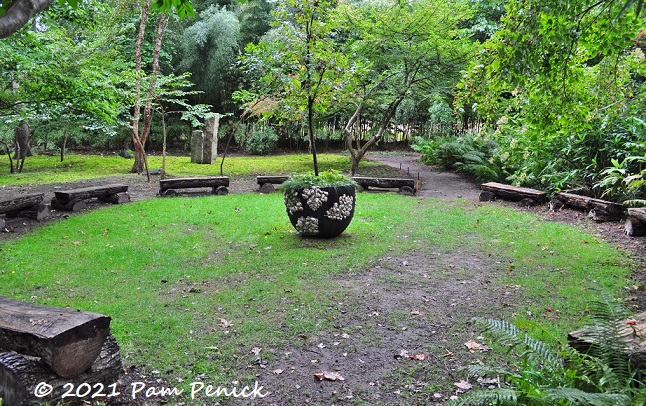 The gardens at LongHouse excel at hiding and revealing garden rooms, like the woodsy Council Ring.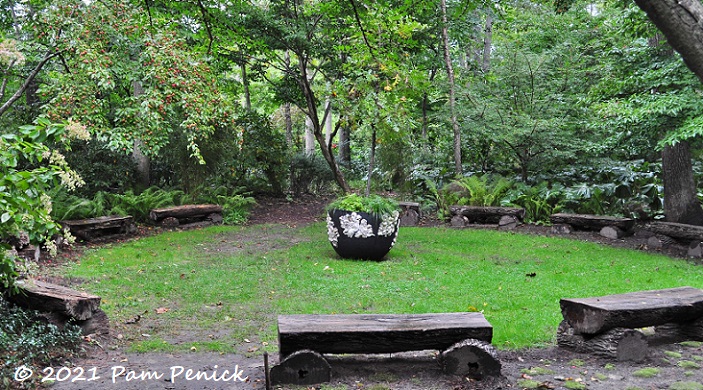 Suddenly it opens up amid encircling trees and shrubs, its wooden benches resembling Lincoln Log toy constructions.
Red Garden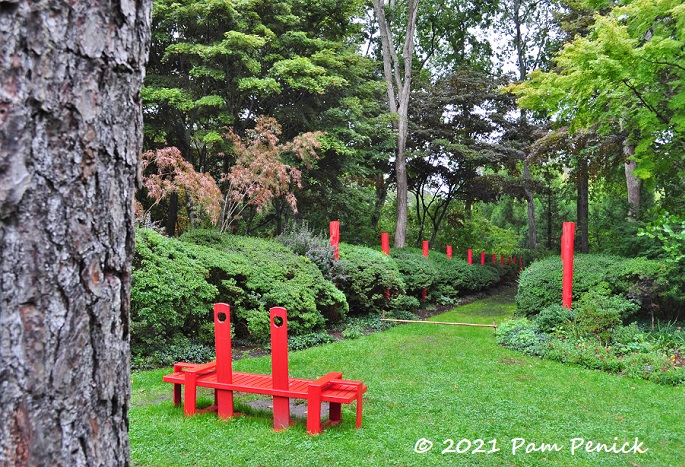 One of the most photographed spaces at LongHouse is Larsen's Red Garden. If I recall correctly from his online interviews, he gathered up scattered red and fuchsia azaleas inherited with the property and laid them out in two lines.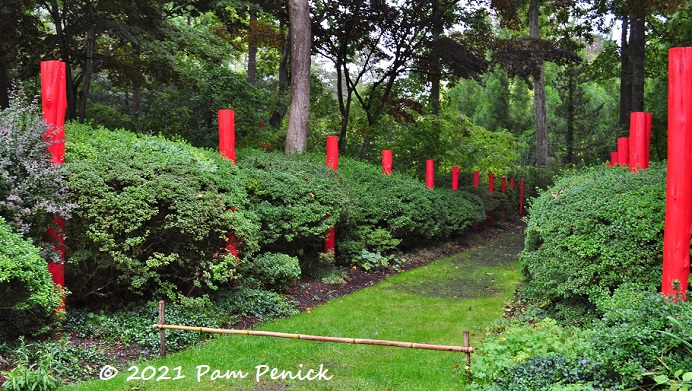 Posts made from tree trunks painted fire-engine-red march in procession among the azaleas, but in a fool-the-eye trick they get shorter and closer together near the end to make the space look longer.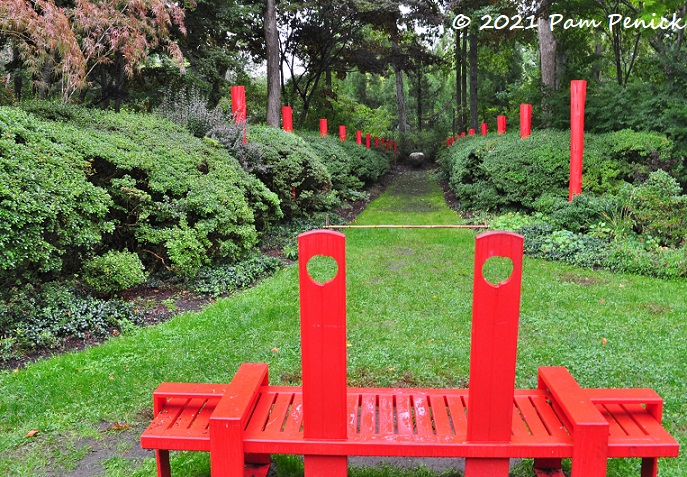 In spring, when the azaleas blaze with red flowers, this garden must dazzle the eye. But winter pics show a striking scene too, with snow-frosted shrubs and Chinese-red posts glowing under their own caps of snow.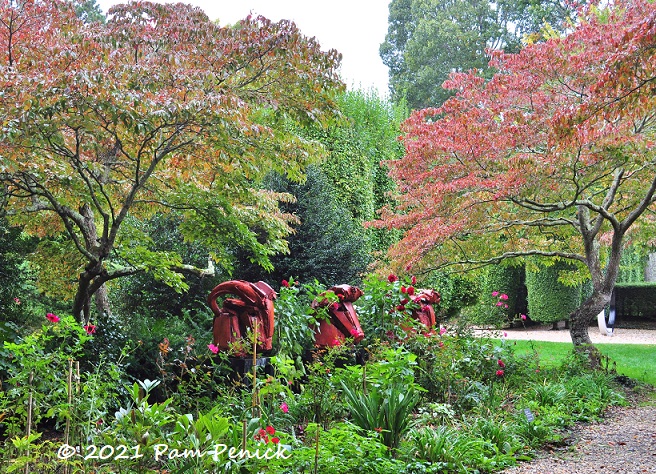 Nearby, under trees turning reddish orange, three red animal-head sculptures continue the color scheme. They are Dream of Africa totems by Shin Sang-Ho.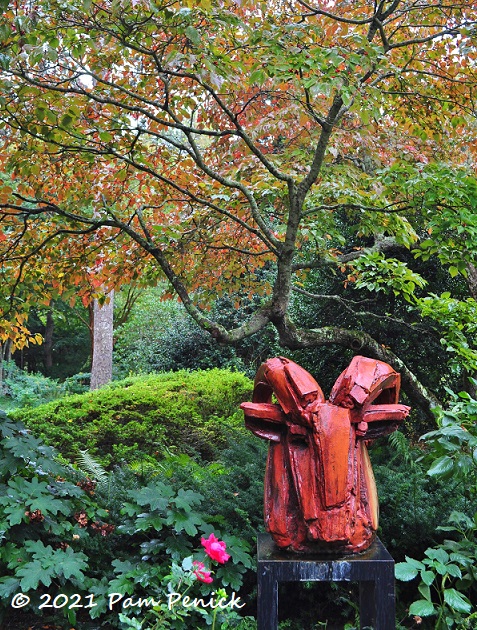 The sculptures of African animals are wonderful, but I thought the plantings around them could be more interesting. Reddish pink roses and other conventional garden flowers distract more than enhance the composition. Can't you imagine masses of red-flowering African plants here next summer, like red-hot poker, aloes, etc.?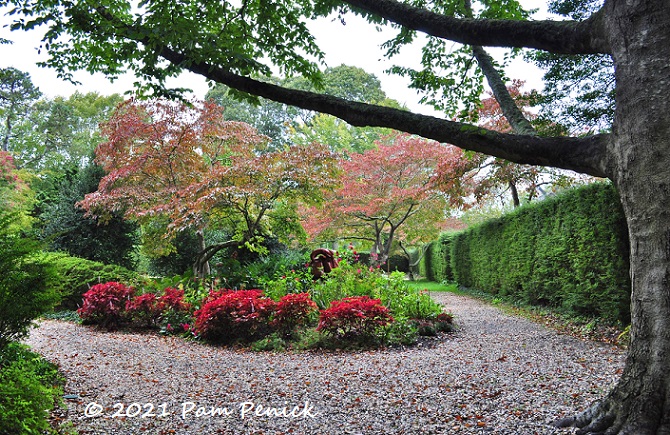 Of course this was just a snippet in time, and maybe the main show had faded. Even so, the Red Garden was exciting in its bold color and focused views.
Some of the most beautiful spaces at LongHouse are still to come in Part 3, so stayed tuned.
Up next: Part 3 of my tour of LongHouse Reserve, including the pond garden, amphitheater, and grass garden. For a look back at Part 1 of my LongHouse ramble, click here.
I welcome your comments; please scroll to the end of this post to leave one. If you're reading this in a subscription email, click here to visit Digging and find the comment box at the end of each post.
_______________________
Digging Deeper: News and Upcoming Events
Need design help with your yard? Hire me as your personal garden coach! Maybe you need replacement plant ideas after the big freeze. Or maybe your landscaping has grown tired, and you want fresh curb appeal. Or perhaps you're ready to get rid of some lawn and create a pollinator garden, bird habitat, or hangout space for you and your friends. I'm here to help! Contact me to let me know what's going on, and let's figure it out together. My range is Austin and suburbs within a 25-min. drive of NW Austin, but I'm flexible and can travel farther with a surcharge, so let me know where you are. Weekday morning appts. only.
Join the mailing list for Garden Spark! Hungry to learn about garden design from the experts? I'm hosting a series of talks by inspiring garden designers, landscape architects, and authors a few times a year in Austin. Check out the 2021-22 schedule. These are limited-attendance events that sell out quickly, so join the Garden Spark email list to be notified in advance. Simply click this link and ask to be added.
All material © 2022 by Pam Penick for Digging. Unauthorized reproduction prohibited.
The post LongHouse Reserve ramble, Part 2: Woodland garden, Yoko Ono sculpture, and Red Garden appeared first on Digging.
LongHouse Reserve ramble, Part 2: Woodland garden, Yoko Ono sculpture, and Red Garden