LongHouse Reserve ramble, Part 3: Pond, zodiac amphitheater, and grass garden
January 09, 2022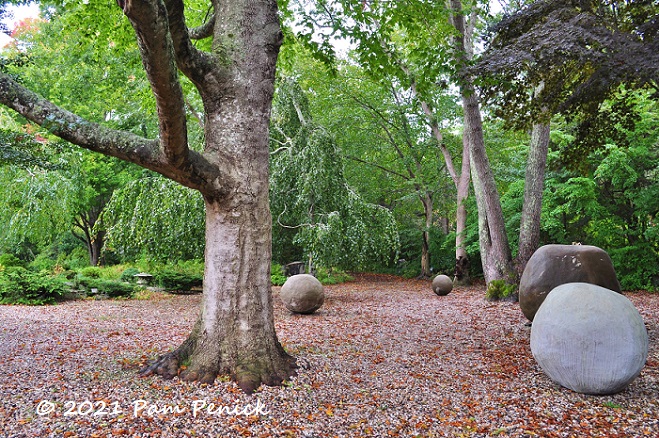 You wouldn't believe how long I studied these stone-like spheres at LongHouse Reserve when I visited the East Hampton, New York, garden back in October. The openness of the gravel under a grove of trees, with lush greenery all around, and those great, lumpy, gray and brown orbs — I just love them. Wouldn't they be wonderful in a meadowy sedge lawn too?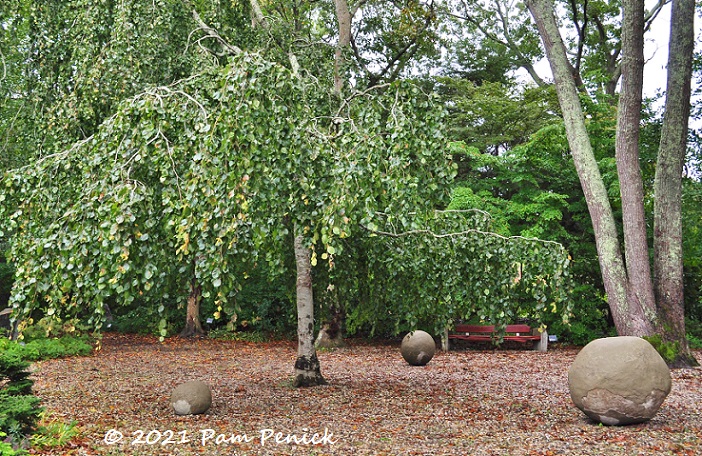 They're the work of Grace Knowlton, who also made the crumpled copper orbs shown in Part 2 of my LongHouse tour.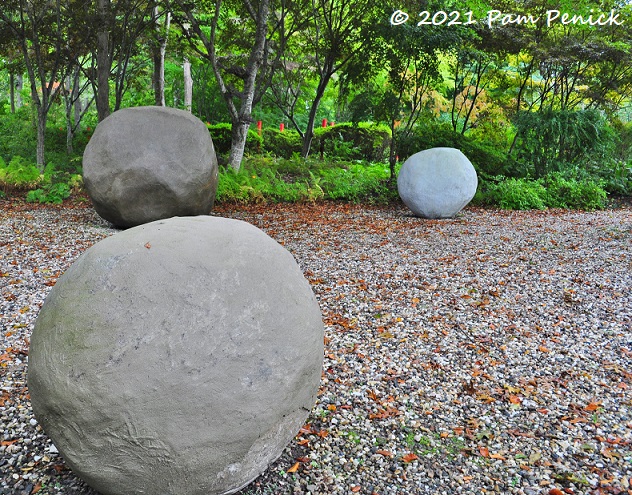 They bring to mind the large, textural spheres in Tait Moring's Austin garden and at Cornerstone Sonoma in California.
Pond garden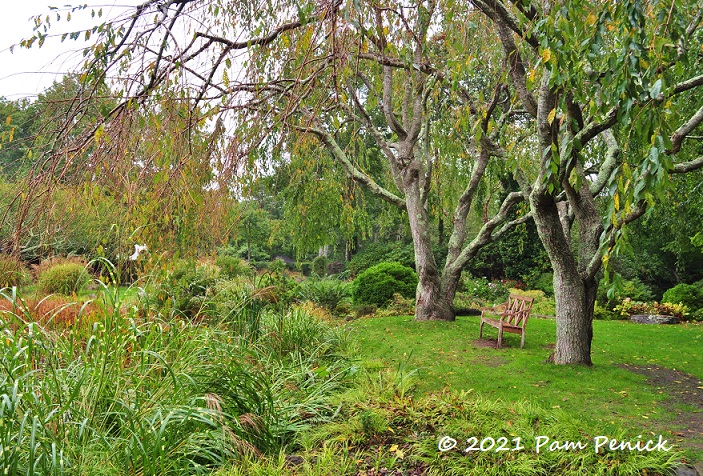 Now that I've gotten my orb obsession out of the way, I'm ready to share Part 3 of my LongHouse tour. The 16-acre garden of the late Jack Lenor Larsen, a renowned textile artist who turned his Hamptons home into a public showcase of garden rooms, sculpture, and artisan-made collections, is one of the more fascinating gardens I visited in 2021, full of surprises and wow moments.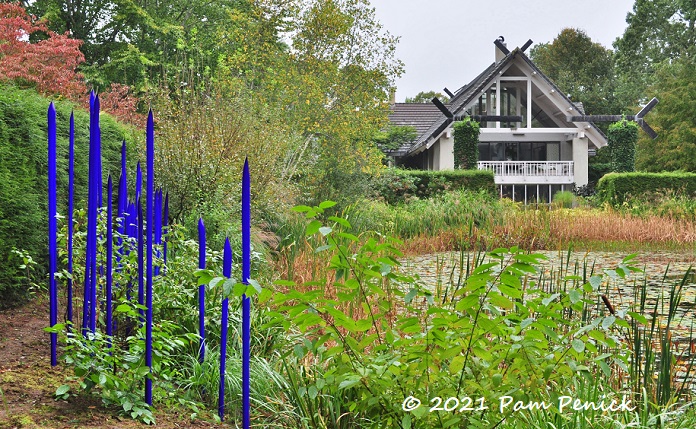 Peter's Pond sits at the heart of the garden, overlooked by Larsen's Shinto-shrine-inspired house. From this vantage, you can appreciate the structural echo of the house's long rafters and the Y-shaped arbors that frame the pond view. (See Part 1 for those Y-arbors in the Pavilion garden.)
Glass artist Dale Chihuly's Cobalt Reeds stands pondside. Fun fact: Larsen is the one who, according to the New York Times, "persuaded the artist Dale Chihuly, then a recent interior design graduate of the University of Washington, to give up weaving glass and to try blowing it instead." The rest is history.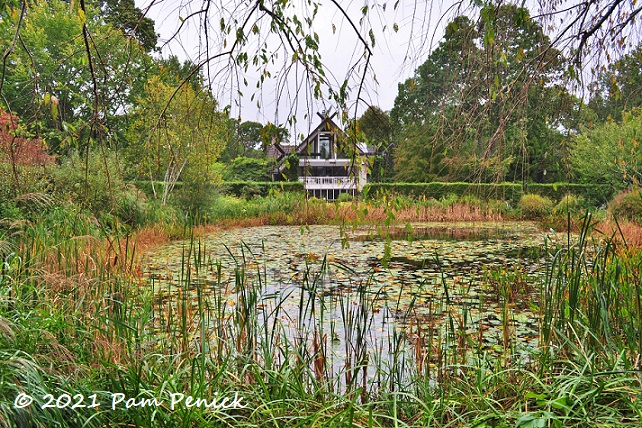 Tall hedges frame two sides of the pond, with a cutout that allows the house a terrific view of the water. In mid-October, when I visited, the pond grasses were tawny orange, making a pretty ring of color around its bank.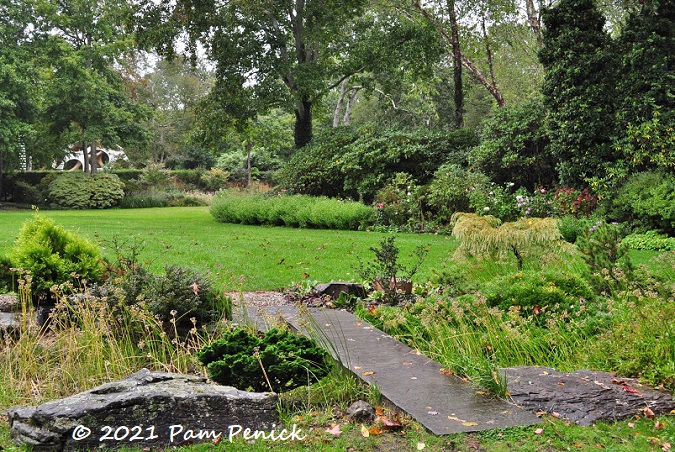 Circling the pond, I crossed a stone-slab bridge over a dry creek. A glimpse of Fly's Eye Dome by Buckminster Fuller — I've seen another at Crystal Bridges Museum in Arkansas — is visible beyond a hedge. LongHouse's gardens contain more than 60 sculptures, a collection that includes permanent works and many others on loan.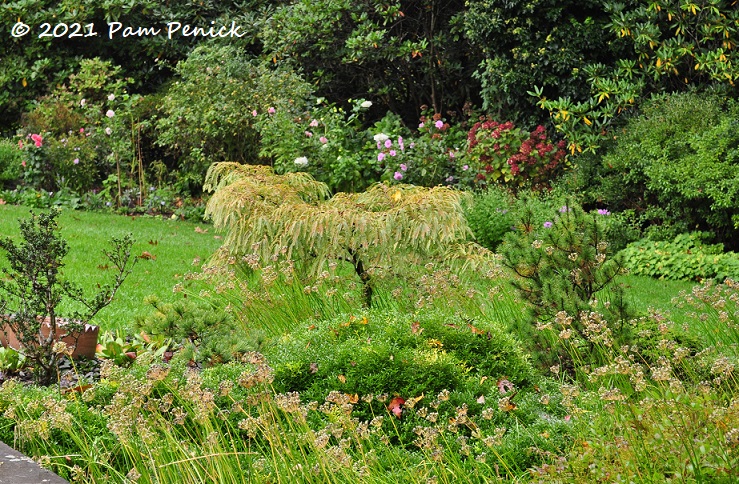 Garlic chives gone to seed line the creek's banks, along with this pretty, almost bonsai-like tree.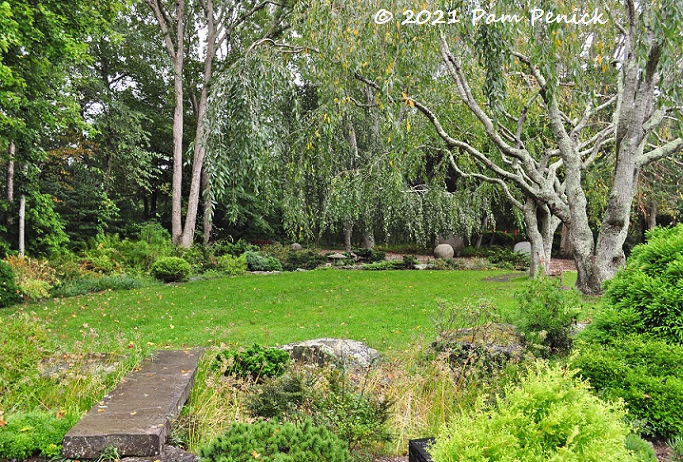 Looking back toward Grace Knowlton's spheres under weeping trees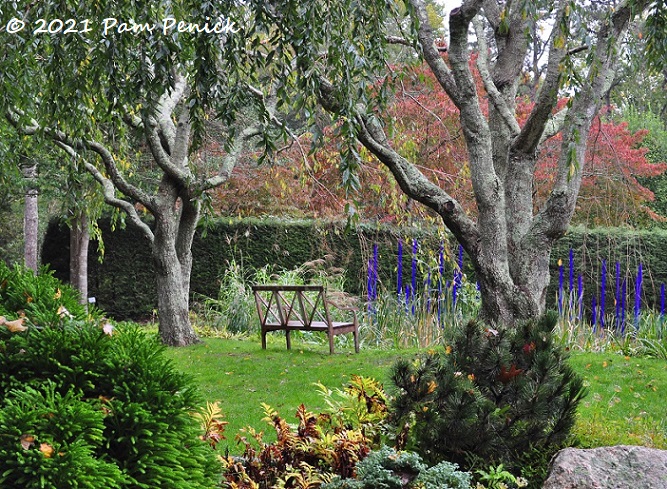 Every view is lovely and well thought-out.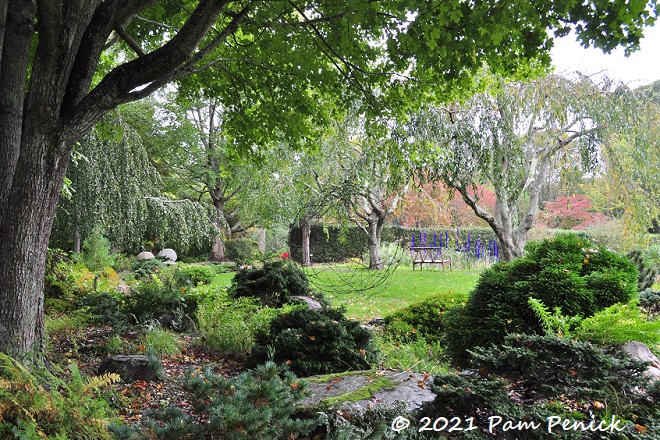 A large, ghost-like sphere stands in this lawn — can you see it? It's right in the center.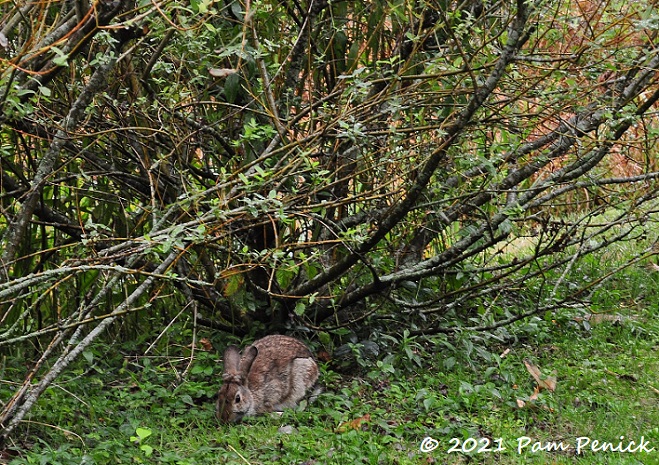 As I was exploring, a rabbit scooted across the lawn and under a bush, looking for an early dinner.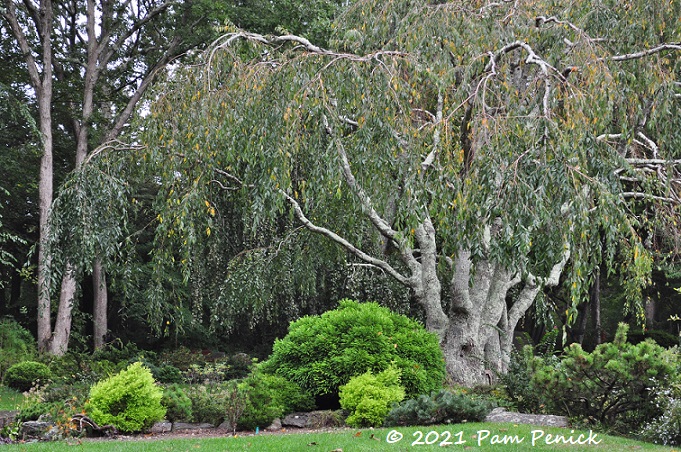 A weeping willow or some such — a beautiful focal point at the far end of the pond.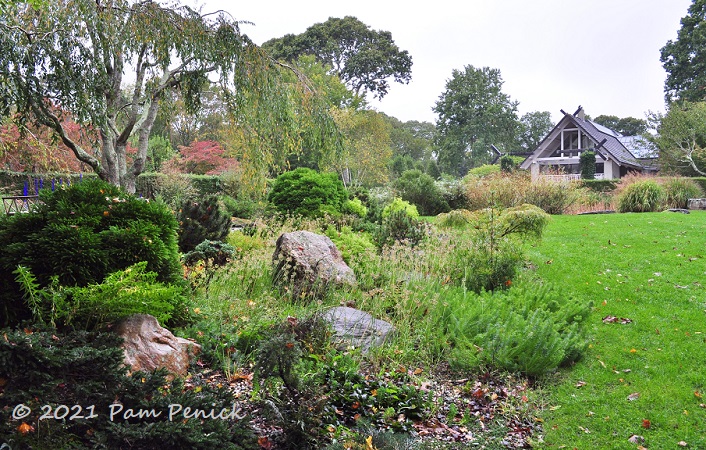 The garden along the dry creek edges a large lawn, where in summer chairs are set out overlooking the pond.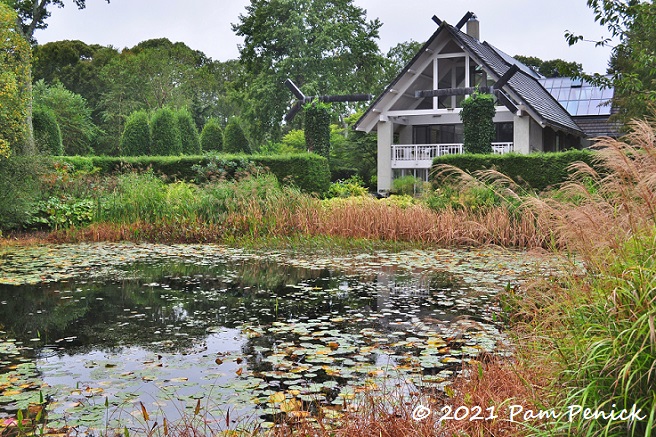 I settled on a bench here for a while, admiring the view.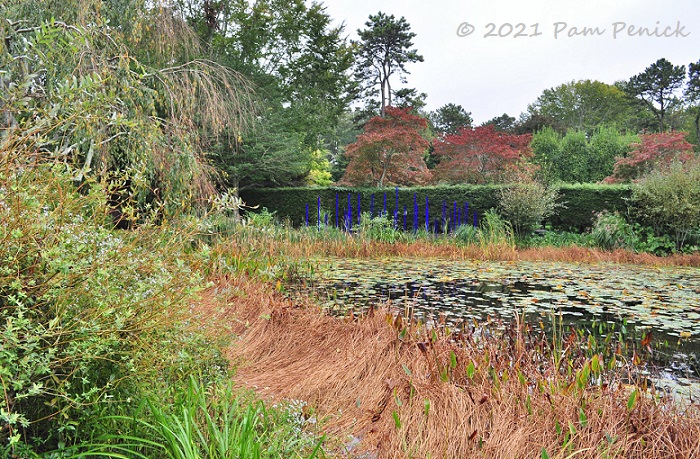 Orange grasses, cobalt Chihuly glass, a dark-green line of hedge, and red foliage beyond — the jewel-toned palette of fall.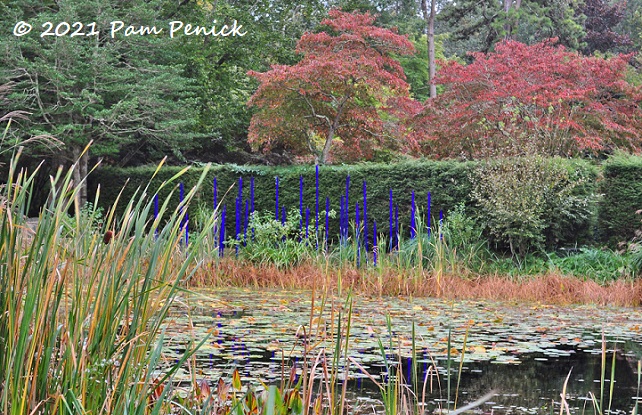 A closer look at those Chihuly reeds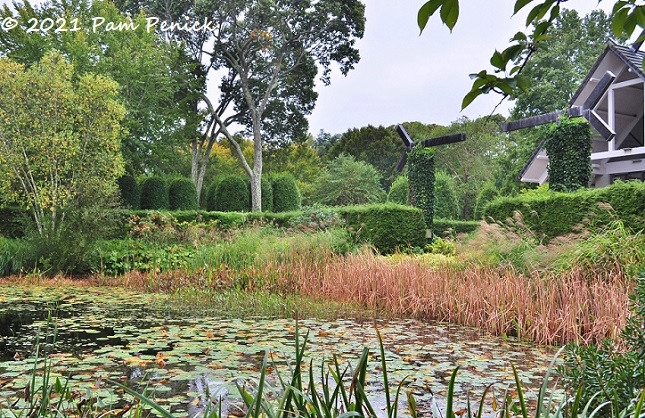 The rounded shapes beyond the hedge are the clipped hornbeams of the allée seen in Part 1.
Richard Lear Memorial arbor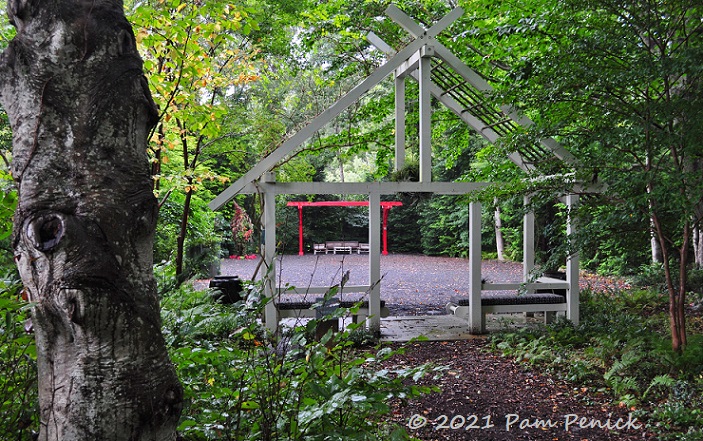 Following a path into a wooded area, I came upon a peaked arbor with rafter tails echoing LongHouse's construction. This is the Richard Lear Memorial, a contemplative space in a small clearing. As with other places at LongHouse named after people, I couldn't find any info on Lear's significance or why the memorial exists. But it's a lovely space.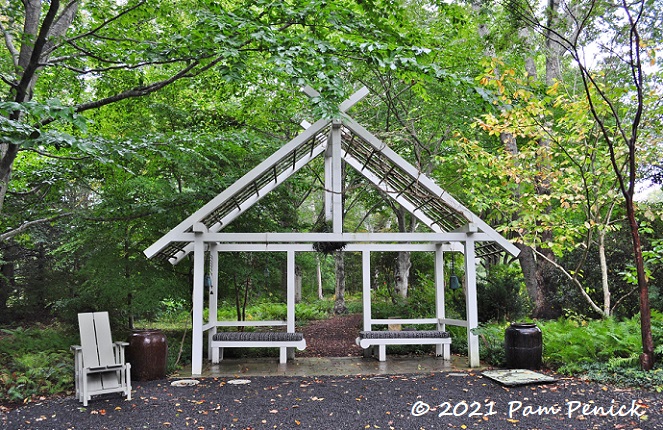 The white arbor used to be Chinese red, as seen in photos on the garden's website.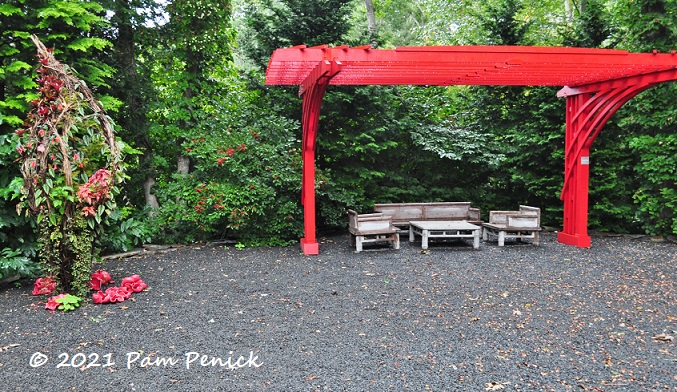 Perhaps they decided two red arbors were too much for this space, when they added a second one — massive in scale — across the clearing.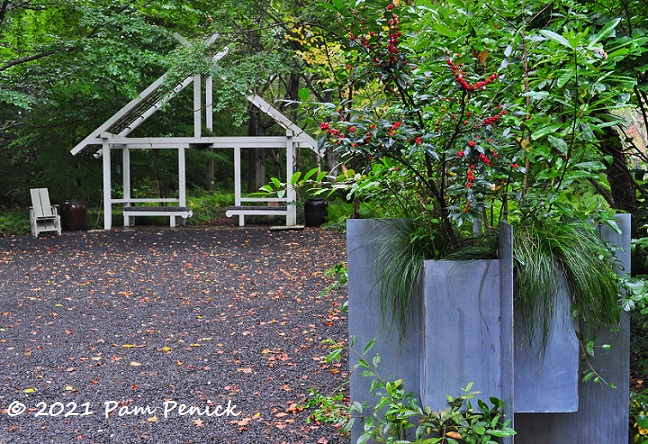 Interesting planters that pick up all that red were on display, including this metal one with sectioned-off boxes…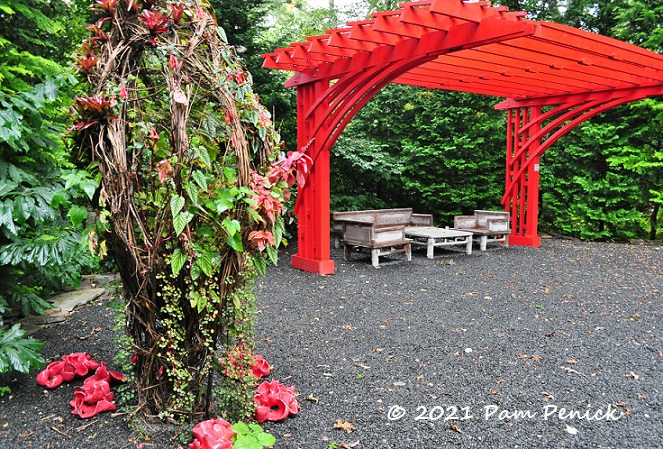 …and this organically shaped tower of grapevines and red coleus, with red ceramic flowers encircling it on the ground.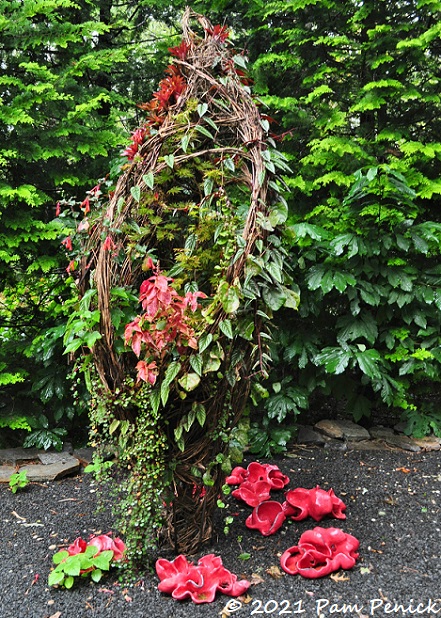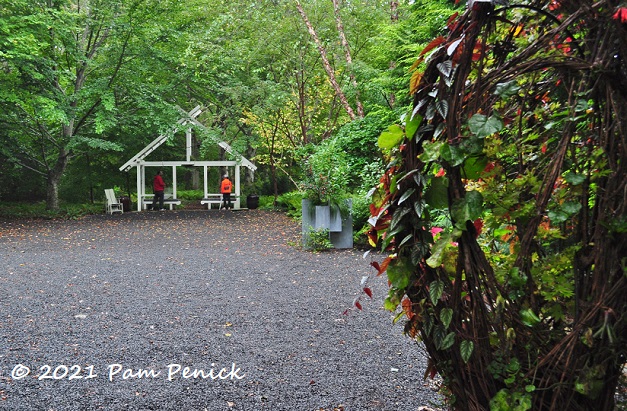 Other visitors add to the red accents of this space.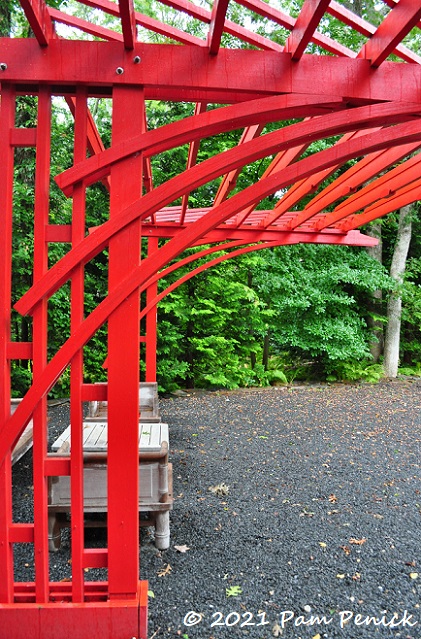 Rose arbor walk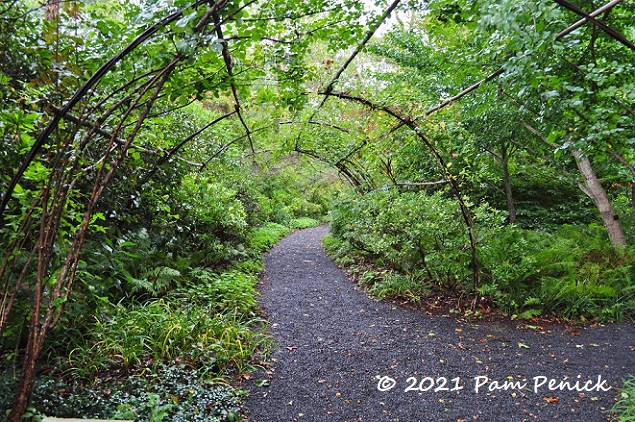 After the memorial garden, a tunnel arbor — the Pink Garden, according to the garden map, although the pink roses or other vines were dormant for fall — leads to the next big wow moment.
Amphitheater with zodiac heads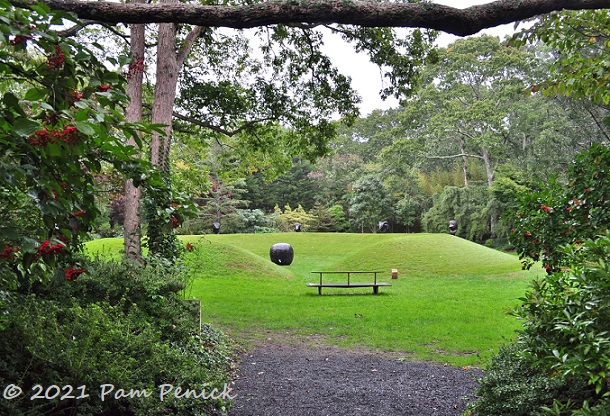 You emerge from the tunnel arbor and woodland path into a wide-open grassy space. A circular berm, nearly head-high, fills the lawn. Surprise! This is the Edward Albee Amphitheater.

For even more wow, the space is encircled by Ai Weiwei's Circle of Animals/Zodiac Heads. Austin was home to a fascinating Ai Weiwei artwork for a while, and I was curious to see more of his work.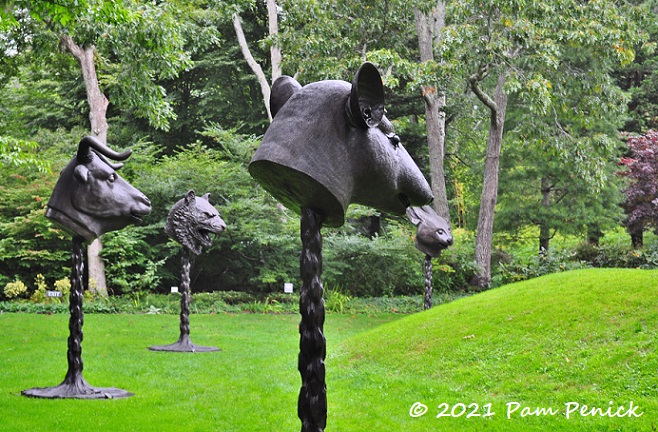 According to Los Angeles County Museum of Art, "Ai has recreated the famous twelve bronze animal heads that once adorned the Zodiac Fountain in Yuan Ming Yuan, the Old Summer Palace, in Beijing. Cast around 1750, the original heads were looted by Anglo-French troops who took part in the destruction of Yuan Ming Yuan in 1860 during the Second Opium War. The heads remain a potent trigger for Chinese nationalist sentiments. Ai's new work suggests a dialogue about the fate of art objects that exist within dynamic and sometimes volatile cultural and political settings."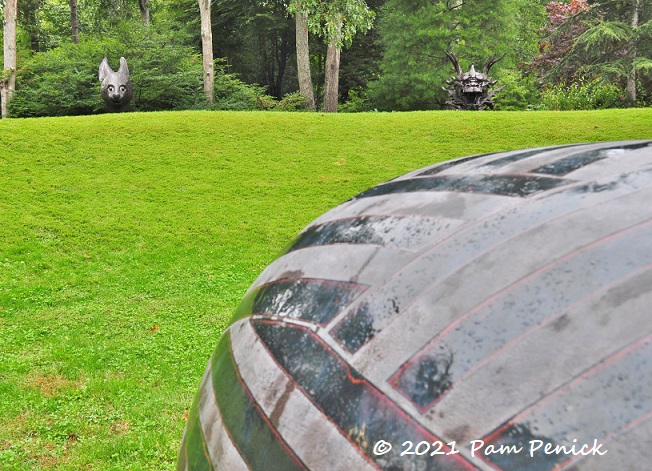 The circular berm, when you stand behind it, hides the posts of the heads, and each one seems to peek at you along the hill.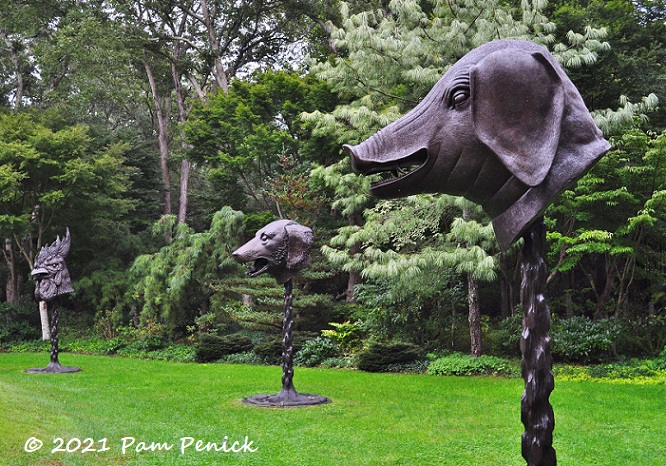 It's a grand space for a (formerly) private garden. I wonder what sort of performances have been held here.
Grass Garden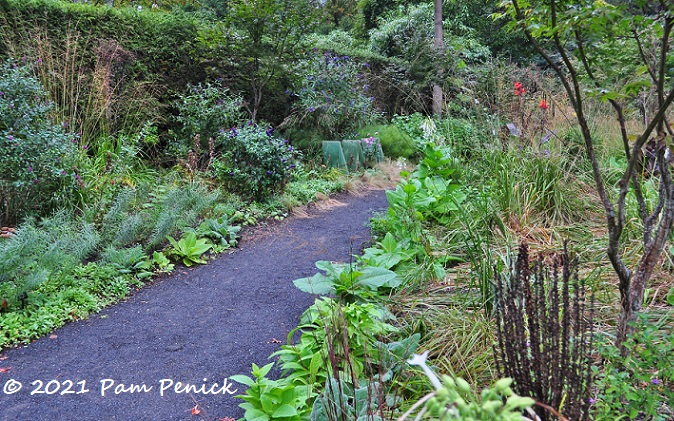 Heading toward the exit, I found the small Grass Garden.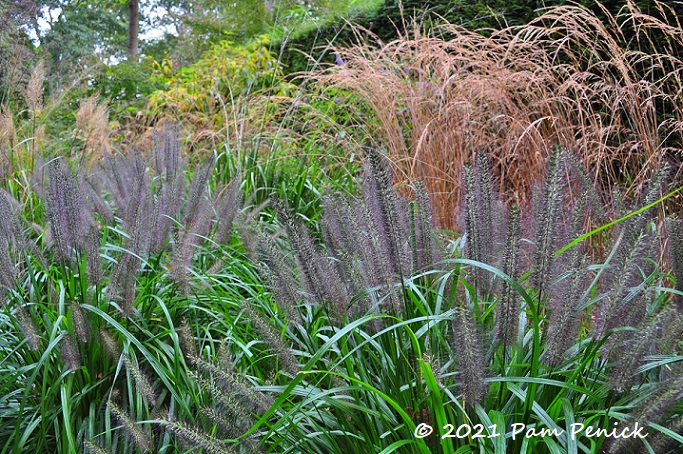 Pennisteum and other grasses in fall bloom added to the late-season beauty.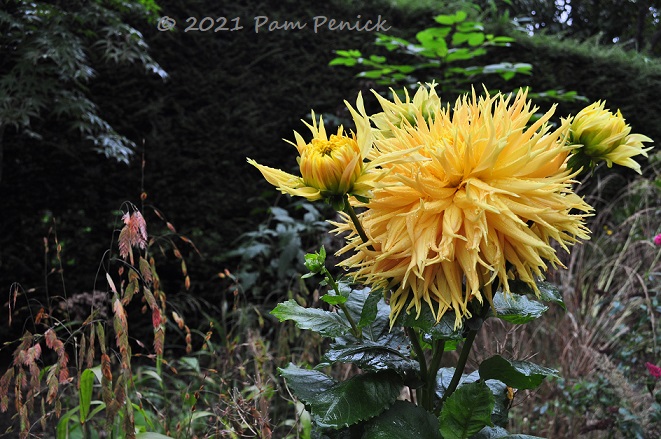 Dahlias and sea oats too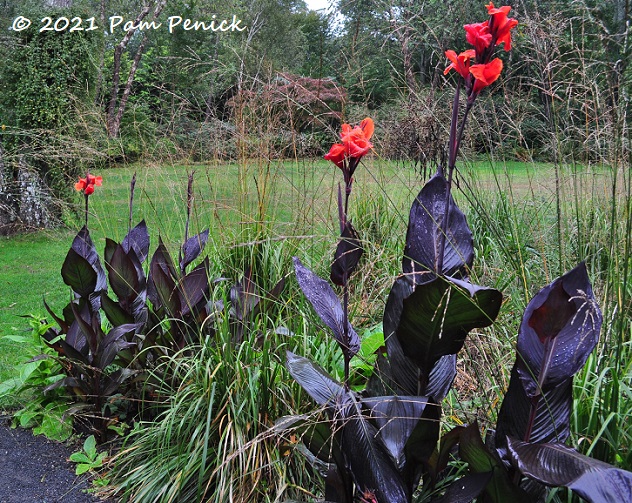 And wow, check out this almost-black canna with blazing red flowers.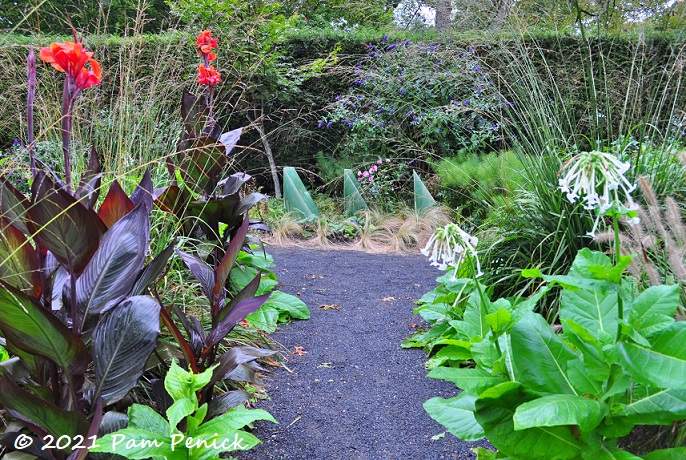 Looking the other way you see a foliage-framed view of three green triangular wedges.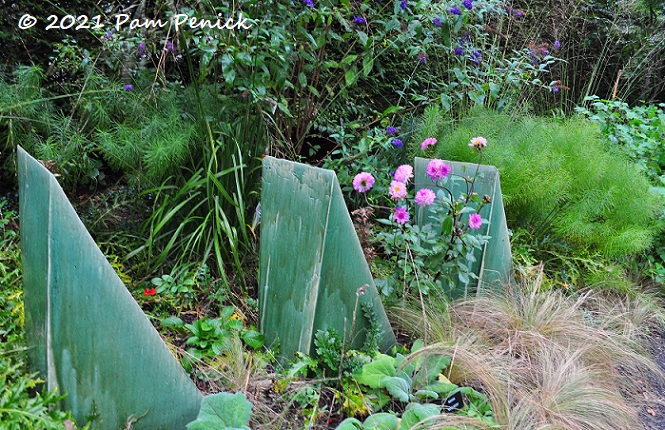 Ceramic, sharp-edged, and celadon. Aren't they lovely?
Second Lawn sculptures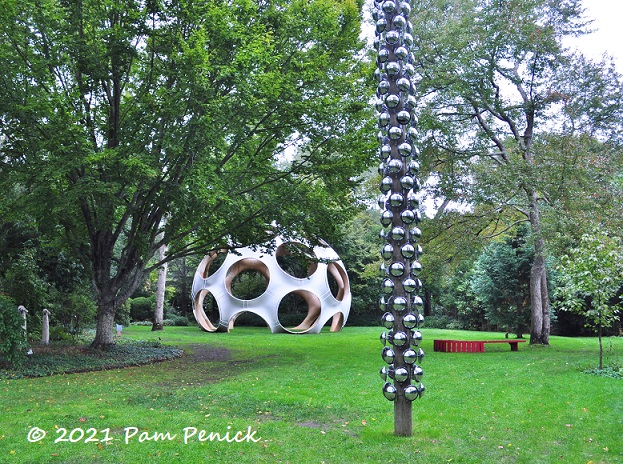 Near the exit, not far from the sand-dune entry I showed in Part 1, stands monumental Fly's Eye Dome by Buckminster Fuller and a mirrored totem pole called Would That I Wish For by Marko Remec.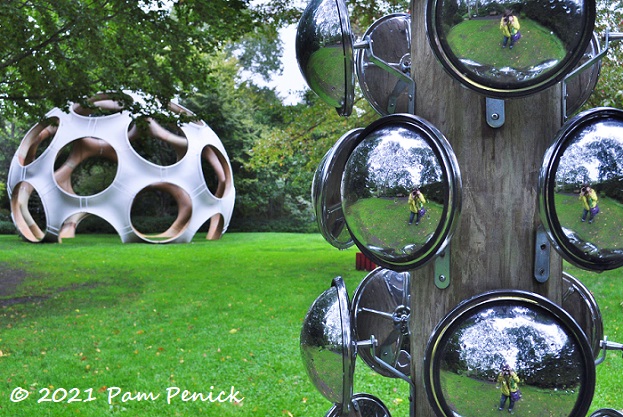 Circles and circles and circles, framing and reflecting. Remec's piece makes for an irresistible selfie opportunity too.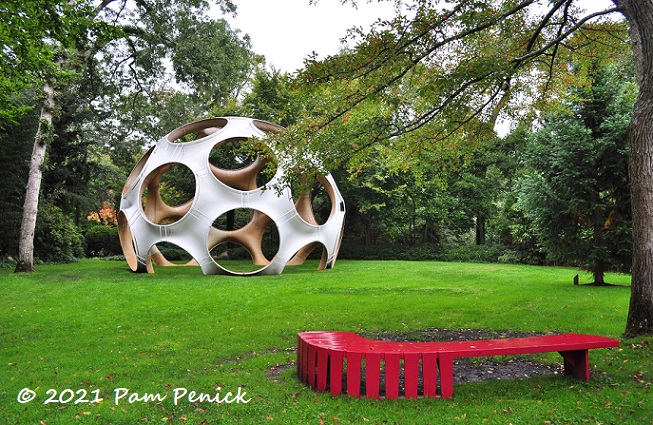 A modern bench adds more Chinese red, which pops up throughout LongHouse, from the Lear Memorial to the iconic Red Garden (shown in Part 2).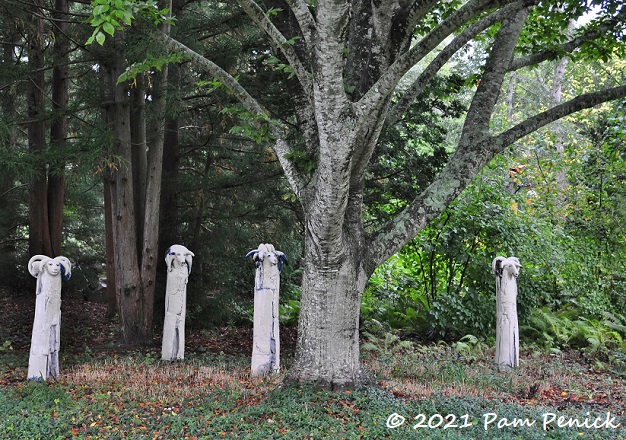 Along the shady edge of the lawn, white animal figures stand watch. These are more of Shin Sang-Ho's Dream of Africa totems.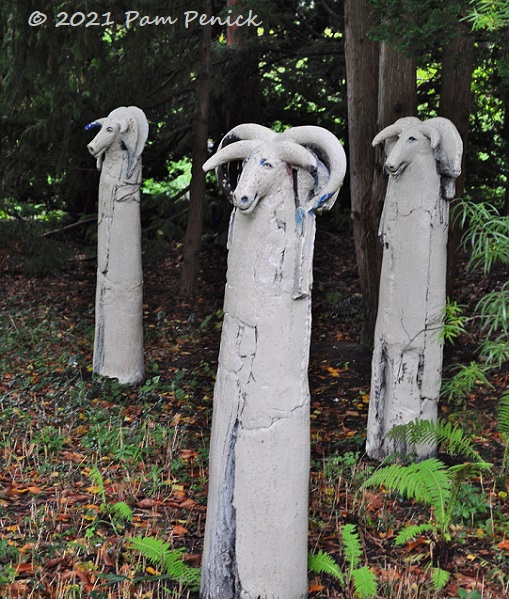 The artist's larger, red animal totems appear in the Red Garden (see pics in Part 2).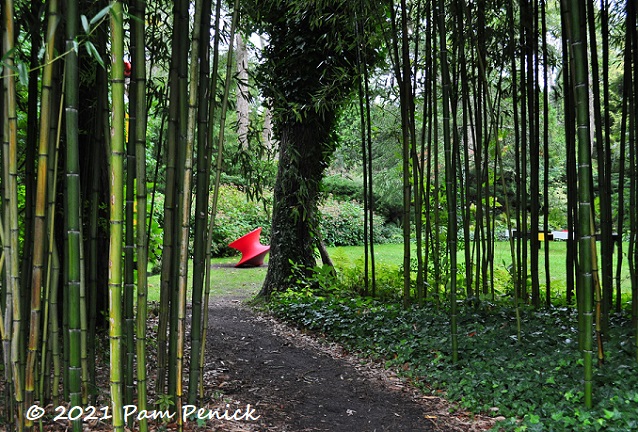 More red in a top-like sculpture I spotted near the exit.
LongHouse Reserve was a delightful surprise and a highlight of my trip to the Hamptons. I hope my 3-part series about it inspires other gardeners and art lovers to visit.
Up next: James Golden's unorthodox garden at Federal Twist in New Jersey. For a look back at Part 1 and Part 2 of my exploration of LongHouse Reserve, click here.
I welcome your comments. Please scroll to the end of this post to leave one. If you're reading in an email, click here to visit Digging and find the comment box at the end of each post. And hey, did someone forward this email to you, and you want to subscribe? Click here to get Digging delivered directly to your inbox!
_______________________
Digging Deeper: News and Upcoming Events
Need design help with your yard? Hire me as your personal garden coach! Maybe you need replacement plant ideas after the big freeze. Or maybe your landscaping has grown tired, and you want fresh curb appeal. Or perhaps you're ready to get rid of some lawn and create a pollinator garden, bird habitat, or hangout space for you and your friends. I'm here to help! Contact me to let me know what's going on, and let's figure it out together. My range is Austin and suburbs within a 25-min. drive of NW Austin, but I'm flexible and can travel farther with a surcharge, so let me know where you are. Weekday morning appts. only.
Join the mailing list for Garden Spark! Hungry to learn about garden design from the experts? I'm hosting a series of talks by inspiring garden designers, landscape architects, and authors a few times a year in Austin. Check out the 2021-22 schedule. These are limited-attendance events that sell out quickly, so join the Garden Spark email list to be notified in advance. Simply click this link and ask to be added.
All material © 2022 by Pam Penick for Digging. Unauthorized reproduction prohibited.
The post LongHouse Reserve ramble, Part 3: Pond, zodiac amphitheater, and grass garden appeared first on Digging.
LongHouse Reserve ramble, Part 3: Pond, zodiac amphitheater, and grass garden