Looking inward at Innisfree Garden, part 2
December 10, 2021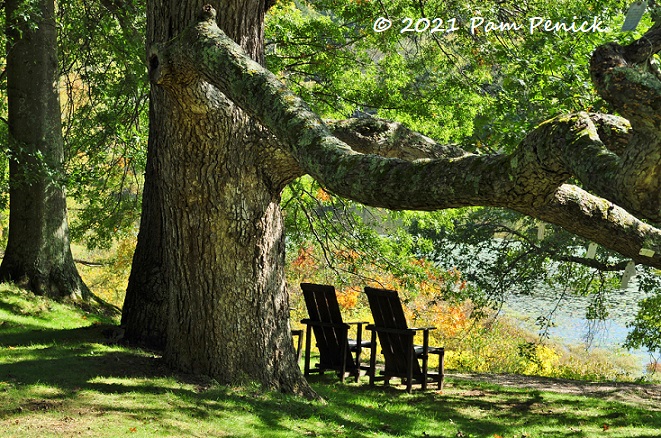 Today I'm continuing with part 2 of my tour of Innisfree, a public garden in New York's Hudson Valley. Inspired by Chinese strolling gardens, the naturalistic garden rambles around a glacial lake, with small "cup gardens" to discover along the way. Click here to read part 1 first.
As you explore Innisfree, you frequently come across wooden chairs in groups of two or four that face the lake and invite you to stop a while and look. And listen. And just breathe.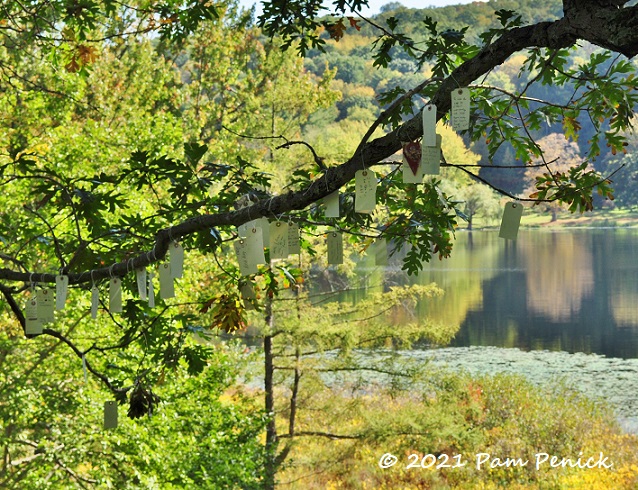 Paper tags fluttered from the low branches of one grand old oak — a Wish Tree. We found blank tags and string on a table, and after we read dozens of other people's wishes we added two of our own.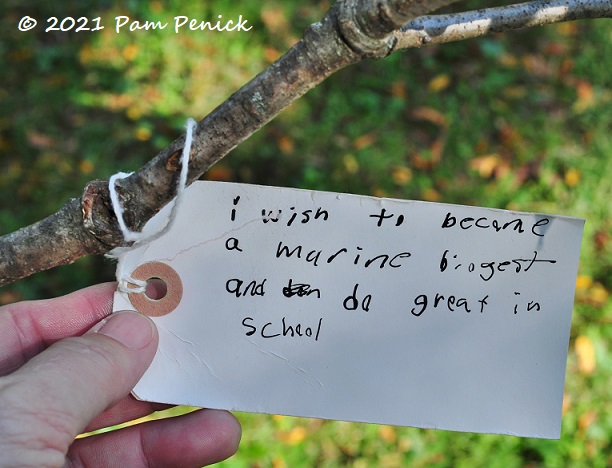 The wishes ran the gamut. A few made me laugh, and some choked me up. "I wish to become a marine biogest [sic] and do great in school."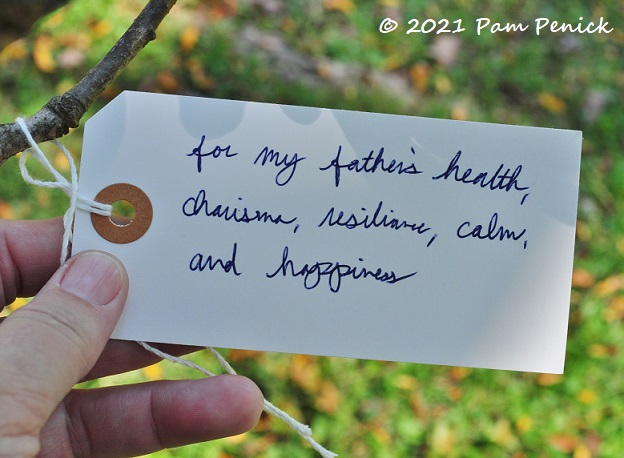 "For my father's health, charisma, resilience, calm, and happiness."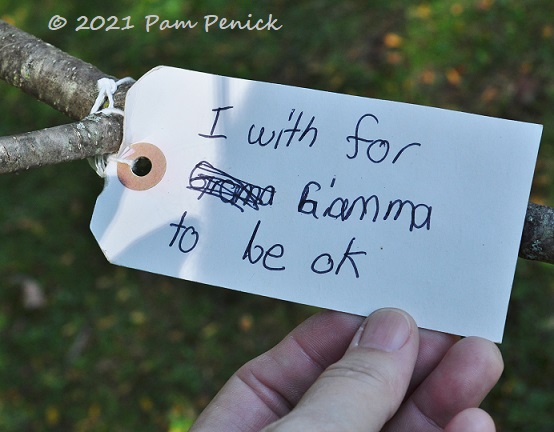 "I with [sic] for G'amma to be ok."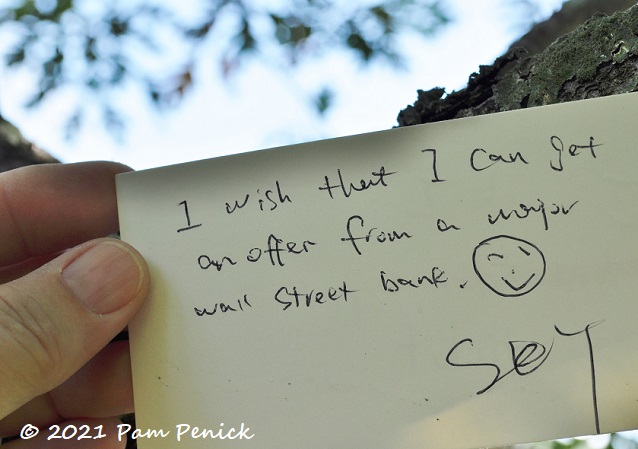 "I wish that I can get an offer from a major Wall Street bank. :)"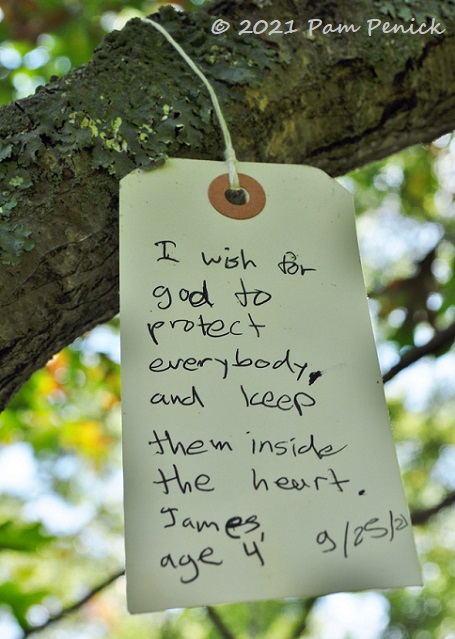 "I wish for god to protect everybody and keep them inside the heart. James, age 4."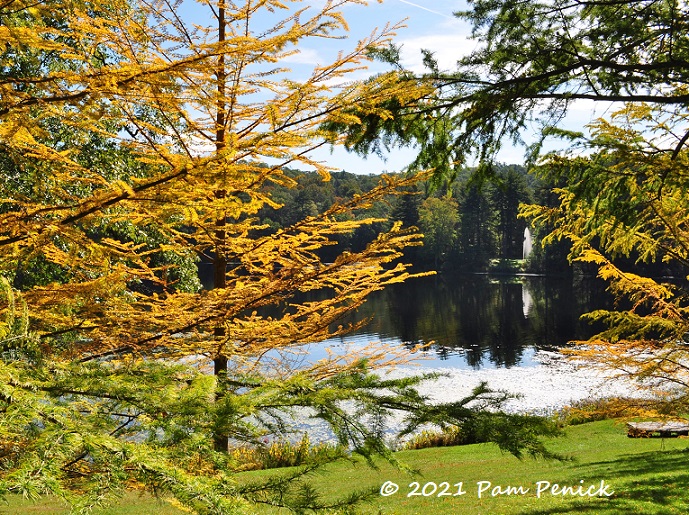 I left the Wish Tree with a lump in my throat, my own wish fluttering from a branch. Larches with golden needles framed a view of a tall, jetting fountain across the lake.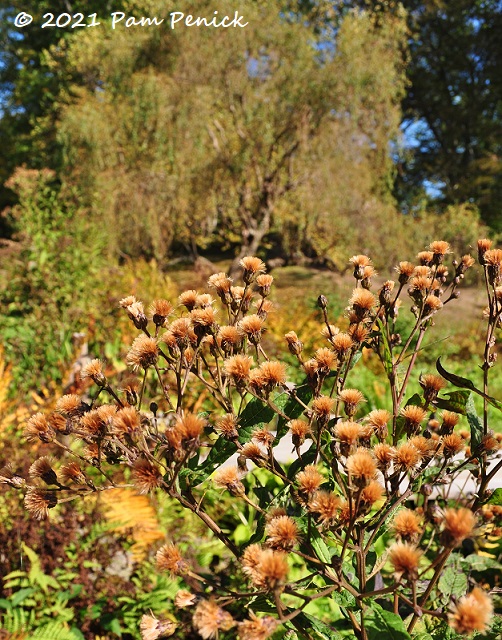 More tawny fall color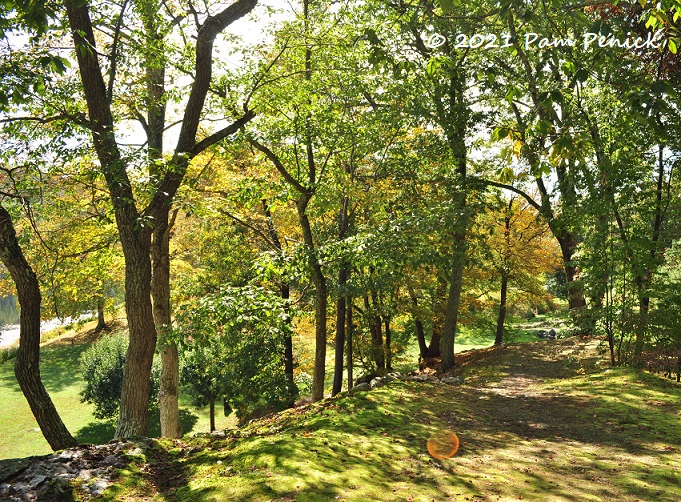 And gold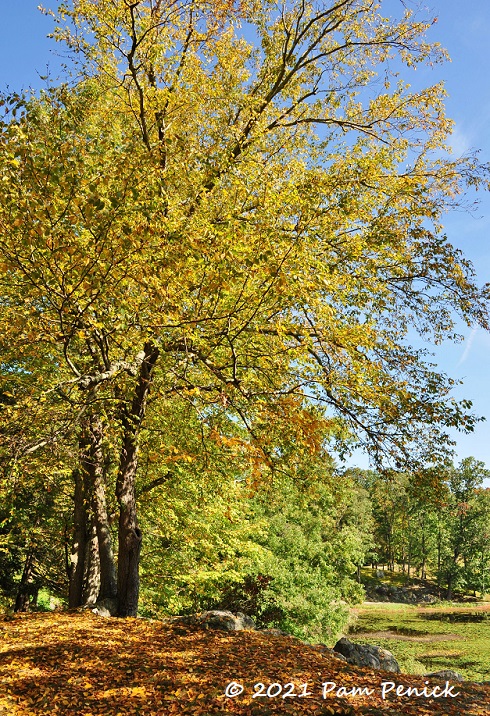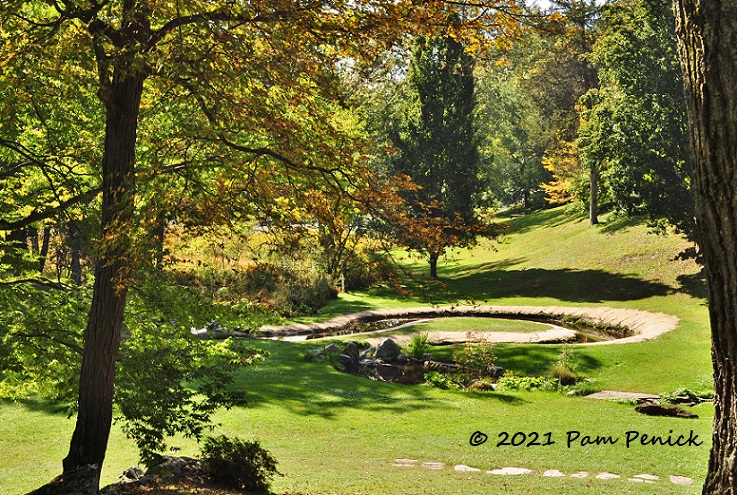 The yarimizu oxbow stream is one of the more striking features at Innisfree. I'd seen many a misty, early morning photo of it online.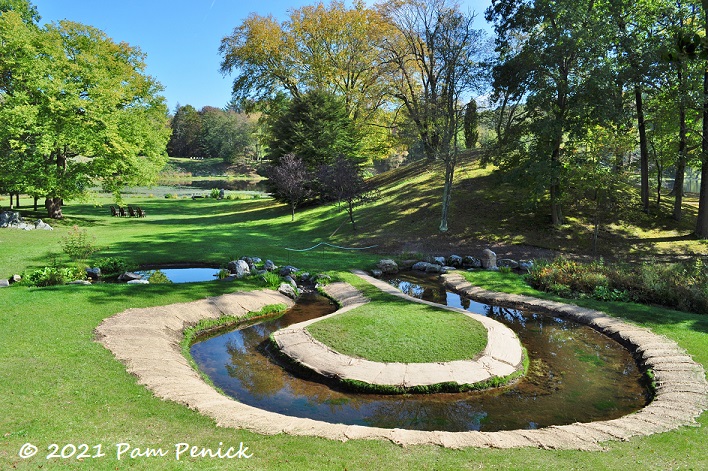 Unfortunately the oxbow was undergoing a cosmetic procedure during our visit. What looked like burlap sacks lined the banks, and access to the uvular peninsula was roped off.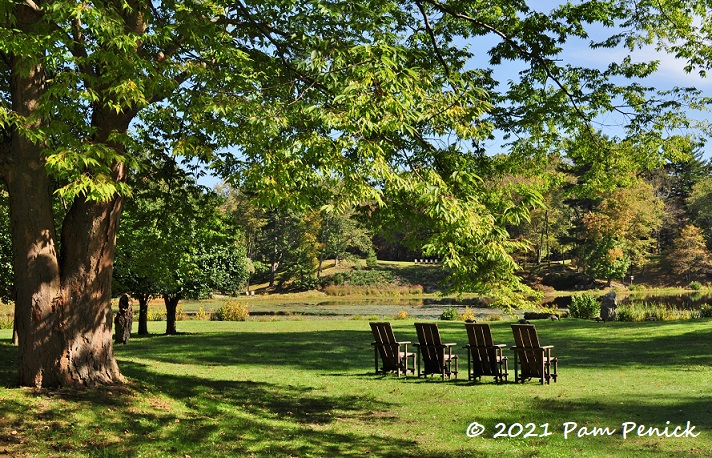 A lawn along the lake's edge invited us to come look, as did a line of chairs.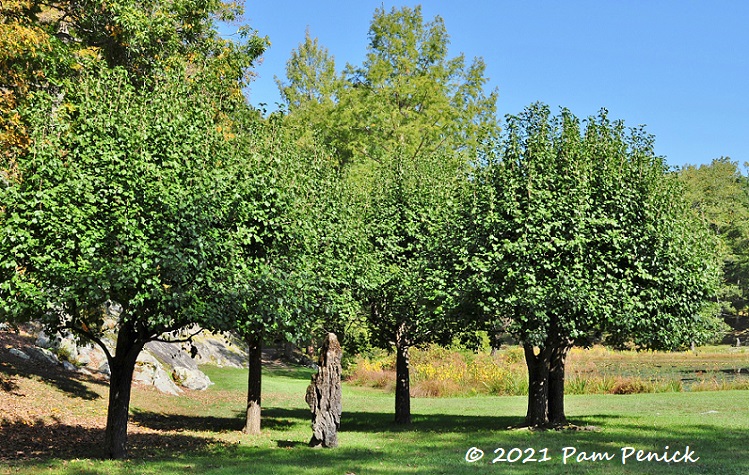 A standing stone encircled by clipped pear trees offers a cup-garden vignette to enjoy from those chairs.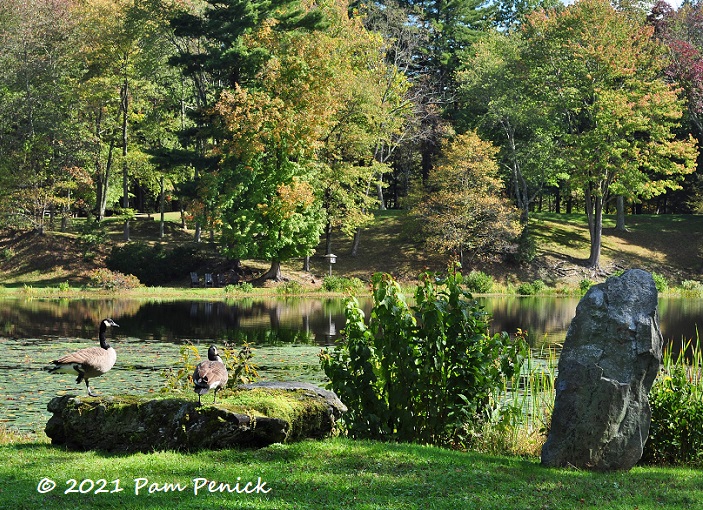 There's the lake view too, and a pair of geese perched on a rock.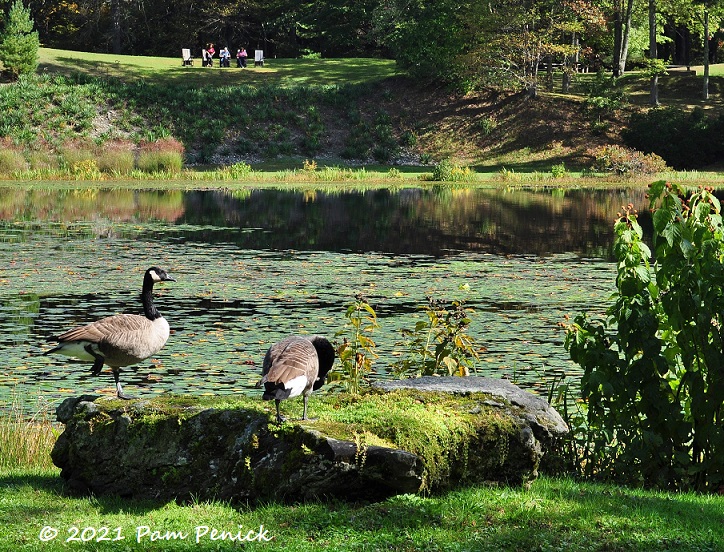 Across the lake, several visitors were taking in the view from their side.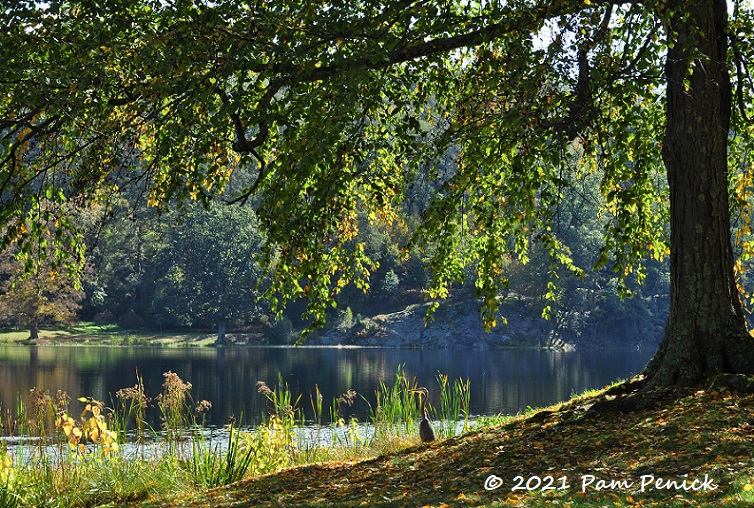 A solitary heron was fishing along the bank…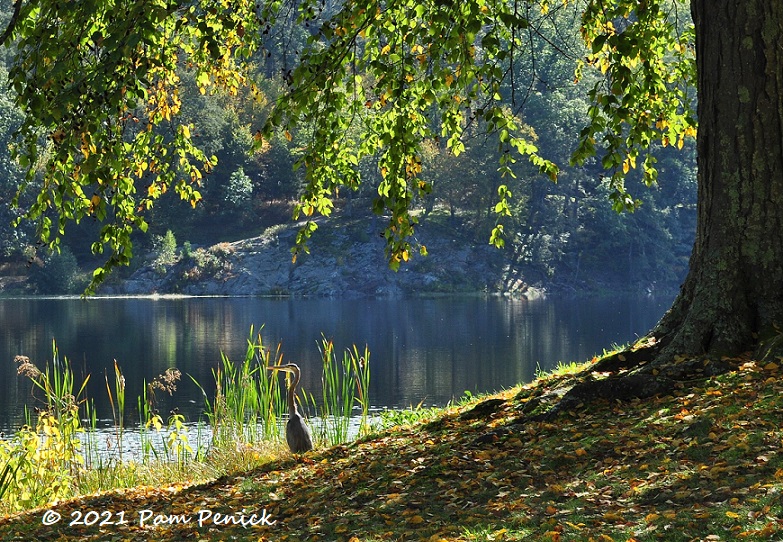 …as still as a statue until ready to strike.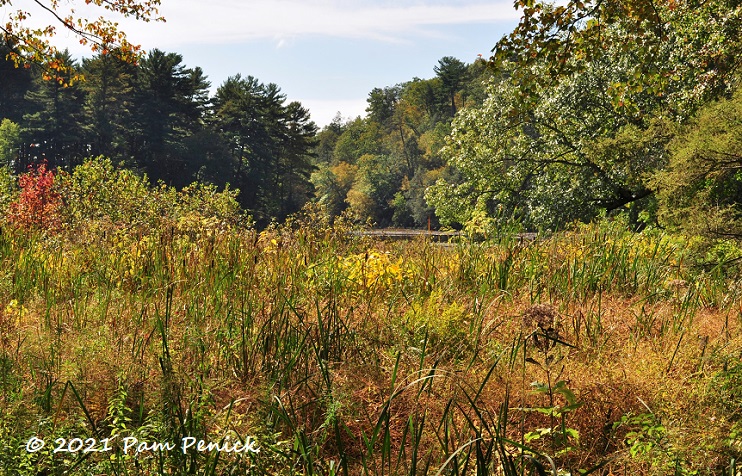 Following the stream past the oxbow, we found a bog meadow in the warm hues of early fall.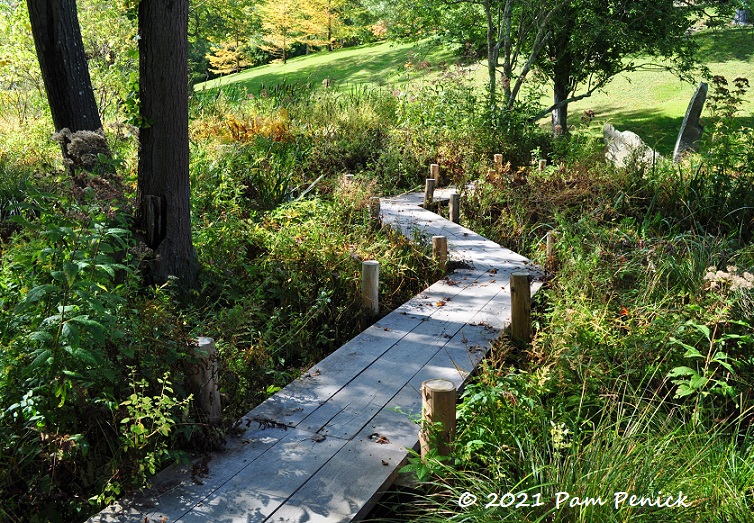 A zig-zag boardwalk bridge kept our feet dry.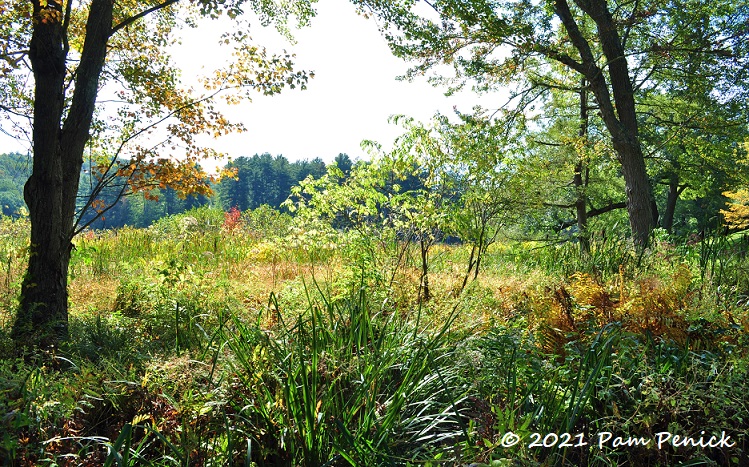 The light in the bog meadow was lovely.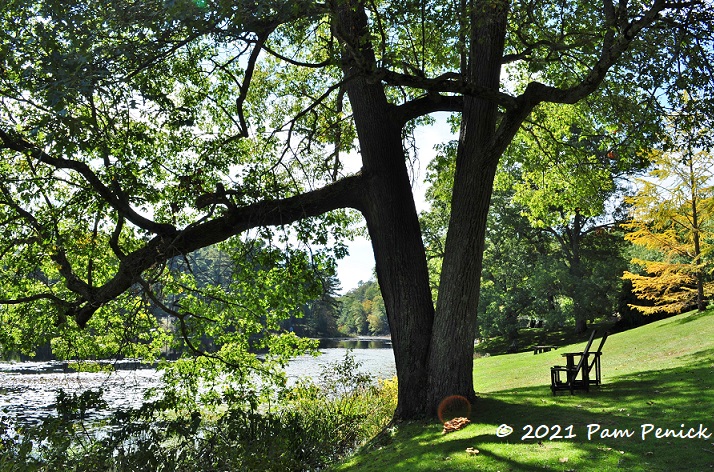 Under this tree I sat for a bit while David went back to look for Buddha Cave, which he thought he'd missed (we're completionists). It was peaceful and beautiful. Suddenly I heard a young boy, about 10 years old, calling out, his voice high and excited, "Mom! Dad! Come look at this!" I was instantly reminded of my own son at around that age, in another wonderful garden (Chanticleer), and his thrill at discovering the semi-hidden spaces there. The years flew backwards. David returned just then, and I had to explain my bittersweet tears over that joyful moment brought back to me through a child's cry of discovery in a garden.
How is it that we can time travel like that?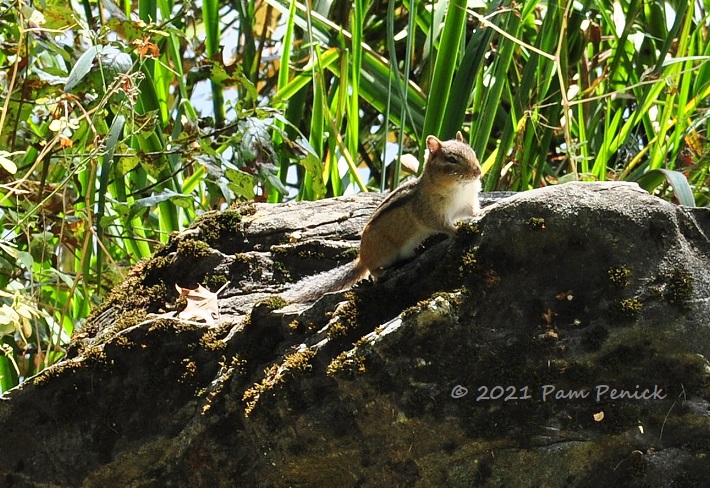 A chipmunk sunbathing on a rock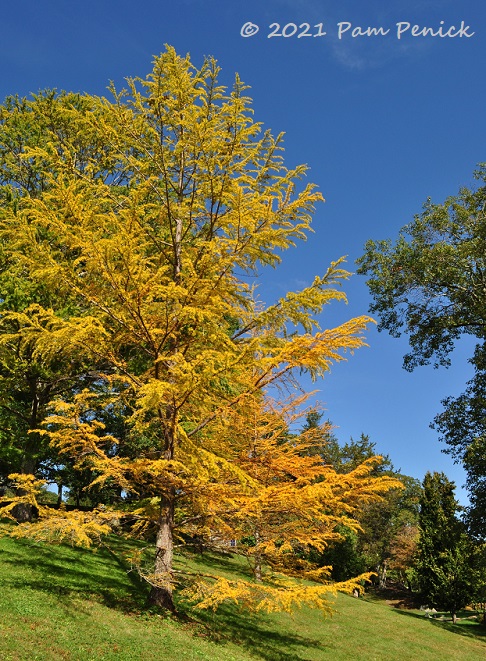 More golden larch beauty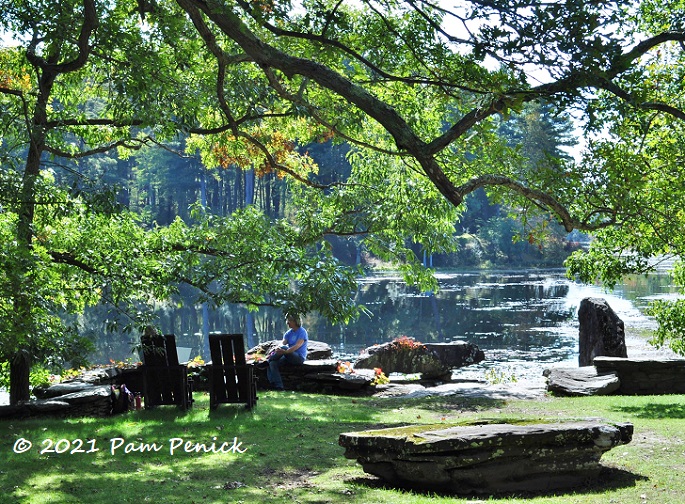 The main gardens end at the Point, a peninsula jutting into the lake, where a couple of other visitors were deep in conversation. What a perfect spot for it. Rock slabs lay in the lawn, and three large stones perched on a terrace by the water.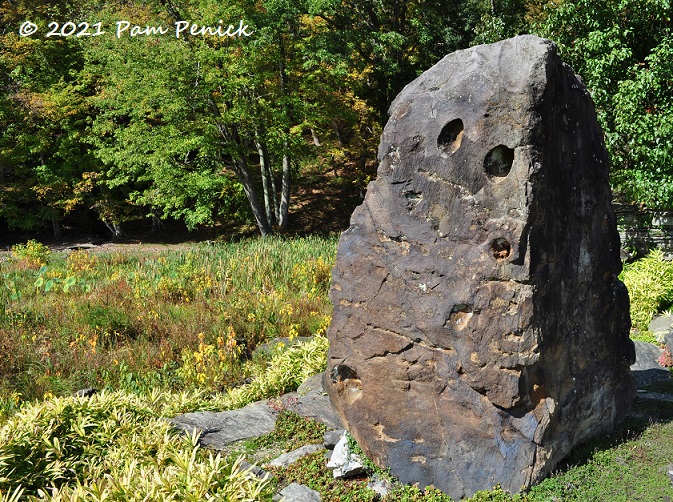 One of those is Owl Rock, with its head tilted as owls do.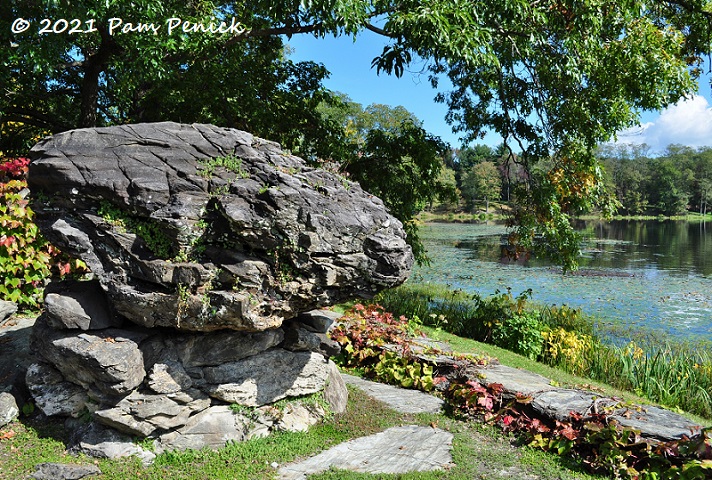 Turtle Rock looks out over the lake.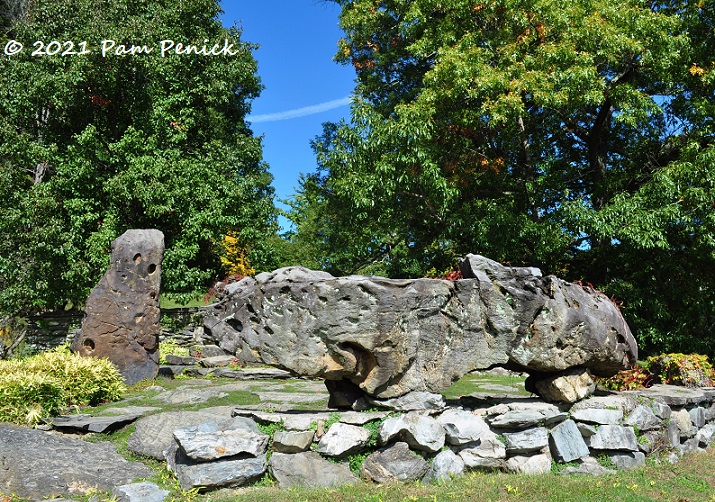 Between them, Dragon Rock slinks along a cobbled wall.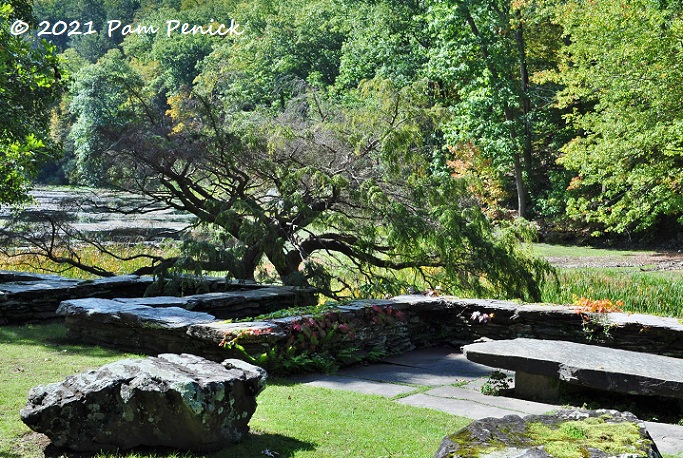 Stone walls, tables, and solitary focal points create a ruin-like effect along one side of the Point.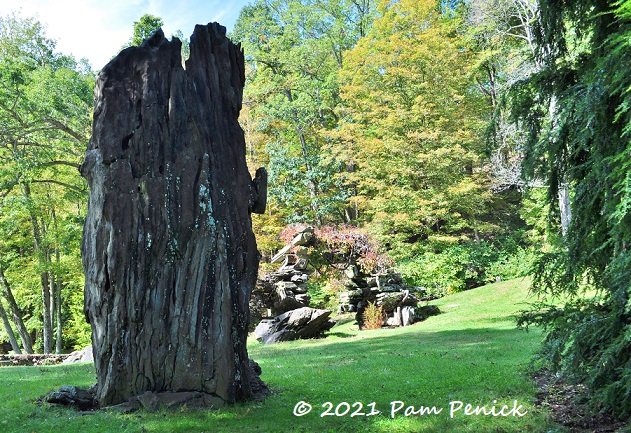 Stone really is the defining element at Innisfree.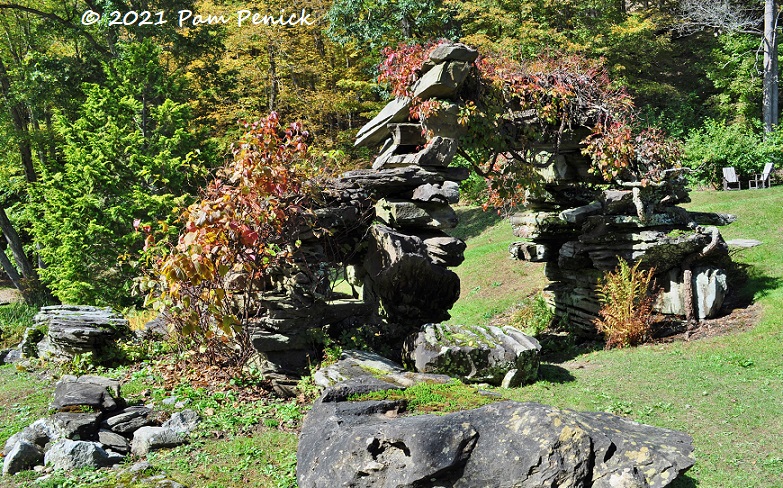 Stone Mountain, a crumbly stone arch with russet vines clambering over, stands nearby.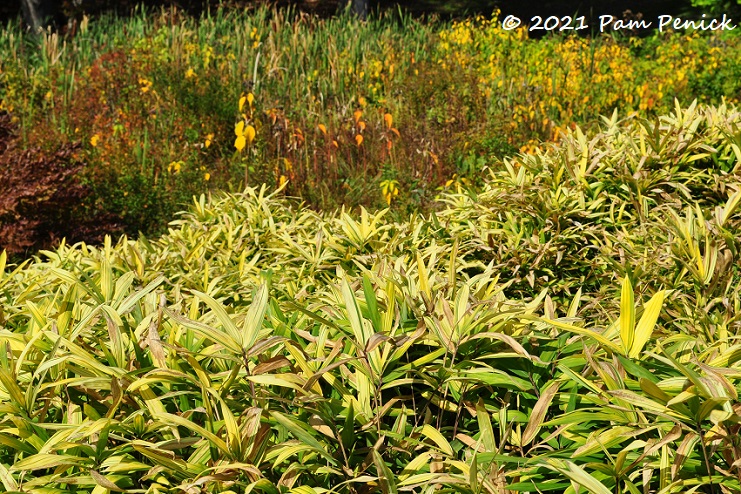 Another bog in golden hues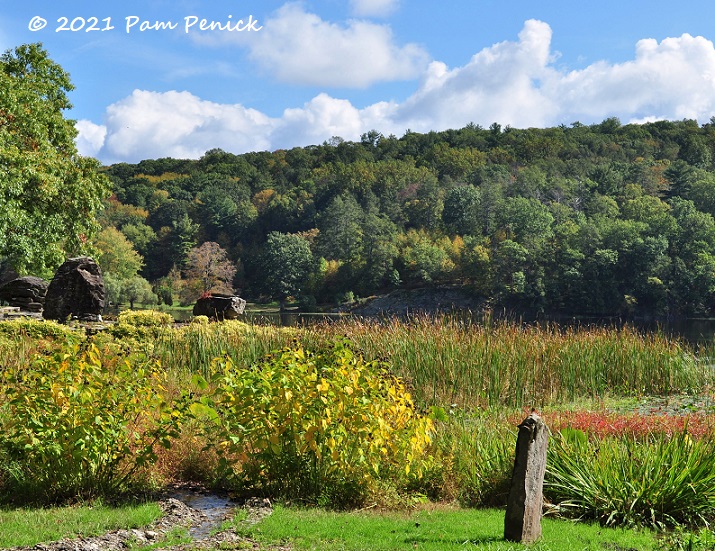 Owl, Turtle, and Dragon rocks mark the Point. And at this point I had to stop taking pictures because the trail turned into slippery mud. We'd been advised, when we arrived, that recent heavy rains had made the loop trail around the lake muddy. "But I think it's passable," a woman at the kiosk told us. It was, but only barely.
The main gardens behind us now, we pushed on, even as the trail around the lake grew narrow and gooey with mud. I mentioned that we are completionists, didn't I? A few rocks had been set in the mud here and there to help visitors get through. Even though it was a bit late in the season and we'd sprayed our legs with Deep Woods Off, we worried about Lyme disease-carrying ticks (they're rampant in the Northeast) as we ducked under low branches and against grasses on the less-muddy trail edges.
When we reached the Channel Crossing Bridge that normally sits just above the water, we found water lapping the boardwalk. The lake was high. We shuffled across single-file, feeling as if we were walking on water. My feet got a little wet, but we made it to Pine Island and then the rest of the way around the lake. I neglected to pull my camera back out until we were close to the end, when a surprising sight came into view.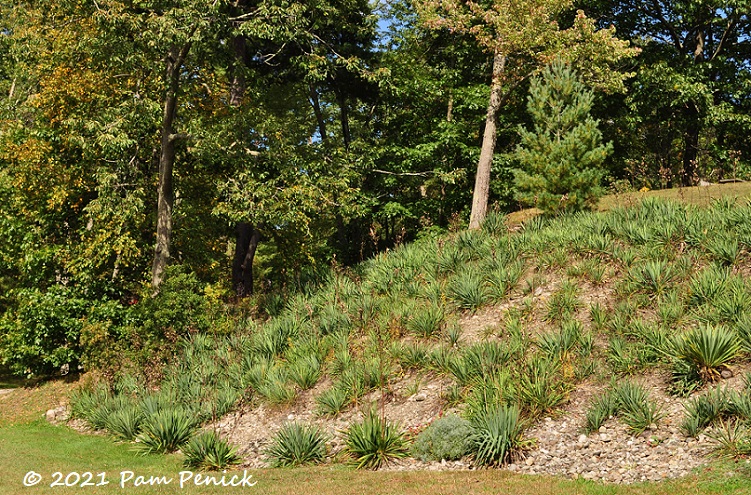 A hillside of yuccas! This Texan did not expect to encounter masses of yucca in New York. But Innisfree has lots of surprises up its sleeves, which makes exploring it a bit like a treasure hunt.
Up next: Driving all the way out to the Hamptons and Montauk for beach strolls, lobster rolls, and more. For a look back at part 1 of my tour of Innisfree Garden, click here.
I welcome your comments; please scroll to the end of this post to leave one. If you're reading this in a subscription email, click here to visit Digging and find the comment box at the end of each post.
_______________________
Digging Deeper: News and Upcoming Events
Need design help with your yard? Hire me as your personal garden coach! Maybe you need replacement plant ideas after the big freeze. Or maybe your landscaping has grown tired, and you want fresh curb appeal. Or perhaps you're ready to get rid of some lawn and create a pollinator garden, bird habitat, or hangout space for you and your friends. I'm here to help! Contact me to let me know what's going on, and let's figure it out together. My range is Austin and suburbs within a 25-min. drive of NW Austin, but I'm flexible and can travel farther with a surcharge, so let me know where you are. Weekday morning appts. only.
Join the mailing list for Garden Spark! Hungry to learn about garden design from the experts? I'm hosting a series of talks by inspiring garden designers, landscape architects, and authors a few times a year in Austin. Check out the 2021-22 schedule. These are limited-attendance events that sell out quickly, so join the Garden Spark email list to be notified in advance. Simply click this link and ask to be added.
All material © 2021 by Pam Penick for Digging. Unauthorized reproduction prohibited.
The post Looking inward at Innisfree Garden, part 2 appeared first on Digging.
Looking inward at Innisfree Garden, part 2