Mad about Madoo, part 2: Formal garden and iconic Chinese bridge
December 23, 2021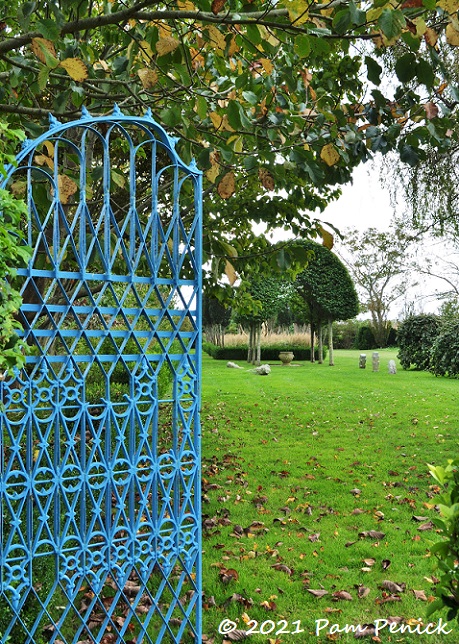 Continuing with my visit to Madoo, an artist's garden in Sagaponack, New York, let's head to the rear of the 2-acre property. A long rectangular section extends out from the main gardens, reaching toward agricultural fields beyond the fence line. An ornate blue gate opens to an expansive view, so unlike other areas of the garden, which tend to be enclosed as discrete garden rooms.
Hornbeam Bower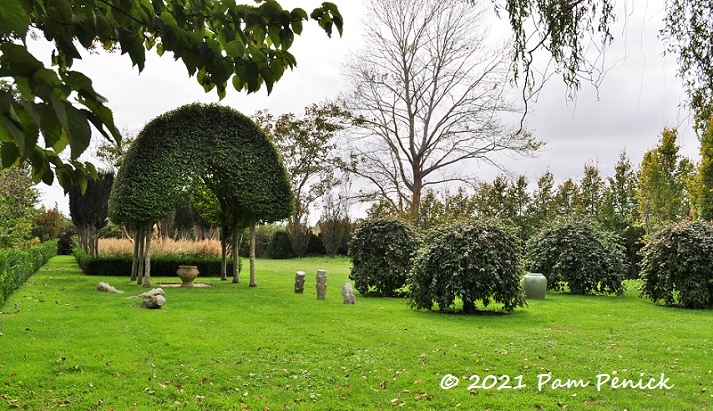 A clipped hornbeam arch — the Hornbeam Bower — catches your eye first. It towers in the foreground like a green Arc de Triomphe, focusing the eye on a long axis view that continues through the bower and across a swath of tawny grasses enclosed by pruned-up yews. To the right, a quartet of precisely spaced weeping shrubs play escort to a shapely celadon pot in the center.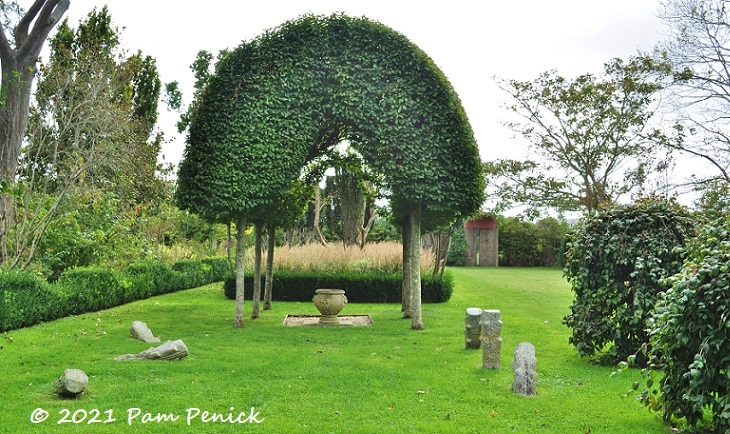 Rising from the surrounding lawn, six faux-bois tree stumps lean or lie at various angles — a curious runway to the hornbeam arch. I puzzled over them, wondering if they represent the passage of time or what. Later I read that these are tree-stump funerary pieces acquired by the garden's creator, the artist and poet Robert Dash. They do lend a certain timelessness to the classical formality of this space.
Quincunx beds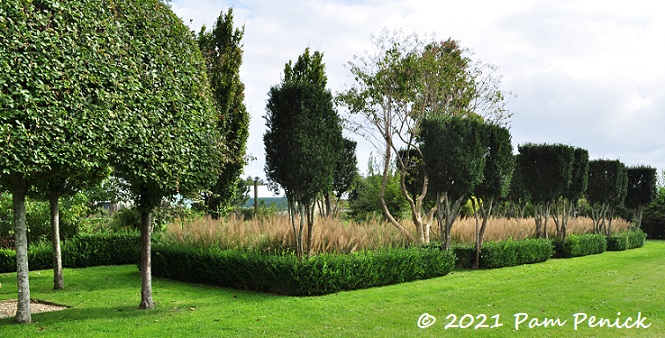 On axis with the hornbeam bower, a long parterre extends almost to the fence line, emphasizing the garden's depth. These are called quincunx beds — quincunx being a geometric pattern of five points: four arranged in a square and a fifth in the center.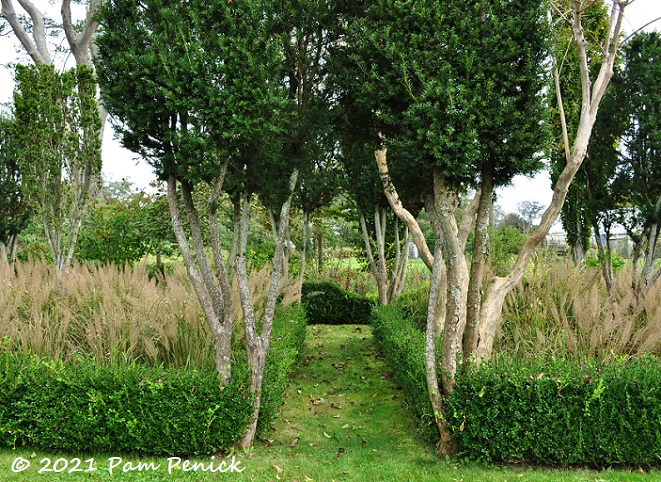 Yews pruned up into small, squared-off trees form the five points in each bed. According to the garden map and online articles, the quincunx beds formerly contained a busier arrangement of shrubs and small trees. But when I visited in mid-October, a block planting of ornamental grasses made a striking autumnal scene.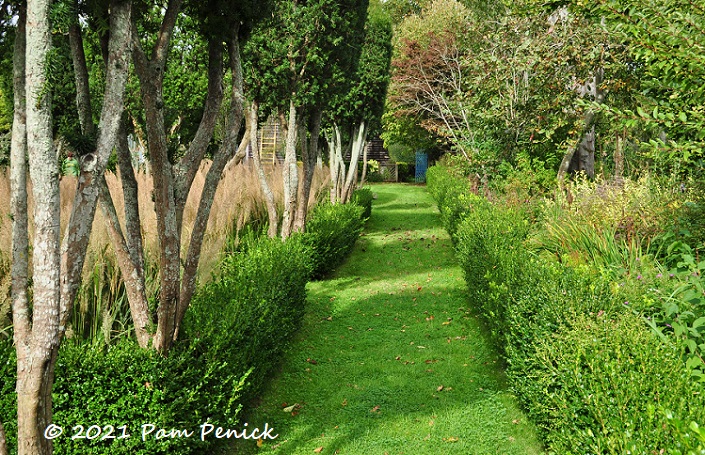 The effect of neat boxwood hedges outlining swaying, untameable grasses, anchored by multi-trunked yews, was quite good, I thought. Mown-grass paths crisscross between the four quincunx beds and run the length of the garden, parallel with a mixed border along the fence.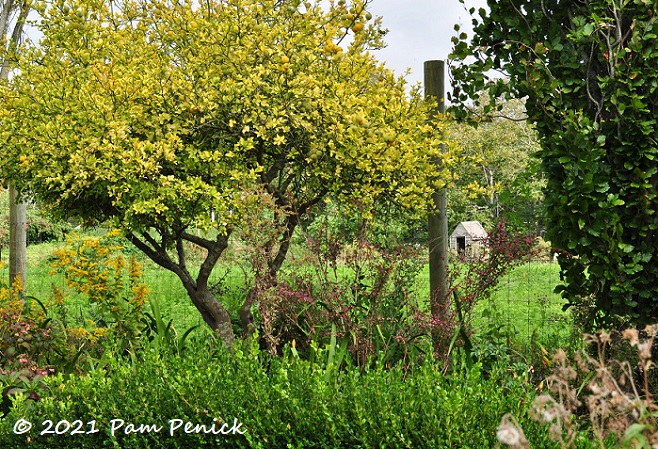 I enjoyed the loose, country-style plantings of the mixed border, with glimpses of green fields beyond the garden.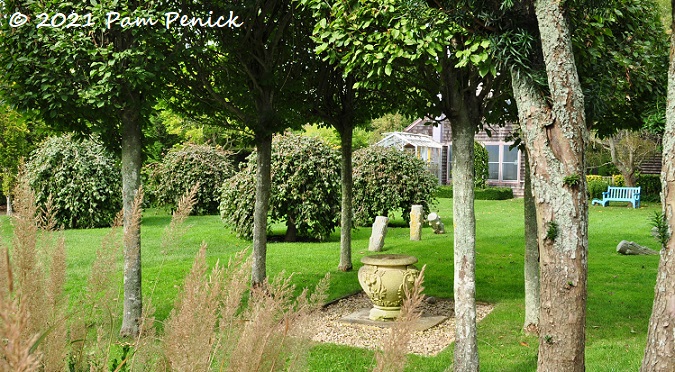 Looking through the "legs" of the hornbeam bower, you realize that another quincunx is formed by the four weeping shrubs and the celadon pot in the center.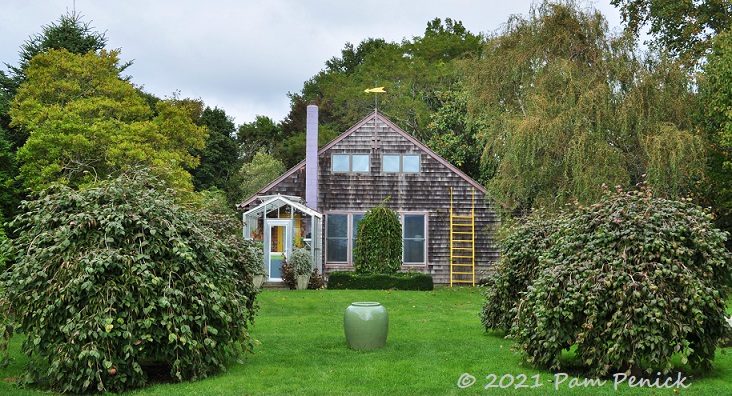 These shrubs frame a view of Robert Dash's Winter House, which dates to 1855.
Exedra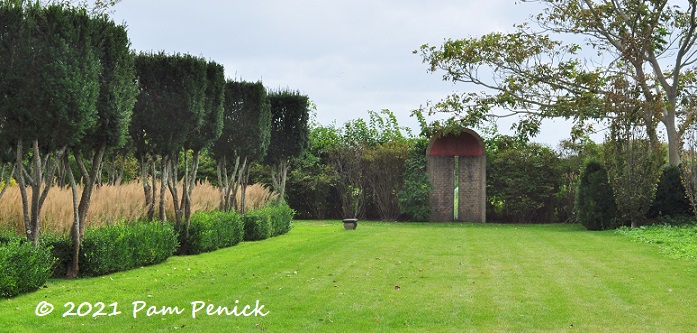 Turning around, you find your gaze drawn by a tall, domed structure — an exedra — with what looks like a narrow slit of a window in the center. Not long ago, a Persian-style brick rill bordered by flowering garden beds, with arches for roses, ran the length of this space to the exedra. In critiques of the garden at Site & Insight (5 years ago) and GardenBook (8 years ago), the rill looked uneven and in need of repair, the beds a little tired. It seems an improvement that all that has been removed. However, it leaves the exedra lacking a strong connection to the rest of the garden. I read, however, that the rill will be rebuilt, and I hope to read what future visitors write about it.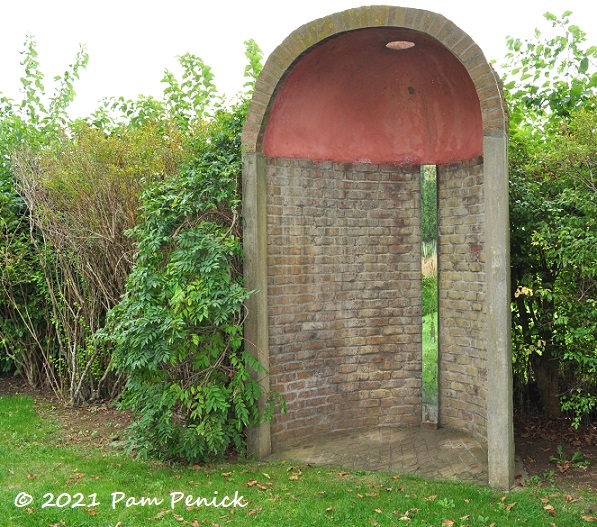 On closer approach to the domed exedra, you realize the slit window is actually a mirror.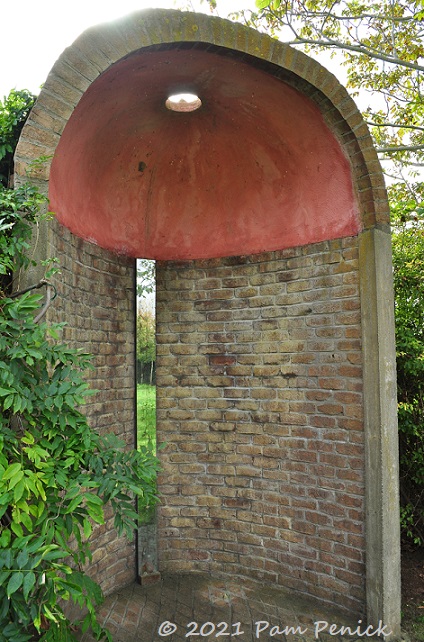 It convincingly gives the impression of a garden view beyond.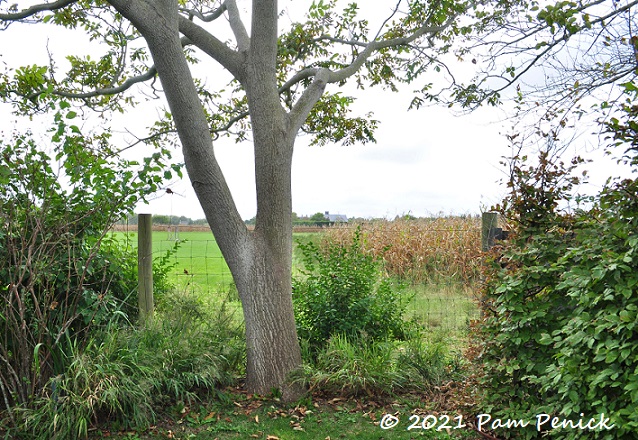 Actually, there is a view just beyond the fence, of agricultural fields.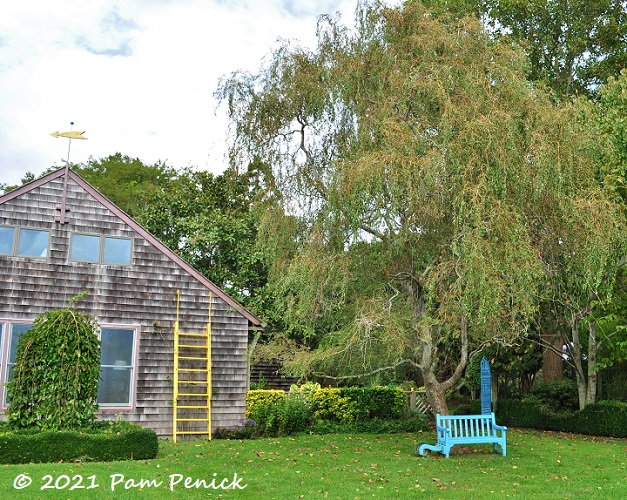 Heading back to the main gardens, past the Winter House, you see two colorfully painted accents, a signature design move at Madoo: a turquoise rolling bench and a yellow ladder leaning against the house.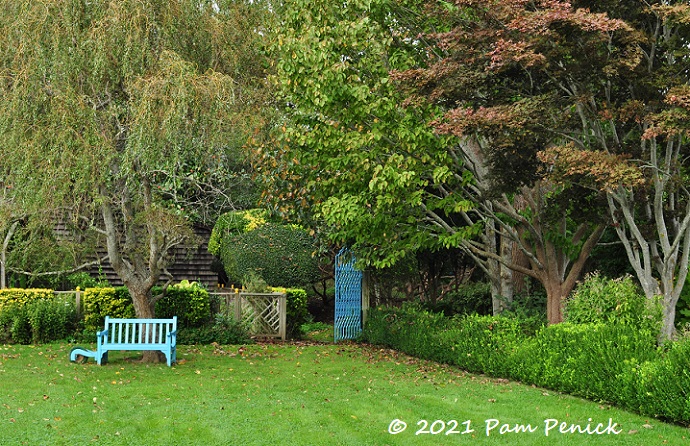 The blue bench echoes the blue gate, and the ladder's yellow is picked up in gold-foliage plants along a fence.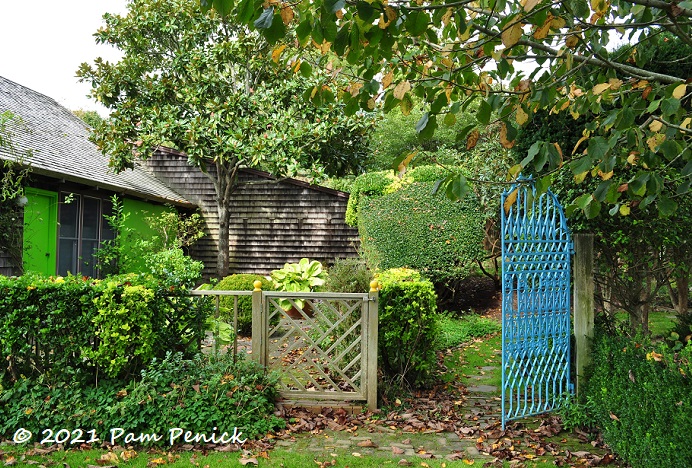 A golden courtyard garden at the Winter House, which boasts lime-green doors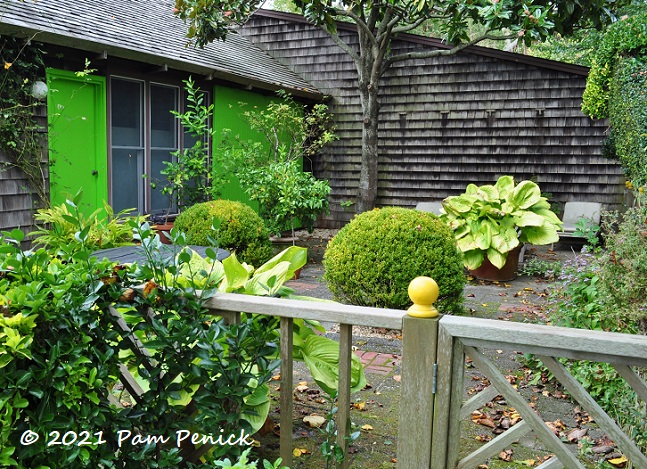 A yellow finial adds another dash of bold color.
Loo garden
Moving on, we come to the loo garden, screening for a restroom building. A trio of brown pots holds sprays of ferns, while an architectural relic makes a color-echoing focal point.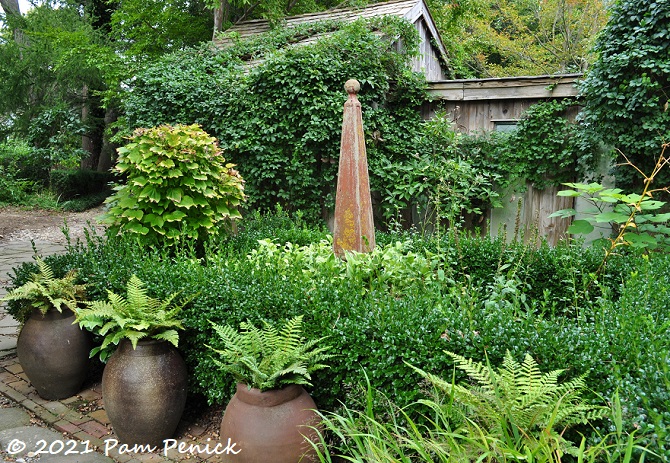 Loo mischief managed!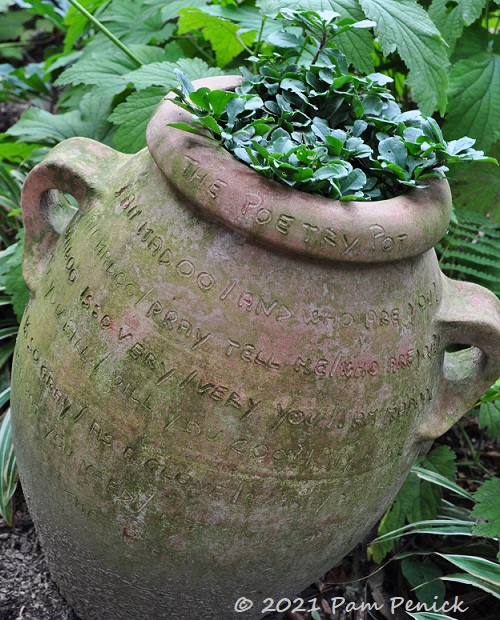 One of Robert Dash's poetry pots appears here, challenging visitors with its sassy query: "I am Madoo / who are you?"
New Ginkgo Grove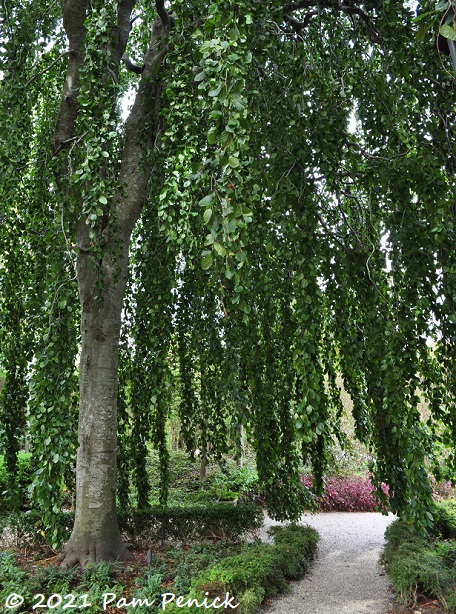 A large weeping tree — a mulberry, I believe — becomes a passageway to Madoo's new Ginkgo Grove.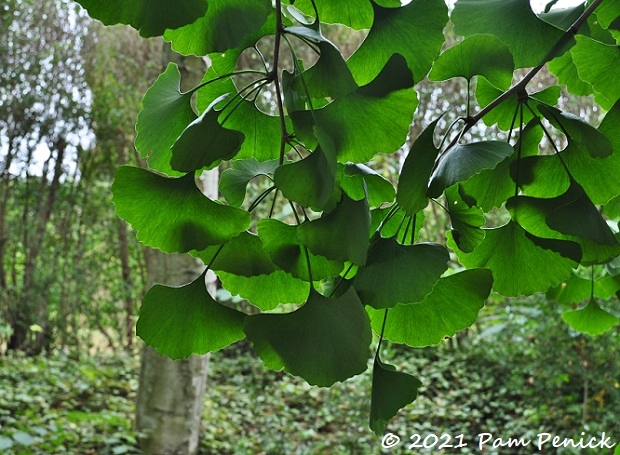 In mid-October, it was too early for the ginkgos to start changing from green to butter-yellow. The fan-shaped leaves are pretty, however, in any season.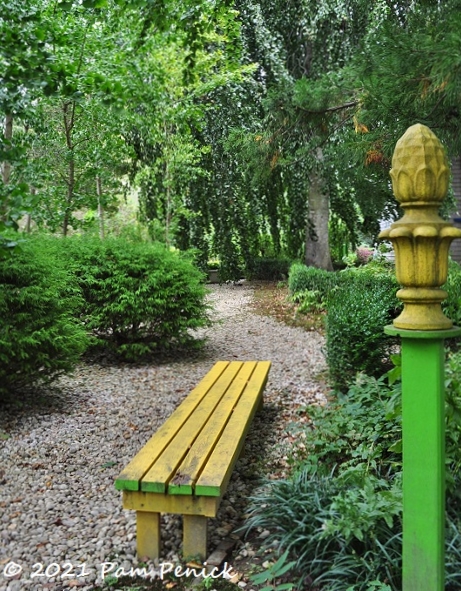 Gingkos meander alongside a gravel path, where a yellow bench and finial promise to echo its autumnal golden foliage. Japanese falsecypress 'Filifera Aurea' dots the ground plane beneath the trees, an echo of the boxwoods under the fastigiate ginkgos in the original Ginkgo Grove (see part 1; link at end).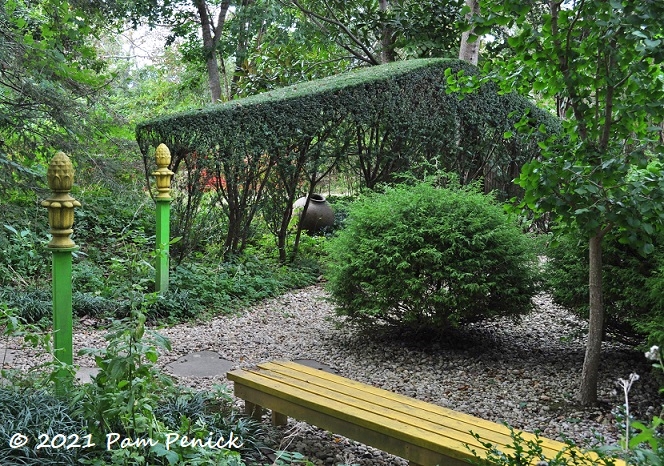 At the end of this garden room, an arched hedge straddles a narrow-necked round pot.I was puzzled by this space, as the window view to the pot is almost big enough to serve as a doorway, and I wondered if people were meant to walk through it. No, I think not.
Summer studio
Robert Dash's Summer Studio dates to 1744, but any sense of age is erased by its massive windows with cobalt-painted frames and an enormous, red sliding-door shutter.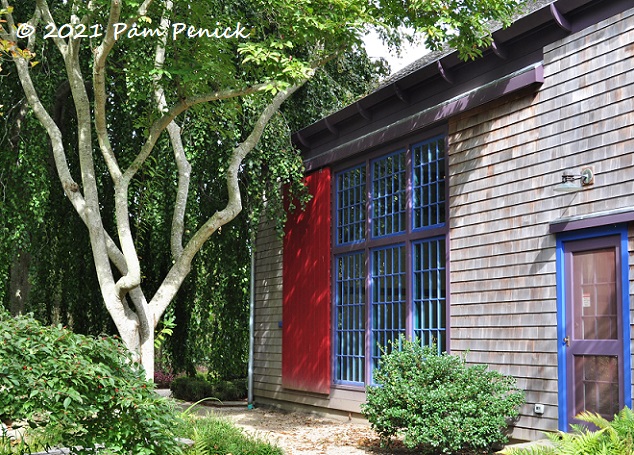 Imagine how cheery these bright colors must be during a cold, snowy winter.
Chinese bridge and pond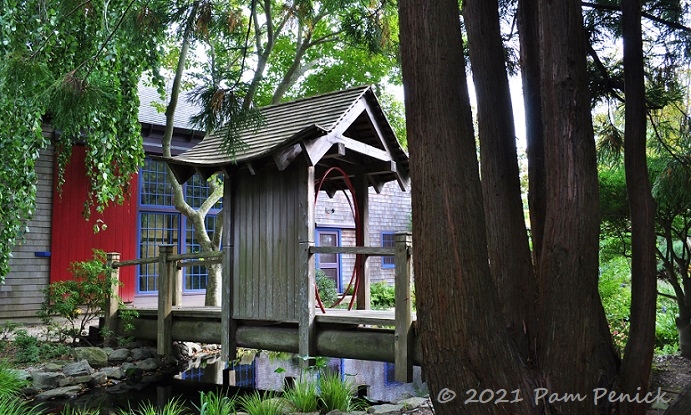 Those big windows overlook a pond and Asian-style garden.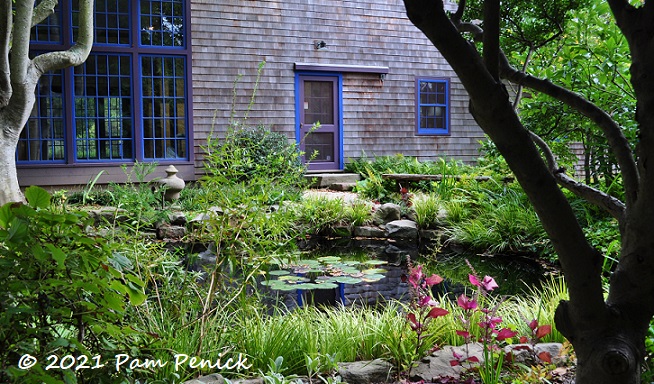 The pond must almost seem part of that room, thanks to the generous windows.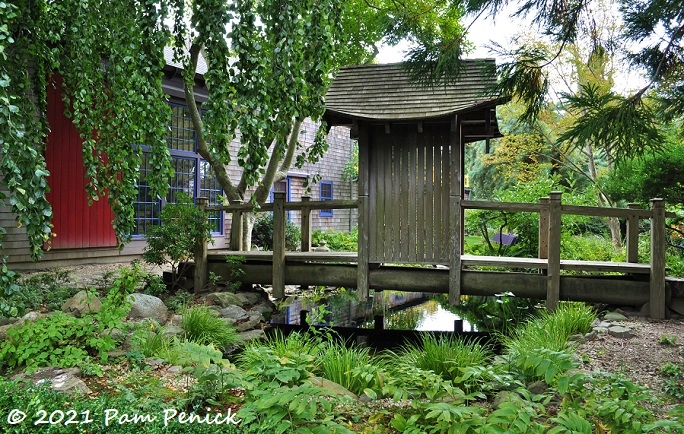 A swoop-roofed pavilion in the center of a pond-spanning bridge makes a lovely focal point.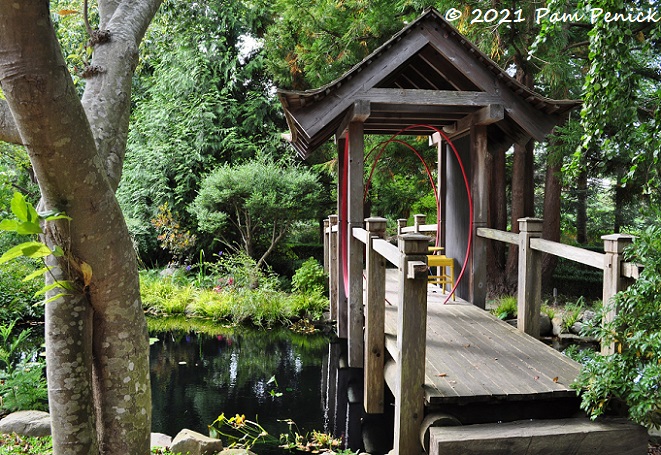 With the addition of thin red hoops for doorways and a window, plus a bright yellow chair, it's become an iconic moment at Madoo.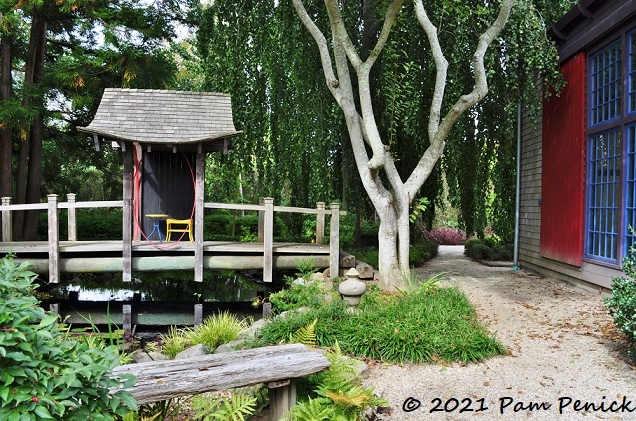 The Chinese bridge, weeping mulberry, and colorfully trimmed house — I'm sure all three elements make the garden sing in the depths of winter too.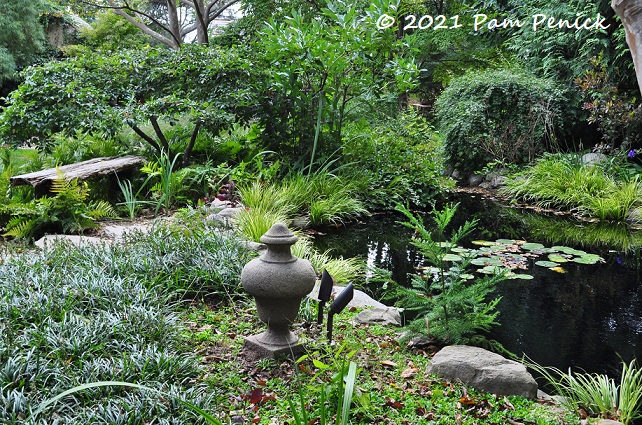 Pond garden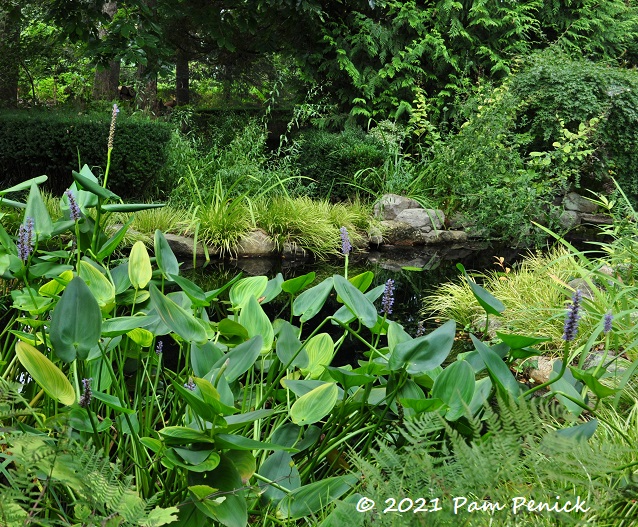 I like this view, with yellow-green sedges leaning over the dark water.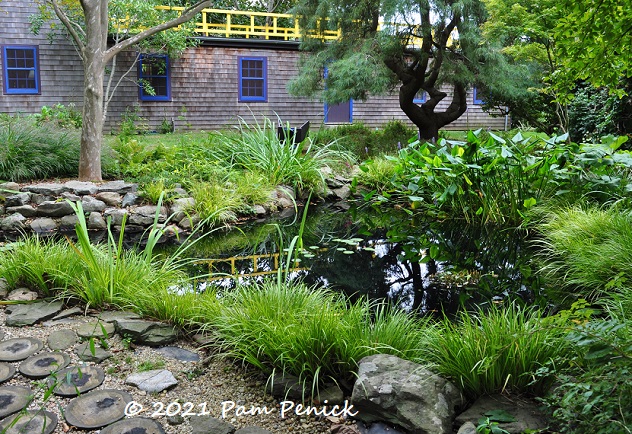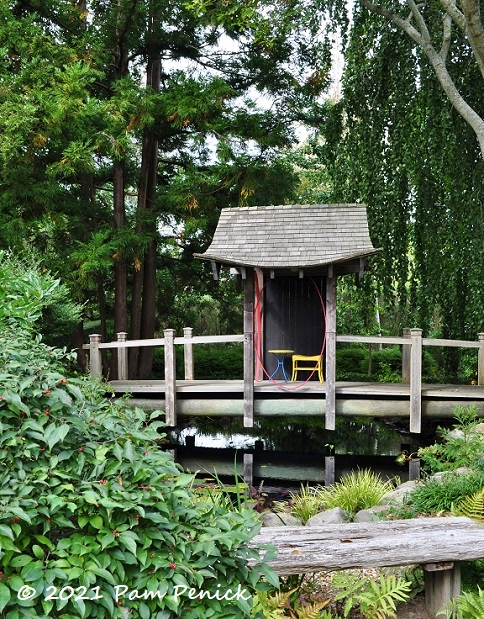 This wraps up my tour of Madoo. I'm glad I was able to add a couple days to my road trip for the detour out to the Hamptons. And I have one more Hamptons garden — also an artist's garden, but on a larger scale — to show you in my next post.
Up next: Part 1 of my visit to LongHouse Preserve in East Hampton. For a look back at part 1 of my visit to Madoo, click here.
I welcome your comments; please scroll to the end of this post to leave one. If you're reading this in a subscription email, click here to visit Digging and find the comment box at the end of each post.
_______________________
Digging Deeper: News and Upcoming Events
Need design help with your yard? Hire me as your personal garden coach! Maybe you need replacement plant ideas after the big freeze. Or maybe your landscaping has grown tired, and you want fresh curb appeal. Or perhaps you're ready to get rid of some lawn and create a pollinator garden, bird habitat, or hangout space for you and your friends. I'm here to help! Contact me to let me know what's going on, and let's figure it out together. My range is Austin and suburbs within a 25-min. drive of NW Austin, but I'm flexible and can travel farther with a surcharge, so let me know where you are. Weekday morning appts. only.
Join the mailing list for Garden Spark! Hungry to learn about garden design from the experts? I'm hosting a series of talks by inspiring garden designers, landscape architects, and authors a few times a year in Austin. Check out the 2021-22 schedule. These are limited-attendance events that sell out quickly, so join the Garden Spark email list to be notified in advance. Simply click this link and ask to be added.
All material © 2022 by Pam Penick for Digging. Unauthorized reproduction prohibited.
The post Mad about Madoo, part 2: Formal garden and iconic Chinese bridge appeared first on Digging.
Mad about Madoo, part 2: Formal garden and iconic Chinese bridge