Minister says Turkey registered 26 percent fall in women's murders after treaty withdrawal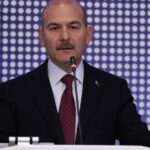 In remarks that attracted widespread criticism and shock, Turkish Interior Minister Süleyman Soylu said there has been a 26 percent drop in the number of women murdered since Turkey's withdrawal from an international treaty aimed at combating domestic violence, better known as the Istanbul Convention.
Responding to critics who were outraged by Turkey's withdrawal from the convention with a midnight presidential decree in March, especially those from the main opposition Republican People's Party (CHP), Soylu claimed that withdrawal from the convention has not led to more violence against women but rather the opposite.
The Council of Europe Convention on Preventing and Combating Violence against Women and Domestic Violence is an international accord designed to protect women's rights and prevent domestic violence in societies and was signed by member countries of the Council of Europe in 2011.
The minister claimed in a statement on Twitter on Thursday that while 34 women were killed in Turkey in the 34 days between Feb. 13 and March 19, when the Istanbul Convention was in effect, only 25 women were killed in the 34 days between March 19 and April 22 after Turkey withdrew from the international treaty on March 20.
Accusing the CHP of lying to the nation about the consequences of Turkey's abandoning the Istanbul Convention, Soylu said, "We stand before our nation with the facts, not lies like them."
Yalanlara karşı doğrularla huzurunuzdayız.

Yalanı, siyasetin ve hayatlarının ana sözleşmesi haline getirenler, İstanbul Sözleşmesi üzerinden bir yalanı daha utanmadan söylüyorlar.

Biri güya insan haklarından sorumlu Milletvekili, yalancı.
Diğeri de "At sineğim" yalancı… pic.twitter.com/gle1UXanGp

— Süleyman Soylu | Maske Mesafe Temizlik (@suleymansoylu) April 22, 2021
"There has been a 26 percent [drop] in the number of women murdered. The reason the CHP finds no sympathy is because it has fallen into a web of liars," tweeted Soylu.
The minister's remarks came shortly after the CHP earlier in the day filed a petition at Turkey's highest administrative court, the Council of State, seeking to overturn the country's withdrawal from the Istanbul Convention.
There was outrage among social media users in Turkey who criticized Soylu for bragging about the killing of "only" 25 women and ignoring the long-term serious consequences the country's women will suffer due to its withdrawal from the Istanbul Convention.
Condemned abroad, Erdoğan's decree also sparked protests at home by women who feel increasingly threatened in the still largely patriarchal country of 83 million.
More than 300 women were murdered in Turkey last year, according to the rights group We Will Stop Femicide Platform.
The World Health Organization found that 38 percent of women in Turkey reported having been subjected to domestic abuse by their husband or partner.
The reported rate across Europe stands at 25 percent.
The post Minister says Turkey registered 26 percent fall in women's murders after treaty withdrawal appeared first on Turkish Minute.
Minister says Turkey registered 26 percent fall in women's murders after treaty withdrawal