MONO Skincare creates 'world's first' skincare tablets
Offering what it is hailing as the world's first skincare tablets, plastic-free brand MONO Skincare is launching in November with a line including cleanser, moisturizer, toner and face serum.
Consumers can fill the MONO container with water, drop in a tablet, shake, wait for three minutes, and once it is dissolved the product is ready to 'Enjoy, repeat and refill.' Each tablet makes a full skincare bottle.
Made using certified 100% natural, organic and clean ingredients, including probiotics to restore essential balance the skin microbiome, maintain firmness, texture and glow, the vegan and cruelty-free products are designed to be good for planet and pocket.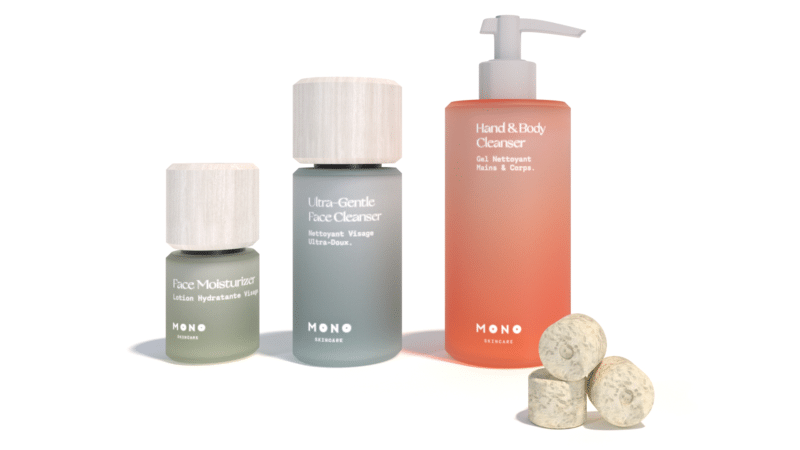 The range includes:
Ultra-Gentle Face Cleanser – a probiotics-packed formula to remove dirt and impurities without disrupting the moisture balance, nourishing even sensitive skin without feeling oily, and respecting the skin's natural pH
pH-Balancing Toner – designed to hydrate and smooth skin while balancing its pH, this radiance-boosting toner combines organic acids with nourishing aloe and probiotics to ensure the skin works as a protective barrier against pollution and bacteria
Face Moisturiser –a gentle, lightweight moisturizer that calms and soothes with MONO's hero ingredient, Biolin P prebiotic, which helps restore microbiota balance, and redness-reducing, moisturising beta-glucan
Intense Hydration Night Serum creates a protective film to prevent rawness and water evaporation while you sleep, with citric and ascorbic acids to stimulate the production of collagen and elastin
Rejuvenating Body Mist – with herbal extracts, essential oils, probiotics and lactic acids to exfoliate and brighten, antioxidant-rich ascorbic acid and sugarcane extract to help combat the harmful effects of UV rays and prevents free radical damage.
The collection also offers a Hand & Body Cleanser, Neroli Deodorant, a Yoga Matt Cleaning Pschitt! and a 3-Step Balanced Skincare Set including the Cleanser, Toner and Moisturizer.
The post MONO Skincare creates 'world's first' skincare tablets appeared first on www.naturalproductsonline.co.uk.
MONO Skincare creates 'world's first' skincare tablets