"Movember" His 15…And Keeps Growing…
It's  November, which in the fundraising world again means "Movember."
For those who don't know…
Originally launched in Australia 15 years ago, the theme for "Movember" was to get primarily men (although women helped  out with a fake one) to grow a mustache or not shave for the 30 days of the month of November, and then gain dollars through pledges for growing their 'stache. Given the always intriguing Beard-A-Thons that happen in the spring, Movember has been a natural fit for sports, and now it had gained traction from previous years, with some new fun activations as well.
At the peak of Movember's popularity in 2012, it pulled in more than $40 million in donations in Canada alone  to help fight prostate and testicular cancer and people frequently grew mustaches to show that they were part of the fundraising efforts.  While the moustache remains a major part of Movember's brand, the campaign has expanded its focus to include raising money for men's mental health and suicide prevention.
The program follows other year's efforts of pulling in various athletes and celebrities to push the cause with awareness. This year there are partnerships with everyone from Lamborghini, who are dropping 'stashes on custom cars, to Pringles. Toronto Maple Leafs star Auston Matthews is also getting in the mix, offering to shave his controversial mustache if enough dollars are raised, all in fun and awareness.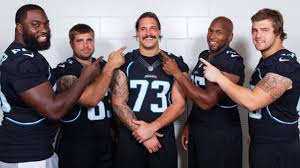 In 2019, the theme was  "Whatever You Grow Will Save A Bro," which encouraged all men to help raise awareness and funds whoever they are, and no matter the type or size of moustache they can achieve.
It featured everyday Mo Bros' including testicular cancer survivor Harvee Pene, prostate cancer survivor Charlie Jia and mental health advocate Nathan Appo,  as well as comedians Stephen Fry, Stephen Merchant, actor David Oyewelo and survival expert Bear Grylls joining former Pussycat Dolls star Nicole Scherzinger in a new public service announcement explaining why the 'stache is so important. Then you had Billie, the shaving brand that created the first-ever women's-razor campaign to show people actually shaving, has a brand-new initiative that reminds everyone that women have upper lip hair, too. Sports had activations ranging from Formula 1 and Formula E to NHL star Adam Henrique stepping up with 'staches as well.
In 2018, the Movember Foundation focused on mental health initiatives as a new area. The Movember Foundation had an official partnership with Schick Hydro® as part of the launch of their Schick Hydro 5 Sense® razor and the Locker Room Talk webisode series, hosted by Kevin Love of the Cleveland Cavaliers.
Previous years the cause tied to platforms like "Hockey Fights Cancer," and with Major League Soccer players growing 'Mo's (moustaches). And even adidas, who through the NFL ties enlisted the support of players like Robert Griffin III, Von Miller wide receiver Sammy Watkins and others to join in and encourage others to do the same. In the UK, Mitre and the Foot ball League teamed up to support the Movember charity campaign, turning out their new ball with a "Mo" all of its own. The new ball was  provided to all 72 Football League clubs for their first matches of Movember and was featured in the 34 Sky Bet Football League .
The Movember Foundation invested over $200 USD million in over 150 research projects in the U.S. and internationally to develop new approaches in men's health and are now taking successful projects out of research labs and making them available to all American men and their families.
Now "Movember" has some shortcomings not the least of which is the wearing of moustaches by men and looking a little rough around facial hair has become much more acceptable, so growing and shaving moustaches is not a simple status thing for a month any more.  Also other sports, especially Major League Baseball, do activate against prostate cancer with blue bats and other events around Father's Day each year. Also moving away from just cancer awareness to men's health issues does have a chance at wider appeal, but there is also risk of trying to be too much to too many.
"Movember" continues to have a good upside, with the potential of thousands of fake 'staches being given out at games during the month, maybe even tied to Coaches vs. Cancer events in college hoops. The fake handouts are low cost and would make for great digital integration and TV.  Still it does cost money to engage nationally or internationally, but with the increased interest in social media, the campaign and its awareness will amplify the message around the world.
A simple idea with a great goal, still moving and finding its way to more mainstream support.
"Movember" His 15…And Keeps Growing…