myCharge Adventure Max Review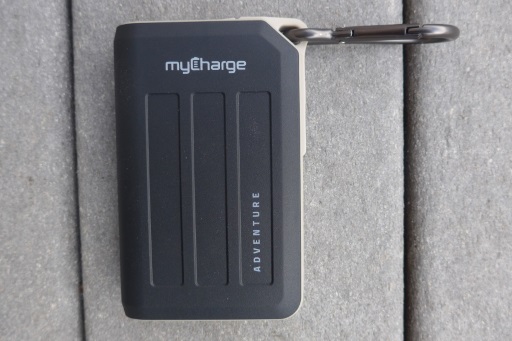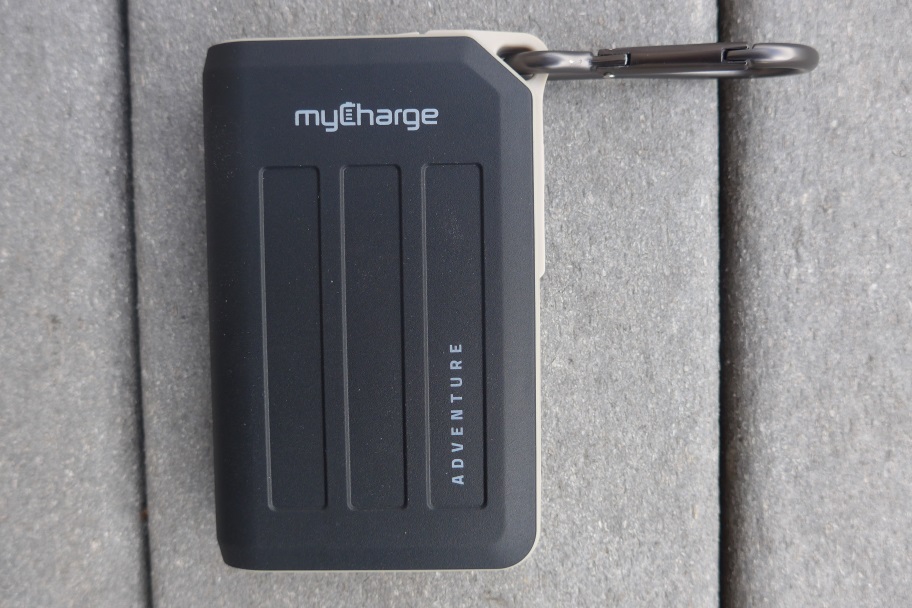 The AdventureMax is a rugged and durable portable charger that is ideal for charging your devices when camping, biking, hiking, traveling, and even at home or work. The .55 lb AdventureMax boosts 10500mAh of power and 2 USB ports and can extend the life of your tablet, smartphone, Bluetooth speaker, or another USB device up to six times (device dependent). The Adventure series of chargers are incredibly portable with a built-in carabineer that can be attached to a bag, belt or anywhere else that is convenient for you.
The Adventure portable chargers from myCharge are rugged and durable and can withstand most inclement weather and conditions they'll encounter outdoors, though they aren't waterproof. The powerbanks are encased inside a ruggedized exterior case that protects them from minor impacts and drops, weather, temperature fluctuations, and dirt, making them ideal for outdoor recreation in those situations and scenarios that will leave you vulnerable to a variety of environmental conditions.
Their high-density Lithium-Ion battery powerbank design is small and light, and come in four sizes: the AdventurePlus with 6700mAh of power for $39.99, the tested AdventureMax with 10500mAh for $49.99, the AdventureMega with 20100mAh for $79.99, and the AdventureMega C with 2000mAh for $89.99 (USB C port).
Specs
Battery: 10500mAh Lithium Ion
Product Dimensions: 4.4 in x 2.9 in x 1.0 in
Product Weight: 0.55 lbs.
USB port delivers 2.4A output
The Max has two USB outputs on the top of the unit to power up your devices, which is handy so that you can charge multiple entities. Recharging of the power bank is done via a single USB Mico, and it uses their 'Pass-Through Charging' technology so you can charge the powerbank and connected devices simultaneously.
It contains several smart charging technologies, including 'Smart-Sense' for device compatibility detection, 'Hyper-Charge' for ultra-fast charging of your devices and 'Rapid-Recharge' for faster powerbank recharges. Other smart technologies are 'Power-Stay' which maintains battery power for up to 1 year, and 'Safe-Cell' which provides the highest level of battery safety and security.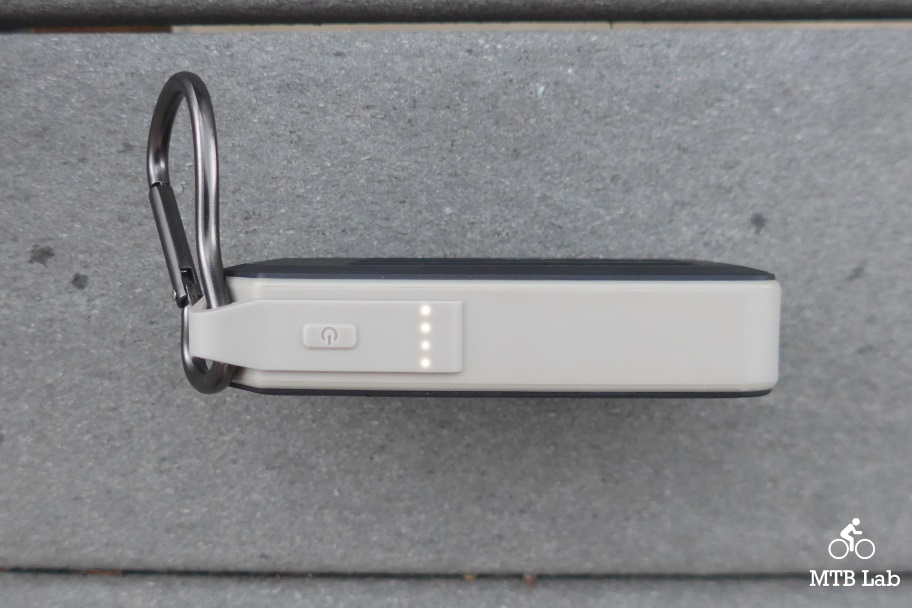 On the side of the Max by the carabiner is the powerbanks battery level meter, which has a four LED range (one is low, and four is full). If you push the small power button, it shows the powerbanks current battery storage level, and it stays lit for about 40 seconds, which offers plenty of time to check out the capacity. If the Max is plugged in for recharging the level shows the current charging status and level; meaning solid light indicates its charged to that level, and a blinking one is where it's charging it. If you plug in a device, the lights show the powerbanks current battery storage level, which will decrease as the device is being charged.
Impressions
The AdventureMax is a durable portable splash resistant powerbank, which provides a rugged pistol grip wraparound case with the outer three sides being rubberized for impact protection and accidental drops. That pistol grip shape feels good in the hand and provides a secure hold, much helped but the three ribbed channel on either face. The rubberized USB port cover prevents dirt, water, and debris from infiltrating the internals when shut, though it isn't waterproof.
It was simple to flip open the port cover and plug in the devices USB connector to power up your depleted device, whether that's a smartphone, camera, GPS computer, watch, wireless headphone/speaker, tablet, or headlamp. I could get a couple of nights of recharging of different devices like my bikes GPS computer and watch, but I primarily used it to replenish my giant iPhone 7 Plus, which placed the most significant load on the powerbank. For its .55 lb weight, it offered a decent amount of battery capacity to charge my various devices while I was outdoors and away from a higher voltage power source (wall wart). Also, it was useful for charging on the go, whether I was at a concert, festival, traveling, or at a convention, where it offered maximum convenience. The nifty 'Smart-Sense' detects and senses device compatibility, so it won't pump out too much energy for what the device requires, while the 'Hyper-Charge' will do an ultra-fast charge rate for devices that can take a uber rapid slam of juice.
It was easy to recharge the unit when back at a power source, and it quickly charged the powerbank back to its full levels. Though it offers their 'Pass-Through Charging' technology to charge the powerbank and connected devices simultaneously, I tended not to use that feature much, though I do think it's a handy feature. I did notice that it held its charge for a long time, so even after sitting for a long time, it didn't seem to change the storages levels with time.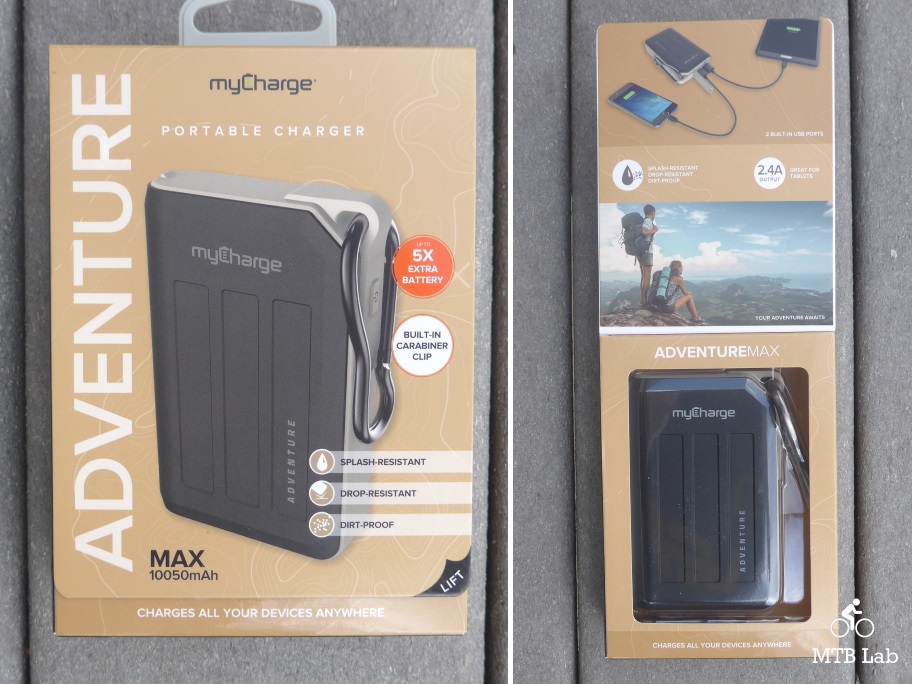 Bottom Line
The myCharge AdventureMax is more than a plain old basic powerbank, its a fully featured battery charging source that offers useful and functional technology. With its 10500mAh Lithium Ion battery with a 2.4A output via its dual USB ports, it can charge up small portable devices, such as tablets, bike computers, cameras, watches, wireless headphones/speakers, smartphones, etc., up to six times. The rugged plastic case with its rubberized outer edge provides splash and dirt resistance, and impact protection, making it ideal for outdoor use, though it's still highly useful for the home, office, travel, concerts, and conventions.
myCharge Adventure Max Review