NFL Week 10; The most unpredictable league in sports?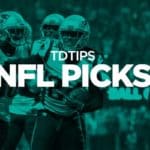 It's safe to say that last week wasn't the finest week of betting on this fine sport I've ever had with only the total coming in as the Panthers and Patriots played out a low-scoring affair.
It was a week filled with upsets as the Jaguars beat the Bills outright, The Falcons beat the Saints, the Broncos beat the Cowboys and the Titans won without Derrick Henry. If you made money on the NFL last week then you're clearly more lucky than I am at the moment.
On to the second half of the season, which has already had an upset as the Dolphins won on Thursday night as 7 point home underdogs against the Ravens.
NFL Week 10
Best Spread.
There's a lot of lines that are spot-on where they should be this week and with injury news coming through seemingly by the minute the lines are all over the place. I was quite happily going to take the Lions getting 9 points in Pittsburgh but that dropped to 7.5 and then to 6.5 on the news that Big Ben has been ruled out with Covid, that might actually make the Steelers worth a bet now that it's under a TD.
Tampa and Arizona are too high, especially with Kyler Murray questionable for the Cardinals. There's a couple of big spreads left, the Colts I think will cover against the Jags, while the Bills aren't firing but are nearly 2 TD faves against the Jets.
So for this week, I think I'm going to be taking the NY Jets getting 14 points against the Bills. I will pay the little bit of vig and take it up that half a point to two TDs, available at 4/5 on Bet365.
The Bills have been struggling to run the ball and trying to carry on passing, well the Jets pass defense is actually quite good, so unless they get things moving on the ground with Zack Moss coming off of concussion and Devin Singletary then I think they might struggle to move the ball once more. Teams seem to be using the same tactic as they are against the Chiefs and playing 2 deep safeties meaning that they need to dink and dunk down the field and they don't seem to have adjusted to that quite yet.
The Jets side of the ball will have Mighty Whitey back at QB this week after he left the game in the first quarter last week against the Colts. He has added some life to the offense and looked fine on the one TD drive he completed last week. He will dump the ball off short and methodically move down the field, expect a lot of work for Michael Carter within 10 yards of the LoS again this week.
I think the spread is too big, I've dropped the Bills and upgraded the Jets slightly in recent weeks so I'll take a shot on another upset week occuring.
Best Total
After a stinking start on totals this year I've got a little better on judging this aspect of the game.
This week it's either over in Vikings v Chargers or the one I'm picking the Under in the Lions v Steelers game.
I can joke about the Steelers actually being upgraded by not having Ben Roethlisberger there, but realistically this game will be won or lost by the Steelers defense which should be all over Jared Goff in this game. If they Lions can't put up points and the Steelers only put up 20 or so as I'm expecting then there's only one way I can bet this total.
Goff also has issues in bad weather and there's light drizzle expected in the second half of this one, they won't be able to move the ball well and may well be affected by turnovers, so take the Under 41.5
Best TD bet
I took a couple of longer shots last week and they didn't pay off so it's back near even money for me this week for my main TD scorer pick.
It's Michael Pittman of the Indianapolis Colts. They are facing the Jaguars this week who remarkably held the Bills to just 3 points last week. I think that was a one-off and they'll revert to type this week. That type has been allowing teams to pass all over them and the Colts look really good in recent weeks.
Last week was the first time this season they had their starting offensive line fully healthy and they dominated against the Jets, both in run-blocking and pass-blocking.
Carson Wentz looks healthy and he's formed a good connection with Pittman who's scored 4 in his last 3 games. Against a poor pass defense in a game they're 10 point favourites I fancy him to carry that on this week.
I'm struggling on player props again this week, but have tipped up Austin Ekeler o98.5 combined yards at PP for the Chargers against the Vikings, I'm not going to put that in another spot, so I think I'll take a punt on a longer priced TD scorer again.
Jordan Howard has scored in both games he's been involved in for the Eagles this year and seems to be the goal-line back for them as they've reverted to a more successful run-heavy style of play. He led the team in rushing yards and carries last week so is increasingly involved and I can't over-look the 5/2 available for him to find the endzone again tonight. That's available at William Hill with most other books lined around 2/1.
Michael Pittman 11/10 at 365/Skybet and Jordan Howard 5/2 at WilliamHill
---
Good luck with your betting today hopefully things will be a little more predictable than they have been in recent weeks and we'll get some winners.
The post NFL Week 10; The most unpredictable league in sports? appeared first on MrFixitsTips.
NFL Week 10; The most unpredictable league in sports?