No jab, no job | VOTE today | Ferry woes | Deere deal shows momentum
ELECTION DAY!


Tuesday, November 2, 2021
---
COVID
► LIVE from the Seattle Times — Coronavirus daily news update, Nov. 2 — The latest count of COVID-19 cases in Washington totals 730,108 infections (14-day average of cases per day: 2,099) and 8,659 deaths.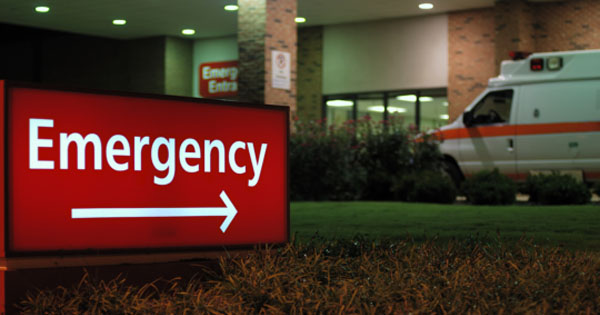 ► From the News Tribune — WA hospital officials urge COVID vaccinations for kids as Delta surge begins to plateau — "Right now COVID-19 hospitalizations are around 1,000 in Washington state on any given day, compared to 300 to 350 last June and July," said WSHA Executive vice president Taya Briley. "And that's a reminder that 1,000 hospitalizations per day was the peak of the surge that we had in December of 2020," which was then followed by mitigation measures such as shutdowns and limits on gatherings. The bulk of those hospitalized remain the unvaccinated.
► From Reuters — COVID-19 still rages, but some U.S. states reject federal funds to help — As the resurgent COVID-19 pandemic burns through the rural U.S. state of Idaho, health officials say they don't have enough tests to track the disease's spread or sufficient medical workers to help the sick. But the state's Republican-led legislature this year voted down $40 million in federal aid available for COVID-19 testing in schools. And another $1.8 billion in pandemic-related federal assistance is sitting idle in the state treasury, waiting for lawmakers to deploy it.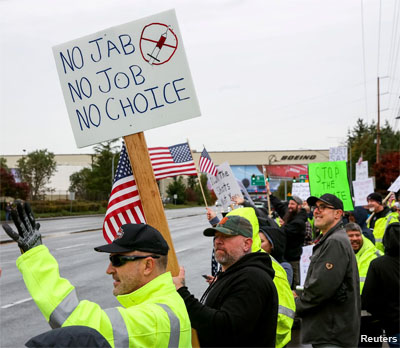 ► From Reuters — From Boeing to Mercedes, a U.S. worker rebellion swells over vaccine mandates — In Wichita, Kansas, nearly half of the roughly 10,000 employees at aircraft companies Textron Inc. and Spirit AeroSystems remain unvaccinated against COVID-19, risking their jobs in defiance of a federal mandate, according to a union official. "We're going to lose a lot of employees over this," said Cornell Adams, head of the local Machinists union district. Many workers did not object to the vaccines as such, he said, but were staunchly opposed to what they see as government meddling in personal health decisions.
The Stand (Oct. 18) — WSLC updates position on vaccine mandates — Washington State Labor Council, AFL-CIO: Workers must have a voice in the consequences of vaccine mandates.
► From the NY Times — No, vaccine mandates aren't an attack on freedom (by Paul Krugman) — First, personal choice is fine — as long as your personal choices don't hurt other people. And the harm done to others by rejecting vaccines goes beyond an increased risk of disease. The unvaccinated are far more likely to require hospitalization, which means that they place stress on the health care system. They also impose financial costs on the general public, because given the prevalence of insurance both public and private, their hospital bills end up being largely covered by the rest of us. Vaccination should be considered a public duty, not a personal choice.
---
LOCAL

► From the Seattle Times — 'Heartbreaking': Foss Maritime shutters Seattle boatyard as industry shrinks — Foss is the latest in a long string of boatyard closures to hit Seattle, signaling for some the slow erosion of the city's historic shipbuilding industry. Years of disinvestment had left the pavement at Foss' Lake Washington Ship Canal facility dotted with sinkholes, and its piers too unsteady to bear the weight of forklifts. Since 2019, Foss has been trying to disentangle itself from pension obligations to workers at the shipyard.
► From the P.S. Business Journal — Alaska Airlines facing renewed demands from pilots after profitable quarter — The union that represents Alaska Airlines pilots has revived calls for the carrier to return to the bargaining table. The union is seeking flexible scheduling and job protections as the company expands its codeshare agreements. The Air Line Pilots Association International (ALPA) in October delivered a letter to Alaska CEO Ben Minicucci requesting to "stop stalling" contract negotiations.
---
ELECTION DAY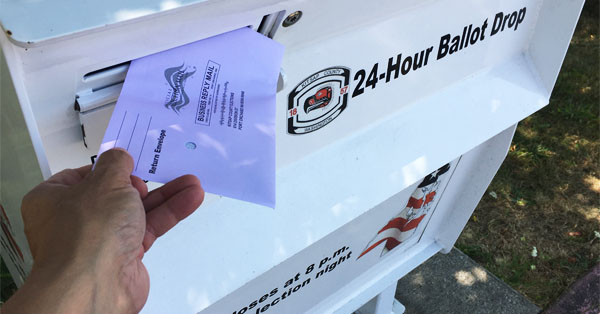 ► From the (Everett) Herald — Election Day is here, and ballots are due — You can put them in a designated drop box until 8 p.m. If you mail it, make sure it will be picked up and postmarked Tuesday.
The Stand (Oct. 19) — Fill out, return your general election ballot — Check out the local labor endorsements for the 2021 general election.
EDITOR'S NOTE — Here's a statewide list of ballot drop boxes.
► From the AP — Democracy tested as voters cast ballots under new laws — For election officials, it's a chance to counter a year's worth of misinformation about voting security and restore faith in democracy for those who still have doubts about last year's presidential election.
► From the Washington Post — Virginia braces for Election Day as polls show dead heat between McAuliffe, Youngkin — Glenn Youngkin (R) and Terry McAuliffe (D) crisscrossed Virginia on Monday in a final appeal to voters, seeking to energize their bases as the neck-and-neck race for governor draws to a close.
► From the USA Today — Minneapolis voters to decide fate of police department more than year after George Floyd's death
---
THIS WASHINGTON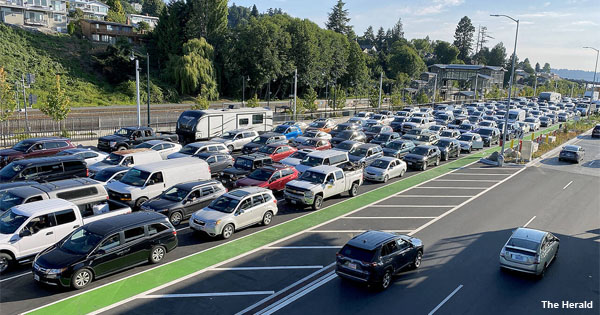 ► From the (Everett) Herald — 3 miles by ferry, but these days a round trip can take 5 hours — Reporter Andrea Brown commuted on the "20-minute" sailing between Mukilteo and Clinton. With reduced ferry service due to crew shortages, travel time is a crapshoot.
► From The Guardian — Child labor laws in some states may be weakened as U.S. industries look to hire teens — U.S. employers are recruiting teenaged workers to solve their difficulties in hiring and retaining workers, and some Republicans and industry groups are pushing for looser child labor laws to allow those industries to put teens to work for longer hours.
EDITOR'S NOTE — In Washington state, employers must obtain permission from parents and schools for teens to work during the school year, and their hours are limited:
14- and 15-year-olds: Three hours/day, six days a week, between 7 a.m.-7 p.m. for no more than 16 hours total;
16- and 17-year-olds: Four hours/day, six days a week, between 7 a.m. and 10 p.m. (midnight Friday-Saturday nights), for no more than 20 hours total.
Look for state Republicans to introduce bills relaxing those restrictions in 2022.
---
THAT WASHINGTON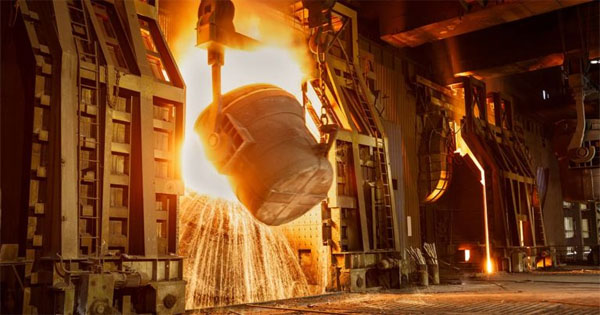 ► From the AFL-CIO — U.S. and E.U. interim arrangement on Section 232 is a win for workers, climate and trade — AFL-CIO President Liz Shuler:
"The relief measure establishes a framework for the United States and European Union to lower industrial emissions and prevent unfair competition from nations that do not take similar measures. Right now, workers in the United States produce some of the cleanest steel in the world, and this deal can make that a trade advantage for us. With America's workers at the table, this arrangement is yet another example of how President Biden is delivering on his pledge to implement a worker-centered trade policy and why he says, "When I think climate, I think jobs."
► From Politico — Trump-era tensions set to cool under U.S.-EU deal — The deal on steel and aluminum imports is seen as a compromise that sets the two allies on a new path on trade after years of antagonism.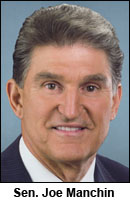 ► From the Washington Post — Manchin calls for more time to review $1.75 trillion spending package, creating new headaches for House vote — Sen. Joe Manchin III (D-W.Va.) on Monday called on Democrats to slow down in their work to advance a $1.75 trillion plan to overhaul the country's health care, education, climate and tax laws, raising new doubts about the party's timeline to advance a critical piece of President Biden's economic agenda as soon as this week.
► From TPM — Jayapal says progressives ready to vote for both infrastructure bills regardless of latest Manchin-ing — Congressional Progressive Caucus chair Rep. Pramila Jayapal (D-Wash.) on Monday said that progressives plan to vote for both the bipartisan infrastructure bill and the reconciliation package even without Sen. Joe Manchin's (D-WV) commitment to support the latter.
► From HuffPost — Same-sex partners, spouses finally eligible for Social Security survivor's benefits — The Department of Justice and the Social Security Administration on Monday dropped federal appeals against two class-action lawsuits over the benefits, which allow surviving partners to access government payments. "Today's development ensures that the door stays open for seniors who were wrongly locked out," Lambda Legal said.
---
NATIONAL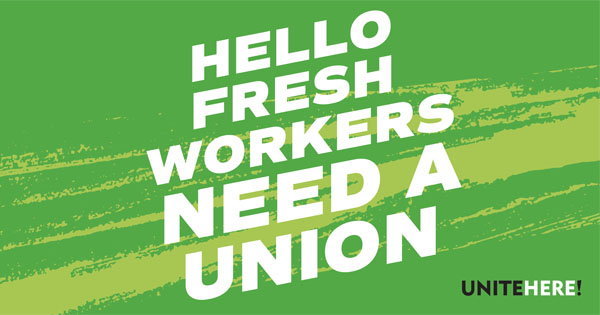 ► From UNITE HERE — Support HelloFresh workers organizing a union! — Workers at Hello Fresh are organizing a union to make their jobs safer and more sustainable at the largest meal kit company in the United States. While Hello Fresh profited from the pandemic, employees faced disrespect, a COVID-19 outbreak, and preventable injuries. Workers are calling on the company to make sure sustainable jobs are part of the package and that the company pledge to not harass or intimidate workers organizing a union. Your voice matters. Join them.
► From the Des Moines register — Head of largest U.S. labor group tells striking John Deere workers: 'The nation is watching' — As Deere & Co. employees prepare to vote on a new contract Tuesday, AFL-CIO President Liz Shuler said their strike's outcome could influence worker attitudes around the United States.  After visiting picket lines outside of John Deere Harvester Works Monday, Shuler said UAW members have shown the power of a strike in the current economy.
► From Bloomberg — Tentative John Deere deal shows momentum for worker movement — A tentative deal struck between Deere & Co. and the UAW union offers substantial improvements over one that workers rejected before going on strike, including larger wage increases, no new tiers to retirement benefits and a signing bonus of $8,500. The deal, which is subject to approval by union membership, suggests that John Deere backed down rather than get drawn into a protracted work stoppage with farm equipment demand at the strongest in a decade and earnings at a record.
► From KETV — Union negotiating team flying to Virginia for Kellogg talks this week — Both the union and the company said bargaining talks are scheduled for Tuesday and Wednesday this week for the first time since the strike started.
---
TODAY'S MUST-SEE
---
The Stand posts links to Washington state and national news of interest every weekday morning by 10 a.m.
The post No jab, no job | VOTE today | Ferry woes | Deere deal shows momentum appeared first on The Stand.
No jab, no job | VOTE today | Ferry woes | Deere deal shows momentum