NOW Gallery
Something in Greenwich Peninsula that isn't the O2.
That's a breath of fresh air.
NOW Gallery is housed in the same striking twin building as Craft London (which is a very good spot for a quick bite/drink while you're there). The huge glass horseshoe that grips the gallery within always has a large-scale installation visible from the paving outside. And unsurprisingly, given the name of the place, the installations are all about cutting-edge, contemporary art; but it's also art that's thankfully accessible and unpretentious.
It's all free, and their exhibition space is genuinely huge, allowing for them to put on some of the city's largest walk-through installations. They typically put on five different shows a year, including three solo shows from the worlds of art, fashion, photography, and design. They tend to focus on up and coming artists – in fact, their mission statement is to "champion emerging designers and new schools of thought", and helping them to "experiment with unusual exhibition and display formats". Oh, and keeping it all free.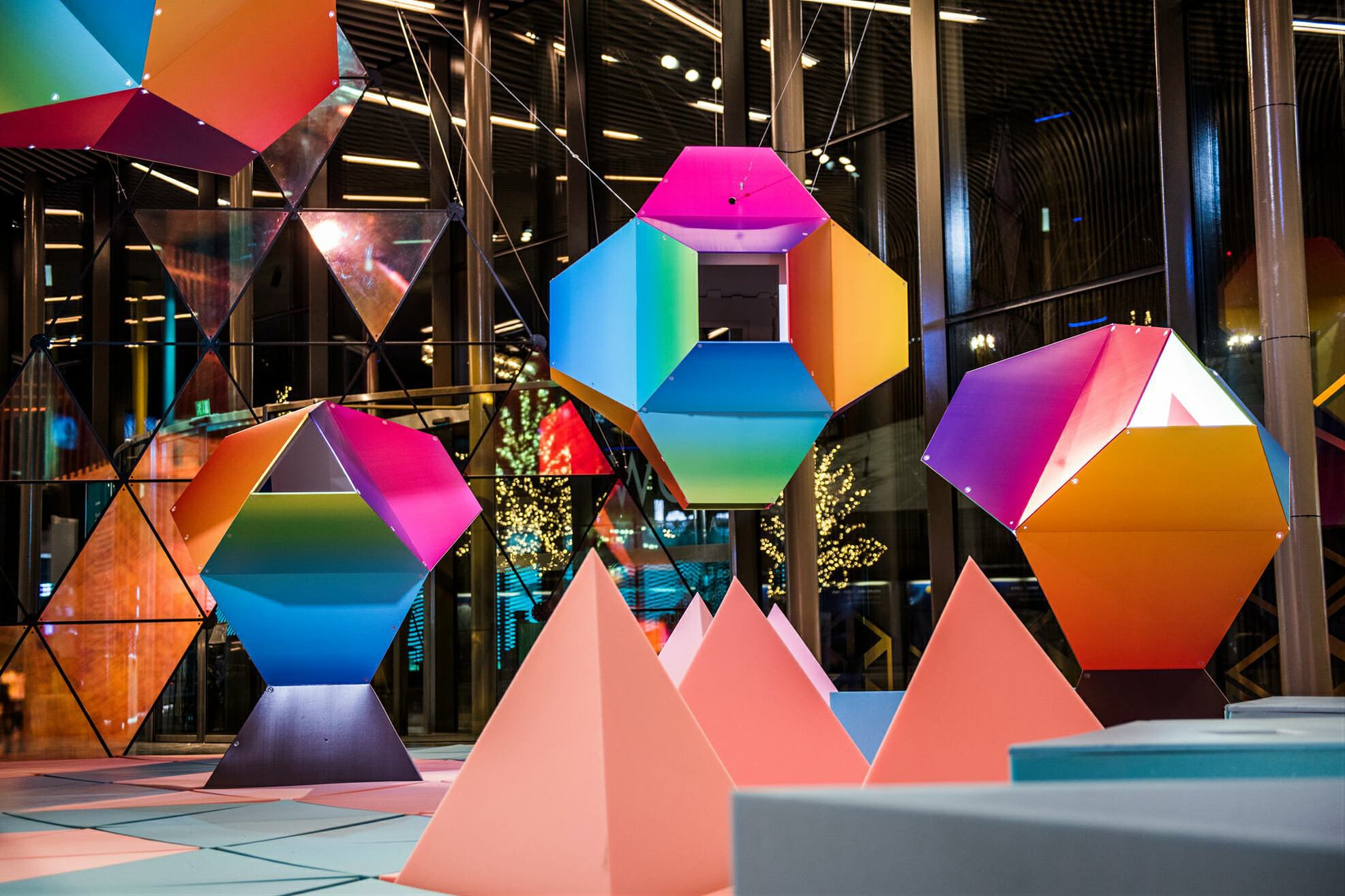 Some of the shows they've produced before include:
Straight Jacket Star Jumps by Alex Chinneck – this show featured a 21m-long electricity pylon artfully wrapped up inside a 7m space.
The Iris by Rebecca Louise Law – for this installation, the artist took 10,000 fresh irises and suspended them from the gallery ceiling with copper wire, making them appear to float within the gallery space.
What I Like by Molly Goddard – here, the gallery saw several massively oversized dresses suspended from the ceiling on pulleys, such that their heights could be adjusted by the viewers. Then, visitors were invited to embroider, stitch, and sew as they pleased with the materials provided.
Slices of Time by Emmanuelle Moureaux – the artist divided the gallery space with dozens of layers of hanging numbers in precisely 100 different shades of colour. Those layers, and gradually morphing colours, represent the natural ebb and flow of time itself in a vibrant, walk-through rainbow.
They hold events, talks, Lates, live music, and even the occasional fashion show, too.
You might even forget that the O2 is even there.
NOTE: NOW Gallery is open now. It's completely feee, and you can see all of their current/past shows at their website right HERE.
NOW Gallery | The Gateway Pavilions, Peninsula Square, Greenwich Peninsula, SE10 0SQ
---
Like art? Take a look at our guide to the best exhibitions on now.
The post NOW Gallery appeared first on The Nudge London.
NOW Gallery