Midtown is a CCR Condo with Units Under $1.4 Million. Yes, Really.
Buying a condo in the CCR usually requires an income that would make the police suspicious. Midtown is the exception, and one of the only new condos in Bugis that you can get for under $1.4 million. Is there a catch? Let's see:
What is Midtown?
Midtown is a mixed-use development by Guocoland. It's located at 120 Beach Road, and it's a considerable office development (770,000 square feet of office space). The residential portion consists of just 219 units. This is a leasehold project, set to TOP in 2022.
About half the residential units are single bedroom, ranging from 409 to 527 square feet. 70 units are two-bedders (732 to 775 square feet), while the rest are duplex (for the duplex units, there's no visibility between the top and bottom floors; this isn't a loft apartment. But this has its own advantages, such as being able to rent out one of the two floors, or being able to use one as a home office and the other as a residence).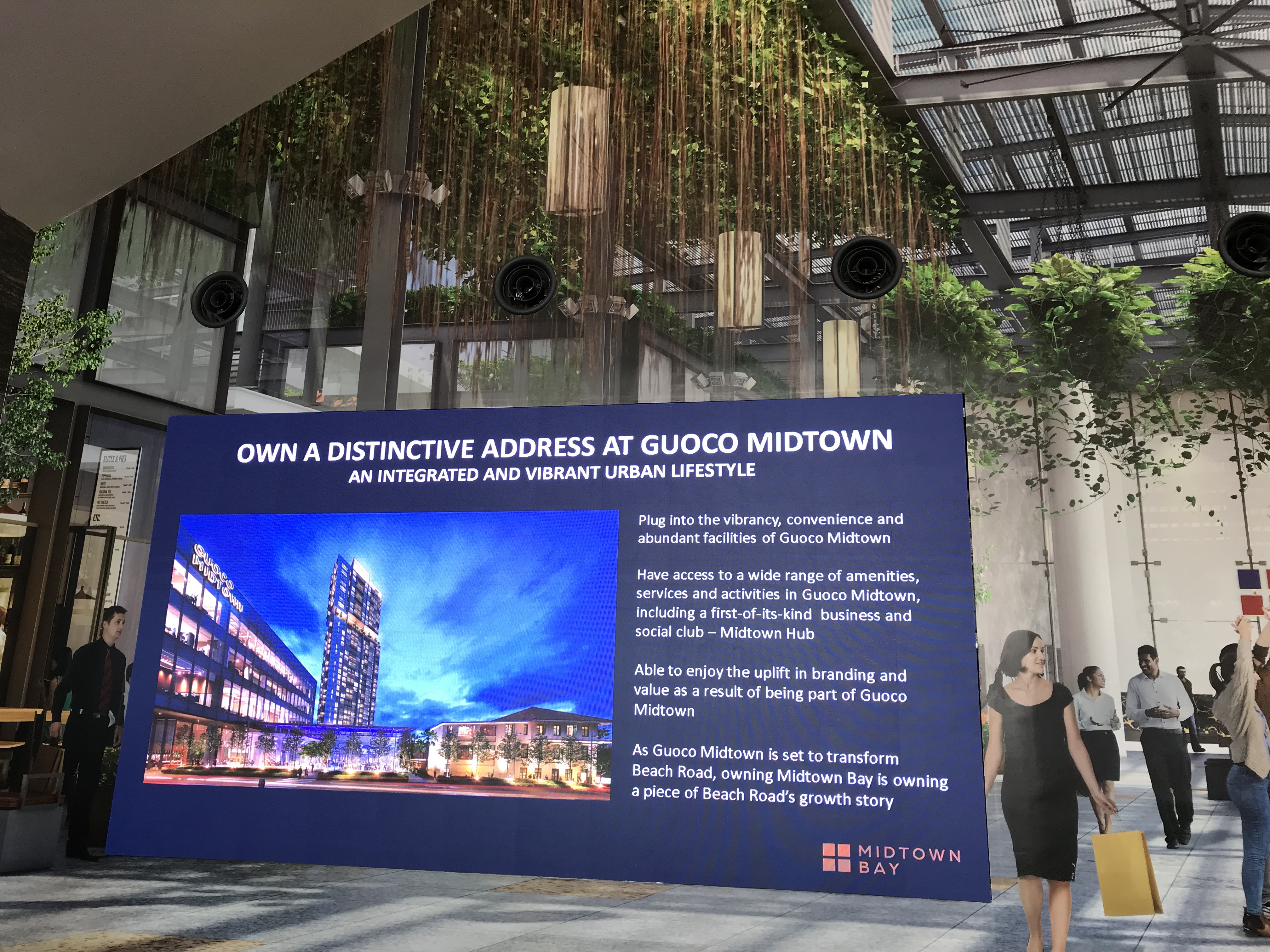 What's surprising about these units, given the location, is the low quantum. The one-bedroom units can be had from $1.38 million, while even the two bedroom units are just over $2 million. This translates to a high price per square foot (the one bedroom units work out to over $3,2oo psf, while the two-bedders and duplexes work out to close to $3,000 psf).
What do you get for that price?
The location is probably the biggest draw. You can walk to Bugis Junction (and hence the attached MRT) in a matter of minutes. There's also fast access to Nicoll Highway for drivers (the developers also mentioned there will be two entrances, one directly from Nicoll Highway).
Besides that, Midtown itself has activity plazas and retail spaces; residents are just an elevator ride away from these. Themed public spaces include a City Room, Marketplace, and the usual landscaped green zones. Also, the former Beach Road Police Station has been conserved, and now houses retail and F&B.
We note that the retail and office spaces are not being sold, they remain under the developer; that's a good sign, since it means a controlled tenant mix (if people can buy the retail spaces, you often end up with a hodge-podge mix of martial arts schools, scented candle shops, and other bizarre combinations).
Midtown places you just five minutes' drive from the CBD (not accounting for traffic). From Bugis, it's one train stop to City Hall, and two stops to Raffles Place.
You also get the usual full suite facilities, like the gym, clubhouse, pool (on the seventh floor), and so forth. As a bonus though, you also get access to a 7th floor office hub – you can use this area for hot-desking, meetings, etc. May as well book a suite and work from there, if you're running your own business.
Different configurations of the interior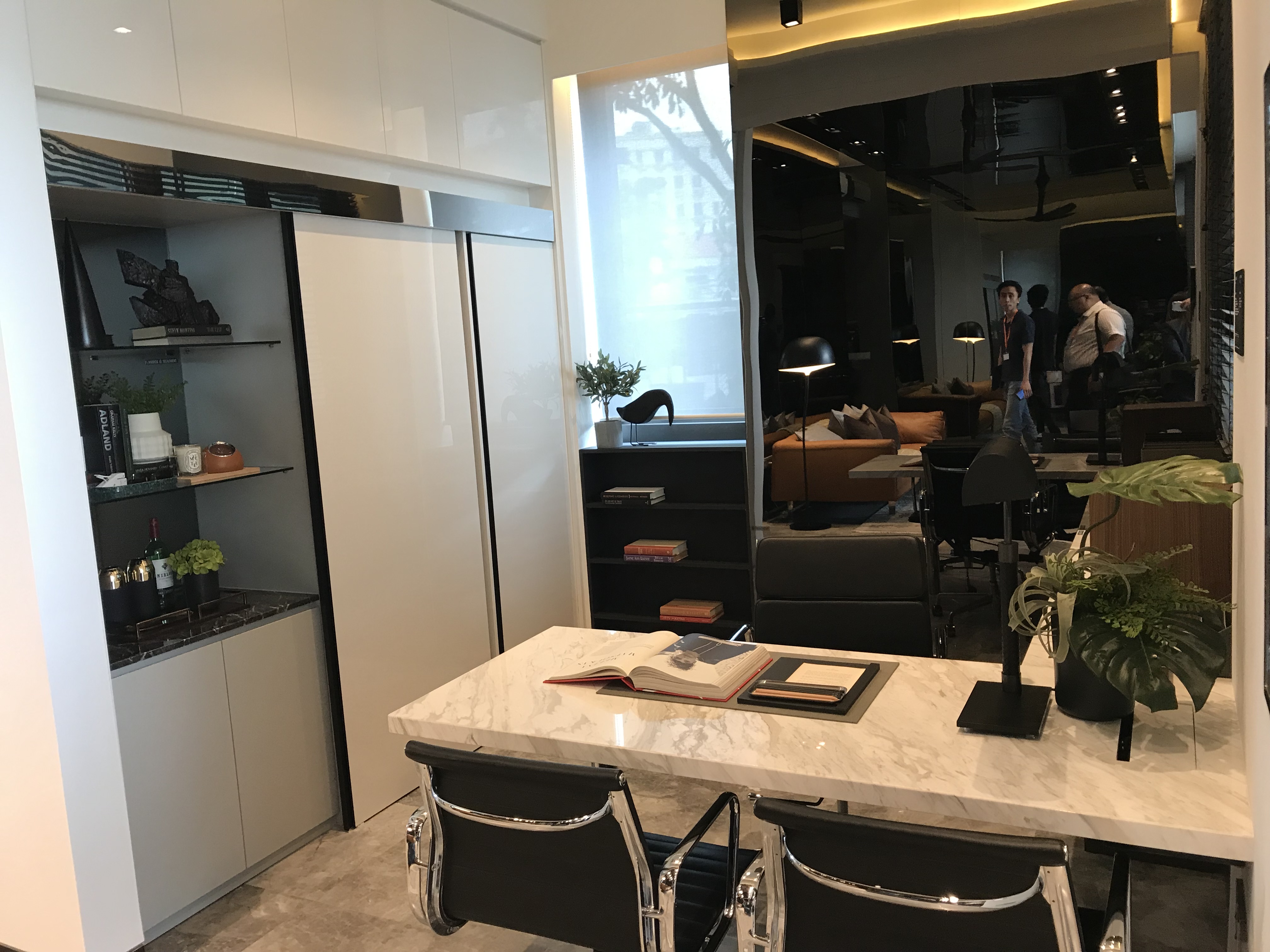 The units are especially easy to use as home offices; a lot of neutral (read: white and reflective) surfaces, along with a niche for a desk, can make it feel like you're walking into your boss's corner office.  The balcony is huge at around 10 square metres, and you can use it to host a 10-seater dining table if you want to entertain.
For the duplex units, these can operate almost like dual key apartments – the top and bottom floors are separated by a flight of stairs. We think this will please a number of landlords, since they can live on one floor and rent out the other, or just rent out to two separate tenants.
There are some other small details that nonetheless help with multiple configurations. For example, the wall separating the office niche from the living room sits on the marble floor, rather than having the marble cut around it (if you decide to remove the wall, you won't have to patch the white space on the ground where the wall stood).
A sort of groove two-thirds up from the office space makes it easy to build a small loft if you like; it minimises the need for more space for extra legs. We're not too sure about building that loft though; it seems a little cramped. Also, due to the positioning of the air-conditioner, one end of that loft seems to be taking a direct blast.
(But hey, lofts are good for storage; and which office doesn't need a decade's supply of ring binders?)
Our take on Midtown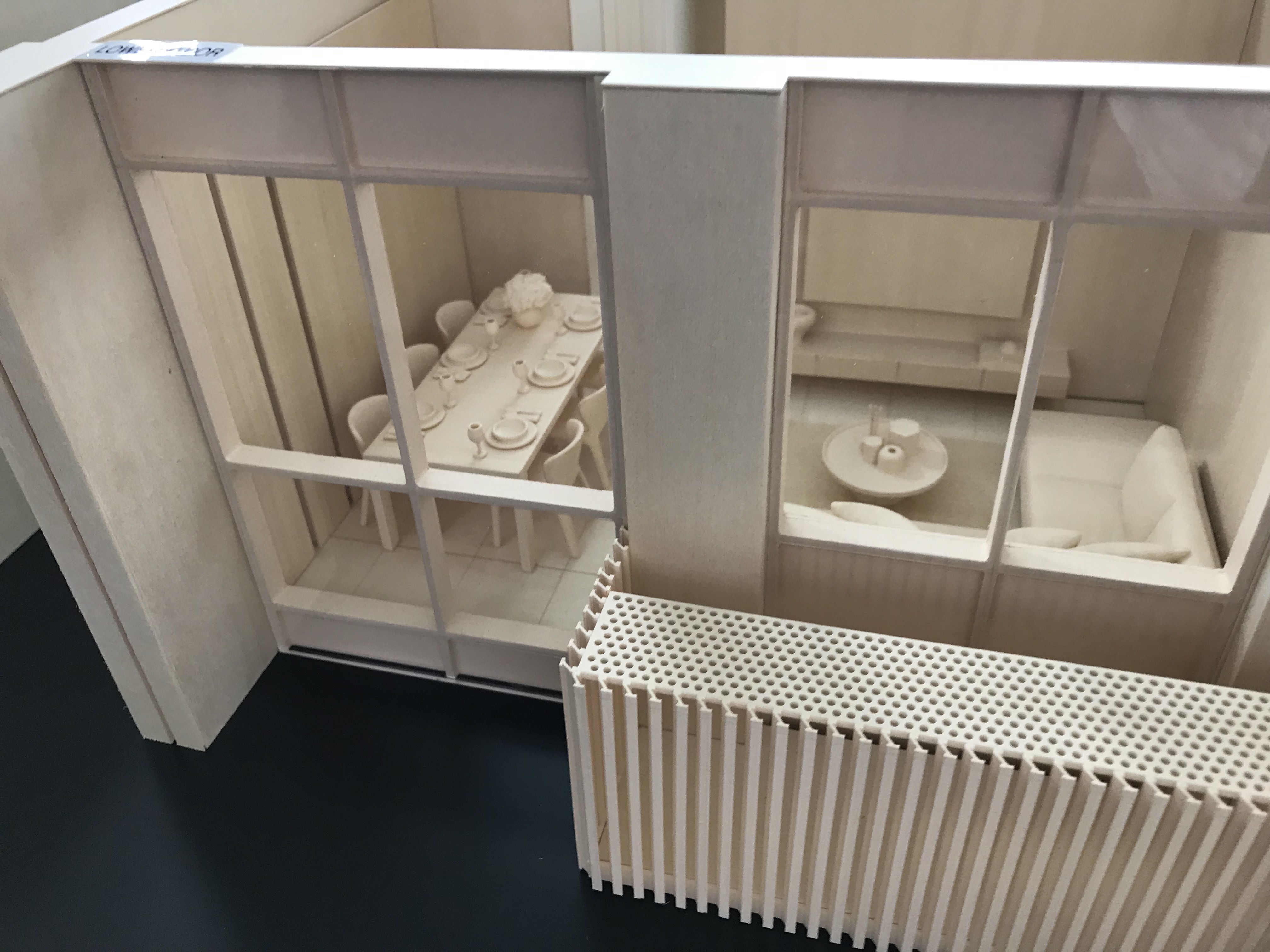 This is one of the cheapest ways to own a private property in the CCR – it's rare to get this sort of location, at mass-market condo prices. However, we feel this is more of an investment property than, say, a first home.
The units lean toward the sort of tenant who's an expatriate worker; the sort who might come over and, say, run a FinTech start-up. The units are primed to double as offices, and as an area to entertain clients / partners.
Have you ever been in a co-working space? That's what Midtown feels like – busy, active, engaging, but not exactly what you'd call family living.
While you're paying a very high price per square foot, we think Guocoland has hit upon a reality here: it's really the quantum that matters more, especially if you're looking for a high rentability unit in the CBD.
We see only two real drawbacks here:
First, this part of Beach road already sees heavy traffic. When Midtown offices open up, and the nearby Shaw Centre is replaced (in 2023), the stretch will get even more crowded. On top of that, new developments are slated along the Ophir-Rochor corridor, which again means more traffic.
This isn't an issue for people who don't drive – the MRT station is nearby. But for those who do, we foresee it can get frustrating.
Second, Shaw Centre is due to be replaced with a mixed-use development, as mentioned above. Midtown's estimated TOP is in 2022, Shaw Centre's replacement is up in 2023. There's going to be about a year while residents tolerate the banging and clanging next door. After that, landlords may also find competition from Shaw Centre's replacement (which has broadly the same location).
Overall though, this is a good initial location for new investors, who want a CCR property in their portfolio. Guocoland is not a developer that competes on price; but in this instance, price is where they edge out the competition.
Is Midtown a good property buy? Voice your thoughts in our comments section or on our Facebook community page.
Looking for a property? Find the home of your dreams today on Singapore's largest property portal 99.co! You can also access a wide range of tools to calculate your down payments and loan repayments, to make an informed purchase.
The post Midtown is a CCR Condo with Units Under $1.4 Million. Yes, Really. appeared first on 99.co.
Midtown is a CCR Condo with Units Under $1.4 Million. Yes, Really.