Buzz Break: 2019-20 Panini Chronicles NBA (two hangers)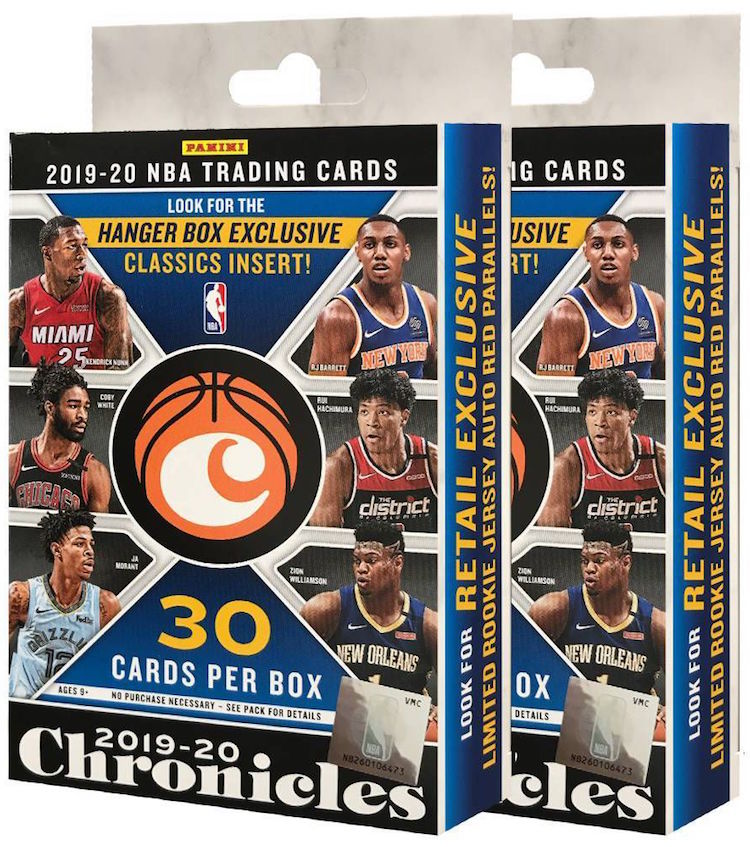 From time to time, Buzz will break a box of something and post the results here. Like this and want to see more? Or maybe there's a box you'd want to see busted? Send Buzz an email at BlowoutBuzz@blowoutcards.com.

The box: 2019-20 Panini Chronicles basketball cards (two hanger boxes)
First Buzz preview: Click here
Where to buy: BlowoutCards.com

Keep reading for a full breakdown and gallery of what was in this one ...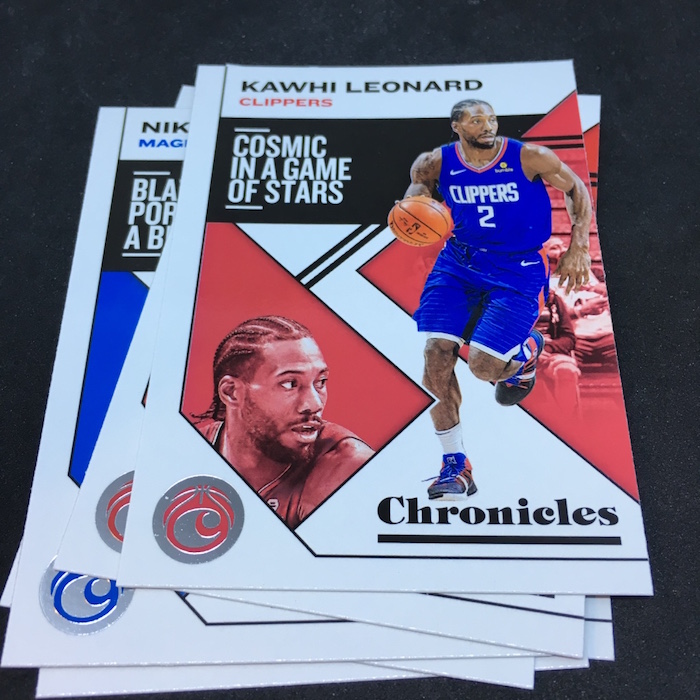 Packs per box: 1 (all cards from both boxes in gallery below)
Cards per pack: 30
Cards per lot: 60
Chronicles set completion: 9 of 50 (18 percent)
Duplicates: 0
Base cards – James Harden, Trae Young, Karl-Anthony Towns, Nikola Vucevic, Damian Lillard, Kawhi Leonard, Ben Simmons, Khris Middleton, Andre Drummond
Rookie Cards (35) – see gallery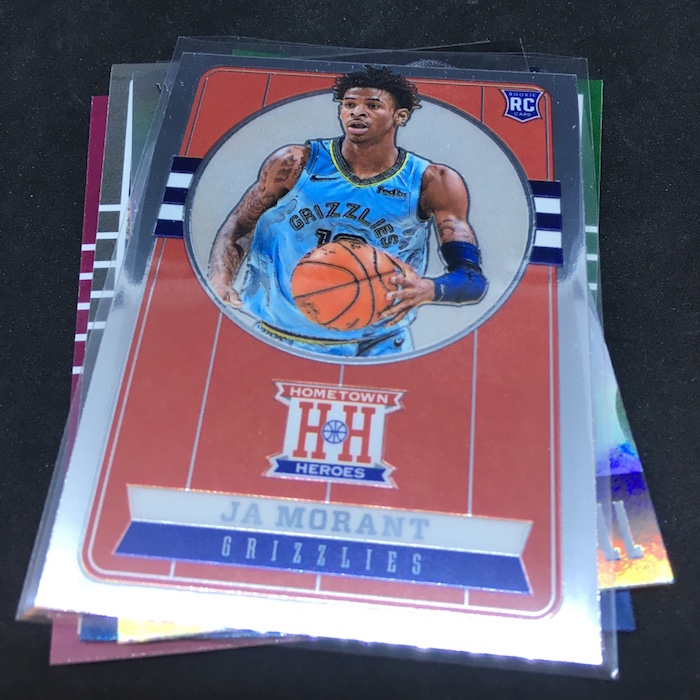 Base subsets: 45 (all cards are numbered as part of the standard set but I'm detailing them here as I would if inserts)
Classics (8) – LeBron James, Giannis Antetokounmpo, James Harden, Tyler Herro, R.J. Barrett, Kevin Porter Jr., Darius Garland, Keldon Johnson
Crusade (1) – Keldon Johnson
Essentials (1) – Eric Paschall
Hometown Heroes (2) – Ja Morant, Cam Reddish
Luminance (5) – LeBron James, Luka Doncic, P.J. Washington Jr., Keldon Johnson, Anthony Davis
Marquee (3) – Jaxson Hayes, Trae Young, Cameron Johnson
Panini (7) – LeBron James, Coby White, Eric Paschall, Jaxson Hayes, Brandon Clarke, P.J. Washington Jr., Cody Martin
Phoenix (1) – Eric Paschall
Playbook (6) – Ja Morant, Giannis Antetokounmpo, Keldon Johnson, Tyler Herro, Darius Garland, Brandon Clarke
Prestige (5) – LeBron James, R.J. Barrett, Cameron Johnson, Kendrick Nunn, Kevin Porter Jr.
Recon (1) – R.J. Barrett
Threads (4) – Zion Williamson, Kevin Porter Jr., Kendrick Nunn, P.J. Washington Jr.
XR (1) – Brandon Clarke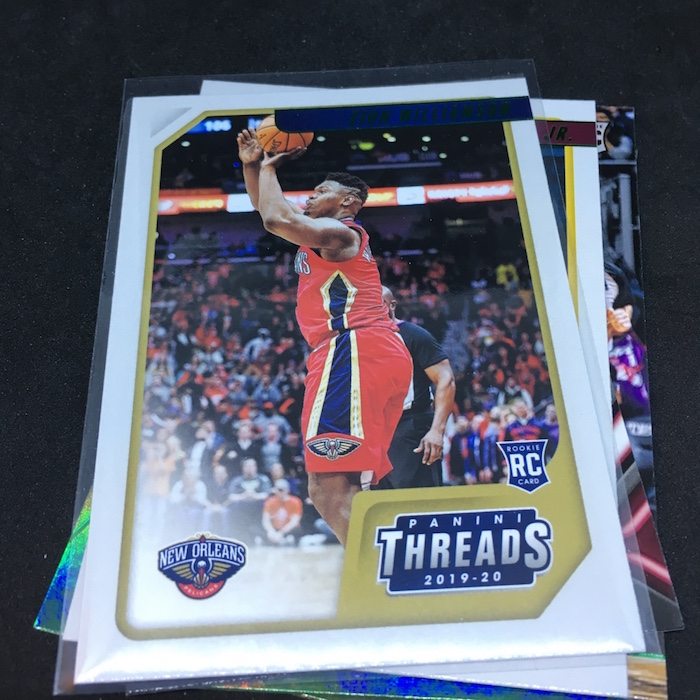 Inserts: 6
Green Essentials parallel (1) – Matisse Thybulle
Green Marquee parallel (1) – De'Andre Hunter
Green Panini parallel (1) – Terence Davis
Green Playbook parallel (1) – Kendrick Nunn
Green Threads parallel (2) – Zion Williamson, Kevin Porter Jr.
Autographs/Memorabilia: None
What's Buzz-worthy: I dropped my first pair of hangers this weekend and here are my other two from the Staredown at the Card Aisle Corral. This batch included my expected batch of Zion Williamson and Ja Morant but perhaps not as much as other breaks I've done here and I'm still going back and forth on whether I should have done fewer blasters and more of these. (You only get 10 more cards per blaster.) Interestingly this pair included the exact same number of RCs than my last pair -- and it didn't feel like that when I ripped into them. The variety here is the fun and I got more names here than I did in other areas this time ... we'll see if that means they pay off better down the lune. These boxes are the home of Green parallels across the board and the only place to find the Classics cards (noted on box as "inserts" but numbered within the set like everything else). For more on this one, check out my other breaks ... this one is easily a must-rip for a collector with strong potential if you land key names among the few parallels in either retail format -- and it's an easy one to stockpile for the long-term with so many RCs and so much variety.
Product Grade: A
Box Grade: A (Zion among parallels helped here)
Fun Grade: A
Follow Buzz on Twitter @BlowoutBuzz or send email to BlowoutBuzz@blowoutcards.com. 
>> Click here to buy cards on BlowoutCards.com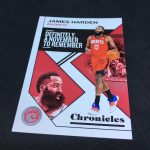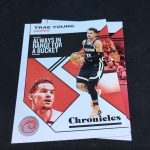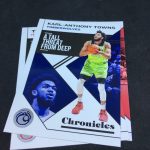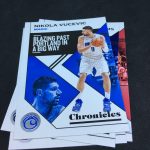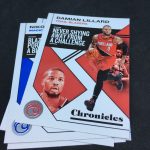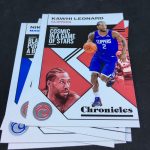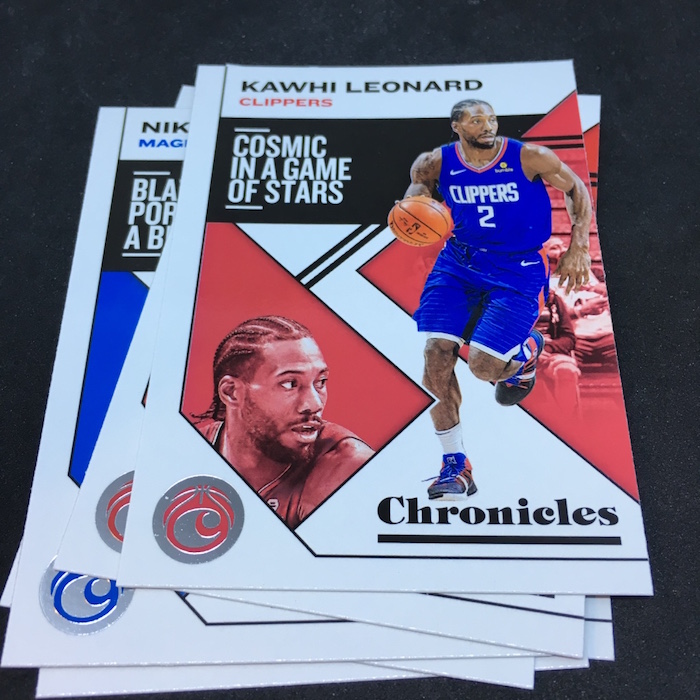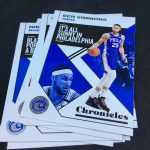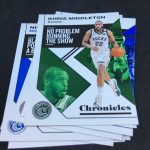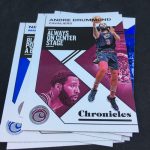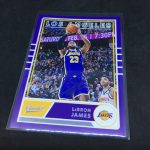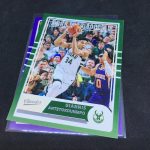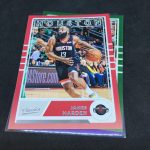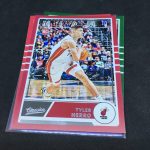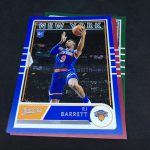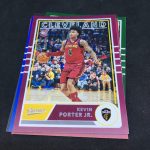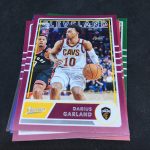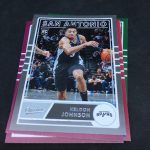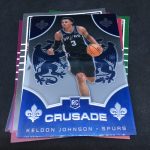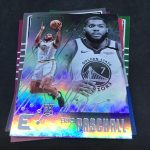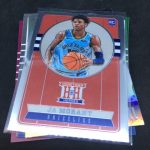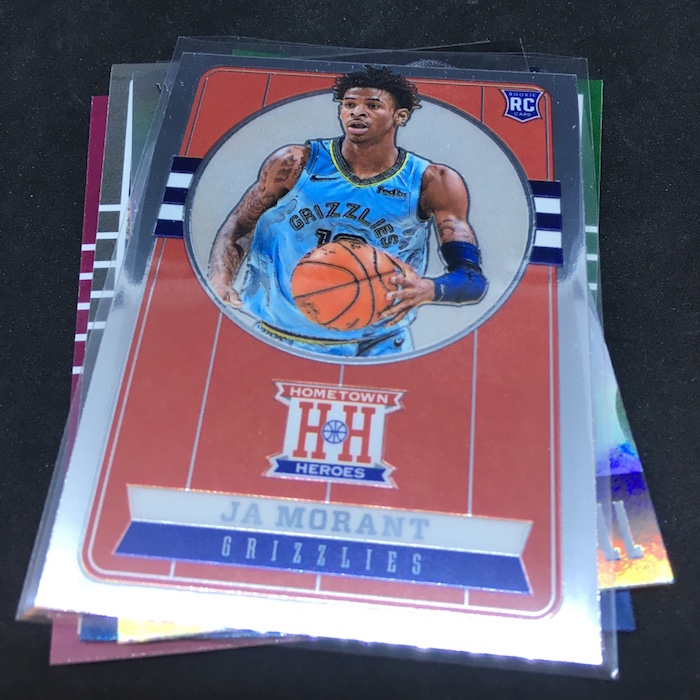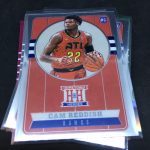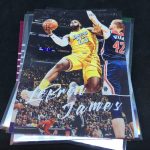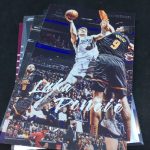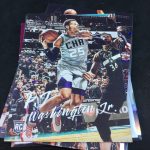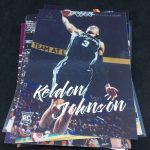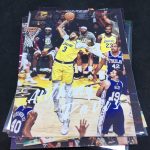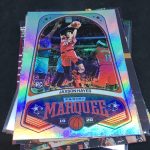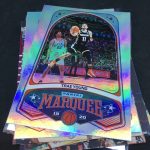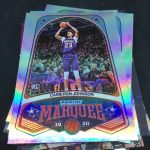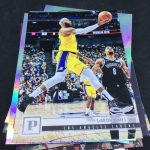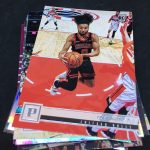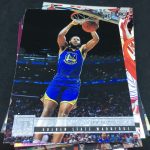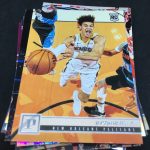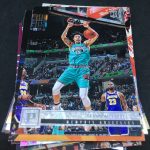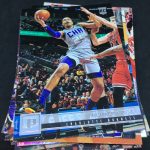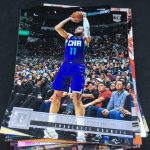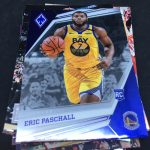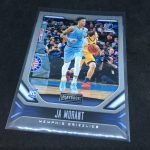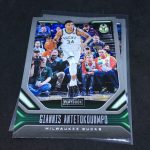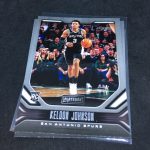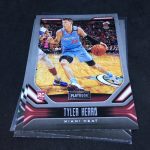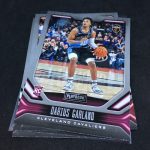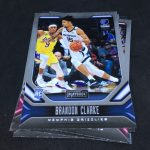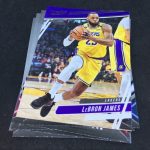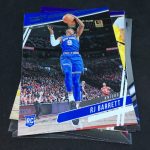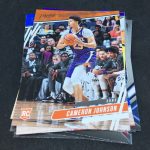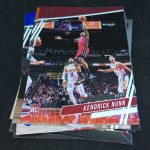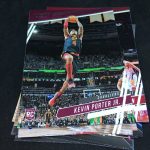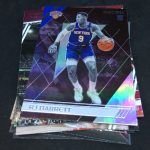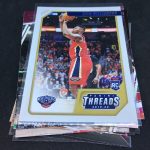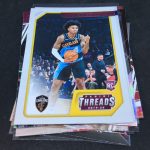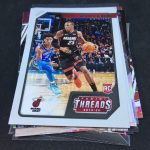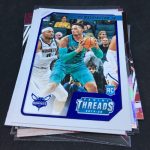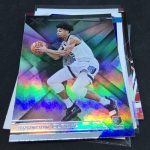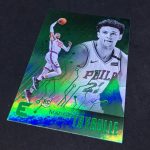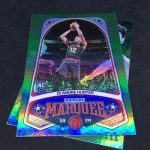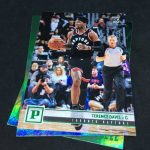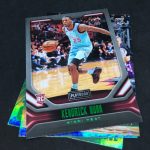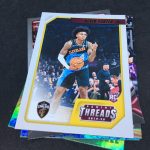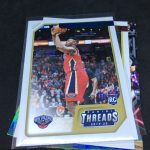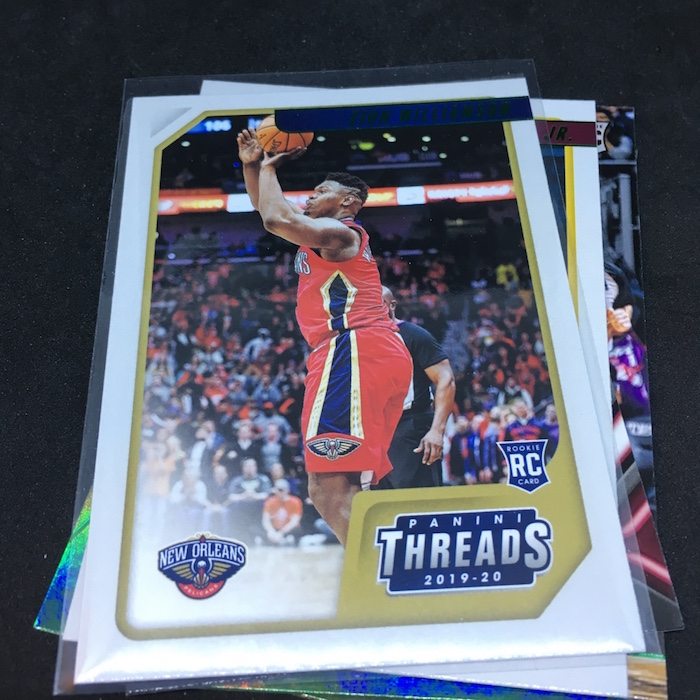 Buzz Break: 2019-20 Panini Chronicles NBA (two hangers)