FF247 Fantasy Football Site Team GW28
FF247 Fantasy Football Site Team GW28
Ashley does Dallas…
We've had indifferent game-week's, we've had bad game-week's and then we've had this game-week. A thought probably shared by a good many. We began with the faint hope of having a solid 11 plus a possible sub, and ended up with 9. A thought probably shared by a good many. We began with a seemingly solid captain choice, he came home with 4 points, we didn't even answer the door. A thought probably shared by a good many.
We did manage to cobble together a hat-trick of sorts, we got a full set; a clean sheet, an assist and a goal. That'd be news if it was from one player, unfortunately it wasn't, it was between the whole sorry lot of them. Well, the ones who actually bothered to play anyway.
We won't bore you with the details of the other 6, their lack of contributions are evident on the pic below. In total we got 34 points, and a second consecutive red arrow which dumped us down to 34,980th. It's not ideal but at the same time it's hardly a crisis. With all the chips in hand we are still confident of a good finish.
Last week's result…
Before we get going on this weeks decision we should remind you that;
THIS WEEKS DEADLINE IS; TUESDAY 18:45
This week's transfer decision…
This week we had 1 FT and £2.7m in the bank, aka the Kun fund….
Some combo of Kun going for 120 minutes at the weekend, and Pep being known for rotation, and Auba getting a rest has actually led us to shelve the Kun plan for a bit. It's not that we are completely risk averse but we do tend to favour playing the odds a bit. And it's not as if Auba doesn't have a very decent looking game in front of him.
As a result our attention turned elsewhere and ultimately to finally replacing Wilson. And ironically it won't be with Rashford, which was always the intention if we could ever catch an opportunity to do so, having not been in a position to previously after an unfortunate overload on Man United assets. Some things are just never meant to be. Not wanting to use much of our bank, and with a firm eye on BGW's 31 and 33 we narrowed down our choices to Rondon (Newcastle) and Barnes (Burnley). The brackets are important there as there was some internal confusion over the identity of the latter, which had us at some point buying Cliff Barnes (one for the teenagers), John Barnes and Harvey Barnes. And Cliff Richard, don't ask….
We couldn't really split them in all honesty, their fixtures are equally reasonable, as is the form of both them and their respective teams. Both have a game in 31 and both may have a game in 33. Rondon is the 'may' bit of that though as Newcastle's involvement there depends on the FA Cup results. And so, scratching around for any small reason to pick one over the other, we decided to go with Barnes, almost on a technicality.
Our Captain is Salah, our Vice is Auba
This was a tough one and it went to the wire. We have two really strong candidates in Mo and Auba. Both got two votes each with the other being on the reverse vice side of each one. The deciding vote went with Salah, again with Auba as vice, it really was that close.
Our team in full…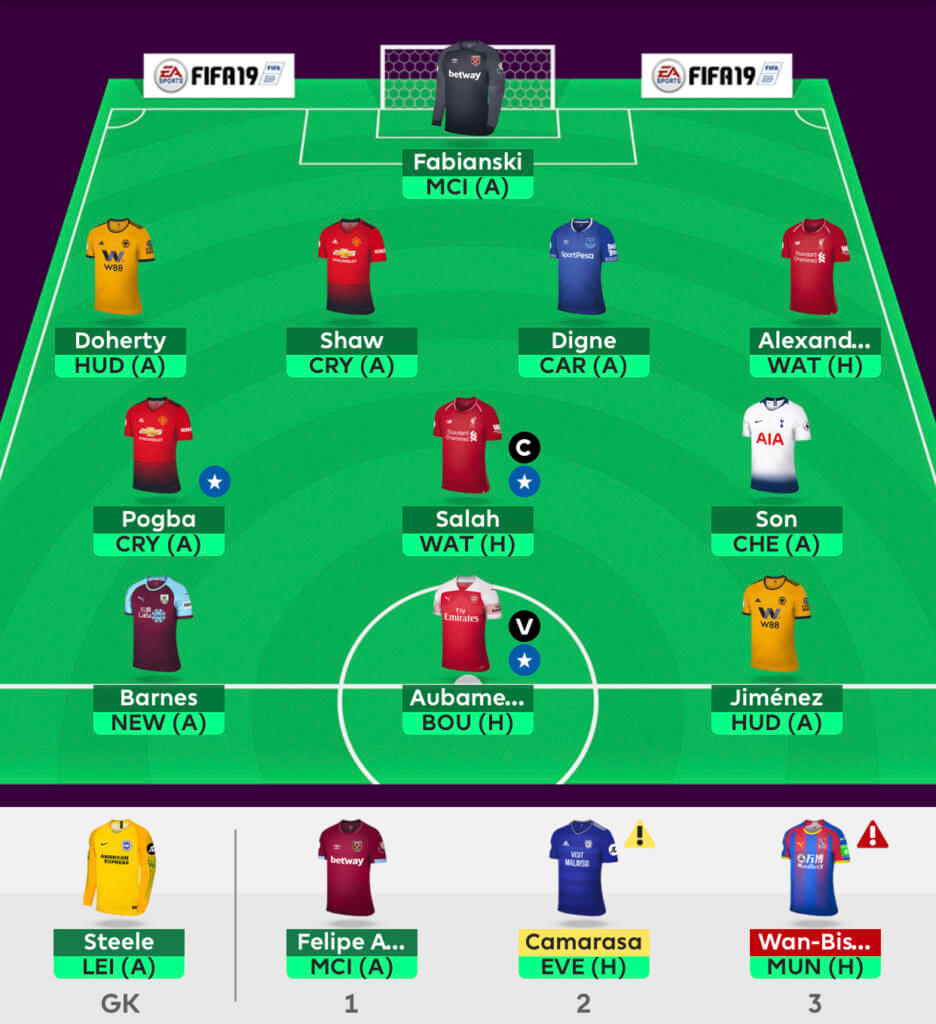 And lastly, don't forget that this weeks deadline;
DON'T FORGET THE DEADLINE IS ON TUESDAY 18:45
You can follow the site teams progress all season by clicking here
Thanks for reading FF247 Fantasy Football Site Team GW28
FPL FIXTURE TRACKER
FIXTURE TRACKER LINK
Welcome to our Fantasy Football leagues section.
The League Codes for FF247 for the 2018/19 season are as follows –


The main public FF247 League is sponsored by Starting 11, which anyone is welcome to join, can be accessed using the following code 1581-751 (auto-link below).
The prize pool for this is £250.
Our Regulars League* for 2018/19 is now open and has a cash prize pool of £300 paid directly to the winners from the FF247 management team. The first 5 places are paid out in a tiered system.
To enter this one you need to be an active and recognised site member and you need to e-mail us for the league code – elleffcee@gmail.com
*terms and conditions apply and are available upon request. Management reserve the right to review membership of this league on an ongoing basis which is dependent upon regular comment / community activity.
The post FF247 Fantasy Football Site Team GW28 appeared first on Fantasy Football 247 - Premier League Tips.
FF247 Fantasy Football Site Team GW28