In Which I Don't Go Anywhere
One of things that you swiftly realize as a beer drinker during a situation like we're currently experiencing is that beer is usually not about beer. It's about people. We're all worried about the livelihoods of people who own breweries and restaurants, and rightly so. As a life's work they're hard graft for little remuneration. To have that cumulative effort come to naught for something as simple as a virus is heartbreaking.

I'm a natural born pub loiterer and I can tell you the joy of a well run pub is that collection of people that make up the experience. I can watch a competent bartender for hours. I don't mean a mixologist. I mean a bartender. The careful balance of acts being performed behind the bar whether it's pulling pints or mixing drinks or reclaiming glassware or that carefully timed slip away to change the keg. It's balletic, especially during rushed service. A really good bartender can carry on a conversation with you, introduce you to other patrons, remember your regular drink order, and keep track of the volume consumed in the room. 
The pub is, as my friend Tim Mitchell once wrote, a third place between work and home where you've got the opportunity to be someone else for a while; a situation where you're not your responsibilities or your address or your social standing. You're not your societal role. You may be a father or husband or somebody's child, but down the pub you're just you, at least if you want to be.

You can engage in conversations that have no bearing on anything. Ephemera about the weather or sports or local politics. You can engage in conversations that might be world changing. It's unlikely, but it must have happened at some point.
The fact is, in this situation, it's the people I miss. I have beer, but the alchemical element missing from my enjoyment of it is the pub. The bustle and roar of a high ceilinged saloon and snatches of conversation from down the bar and the odd glimpse of people I've been introduced to a half dozen times over the last decade and whose names will always escape me. They're nodding acquaintances, in that you exchange nods and get on with it.
With that in mind here's a list of pubs that I would currently rather be in than my apartment. An honorable mention goes to all pubs not listed for simply continuing to exist. Special Toronto mentions go to Bar Volo, Hot Mess Tex Mex, The Only Cafe, Bar Hop Peter Street, Beerbistro and Craft Toronto. Out of Town mentions include The Harp Covent Garden, The White Horse Parsons Green, and The Rake and The Royal Oak in Southwark.
The Half Moon – Herne Hill, South London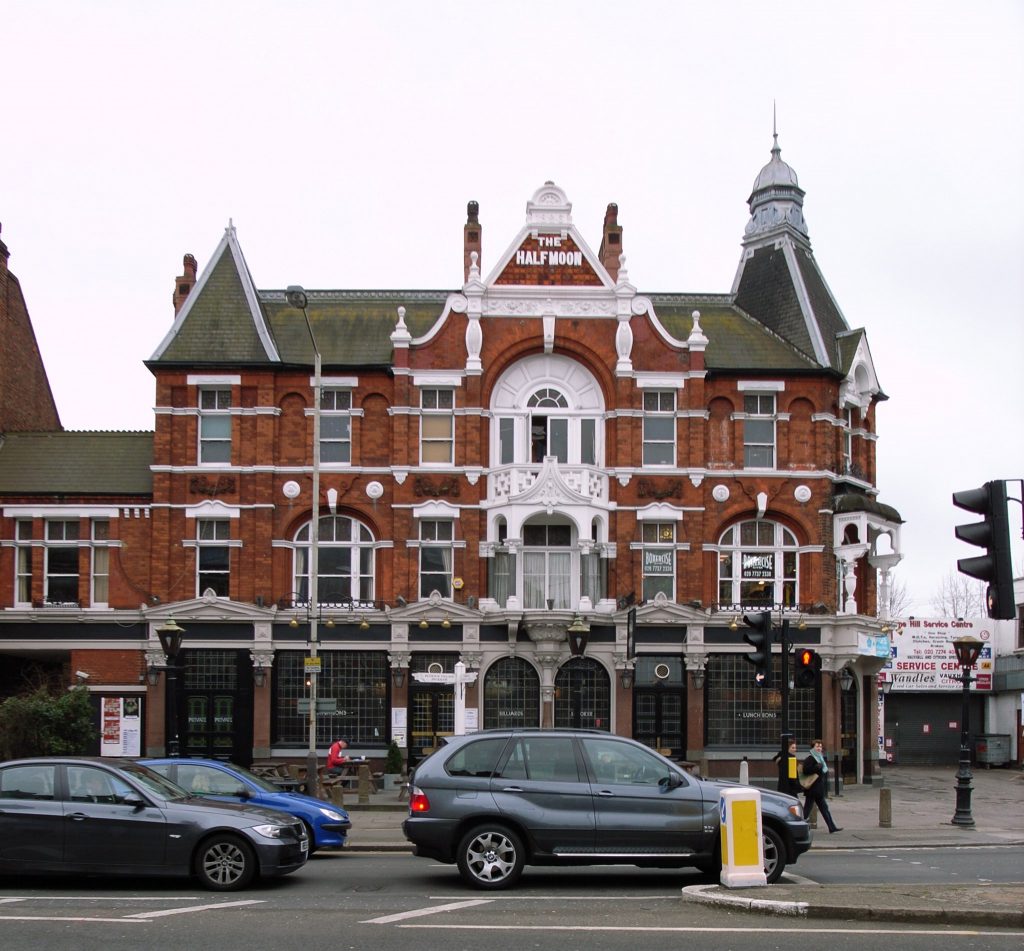 One of the great things about a pub is the potential for events to transpire. On a long enough timeline you might have Dylan Thomas pop in, or a pub brawl with 500 Irishmen might take place. Frank Sinatra might even perform an impromptu gig.

The Half Moon, standing in its current form since the 1890's is in a style that Wikipedia informs me is Jacobeathen. It's just down from Dulwich College, which almost certainly means an underage Raymond Chandler or P. G. Wodehouse would have been there, and John Ruskin once described the pub as being astride "a tadpole haunted ditch."
Its main success has been as a music and comedy venue, although the stage was replaced when it became a Fuller's pub in 2016. The list of bands that played there is long, but includes The Police, Van Morrison, U2, Billy Bragg, Jason and the Scorchers, The Stray Cats. Also Eddie Izzard and Omid Djalili. Most importantly, my friend Chris was playing bass there one night when I was visiting him in London in 2007. 
While waiting for that set, we hung around the saloon bar with the regulars drinking pints of Bitter and would periodically step out onto the sidewalk, which is where all the interesting conversation was happening, including a particularly lengthy discourse on ambient light pollution in South London being the worst on the planet, and topics medical. I'm not sure you've ever had a cockney geezer explain to you that if you're feeling poorly, "you probably either need water or a shit," but it remains solid constitutional advice to this day. I still think I could see more stars in South London than in Toronto, but I'm assured, "nah, you're wrong mate."

It was just before the drinking rules were established, and in order to prevent the locals from ordering several pints at the 11 PM last call, the landlord signalled the impending closure with a playthrough of Jackie Wilson's greatest hits. By the time you heard Lonely Teardrops, you were meant to be out on the street.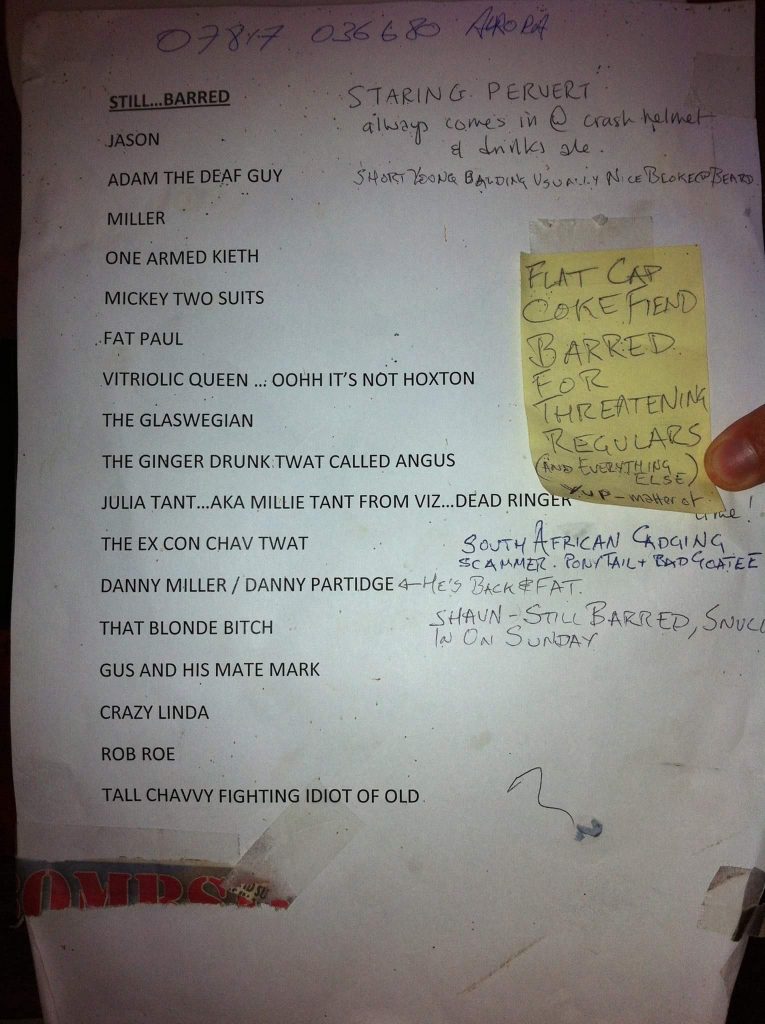 In latter years, the pub became somewhat run down, as evinced by a list of barred regulars which circulated on the internet. The list contains people like "The Glaswegian," and "Mickey Two Suits." They were certainly barred for a reason, but every one of those barred customers comes with the kind of rich backstory you just don't get from staring at the wall of your apartment.
It's a Fuller's pub now. They've won awards. Presumably, they've announced amnesty on the barred list.
Ducky's – Sackville, New Brunswick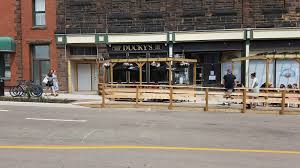 The Ducky's I knew was actually at a different location than the current version of the pub. 
I have a difficult relationship with Sackville, New Brunswick. I went to Mount Allison University and the amount of culture shock, having moved from Toronto to a town of three thousand people, didn't really agree with me constitutionally. I missed being able to hear other languages on the subway. Hell, I missed the subway and the idea that there were destinations at the other end of the subway. It was a miserable four and a half years, and although some of the people were quite lovely, I have no intention of ever going back.
One year I stayed in town over the summer, a time when the population thinned out by half and the town became a weird bastion of countercultures, among them Shotgun Jimmie. At some point, someone had planted magic mushrooms next to the war memorial and that sort of tells you what you need to know.

Ducky's was the closest thing to a real pub Sackville had. They would have beer from Propeller in Halifax and also from the Pump House in Moncton. I mostly stuck with the Propeller ESB, it being the most consistent local option at the time. One day in mid July I popped my head in to have a couple of pints at the bar and down at the end of the bar was a man with a large Danish Butter Cookie tin. He got to the end of his pint, and reached into the tin. Out came a large handful of cannabis which he deposited on the counter in exchange for his next pint of beer. This happened several times over the course of the next few hours, and nearly everyone who came through betrayed absolutely no astonishment at this. If it was revelatory of anything, it was just how much certain sectors of the local economy depended on the students arriving in September.
It's also responsible for one of the best things a woman ever said to me. Her name was Genvieve, and she said to me in the kind of Moncton Franglish that drives men wild, "I like talking to you. You should come home with me. There will be no funny business." 
It is in a new location on Bridge Street now, which is touted to be a vast improvement over the old location, at least in the sense that the tap list is more diverse. 
The Rock Bottom Bar & Grill – Sandwich, Ontario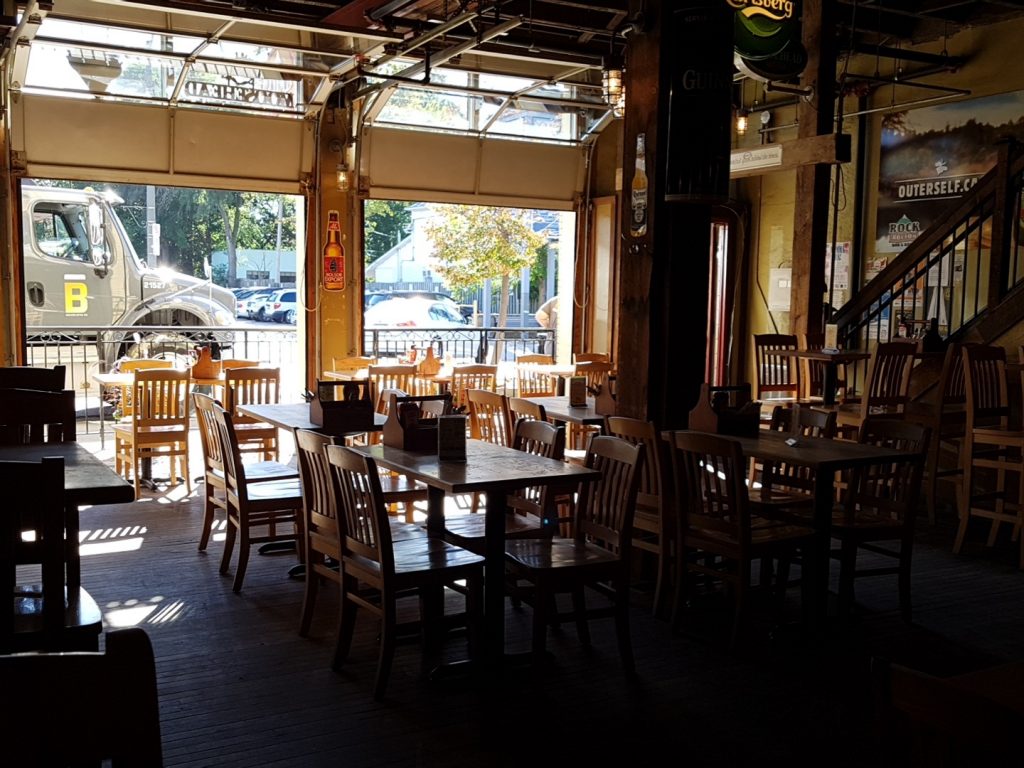 When you think about the amount of travel necessary to write a beer guide, one of the things that you probably overlook is the amount of downtime. In Windsor, Ontario, I always hit Walkerville directly after I get off the train. With that done, I walk downtown. Windsor is a great walking city. Remarkably flat. Having hit Motor Burger, Brew, and Craft Heads, you're then faced with the realization that you've accomplished most of what you had planned before dinner the first afternoon. The Blue Jays were in the playoffs, and I wanted somewhere to watch that.
The Rock Bottom Bar & Grill was just pure dumb luck. I had wanted to see where Sandwich Brewing was going to be, and had seen the Rock Bottom on google. I'm not quite sure how to explain the place except to say that it is in a century building with a sort of gantry second floor and a large, high ceilinged space in the center. It's independently owned, most of the food is made from scratch, they have 31 beers on tap including imports, local craft, and some larger Ontario craft options. 
They also have one of my favorite features in any pub: Peanuts in the shell. The shells go directly on the floor, meaning that the place is wholly unpretentious. Walking in and seeing that felt like hitting the jackpot. I ordered the Perch special and was extremely happy to have found a place using local ingredients and the cornmeal batter was a nice touch. I was delighted to see that Great Lakes' Pumpkin Ale had made it that far west and immediately ordered something that had no pumpkin in it. About an hour in there was live music with a trio influenced by Peggy Lee.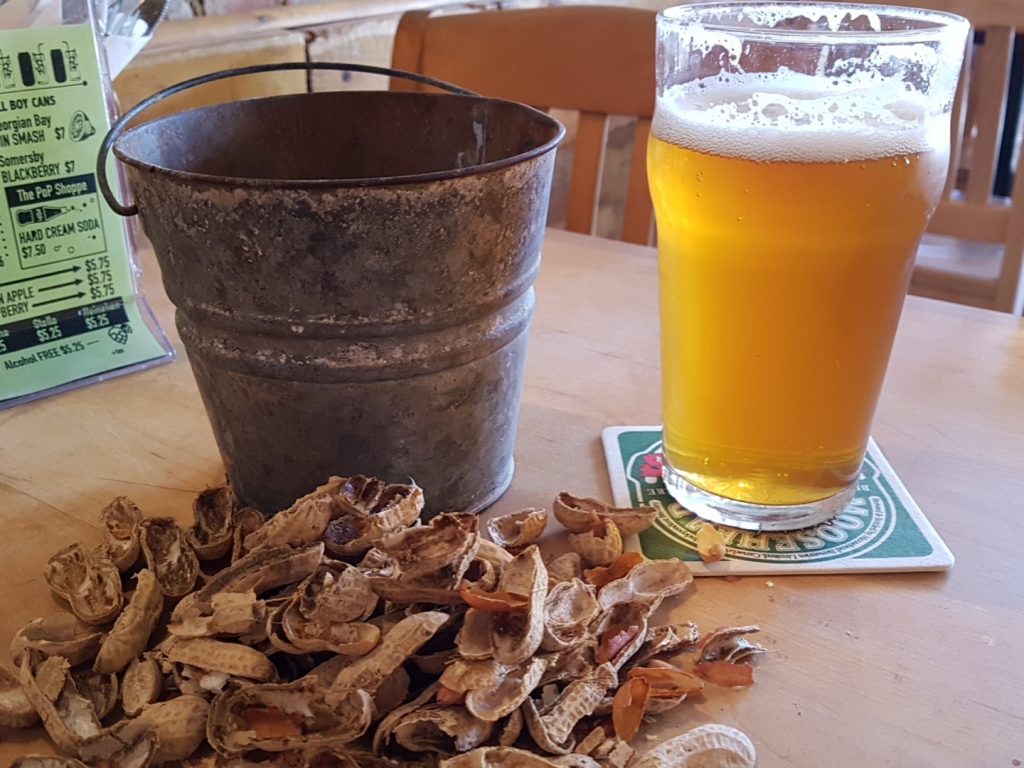 It was one of those moments where you sit there astounded at your good fortune, taking in the room and wondering whether the patrons know how lucky they are to have such an establishment. In terms of its fixtures, it reminded me of the Gabby's chain in Toronto. The difference was that everyone seemed to care a lot about the outcome. I go back every time I'm in Windsor and once actually delayed a flight back to the next day so I could have lunch there and pop into Sandwich Brewing.
The Thirsty Monk – Asheville, North Carolina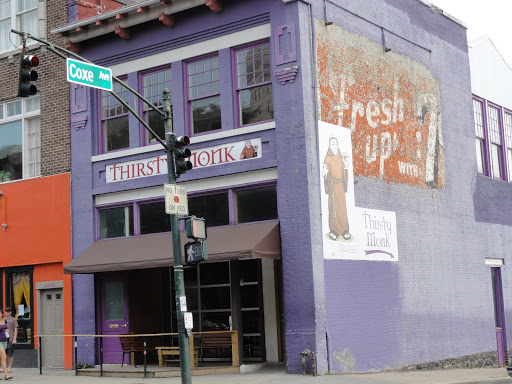 There are things I don't understand about America. For one, the prevalence of dark shoebox style bars. You know the kind of place I mean. The walls are dark and there is no clock and the light is mostly neon. Places like Mr.Goodbar in Buffalo or Hamilton's in San Diego. For whatever reason, they don't speak to me. I like high ceilings and exposed brick and stone and open space. Wooden bars and tables you can see the years worth of pint glass rings on. Press back chairs as uncomfortable as they are unkillable. 
Now, you may decry junkets, but you'll notice that everything else on this list isn't related to one. The Thirsty Monk is special, not just for the company involved but for the space itself. When I was there, it seemed to split into local craft beers upstairs and Belgian specialties in the cellar. I was with Stephen Beaumont and a bunch of folks from Sierra Nevada and Von Terra Enterprises, who import them to Ontario.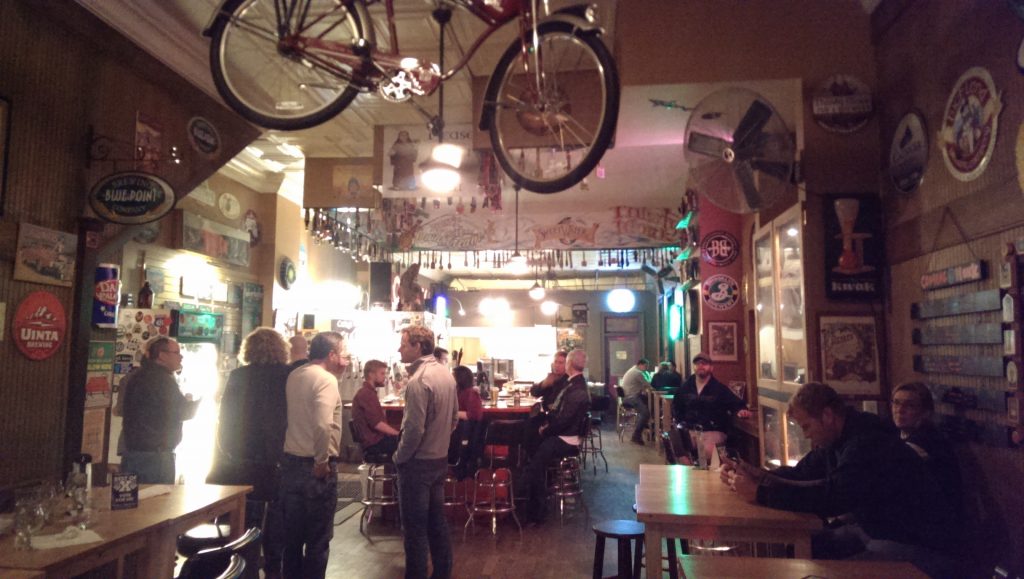 The Sierra Nevada guys were all in Asheville for a meeting and our junket coincided with that. They're professional beer reps and have been for their entire adult lives. The secret there is that there's only so much you can talk up Sierra Nevada's product. It's uniformly excellent. I've never had a bad Sierra Nevada beer.

That said, these guys were pretty new to Asheville's brewing scene and had comparatively little context for it. Over the course of the evening they were trying other people's beers. They were genuinely supportive of things from High Wire and Burial and Wicked Weed (this was before you had to hate Wicked Weed.) At one point I was talking to Steve Grossman about Foothills Hoppyum IPA which was new at the time. I'm pretty sure he was using it to gauge how much I actually knew about beer. 
One of the best things about the beer industry is that periodically you get a gem of an evening where there aren't any stakes and everyone just relaxes and has a good time and gets to enjoy themselves. There you are in an Appalachian mountain town with the breeze blowing down the street on a warm night in late April with good conversation and people who aren't trying to prove anything. 
I also got to meet one of my favourite human beings, Dave Strickland, who I do a very exaggerated impression of when he's not in town. He decided on a De Dolle Stille Nacht as a nightcap, and if that's not class I don't know what is.
The Split Crow – Halifax, Nova Scotia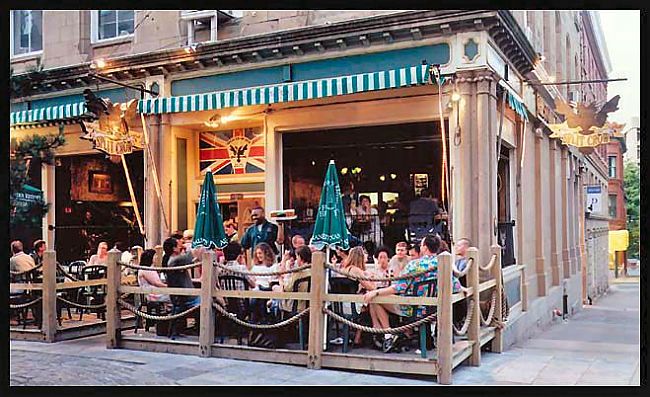 When my friends at university would talk about Halifax, they would inevitably talk about the Liquor Dome. At one point it had four bars under one roof! All you need to know about the Liquor Dome is this quote from a 2017 CBC Article: "We are changing from the dirty Dome to a world-class service." Sure, bud. And we're not getting a donair afterwards.
The Split Crow on Granville Street has a lot going for it, and I always preferred it. Halifax had no shortage of live music and most of the bands had the same repertoire, if I'm honest. It was not impossible, if you walked along Granville Street of an evening to catch different verses of "No Woman No Cry" or "Barrett's Privateers" emanating from different doorways in succession. What possessed bands to put Bob Marley and Stan Rogers in the same set remains a mystery to me, but that was the vibe at the time.
The garage door style shutters would roll up and you'd get just a whiff of the ocean through the cigarette smoke from the patio. The wings were of exactly the quality you'd imagine: just good enough not to dissuade you from ordering them. I went once with my friend Annette, and the people watching was marvelous. 
The Split Crow has been at the corner of Granville and Duke since 1749 and sitting at the window means you're watching an intersection in a district with a lot of bars and restaurants. The human drama that unfolds before you over the course of an evening is incredible. People dressed up for a big night out. People having had a big night out staggering home having lost their ties or broken a heel. Relationships beginning or imploding. People dancing or throwing fists on a pedestrian sidewalk and a half hourly declaration from somewhere off in the distance that they wish they were in Sherbrooke now.
Compare that to the high drama of whether someone approves of a Hazy IPA or not. Sometimes craft beer is a little anemic experientially.
I'm pleased to note that the current menu has been updated to include deep fried pepperoni and that the patty melt is called the "Patty Murphy Melt." It is a joke of exactly the appropriate quality. The taps feature a lot of Garrison, which can't be bad. 
C'est What – Toronto, Ontario
I'm surprised how frequently people generally take C'est What for granted. That's not a dig at anyone. I run a walking tour through Toronto Urban Adventures which teaches people about the history of Toronto, and sometimes we'll get people from Toronto out on birthdays. They'll say things like "I didn't know this was here," or the more common, "I think I was here once in the 90's." 
These are typically not young people. 
Uniformly, though, everyone likes the place. It reads as a craft beer pub. You could drop it in any city in the world and its function would become immediately apparent. Down the stairs from front street and it opens into an expanse. It's somehow capable of both astounding people with its scale while simultaneously feeling cozy. At this point it has 42 taps including cask and one of the best rotating lists in the city. The food menu retains all of the things I remember but somehow manages to slip something new in periodically. Typically, by the time we roll through at 2:30 the section our reserved table is in smells like mirepoix prep for either the jambalaya or the soup of the day. Sometimes if the butter chicken is simmering away the guests will ask if they have enough time to order food.
Now the blonde finish on the wood at the bar and at the tables is very 90's cafe, but that is having a moment of retro cool. During the winter, because it is snug and comfortable, it is busy and the staff bustle about between the two bars which are just far enough apart to make things difficult. During the summer, it's quiet, as people prefer patios to the cool dark subterranean space. If Brian is working during the day, the playlist is likely to be all Steely Dan. When Joan's working the playlist will be music that she's chosen over the years. If I'm lucky Tom Waits' Blind Love will hit while I'm sitting there.
Joan has been with the bar since its inception, I think. It would be unbecoming to guess at her age, but she has been there long enough to have a beer named after her: Joan's Dark Secret. It is actually on its second iteration. You must beware anyone who has two dark secrets and smokes Camel filters. By default, they're tougher than you are. Over the last several years, Joan has more or less grown to tolerate my presence, and if that's not an achievement, I don't know what is. 
Joking aside, the last month is the longest stretch of time I've spent away from C'est What in three years. I hope Joan and Brian are doing alright. I also hope someone is feeding the fish. 
The Eagle – Cambridge, UK
There are actually two famous college pubs in the UK named The Eagle and Child. The one in Oxford is conventionally referred to as The Bird and Baby, while the Greene King managed Eagle in Cambridge has had its name shortened so as not to confuse the students. Oxford's was the home pub of The Inklings, who included Tolkein and C.S. Lewis. Cambridge's was where Watson and Crick announced the discovery of DNA. It had been built in 1667, just a couple of years after the great plague of 1665.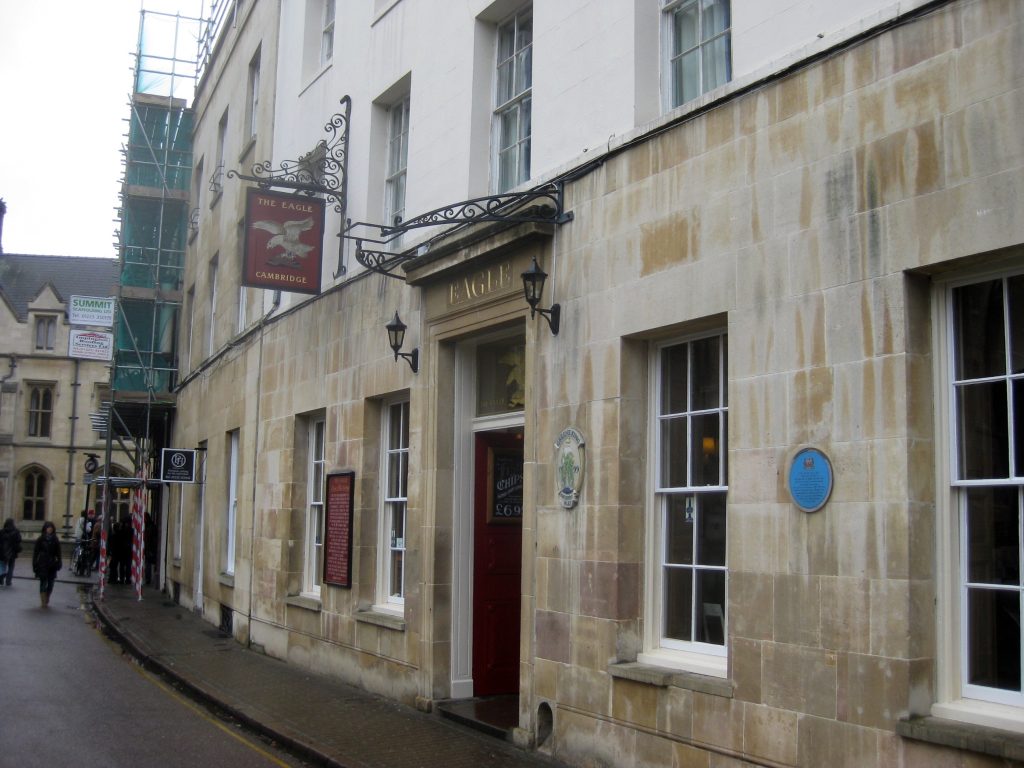 It's encouraging to know the pub trade springs back in these situations.
I was staying at St. Catharine's college at the recommendation of my friend Catharine who seemed very pleased to attend a college of her own name. She was studying postcolonial Caribbean literature. I was knocking about the UK in ill fitting boots and taking bad pictures of the odd landmark. We had gone to Fitzbillies for tea and eccles cakes, after which she had classes, leaving me alone in the sunny mid-February afternoon to entertain myself armed only with an Evelyn Waugh novel and a selection of excellent pubs.
A number of things clicked into place for me at The Eagle. For one, I developed a lifelong appreciation for Hook Norton Old Hooky on cask. The bottled version is not quite right, but then bottled English ales below a certain percentage are never quite right. I sat on the terrace outside, supping gently at a pint in a camel coloured wool overcoat. It was probably ten degrees in the sun, and in Toronto that's patio weather, but in Cambridge it garnered odd looks. I had just about reached the point in the novel where Guy Crouchback finds himself in an RAF medical unit, when I needed the washroom. 
Popping my head in, I found myself in one long room with a plaque and double helix commemorating the day that Watson and Crick had announced that they had discovered the secret of life. I turned to my left and found myself in a larger room which had almost certainly been frequented by Isaac Newton and Stephen Hawking. And it's fairly close to Footlights. Douglas Adams! The Pythons! Peter Cook! 
I'd still not found the washroom, and that's when I wandered into the RAF bar. Frequented by airmen during the second world war, they would burn their initials into the cork ceiling. And there I was, 62 years on, staring up at that while reading about the conflict. If that's not going to bring a certain sense of immediacy to you, I'm not sure what will.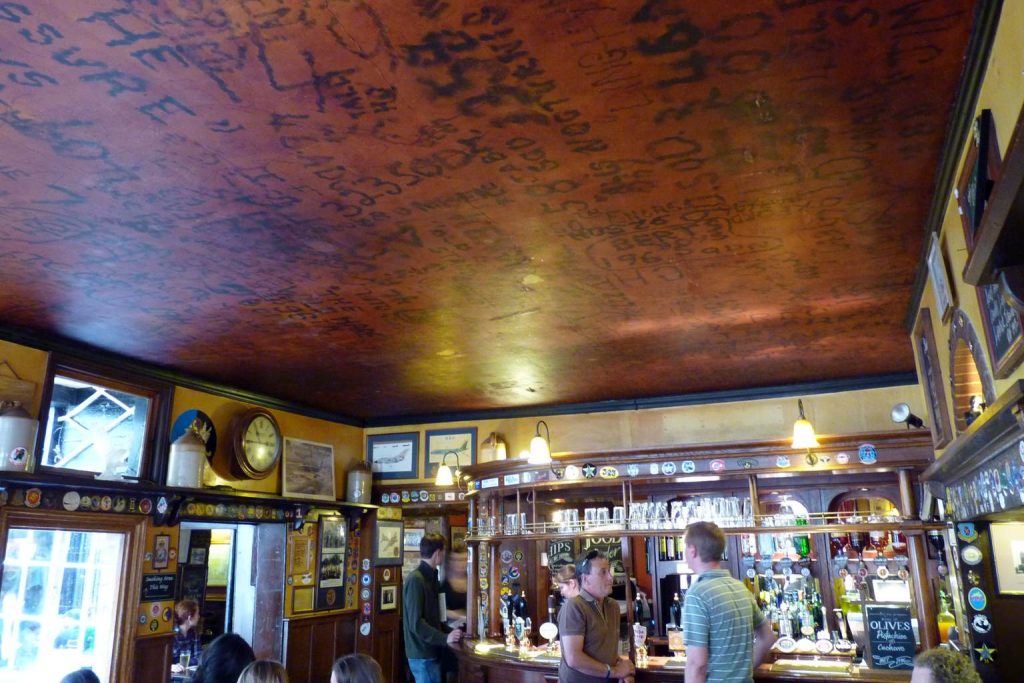 You can't claim that The Eagle was necessarily formative in any of those people's lives. It may only have been responsible for presenting the odd pint and cheese sandwich, but this is the backdrop of life. You need a place to celebrate that you've made a discovery, whether it's amino acids or an apple on your head. You need a place to relax between sorties. You need a place to loaf and read a book. For 453 years, that's been The Eagle. 
A la Becasse

– Brussels, Belgium
I went to Belgium in August of 2018 to come to grips with Le Cuisine a la Biere. Designing a beer and food pairing course for George Brown College in Toronto is hard if you're dealing with received wisdom. Some people have to learn the hard way, and I am sometimes one of those people. However, if traipsing about Europe eating excellent food and drinking wonderful beer with some doors opened to you by your reputation is the hard way, then it's worth doing.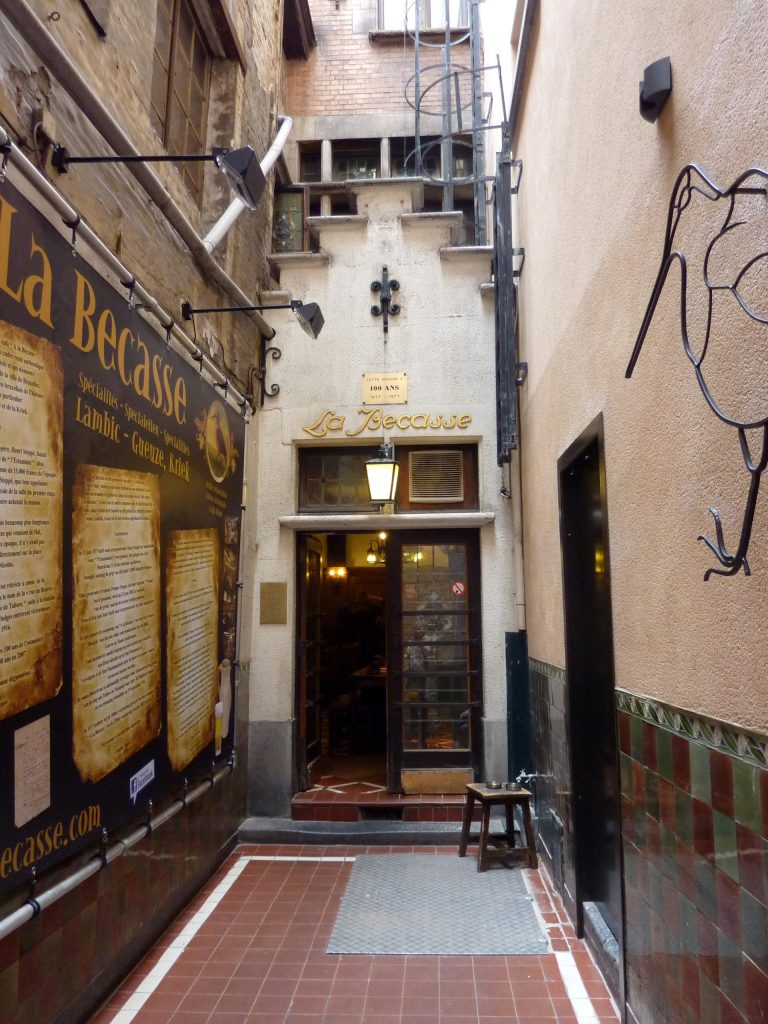 I had just finished dinner at Nuetnigenough and was on my way to meet Eoghan Walsh who writes the excellent Brussels Beer City. I was feeling vastly competent having had blood pudding to start and veal meatballs and stoemp as an entree. For dessert I ordered a Pannepot Reserva 2014 and I swear I have never felt more competent in my life than when the server nodded to compliment my choice. 
It was in high spirits, then, that I met Eoghan at Cafe la Coq and relayed my impressions of Brussels to him. It's hard to know if you have your head on right without much in the way of conversation. We wandered about a bit after the second stop of what was becoming an impromptu pub crawl, and I expressed amazement that the bar was still serving lambic in stoneware. "Ah," he said.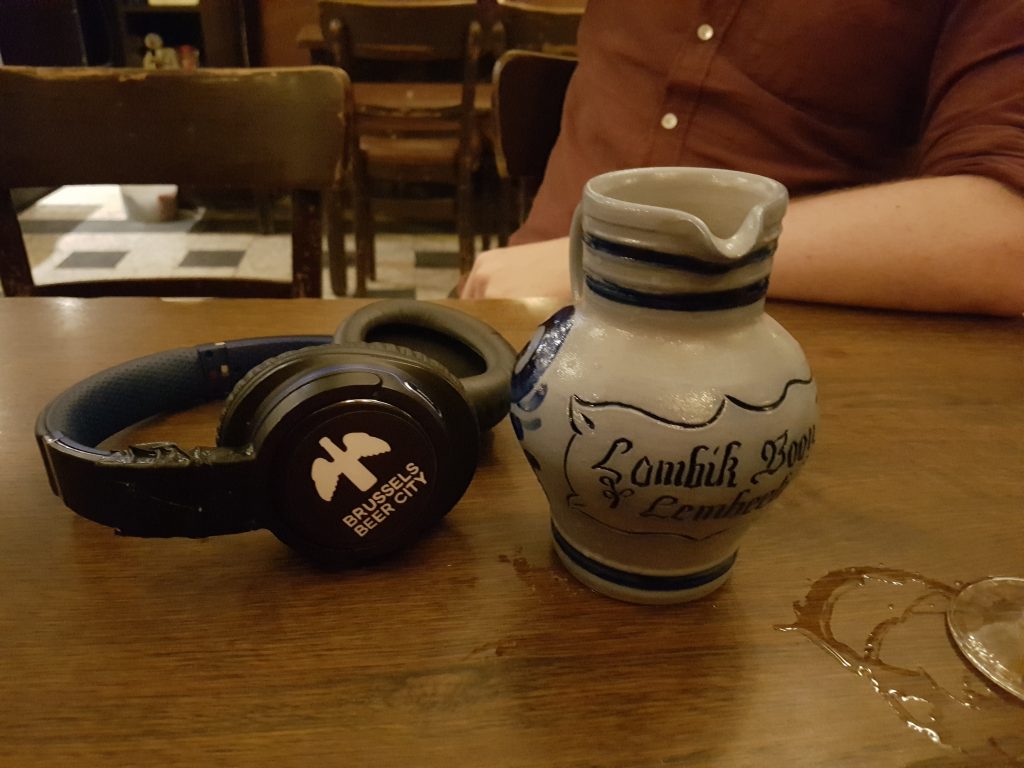 A la Becasse may as well be something out of Brueghel, despite it being several hundred years younger. It's been in operation since 1877 and the wood panelling makes it look like a scene from a wedding feast. All it was missing were the slightly portly customers, at least until I walked in. Behind the bar, stoneware in widely varying sizes from thimble to pottle, all apparently in use. On a hot night in August during a heatwave in the Zenne valley, when the only relief is the breeze, Lambic makes sense. Not the extremely sharp, acidic lambic that sours your stomach. The gentler apple cider vinegar and peppery, radishy freshness that you can actually drink in quantity.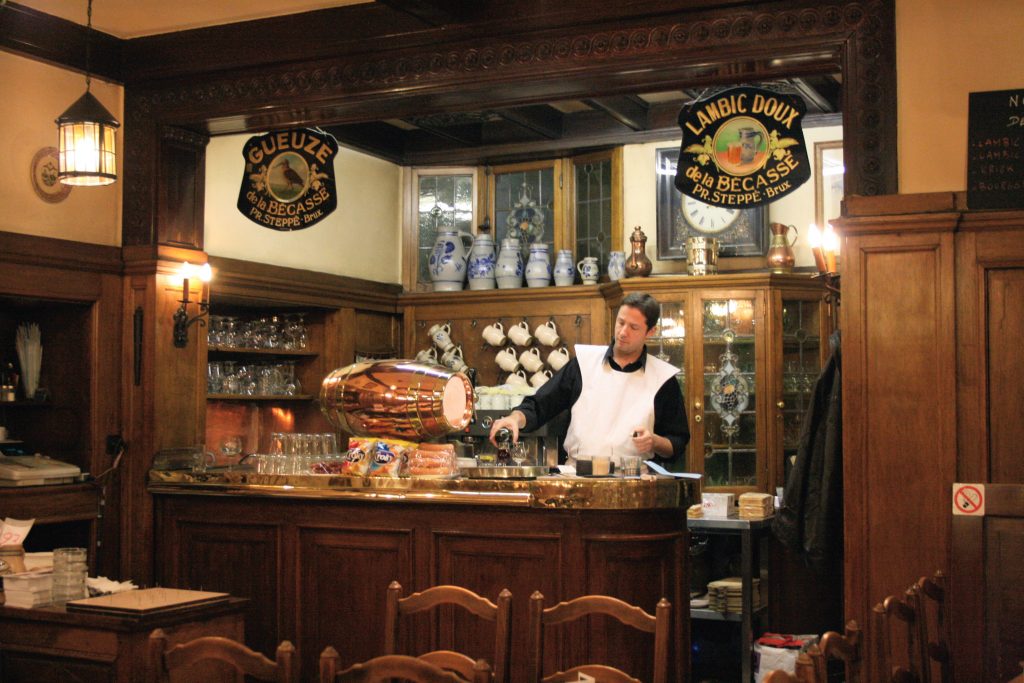 The problem with travel is that inevitably, you're going to get the high points as suggestions. The high points are often defined by people attempting to impress you. The cool kids will tell you that you need to go to Moeder Lambic. What they won't tell you is that in order to appreciate Moeder Lambic, you need to see its influences.
I appreciate that Timmermans is not often in the conversation when it comes to the greatest producer of Lambic, but it made everything else make more sense to me. The light sourness and flavour profile was replicated almost to a tee days later at the Jerusalem Tavern in London in a half pint of St. Peter's Ruby Red Ale. 
The Kingston Brewing Company

– Kingston, Ontario
I asked Alan McLeod the other day which pub he'd like to be in if he could be in any pub. He said the KBC, if only to sit in the front window. He'd been going there since 1994. He has me beat by two years.

I'm fairly certain I had Dragon's Breath Pale Ale for the first time in 1996. I would have been 16 at the time, and while I'd love to tell you that it was a moment when the heavens opened and Gambrinus reached down and tapped me on the shoulder, but really, I was more impressed with the lamb burger.

It was only after moving back to Kingston briefly during a period of academic desertion during my university career that I really grew to appreciate the KBC. It's a bar that is a little hard to take seriously. It was nominally a brewpub, but it was no secret that the house beers were brewed elsewhere and rebranded. The walls are festooned with the memorabilia of other breweries. At the time, it was an industry bar. Working late shifts at the Startek call center meant that my brother and I would turn up somewhere near midnight. Sometimes the kitchen would still be open. The servers had coded callsigns on the register. We were there enough that we had our own callsign: The Boys. 
The KBC once featured the hardest hitting beer I've ever drunk. It was called Crown and Anchor and featured a somewhat over-generous amount of Naval Pusser's Rum.  It was made especially for an occasion when a naval vessel was doing maneuvers in Lake Ontario. It's a miracle they didn't capsize.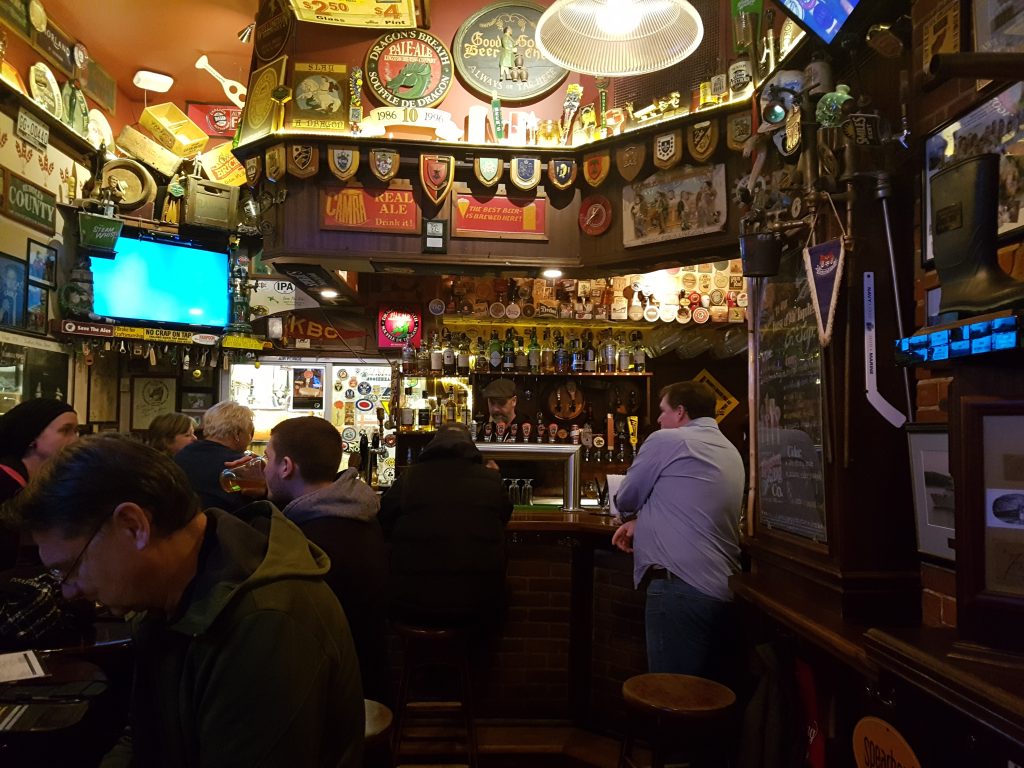 The Kingston Brewing Company has experienced ups and downs over the years, as all pubs do, but I'm pleased to report that it is currently in the best shape I remember it being since the mid-1990's. The food is now excellent once again and they have proper barbeque. The tap list is one of the best in the province, what with Kingston being between Toronto and Ottawa. The decor has not changed very much, if at all, and armed with the knowledge of breweriana and ephemera that I now possess, I can easily spend an idle hour looking for detail I've not seen before. 
It's worth remarking that there's a difference between a pub and a bar. A bar connotes function and purpose, quickness of service and ease of use. A pub is content to meander a bit. The quality of even a really good pub will vary over the years. A bar that varies in quality will shut down.
The Wallace Gastropub

– Toronto, Ontario
My local pub, The Wallace is one I can actually see from my bedroom window. At one point, it was Sneaky Dee's Uptown. Then it was the Bow and Arrow, which my high school teachers referred to as the archery club. It was around 2007 when it shut down. Rumours began to circulate as people speculated about the potential reason for that. Words like "cashflow" and "cocaine" cropped up fairly frequently.
Without the shutdown of the Bow and Arrow, it's relatively unlikely I would have relocated to Bar Volo. In fact, if not that particular circumstance, I probably wouldn't be where I am today.
One of the things I like about the Wallace Gastropub is that it's incapable of being anything other than a pub. It's primal; locked in its DNA. The odd geometries of the building mean that you can't really repurpose it as a Shopper's Drug Mart or a Lululemon. In fact, unless and until someone buys the land in order to construct even more condominiums, you're pretty much stuck with a pub on that site. The building has odd features like hidden stairways and a skylight that doesn't seem to accomplish anything. A potato cellar where the remaining cask line runs. The faux Tudor frontage is absolutely ridiculous. It is not fooling anyone. 
All you can do with the Wallace Gastropub is bring forth on those bones the best possible version of the pub that can exist. The current version has hardwood floors and bar stools that are slightly too high. It has affected English lithographic prints and a set of taps that were finally restored to vertical from 80 degrees just weeks before St.Patrick's Day when a wonky Guinness tap would have proved disastrous. The curry specials on Friday nights are great, and the prime rib lunch on the weekend is quality as well. 
On Monday nights, after I've had a class at George Brown, I'll manage to get there for about ten and sit down at the bar and order wings and two pints of beer. Dave, the bartender, is amongst the best bartenders I know and a great guy besides. He's an actor as well, so he has a lot of conversational depth. Periodically, if I'm in service situations, I'll ask myself what Dave would do. That has never steered me wrong. 
Sometimes there'll be other regulars and there'll be conversation. I'll check in on Usman's accounting degree or maybe Rachel will have finished playing in the poker league upstairs and turn up for a glass of wine. Sometimes there'll be loud drunks, sometimes there'll be almost total silence. The variability is a real draw. 
The first Monday after this is over, I'll be back. Probably the hot wings and a Black Oak Pale Ale. It'll be good to see Dave. Someday I may even learn his last name.
The post In Which I Don't Go Anywhere appeared first on St. John's Wort.
In Which I Don't Go Anywhere