One Grocery Shopping List: 3 Delicious Diabetic Meals
Delicious Diabetic Meals for the Whole Family
If you or someone you love has been diagnosed with diabetes, you may feel as though you have to give up your favorite dishes all together. Not so! There's no need to completely change your menu, just how you prepare it. With a healthy meal plan and a few simple adjustments to the menu, anyone, even those with diabetes, can enjoy a delicious and fun party. With over 10% of the American population having diabetes, it is important to understand that there is no magical diabetes diet. Portion control, moderate sugar, and healthy fat choices are not just guidelines for diabetics to keep in mind, but for everyone's health, as it really is the healthiest way to eat!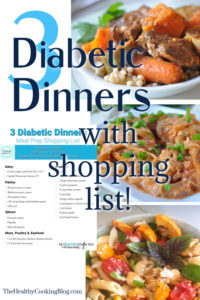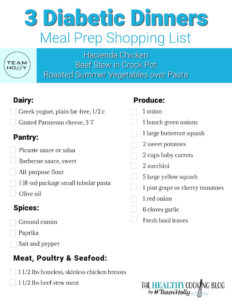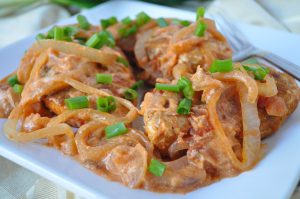 Protein Rich Full Flavor Hacienda Chicken
Easy and effortless, Hacienda Chicken with a smoky cumin seasoning in a simple salsa sauce makes a quick full-flavored nightly dinner. Serve over brown rice to add blood sugar stabilizing whole grain fiber to your meal.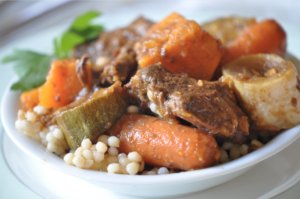 Crock Pot Beef Stew & Veggies Basically Cooks Itself
Diabetic and gluten free, Beef Stew in the Slow Cooker basically cooks itself. The secret ingredient of barbecue sauce combined with meat and a whole lot of veggies makes for a super satisfying home-cooked hearty classic dish. Try serving over low carb cauliflower rice to soak up all the super sauce.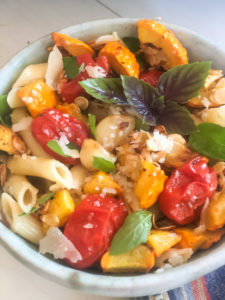 Eat the Rainbow is this Delectable Roasted Summer Vegetables and Pasta
Looking for an easy, fresh and delicious way to get in those nutritious veggies? Try roasting as it brings out the explosion of flavor in this delectable vegetarian dish, Roasted Summer Vegetables and Pasta. You are eating the rainbow in this hearty veggie dish. Look for pre-chopped veggies in your supermarket and it's basically a one-step recipe! Keep an eye out for healthier options of available high protein, whole wheat pasta varieties.
Stock Your Kitchen to Get Cooking
Banza Chickpea Pasta, Variety Pack (Rigatoni/Cavatappi/Ziti/Wheels) – Gluten Free Healthy Pasta, High Protein, Lower Carb and Non-GMO

RightRice – Variety Pack (7oz. Pack of 6) – Made from Vegetables – High Protein, Vegan, non GMO, Gluten Free

BARILLA Protein+ (Plus) Spaghetti Pasta – Protein from Lentils, Chickpeas & Peas – Good Source of Plant-Based Protein – Protein Pasta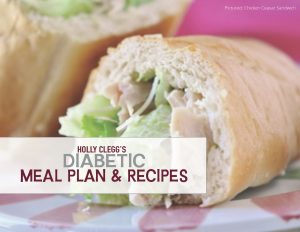 Can you eat delicious food that is also good for you? Of course! Diabetic friendly meals definitely do not have to be boring and tasteless. This Diabetic Meal Plan & Recipes Downloadable is your easy go-to guide to meal planning diabetic meals the whole family will love. This comprehensive guide includes 13 weekly recipes, from dinners, lunch, snacks and dessert.
Get All Holly's Healthy Easy Cookbooks
The post One Grocery Shopping List: 3 Delicious Diabetic Meals appeared first on The Healthy Cooking Blog.
One Grocery Shopping List: 3 Delicious Diabetic Meals