Outstanding Canadian projects claim Governor General's architecture awards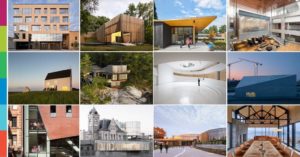 The Royal Architectural Institute of Canada (RAIC) and the Canada Council for the Arts (CCA) has named the recipients of the 2022 Governor General's Medals in Architecture.
Recognizing excellence in recently built and designed projects by Canadian architects, this year's competition continues a tradition initiated by the Massey Medals in 1950. It provides a source of understanding of the nature of Canadian architecture and the regional, cultural, and historic forces expressed in the built environment.
The 12 projects selected represent a variety of building types and sizes—from a commercial mixed-use space to various institutional building configurations. They include a reimagined theatre, a forest pavilion, a stormwater facility, and a history and dialogue centre.
These winning projects are located in five Canadian provinces, along with two in the U.S.
The  2022 recipients include:
60_80 Atlantic Avenue, Toronto, Ontario, BDP Quadrangle
Forest Pavilion, Winnipeg, Manitoba, Public City Architecture
Indian Residential School History and Dialogue Centre, Vancouver, British Columbia, Formline Architecture
Julis Romo Rabinowitz Building & Louis A. Simpson International Building, Princeton University, Princeton, New Jersey, KPMB Architects
Les Rochers, Bassin, Quebec, la Shed Architecture
Point William Cottage, Muskoka Lakes, Ontario, Shim-Sutcliffe Architects
Reception Pavilion of the Quebec National Assembly, Quebec, Provencher_Roy & GLCRM Architects
Cherry Street Stormwater Facility, Toronto, Ontario, gh3* and R.V. Anderson Associates Limited
The Brearley School, New York, KPMB Architects
The Idea Exchange Old Post Office, Galt, Ontario, RDH Architects (RDHA)
Tom Patterson Theatre, Stratford, Ontario, Hariri Pontarini Architects
Village at the End of the World, Kingsburg, Nova Scotia, MacKay-Lyons Sweetapple Architects
The post Outstanding Canadian projects claim Governor General's architecture awards appeared first on Construction Canada.
Outstanding Canadian projects claim Governor General's architecture awards