New Guide: Engaging Children in a Conversation on Immigration, Welcoming, and Belonging.
I'M NEW HERE & SOMEONE NEW: IMMIGRATION ENGAGEMENT MATERIALS + READ ALOUD
Best Users: Librarians, Educators, Home Learners, SEL Educators, Immigration Organizations
Best Audience: Children Grades 00-06
These read aloud videos have been rereleased by Charlesbridge Publishing and are available during Welcoming Week, September 12-20, 2020.
.
.
READ ALOUD & WITH THE AUTHOR / ILLUSTRATOR

.
.
ABOUT THE ENGAGEMENT TOOLS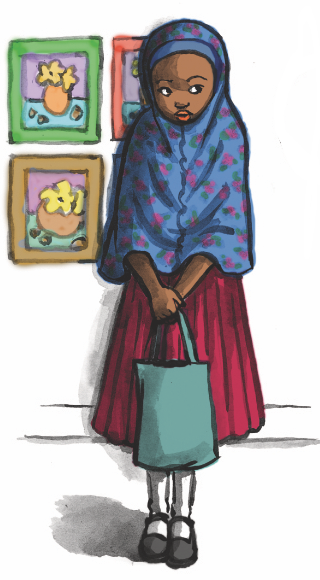 In partnership with I'm Your Neighbor Books (home of the Welcoming Library), we can offer you this guide to having conversations on immigration, welcoming, and belonging.
I'm New Here tells the story of how three resilient immigrant students (from Guatemala, Somalia, and Korea) strive to belong. Someone New tells the story of how three longterm students (two White, one African American) strive to make the immigrant students welcome.
These classroom, library, or home learning tools include:
Readers Theater
The two books have interwoven narratives. To explore the interplay of belonging and welcoming in the two stories, consider looking at the books side by side. We have created a Readers Theater Script to choreograph this interplay.
Scripted Conversation
Whether you use the verbatim script or not, the progressive conversation gives you ideas to examine the commonality of being NEW, explore what it feels like to feel "DIFFERENT", understand that being NEW and DIFFERENT can make someone feel like they do not BELONG, and discover that we all have a role in WELCOMING immigrants and refugees into our schools and communities.
Movement Game
A shared space of welcoming and belonging happens when steps are taken by the new arrival and the "already here" members of the community. This open-ended movement game allows readers to role play challenges and actions that move communities closer together.
I'm Your Neighbor Signs
The phrase, "I'm your neighbor" is one you could say to anyone in your neighborhood. Whether you are new or have been in the neighborhood a long time, the phrase will make a connection. We offer a cut-out speech bubble and the phrase in 10 languages to copy into that bubble.
More Ways to Welcome
We include a list of fundraising and simple tasks to help immigrants and refugees —including expanding your collection of books.
Download the Guide to Engaging Children in a Conversation on Immigration, Welcoming, and Belonging.
.
.
ABOUT THE BOOKS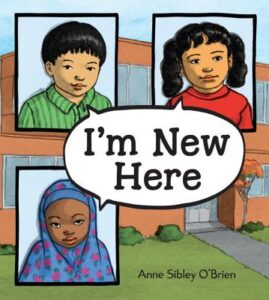 I'm New Here
By Anne Sibley O'Brien
Published by Charlesbridge
Paperback ISBN-13: 9781580896139
Available: Hardcover, Paperback, Audiobook, eBook
Age Range: 5 – 8 Years
Three students are immigrants from Guatemala, Korea, and Somalia and have trouble speaking, writing, and sharing ideas in English in their new American elementary school. Through self-determination and with encouragement from their peers and teachers, the students learn to feel confident and comfortable in their new school without losing a sense of their home country, language, and identity.
Young readers from all backgrounds will appreciate this touching story about the assimilation of three immigrant students in a supportive school community.
Anne Sibley O'Brien is one of the founders of I'm Your Neighbor, an organization that promotes children's literature featuring "new arrival" cultures. As the rate of immigration to the United States increases, topics related to immigration are increasingly more important in the classroom and home. I'm New Here demonstrates how our global community can work together and build a home for all.
"Whether readers are new themselves or meeting those who are new, there are lessons to be learned here about perseverance, bravery, and inclusion, and O'Brien's lessons are heartfelt and poetically rendered"
—Kirkus Reviews, Starred Review
.
"Being the new student in a classroom is difficult enough, but when the child comes from another culture and speaks a different language, it can be extremely stressful and lonely. …The title would be useful in sparking a discussion, and the simple text makes it a good choice for beginning readers."
—SLJ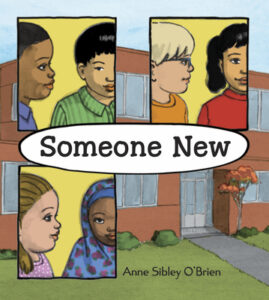 Someone New
by Anne Sibley O'Brien
Published by Charlesbridge
Hardcover ISBN-13: 9781580898317
Available: Hardcover, Audiobook, eBook
Age Range: 5 – 8 Years
In this companion story to I'm New Here, three elementary schoolers—who aren't new—begin to understand and embrace three immigrant students.
Are you new here? Do you know someone new? In I'm New Here and Someone New, young readers explore the immigrant experience through both "windows" and "mirrors." In I'm New Here, readers meet three recent immigrants trying to adjust to a new country and school. In Someone New, the same story is told from the perspective of the students who welcome the newcomers. An honest and heartwarming look at diversity, inclusion, and friendship.
"Informative and genuine, the book offers much to learn about connecting, expanding understanding, and overcoming differences—a great companion to the previous title."
—Kirkus Reviews, Starred Review
.
"Together, text and illustration combine to set a great example of creating connections and welcoming new members into a close-knit community. VERDICT A great book to help students of all ages understand how they can welcome new members into their classrooms and communities."
—School Library Journal
New Guide: Engaging Children in a Conversation on Immigration, Welcoming, and Belonging.