Can Ena become more than a ONE-hit wonder?
Avgolemono. A traditional Greek egg and lemon soup. It may not sound particularly appealing, but if cooked correctly, it is. Trust me. This chicken-infused rice broth, whisked with eggs and the juice of freshly squeezed lemons is pure soul food – so comforting and therapeutic that I guarantee you'll be begging for seconds, just as I still do since my childhood in Cyprus.
Despite the onslaught of Greek restaurants in Dubai of late, this is the first time I spot avgolemono on a menu. I am on the terrace of Ena (which translates to the number 'one') on The Pointe, Palm Jumeirah with breath-taking views of Atlantis. This soup is one of my go-to Greek recipes that I often make at home. Different versions abound, with chicken (like at Ena) or even youvarlakia (meatballs). My eyes zoom in on this sole dish, oblivious to the rest of menu. We order a selection of starters, and I insist to our waitress that the soup is served first.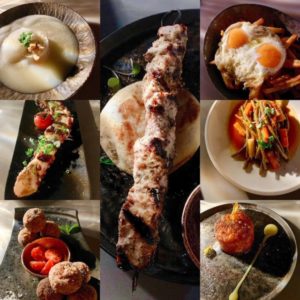 At Ena, where the Greek chef marries traditional Hellenic classics with a creative spin, the avgolemono arrives deconstructed, if that's at all possible for a soup. The rice, poached chicken breast slices, diced veggies and avgolemono foam are placed in the centre of a bowl, whilst the chicken, egg and lemon broth is poured tableside. With a little seasoning to lift the flavours, one tablespoon transports me back to my childhood in Cyprus when I first recall tasting it from my mother's fair hands as a seven year old. The mellow umami flavours are identical. I want seconds. Ena has pulled it off, albeit at an expensive AED80, with high prices reflective across the whole menu.
We are offered freshly baked 'koulouri' bread with a delightful tart dip of rock samphire 'kritamo'. The tarama of cod roe is whipped with blitzed onions and arrives as feather light mousse that I can't get enough of. Charred pitta pockets brushed with oregano and olive oil scoop it up quickly until the dip disappears.
A grilled Mediterranean octopus tentacle that is served pre-sliced, whilst still retaining its form is a little chewy. The 'keftedakia' meatballs are delicious bites when topped with a squeeze of lemon.
The pricing of 'Ena's specialties' main courses is ridiculously high starting at AED110 for a pasta dish of makaronada, rising to a staggering AED380 for the grilled fish of the day. So just do as I do, and fill up on starters, with perhaps just one main from the Josper grill section. The veal souvlaki kebab is sensational and soft as butter. I request one of the starters as a side dish – the hand-cut fries topped with two runny fried eggs. A meal in itself. I mix it all up to let the on point fries soak up the yolk – seriously sublime cheat fare. It's not a particularly Greek dish, even though we love olive-oil fried eggs for brekkie. The slow-cooked green beans in tomato sauce which I order as an additional accompaniment is a classic rustic and well-executed dish.
There's ample choice for dessert with ten options, including one off the menu that we order. Portokalopita is an orange drizzle cake that at Ena is filled with plenty of orange peel for texture baked in a super moist and dense cake. If you love orange marmalade, order this as a sweet ending. A feta ice cream scoop is an acquired taste with intensely overpowering tangy flavours, in contrast to the smooth and mellow vanilla ice cream.
Given the press release boasts an extensive Greek wine list, I am disappointed to only see one sole Greek wine on the menu at a pricey AED710 per bottle, or AED150 per glass.
The décor is far removed from typical whitewashed Greek tavernas that are prevalent in Dubai now. The only nod to a Greek influence might be a striking modern painting of a donkey. The interior is minimalist with light stones, glass, wood and copper, whilst a prominent 'tree' chandelier hangs over the bar area.
Our waitress is chatty and knows her way round the menu. She does however linger on the side ready to pounce a little too eagerly. Having said that, she sees me pick up a lemon slice (for our water that I want to use for my food), and promptly suggests bringing over some lemons for squeezing. Well spotted.
As our Friday evening progresses, Ena does get more custom, but with an expansive 170-cover indoor and outdoor restaurant, it's far from busy. The Atlantis views make for an atmospheric setting, but I fear that come summer, The Pointe destination will suffer. Yet again we have another Dubai restaurant, along with its numerous neighbours that are forced to build a business plan on a seven to eight month calendar.
As much as the food impresses with flavour, technique, ingredients and presentation, the prices don't. We are very lenient with our ordering focusing more on starters, yet the bill is still AED310 per person without alcohol. A quick calculation of the the cheapest and most expensive starter, main and dessert will give you a bill of AED535 per person which is astronomical for Dubai, let alone a relatively casual setting. Value for money Ena is NOT.
Our experience is wonderful in many ways from delightful modern Greek fare and friendly service to an al fresco location and convivial atmosphere, but at that price point, the only fair FooDiva knife rating is a 3.5 out of 5. I'd like Ena to become more than a ONE-hit wonder and a special occasion restaurant, so I hope the team will consider reducing the prices. And I might just return for more avgolemono.
Given the influx of Greek restaurants in Dubai of late, where is your favourite?
A bientôt.
FooDiva. x
Can Ena become more than a ONE-hit wonder?