Pumpkin Chocolate Chip Muffins
These lighter Pumpkin Chocolate Chip Muffins are the best fall treat, loaded with lots of chocolate and pumpkin flavor!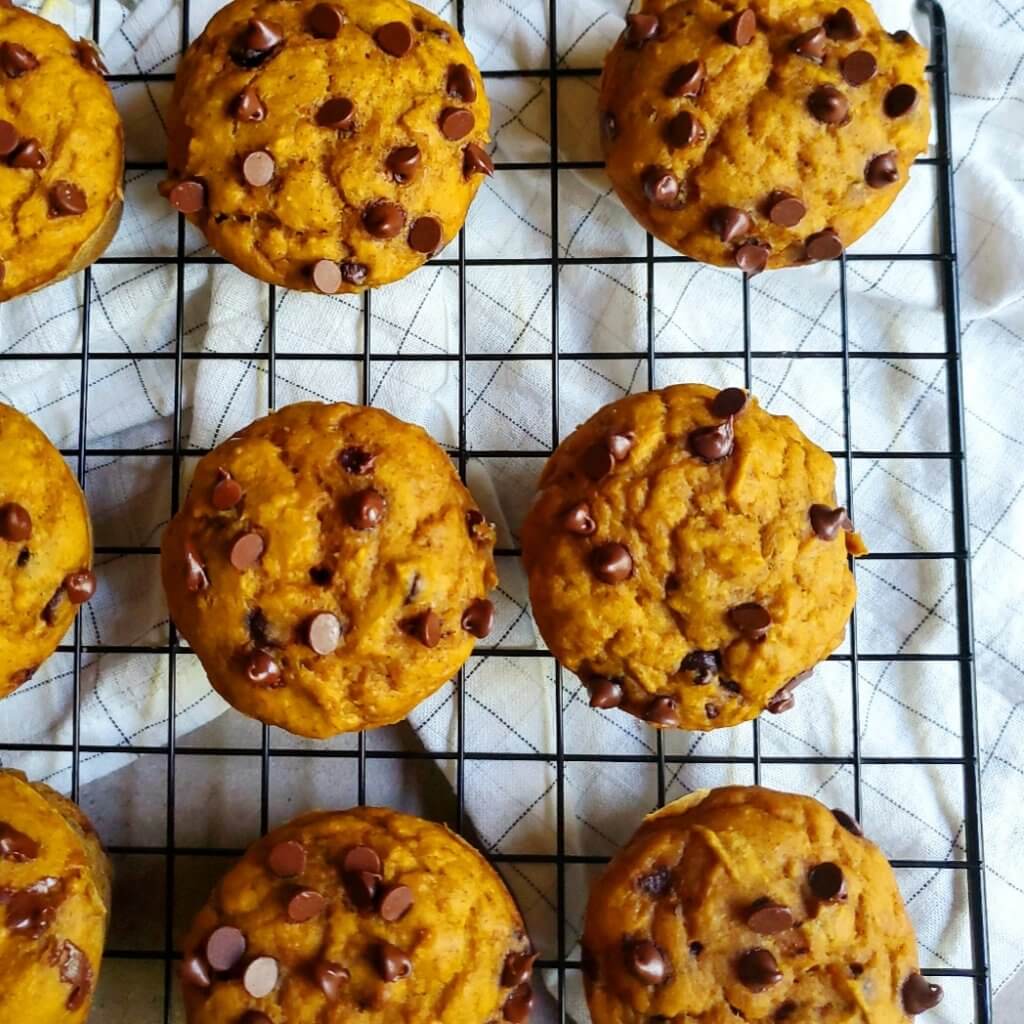 Are you ready for a perfect, bakery-style muffin that you can feel good about eating? If you've made my Banana Walnut Crumble Muffins, then you know what I'm talking about. I don't make "diet-sized" muffins around here!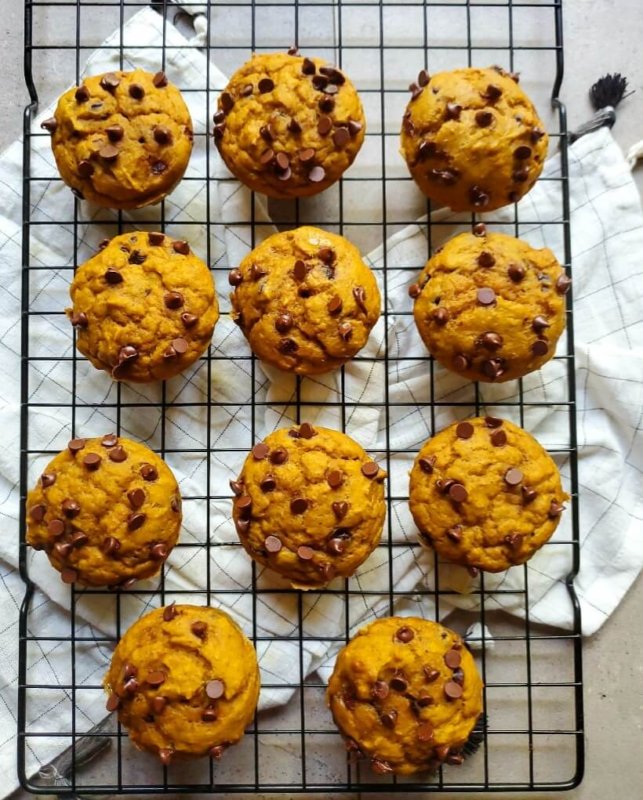 Countless times, I've found WW-friendly muffin recipes and got all excited to make them, only to find out that they are meant for a mini-muffin tin, or they barely rise to the top of a regular-sized one. I'd much rather spend the extra point or two on a REAL muffin.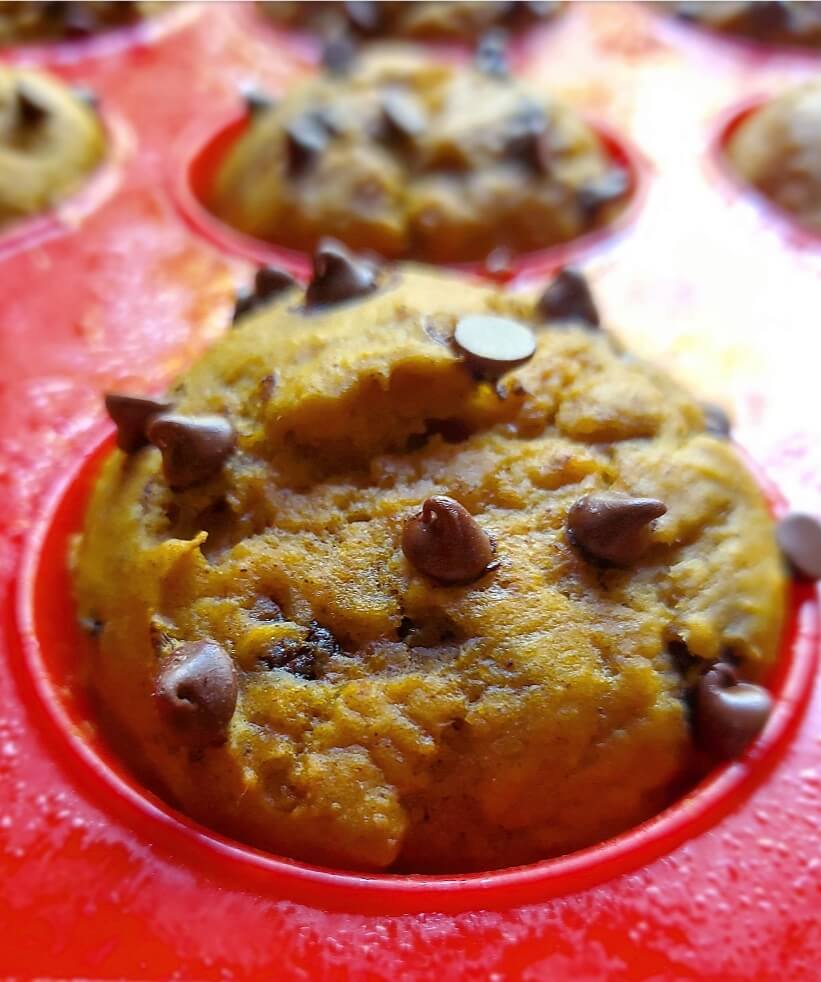 Even though I love my Banana Crumble Muffins, these are my new favorite. First of all, how could anything with pumpkin, chocolate, and pumpkin spice be bad? But these aren't just "not bad"; they are fantastic. Like, give-them-to-people-who-aren't-watching-their-diet-and-see-how-much-they-love-them fantastic.
Pumpkin puree lends itself nicely to baking. Of course, it's only 0 points, but the thick texture actually makes it a perfect substitute for butter and oil in a recipe. Hooray for fall ingredients!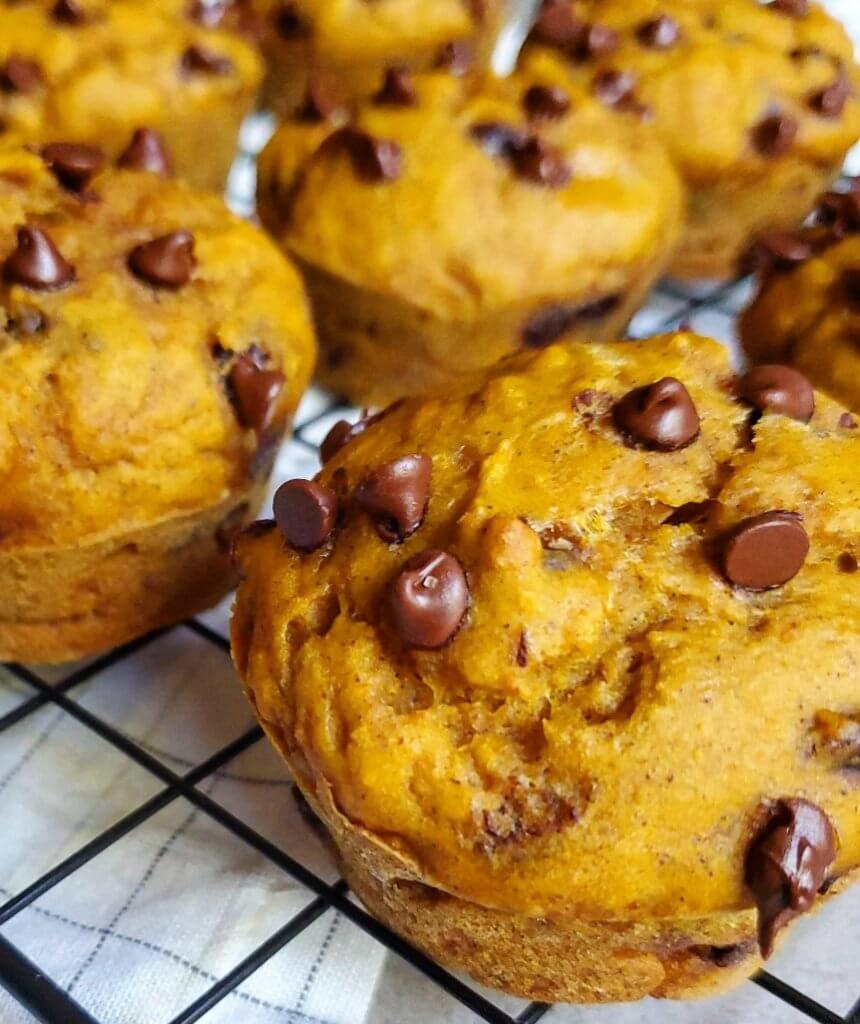 Multiple Flour Options
I chose to make this recipe with white, all-purpose flour because that's what most people have on hand. But you could definitely try some others.
Make them gluten free by using your favorite gf all-purpose blend. You could also use whole wheat flour instead of white, which will provide added fiber, protein and nutrients. In that case, I would use 1 cup of whole wheat flour rather than the 1 1/2 cups indicated in the recipe.
Tips for better Pumpkin Chocolate Chip muffins
One of the best products I've bought for baking are silicon muffin tins; you just place it in a cookie sheet, then proceed as you would with a metal tin.
The silicon, though, ensures that the muffins will pop out clean every time. I couldn't find the exact one that I bought on Amazon, but here is one that looks pretty much the same and has excellent reviews:
I also make sure to spray the silicon with cooking spray, even though it's probably not needed. When you're filling up the tray, make sure you fill them to about 3/4 of each cup, like this: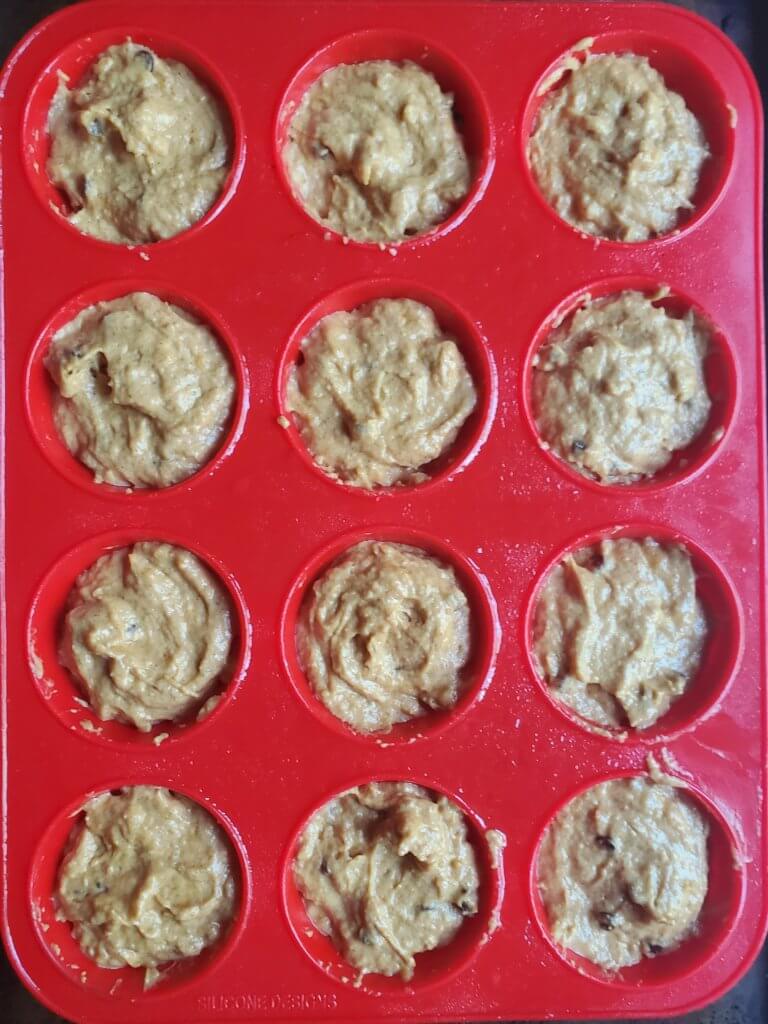 I like to use mini chocolate chips because they disperse better throughout the batter. You get little pockets of chocolate all over the inside of the muffins, rather than big chunks. But you could use regular-sized ones if that's what you have on hand.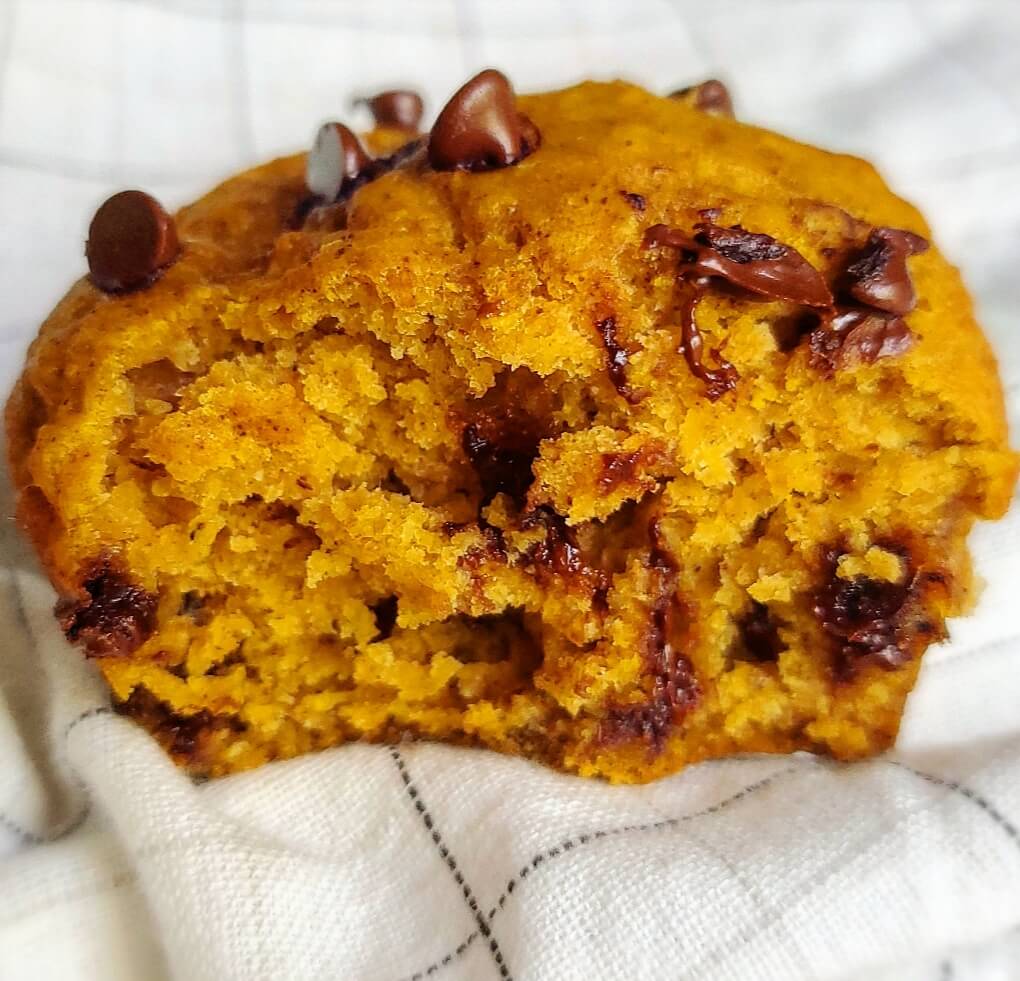 You could definitely throw all of the chocolate chips into the wet batter before you bake it, but I like to reserve 2 of the tablespoons to sprinkle on top, so that after they bake, you can tell there are chocolate chips in there.
That's a purely aesthetic thing, so no worries if you want to skip that step. You'll get more chocolate laced throughout the inside, anyway!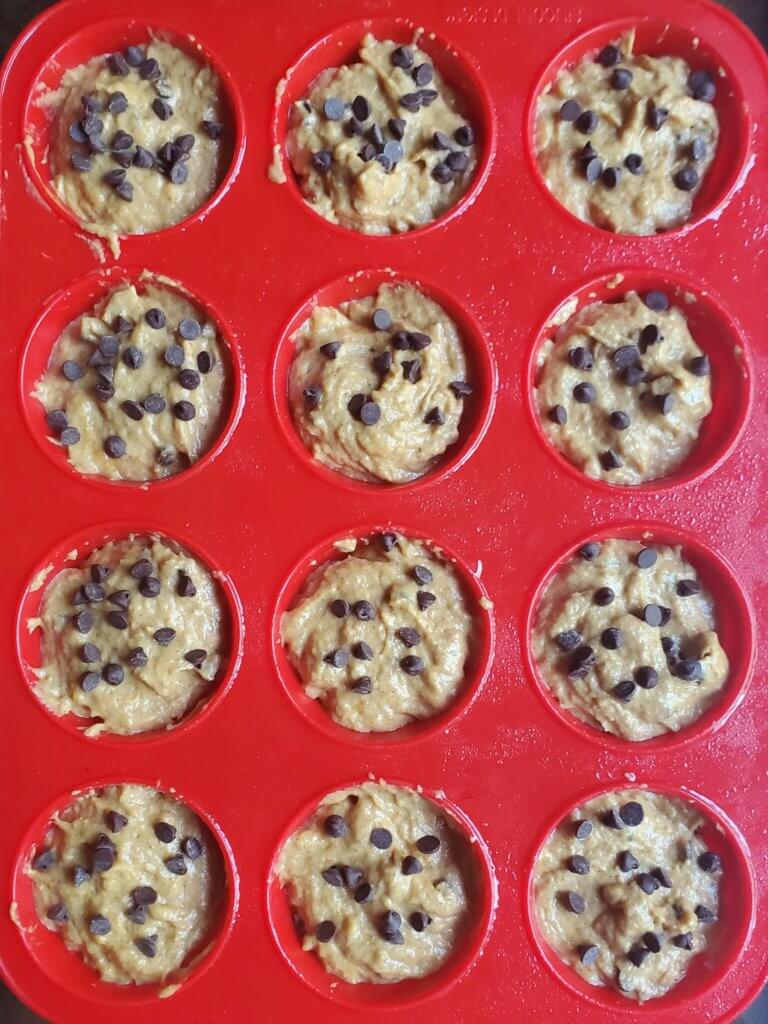 By the way, you don't HAVE to add chocolate chips if you just want pumpkin muffins. That will make these 4 SP each. For me , though, chocolate is a must.
My last piece of advice? Try to let them cool at least a little bit before you take them out of the muffin mold. This is especially true if you're using aluminum. In that case, you should let them rest for at least 15 minutes; otherwise, they'll come out crumbly and torn.
If using silicon mats, you don't have to wait as long. This is good news for those of you who love melty chocolate as much as I do.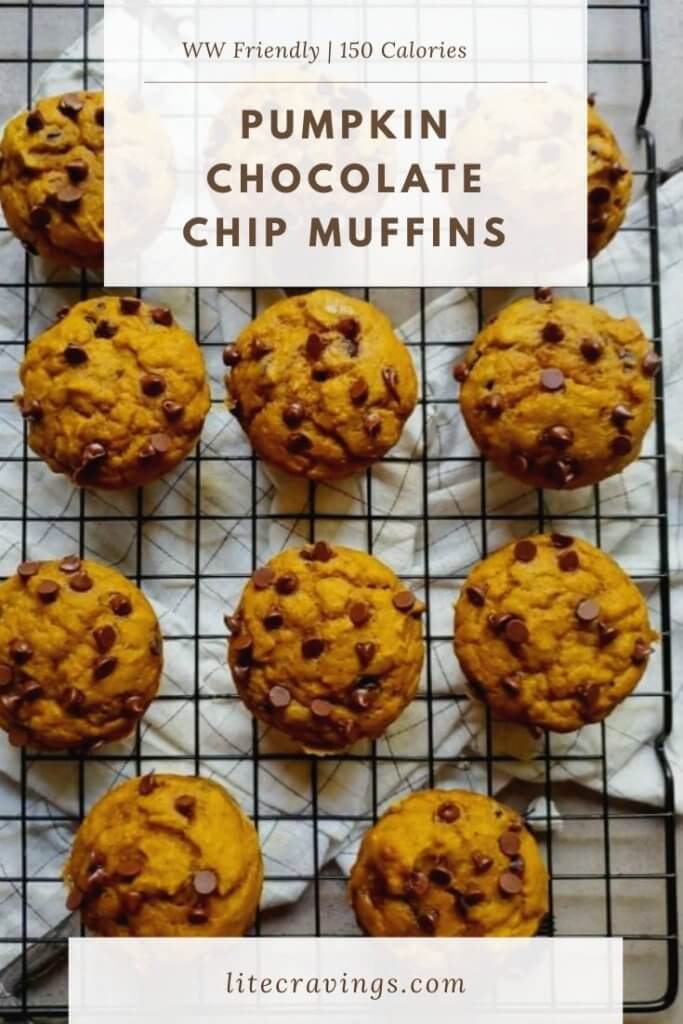 I'd love to hear from you if you make this recipe! It makes my day when you share your pics on Instagram and tag me (@litecravings). Don't forget to use #litecravingsrecipes to make sure I see it. If I don't get a chance to scroll through my tags quickly enough, I won't see your post. I always make a point to look through the hashtags, though, so I'll see it there!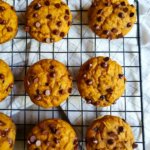 Print
Pumpkin Chocolate Chip Muffins
These lighter Pumpkin Chocolate Chip Muffins are the best fall treat, loaded with lots of chocolate and pumpkin flavor!
Course
Breakfast, Dessert
Ingredients
2

tbsp

light butter

6

tbsp

sugar

1

cup

canned pumpkin puree

1

egg

1/2

cup

unsweetened apple sauce

1/3

cup

almond milk or nonfat milk

1

tsp

vanilla extract

1 1/2

cups

all-purpose flour

1

tsp

baking powder

1

tsp

baking soda

1/2

tsp

kosher salt

2

tsp

pumpkin pie spice

6

tbsp

mini semi-sweet chocolate chips, divided
Instructions
Preheat oven to 350ºF. Coat regular-sized muffin molds with cooking spray.

Beat together light butter and sugar. Beat in pumpkin, apple sauce, egg, vanilla, and milk.

In a separate bowl, whisk together flour, baking powder, baking soda, pumpkin pie spice, and salt.

Gently fold in flour mixture to wet mixture, being sure not to over mix. Gently fold in 4 tbsp of chocolate chips, reserving 2 tbsp to sprinkle on top.

Divide batter among muffin pans. Sprinkle remaining chocolate chips evenly over the top of each muffin.

Bake until a toothpick inserted into center comes out clean, about 22-26 minutes. Let cool in muffin mold for 5 minutes if using silicon. If using an aluminum pan, let cool for 15 minutes before. removing to cool completely.
Notes
WW Freestyle SmartPoints: 5 per muffin with chocolate chips; 4 per muffin without chocolate chips
The post Pumpkin Chocolate Chip Muffins appeared first on Lite Cravings.
Pumpkin Chocolate Chip Muffins