Tanhaji - The Unsung Warrior - Review
wogma rating:
Even the keen, wait for it to come on TV/online
(?)
quick review
:
Overt dramatisation, powerful delivery of over-written dialogue, considerably awful CGI. Yet a moderately engaging film, partly because of the story of bravery and partly because of decent performances.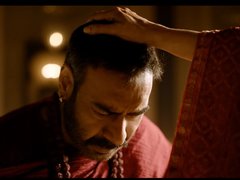 Review
I didn't get bored—that is the film's success. Like many other historical Indian war films, Tanhaji dwells heavy on the action and the emotions related to loyalty, patriotism, family's worry and pride. Fortunately, it also has some bits with strategy that kept me going amidst all the heavy-handed writing.
It does help that the last 30-45 minutes of the final war don't have monotonous editing. They merge 3-4 locations, adding to the air of urgency. Also, despite the tacky comic-book-like CGI, the visualisation of the techniques used to climb forts and attack enemies gripped my attention. I had only heard stories of how it was done. Putting a visual to my imagination was oddly satisfying.
Other than that, though, the movie is the usual combination of undying love for the land that one calls own and an unshakeable sense of duty pitted against the barbaric passion for power. Trust a war film to turn a mind game like chess into violence. As valiant as the warriors were and as important a history chapter, it is, nothing is extraordinary. Similarly, some little details that are in all likelihood fictional are cute.
Of course, it doesn't help that it is a story that you know quite well, right to the iconic climactic line. In fact, I was wondering why the movie calls Tanaji an unsung hero. He was well-regarded then, and his story is repeated now. Speaking of the title, I guess one isn't supposed to ponder over the change of spelling. As I saw Tanaji dance though, I did wonder how the movie didn't face any protests in real life.
Sure enough, I was jolted out of reverie under my 3-D glasses when an arrow came hurtling towards me, twice. I suspect it was the same shot. In any case, felt like a cheap trick rather than an intelligent use of the medium. Given that there was much to distract, Ajay Devgn, Kajol and especially Saif Ali Khan kept my attention whenever they were on screen.
Amid loud background score that shows how happy the makers are with themselves; many-many betrayals and double-crossings; and many incongruities such as a sudden comic, sword-fight orchestrated as a dance sequence, a execution by hanging turning into a humorous scene, people who have supposedly never seen each other recognising each other, oppressive regimes being accused of religious intolerance while clearly allowing a religious celebration in the next scene, a ferocious villain appreciating a dance step, and Tanaji carrying mirrors and Shivaji's mother's footwear with him through the war; there was unexpected and striking commentary on contemporary concepts such as men crying, consent and dissent.
Yet, the emotional hooks were weak, the effort in writing impactful dialogue too obvious, and the telling too plain to have a long-lasting impression.
- meeta, a part of the audience
Parental Guidance:
Violence: Loads and loads including gory torture.
Language: Some words are muted, but cannot make out why so.
Nudity & Sexual content: None
Concept: Bravery, deceit, passion, torture, disgust for the enemy, deep sense of patriotism—all things that make war.
General Look and Feel: Like any war film mounted on a grand scale with bad CGI
Detailed Ratings (out of 5):
Direction: 2
Story: 2.5
Lead Actors: 3
Character Artists: 2.5
Dialogues: 2.5
Screenplay: 2.5
Music Director: 2
Lyrics: 1.5
See Also
Tanhaji - The Unsung Warrior - Movie Details
Producer: Ajay Devgan, Bhushan Kumar, Krishan Kumar
Director: Om Raut
Lead Cast: Saif Ali Khan, Ajay Devgan, Kajol
Supporting Cast: Neha Sharma, Sharad Kelkar, Pankaj Tripathi, Jagapathi Babu, Padmavati Rao, Luke Kenny
Story: Prakash Kapadia, Om Raut
Dialogues: Prakash Kapadia
Cinematography: Keiko Nakahara
Choreography: Ranju Verghese, Ganesh Acharya, Bosco Martis
Music Director: Atul Gogavale, Ajay Gogavale, Sachet-Parampara
Lyrics: Swananda Kirkire
Facebook Page: Link
Running time: 135 minutes
Reviewer: meeta
Language: Hindi
Country: India
Genres: Action, Patriotism, War
Tanhaji - The Unsung Warrior - Review