Journalist Quits Over Kenosha Headline
Editor Was the Only Full-Time Black Staffer
Viola Davis Wants Boycott of N.Y. Post
Black Women Talkers Resist Trump Spin
Dawn Davis Gets a Top Role at Condé Nast
L.A. Times Pledges 25% Latinos in Newsroom
'Black Panther' Wins Sunday Night Ratings
Tegna Makes Grants to Promote Diversity
'High Country' to Spend $10 Million More
Thompson Made Path for Black Journalists
Slain L.A. Timesman Didn't Trust Colleagues
Cartoonist Jackie Ormes Is 'Google Doodle'
Homepage photo: Daniel Thompson covers a demonstration in Kenosha, Wis., in August. (Credit: Jordan Pauley via The New York Times)
Support Journal-isms
Editor Was the Only Full-Time Black Staffer
"A journalist resigned on Saturday from his job at The Kenosha News after objecting to the headline of an article that chronicled a rally in support of Jacob Blake, a Black man who was shot seven times in the back by a white Kenosha police officer," Marc Tracy wrote Monday for The New York Times.
"The journalist, Daniel J. Thompson, a digital editor who said he was the only full-time Black staff member at the paper, which covers southeastern Wisconsin, said the headline did not accurately sum up the article and gave a false impression of the rally itself, which he attended. The rally for Mr. Blake, who was left paralyzed by the shooting on Aug. 23, included calls for unity from his father, Jacob Blake Sr., and Wisconsin's lieutenant governor, Mandela Barnes, the article said.
"The headline, which appeared on the Kenosha News website on Saturday, highlighted a remark from one rally participant: 'Kenosha speaker: "If you kill one of us, it's time for us to kill one of yours." ' The online version of the article included a 59-second video showing the person who spoke those words, a Black man who was not identified by name.
"Mr. Thompson, who joined the paper's newsroom three years ago, said he found the headline off-base. 'The story is about the entire reaction of all the speakers and people in attendance, and that quote is one outlier falling within a flood of positive ones,' he said in an interview.
"He added that the speech made by Mr. Blake's father would have been more worthy of the headline. 'The things that frustrated me most is Mr. Blake, Jacob Blake's father, himself personally, called for a night of peace, of no destruction, no riots,' Mr. Thompson said.
"That quote is one outlier falling within a flood of positive ones," Daniel Thompson said. (video)
"The rally, billed as "Justice for Jacob," came days after Kyle Rittenhouse, a 17-year-old from Illinois, was charged with homicide in the killings of two protesters during earlier demonstrations in Kenosha. President Trump is scheduled to visit the Wisconsin city on Tuesday.
"Mr. Thompson, 30, said he attended the Saturday rally but did not cover it. Shortly after 7 p.m. that day, he sent a text that included a screenshot of the headline to Bob Heisse, the executive editor of The Kenosha News.
" 'I don't even know if I can associate with the company after that, Mr. Thompson said in the text exchange. 'I need to calm down, but I wanted you to know immediately.' . . ."
Tracy also wrote, "He has set up a GoFundMe campaign and said he was contemplating 'a framework for how I would run a media company in Kenosha and if that is a viable option for me.'
"By noon Sunday, the headline had been changed on the Kenosha News site. It now reads: 'Kenosha speaker strays from message at rally.' . . ."
As of midday Tuesday, the GoFundMe page had raised more than $18,000 of a $5,000 goal.
The episode recalls the concept of maintaining "go to hell money." Nelson Poynter, owner of the St. Petersburg (Fla.) Times (now the Tampa Bay Times) and namesake of the Poynter Institute, was one practitioner.
As Colleen Eddy reported for the Times in 2008, "ln a 1977 interview at the St. Petersburg Times, Nelson said: "I always kept about $1,000 in the savings account, which I called my 'go to hell money.' I felt I was a better staffer on any newspaper if I didn't have to work for that newspaper. I think the most unbearable [job] would be to work for a newspaper that you hated, that you had no respect for."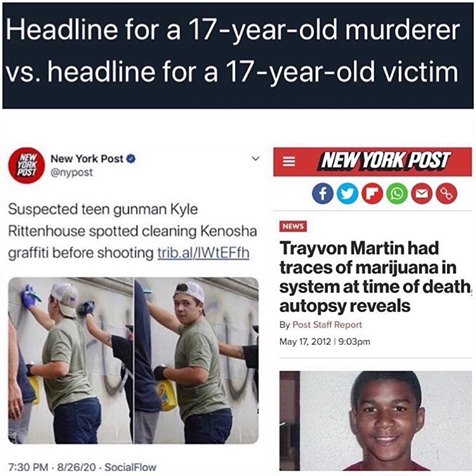 YOU ARE FOUL FOR THIS @nypost YOU ARE APART OF THE PROBLEM!!! ENTERTAINERS WE NEED TO BOYCOTT PUBLICATIONS THAT CONTINUE TO CRIMINALIZE INNOCENT POC after they have been murdered by the law!!! This is cruel and traumatizing to the loved ones left behind. YOU ARE HEARTLESS AND CRUEL!!! #FIXTHISSHIT
#trayvonmartin WAS WALKING HOME WITH CANDY AND TEA IN HIS HANDS NOT THE BLOOD OF INNOCENT LIVES!!!!!!!!!!!!!!!!
@tarajiphenson
A post shared by VIOLA DAVIS (@violadavis) on Aug 28, 2020 at 9:33am PDT
Viola Davis Wants Boycott of N.Y. Post
"Viola Davis (pictured, below) is calling for a boycott of biased media outlets," Karu F. Daniels wrote Monday for the Daily News in New York.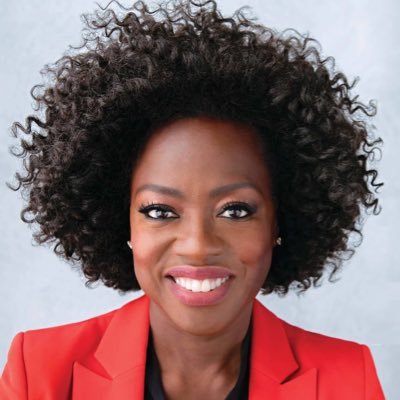 "The Oscar, Emmy, Golden Globe and Tony Award-winning actress and producer took to social media to express her outrage with how the New York Post recently depicted Kenosha shooter Kyle Rittenhouse, as compared to the publication's past coverage of slain teenager Trayvon Martin.
"On Friday, Davis posted screenshots of the Rupert Murdoch-owned tabloid referring to the shooter, who is white, as a 'suspected teen gunman' with a photo of him doing community service work. The headline on the Martin article says the 17-year-old had 'traces of marijuana' in his system when he was fatally shot by neighborhood watch coordinator George Zimmerman in Florida on Feb. 24, 2012.
"Martin, who was Black, became a symbol of national protests for social injustice.
"The sentence 'Headline for 17-year-old murderer vs. Headline for 17-year-old victim' is affixed in bold to the photos Davis shared with her 6 million followers on Instagram.
" 'You are foul for this,' the 'How To Get Away with Murder' actress directed at The Post. . . ."
New York Post spokesperson Iva Benson could not be reached for comment.
Yamiche Alcindor, quoting the Biden campaign: "The deaths that we're seeing from COVID as well as the deaths that we're seeing from African Americans at two and a half times the rate of white Americans at the hands of police . . .  should be the central issue." (video)
Black Women Talkers Resist Trump Spin
President Trump is trying to change the subject from COVID-19 and the police force against unarmed Black civilians, and on Sunday the network talk-show hosts followed him in discussing Trump's "law and order" message.
But Black women on the shows brought the subject back to the issues at hand.
On NBC's "Meet the Press," Yamiche Alcindor of the "PBS NewsHour" was asked about the Joe Biden campaign. "
"As [Rep.] Cedric Richmond told you, they see this issue of unarmed Black people being killed in the streets as low hanging fruit, that America should be able to get this right. So they see this as really pitching this forward and saying, 'This is the chaos.' The deaths that we're seeing from COVID as well as the deaths that we're seeing from African Americans at two and a half times the rate of white Americans at the hands of police, that this should be the central issue.
"We heard over and over again they pitched this as a battle for the soul of America. That's the messaging that you're going to hear over and over again. And they're really gonna be making the case that President Trump failed miserably on the coronavirus. I thought it was interesting as I was covering on the South Lawn of the White House today that gathering of people with no masks, sitting shoulder to shoulder, cheering on the president on this hot, on this hot summer night in D.C. . . ."
On ABC-TV's "This Week," Democratic party strategist Karen Finney (pictured, by Sharon Farmer) pushed back on the idea that the Republican National Convention pushed the campaign into two competing versions of America.
"Look, I have a different take on what these conventions — what we really know at the end of two weeks," Finney said. "What we know if we look at what's happening in Kenosha, Wisconsin, is that a White 17-year-old with an AR-15 long gun approached police and was brushed off as he had just shot two people. And a Black man in a tank top with a cop holding him by the scruff of the shirt was shot seven times in the back while his three children watched. Those are the two visions of America.
"Donald Trump is trying to make this about who wants to stop violence. Black people want to stop violence. We have been living in violence since the beginning of this country. He's trying to make this about anarchy in the streets, but he's the president. . . ."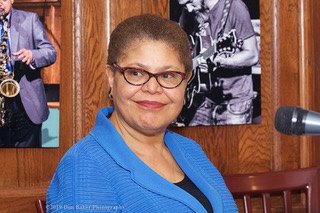 On CNN's "State of the Union," host Dana Bash said to Rep. Karen Bass, D-Calif., (pictured, by Sharon Farmer) chair of the Congressional Black Caucus: "I want to ask about what we are seeing, what we saw last night in Portland. Somebody died there. Two people died during protests in Kenosha, Wisconsin.
"What is your reaction to this violence?
Bass replied, "Well, I think it is absolutely horrible.
"I was just appalled at what I saw in Kenosha. The idea that you would see that young man with a rifle walking toward the police, and they do nothing, they don't move to stop him, they actually give him water, don't even arrest him on the spot, and he killed two people.
"And then, unfortunately, to listen to the head of law enforcement the next day, he seemed to blame it on the fact that people were violating curfew.
"The protests, the peaceful protests, of which over 90 percent of the protests have been peaceful, are very helpful. And, obviously, any time they turn toward violence, that's very damaging. . . ."
She also said, "What also happened in Portland, too, you saw a parade of Trump supporters actually actively shooting paintballs at peaceful protesters.
"And the president, in my opinion, encourages that. He actually retweeted the people firing paint guns. So, I think he only means to agitate things. He is campaigning. It is clear his campaign is all about law and order. It is a throwback to the past.
"And he's going to do everything to disrupt law and order in this time period. . . ."
Dawn Davis Gets a Top Role at Condé Nast
"Bon Appétit, the multimedia food-journalism outlet that has experienced a summer of racial strife in the workplace, has a new editor in chief: Dawn Davis (pictured), a prominent editor and executive who has been one of the few Black power players in the book world," Marc Tracy reported Thursday for The New York Times.
"Condé Nast, the parent of Bon Appétit, announced the appointment on Thursday, saying Ms. Davis will start Nov. 2. It is a wide-ranging role that, in addition to the Bon Appétit brand, will give Ms. Davis editorial control of the company's food outlets Epicurious​, ​Healthyish​ and ​Basically across all media, including print, digital, social media and video.
"Ms. Davis, 55, succeeds Adam Rapoport, a 20-year veteran of Condé Nast who had led Bon Appétit for a decade before he resigned under pressure in June after a 2004 photo that showed him wearing an offensive costume resurfaced on social media. The image drew attention to broader problems at the magazine, where staff members had long complained about Mr. Rapoport's boorish leadership style and a workplace culture of racial insensitivity. . . ."
L.A. Times Pledges 25% Latinos in Newsroom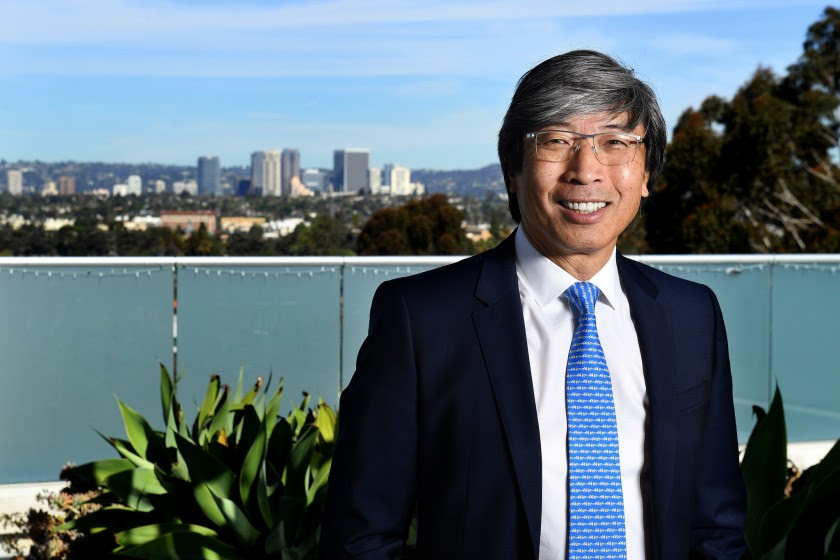 "Following calls from staff to diversify the Los Angeles Times newsroom, owner Patrick Soon-Shiong (pictured) pledged to have a quarter of the Times' newsroom staff to be Latino over the next five years," J. Clara Chan reported Tuesday, updated Wednesday for The Wrap.
" 'Our staff makeup and coverage should better reflect the fact that one in two people in LA County is Latino. This should go without saying,' Soon-Shiong wrote in a Tuesday letter to the Times' staff and Latino Caucus, which has recently launched social media campaigns to highlight the underrepresentation of Latinx staff at the paper. 'Over the next five years, we expect to achieve a newsroom where Latinos make up one quarter of our staff.'
"Soon-Shiong's letter also outlined a number of other initiatives to be implemented at the paper, including 'new metrics that evaluate managers' adherence to diversity initiatives and hiring,' the creation of a Talent and Culture Editor to meet 'at least once a quarter' with the Latino Caucus to 'discuss openings and promotion opportunities' and the creation of a database with the names of journalists recommended by the National Association of Hispanic Journalists to aid with the paper's recruiting.
"The Times' editorial pages department, Soon-Shiong added, is also 'developing an in-depth analysis of [the Times'] coverage of BIPOC [Black, Indigenous and People of Color] communities at the state and national level, covering significant ground to ensure that our institutional apology is adequate to the times.' The analysis is expected to cover the paper's reporting on the "Zoot Suit Riots" and the "Sleepy Lagoon" trial,' [PDF] Soon-Shiong said. . . ."
(credit: YouTube)
'Black Panther' Wins Sunday Night Ratings
"ABC won Sunday primetime by a mile, with a Chadwick Boseman movie and news special about the actor sparking the network," Michael Malone reported Monday for Broadcasting & Cable. "ABC got a hefty 1.2 in viewers 18-49, per the Nielsen overnights, and a 7 share. In second were CBS and NBC at 0.5/3. . . ."
"Boseman died of cancer Aug. 28. His Black Panther movie got a 1.4 and news special Chadwick Boseman — A Tribute For a King, dedicated to his life and work, got a 1.1. Robin Roberts anchored. . . ."
"Boseman played T'Challa in Black Panther. ABC showed the movie commercial free. . . ."
Meanwhile, "Fans of Chadwick Boseman are watching and rewatching his films," Frank Pallotta reported Monday for CNN.
'42,' where Boseman plays baseball legend Jackie Robinson, is currently No. 3 on Apple's iTunes chart. Marvel Studios' 'Black Panther' comes in right after at No. 4. 'Marshall,' a biographical film which has Boseman take on the role of former Supreme Court Justice Thurgood Marshall is No. 7 and '21 Bridges,' an action film starring Boseman, is just outside the top ten at No. 12.
'21 Bridges' and 'Black Panther' are also big sellers over on Amazon (AMZN). The films stand at No. 1 and No. 3 on the site's Blu-Ray bestsellers, respectively. For Amazon's digital video chart, 'Black Panther' sits at No. 6. . . ."
Tegna Makes Grants to Promote Diversity
"Tegna's charitable foundation, the Tegna Foundation, has awarded a number of grants with the goal of promoting diversity in journalism and professional development for media professionals and students," Michael Balderston reported Monday for Broadcasting and Cable.
"In addition, the foundation is providing a grant of $75,000 to the Reporters Committee for Freedom of the Press (RCFP) for its mission to protect First Amendment freedoms and newsgathering rights of local journalists.
" 'As the First Amendment rights of journalists are increasingly under attack, it is critical to safeguard our most basic democratic freedoms,' said Dave Lougee, president and CEO of Tegna. 'And fostering greater diversity in media to better reflect the voices of the communities we serve is more important than ever, starting with the recruiting of young talent. We are proud to partner with our 2020 grantees to develop and create opportunities for the next generation of journalists.' . . ."
"Here are the 2020 Tegna Foundation Media Grants recipients:
"National Association of Black Journalists (NABJ) for support of the Black Male Media Project and a workshop on race and journalism at the virtual 2020 NABJ/NAHJ Conference and Career Fair;
"National Association of Hispanic Journalists (NAHJ) for student support and education, including for pre-conference training sessions and resources for students at the "2020 NABJ/NAHJ Conference and Career Fair;
"Asian American Journalists Association (AAJA) for a specialized student educational track at the virtual AAJA Fest 2020, including mentorship opportunities and skills-building programs;
"Native American Journalists Association (NAJA) for a new program titled 'Covering COVID-19 in Indian Country' that provides resources for journalists reporting on the pandemic;
"National Lesbian and Gay Journalists Association (NLGJA) for scholarship support to waive registration fees for more than 75 students at the 2020 NLGJA virtual convention;
"Investigative Reporters and Editors (IRE) for two FOIA workshops at the 2020 IRE virtual conference;
and
"Online News Association (ONA) for scholarships for students and young professionals to attend the ONA virtual conference. . . ."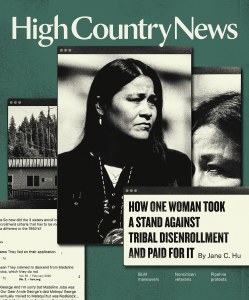 'High Country' to Spend $10 Million More
"Today, new publisher Greg Hanscom announced ambitious plans for the nonprofit organization — part of an effort to commemorate the publication's 50th anniversary and put it on a path for the next half-century," High Country News said Tuesday.
" 'High Country News is an irreplaceable Western institution,' Hanscom said. 'For five decades, we've told the stories that no other media outlet can about the West's precious water, our public lands and wildlife. We've chronicled the evolution of the Sagebrush Rebellion and the rise of Indigenous people, who are demanding more of a say over the fate of their ancestral lands. Now it's time for HCN to expand its horizons — to bring these stories to a wider audience, and to draw a more diverse West into the community of people who are shaping the region's future.'
"Hanscom announced that High Country News will invest $10 million in expanding its editorial staff and freelancers, endowing its intern and fellowship program, overhauling its website, and developing its internal marketing staff. He plans to pay for the expansion through a capital fundraising campaign that has already garnered $5 million in pledged support. . . ."
Thompson Made Path for Black Journalists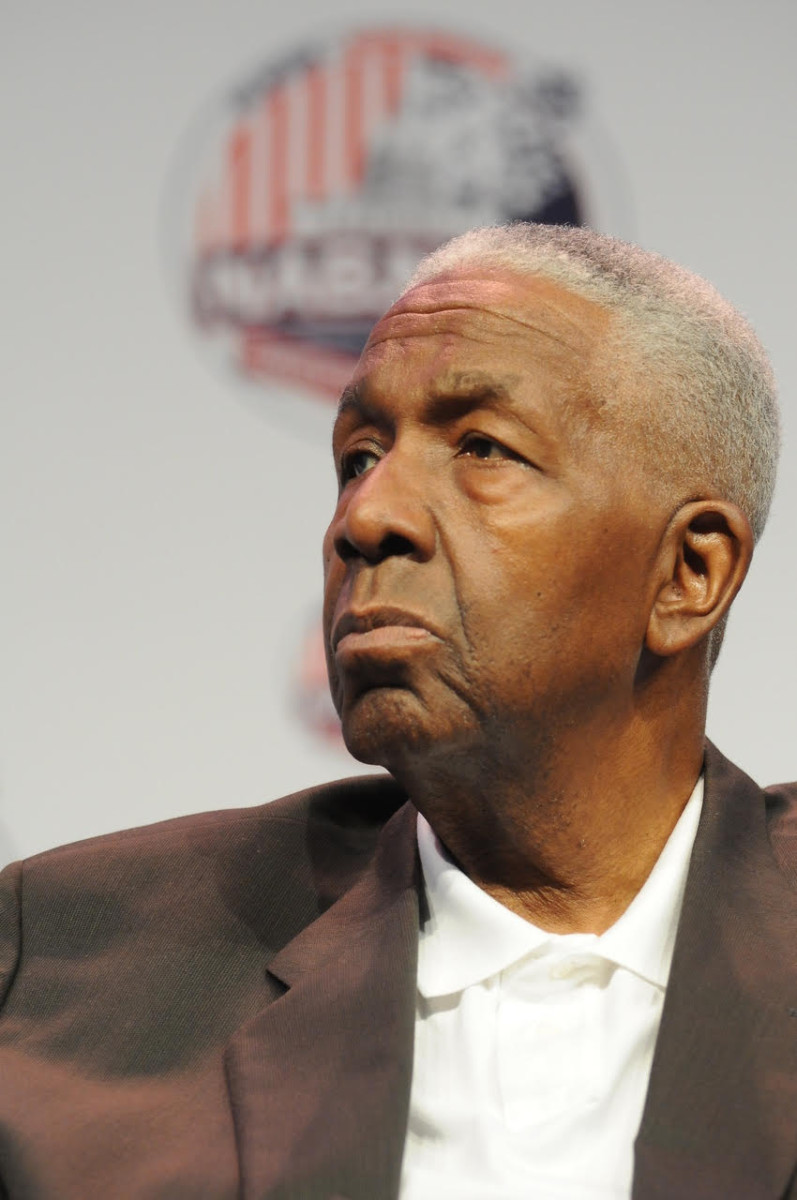 John Thompson Jr. (pictured, by Jason MIccolo Johnson), the coach who built Georgetown University basketball into national power, "provided a path for Black journalists, too, because editors had to think harder about who was capable of covering his Hoyas," Jerry Brewer wrote Monday for the Washington Post.
"And when Black reporters came onto the Georgetown beat, he trained them in his own way. He did so by being hard on them, yet open after they earned his trust through work ethic and persistence. . . ."
Thompson died Sunday at 78. Brewer also wrote, "He was crafting his autobiography, titled 'I Came As a Shadow' and scheduled to publish in January 2021, with Jesse Washington of ESPN's the Undefeated. . . ."
Brewer continued, "Fifteen months ago, I met Thompson for a final time. . . . During that last meeting, Thompson pointed to an old collection of newspaper stories featuring a Michael Wilbon game story and a clip from the late Bryan Burwell, another trailblazing Black sportswriter.
" 'That's what happened when they thought I was militant,' Thompson said of editors sending reporters of color to cover his team. 'I told Jesse I figured it out that it may behoove me that they feel like I was a militant because more Black guys showed up to talk to this [expletive] who wasn't going to talk to people. I said, "Oh, that's the way I get it done." ' . . . "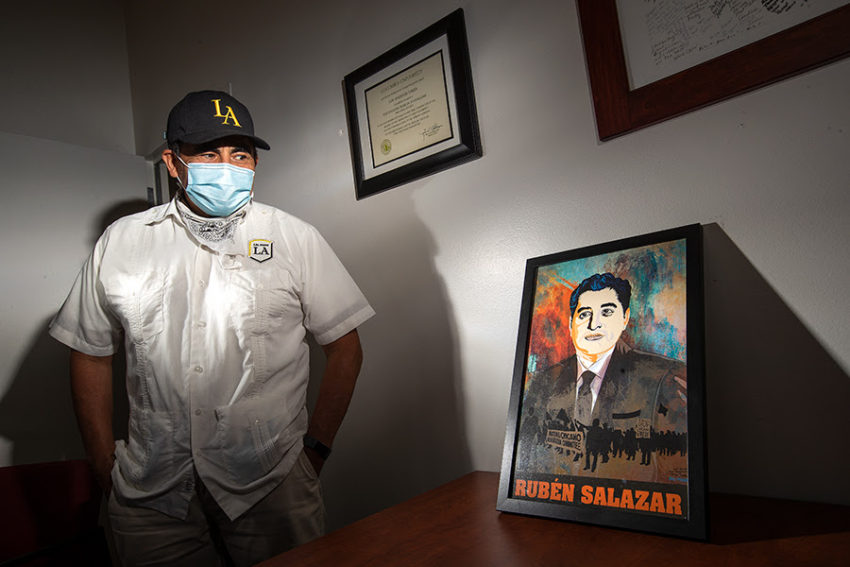 Slain L.A. Timesman Didn't Trust Colleagues
"The fax machine beeped and screeched as it transmitted a two-page document to the FBI," Robert J. Lopez wrote Aug. 23 for the Los Angeles Times. "I was a low-level reporter for the Los Angeles Times working out of a storefront news bureau on Exposition Boulevard in South L.A., chasing answers to questions that the newspaper should have asked decades earlier about the death of one of its own.
"Without the knowledge of my editors and unsure of what I might be dredging up, I faxed a Freedom of Information Act request to the FBI, searching for clues to a momentous but neglected chapter in Los Angeles history: the slaying, by a sheriff's deputy, of Los Angeles Times columnist and KMEX-TV news director Ruben Salazar.
"That letter, which I sent to the FBI on June 14, 1994, launched me on a journey that has continued to this day. It led me to investigate and challenge the actions of law enforcement agencies in the months leading up to Salazar's slaying, as well as to try to uncover new details surrounding his death amid a tumultuous anti-Vietnam War and civil rights protest in East Los Angeles on a hot, smoggy afternoon — now 50 years ago.
"The more I dug into the past, the more I began to question the historical role of The Times in failing to deeply investigate the killing of a trailblazing journalist who opened the city's eyes to the hopes and frustrations of its long-overlooked Mexican American community.
"I also questioned my role as a Chicano journalist who was hired at a time — not unlike now — when the Los Angeles Times was under fire for the failure of its newsroom to mirror the ethnic and racial diversity of the communities it covered. . . ."
Lopez also wrote, "through my reporting I learned that an intelligence file on Salazar had been compiled for former Chief Ed Davis. It was buried in city archives. . . .
"The file, which contained transcripts of KMEX news reports and photocopies of Times articles, disclosed a disturbing detail: A 'reliable confidential informant' at the newspaper had passed information about Salazar to the LAPD. Salazar, police were told, was a 'slanted, left-wing-oriented reporter.' I never confirmed the name of that informant but knew through my reporting that Salazar didn't trust some of his colleagues. . . ."
Lopez concluded, "In the end, Salazar died from the very type of law enforcement abuse he was trying to expose."
Cartoonist Jackie Ormes Is 'Google Doodle'
"To celebrate the 75th anniversary of the first publication of the comic strip Patty-Jo 'n' Ginger, today's Google Doodle honors the life of its creator, Jackie Ormes — through a comic, of course!," Kyle Bradshaw wrote Monday for Google.
"The parallax-animated comic strip offers a glimpse into the story of Jackie Ormes, born Zelda Mavin Jackson, at various stages of her life, starting with her upbringing in Monongahela, PA. It was there that Ormes learned to draw and got her first start at professional cartooning through caricatures in the Monongahela High School yearbook.
"After a few years of working at respected Black newspaper the Pittsburgh Courier, in 1937 Jackie Ormes was given the chance to have her own comic strip published. This became Torchy Brown in Dixie to Harlem — the first nationally-published comic created by a Black woman — which balanced humor with the harsh realities faced by those moving north to escape racism.
"One of Jackie Ormes' later comics, Patty-Jo 'n' Ginger ran from 1945 to 1956, and inspired a run of Patty-Jo dolls, styled after the comic's younger main character. These Patty-Jo dolls were groundbreaking in their own right, as the first Black dolls in America with high-quality clothes. . . ."
Ormes was inducted into the National Association of Black Journalists Hall of Fame in 2014 and in 2008, the University of Michigan Press published "Jackie Ormes The First African American Woman Cartoonist" by Nancy Goldstein.
Support Journal-isms
To subscribe at no cost, please send an email to journal-isms-subscribe@yahoogroups.com and say who you are.
Facebook users: "Like" "Richard Prince's Journal-isms" on Facebook.
Follow Richard Prince on Twitter @princeeditor
Richard Prince's Journal-isms originates from Washington. It began in print before most of us knew what the internet was, and it would like to be referred to as a "column." Any views expressed in the column are those of the person or organization quoted and not those of any other entity. Send tips, comments and concerns to Richard Prince at journal-isms-owner@yahoogroups.com
View previous columns (after Feb. 13, 2016).
The post Journalist Quits Over Kenosha Headline appeared first on journal-isms.com.
Journalist Quits Over Kenosha Headline