RAISING THE ROOF NEW STRATEGIC FINANCING MEANS NORTHSTAR'S BUSINESS CAN NOW GROW RAPIDLY
See today that Northstar Clean Technologies—ROOF-TSXv—announced a CAD$43.5 million debt and equity financing at 40, 50 and 60 cents—to fund their first three asphalt roof recycling plants.

Note that the equity financing price is almost triple the market price of 15 cents. It is being done by a strategic partner, a private midstream operator named Renewable U, out of Calgary. 

Northstar's plants are expected to cost roughly CAD$12 million each, and take about a year to build. This money is to build their first three full scale commercial plants—in Calgary, Toronto and the Pacific Northwest in the US.  I profiled this company in summer 2021, just after it went public.

ROOF has been recycling asphalt at its initial plant, in suburban Vancouver BC, for close to a year.  They have carried out multiple batch scale tests of different types of asphalt recycling for potential customers.  This plant goes fully commercial by Year-End 2022.

They have not only attracted very large and sophisticated customers—they have also attracted a financing partner.  Their new strategic partner–Renewable U—is  an Alberta based private midstream operator with a large Greentech financing arm.

This news appears to take all the financing pressure off of ROOF stock for the first 3 plants—the stock will be free to run now if the Market takes to the story.

But back to the basics of the company—they have a proven, working commercial technology that provides a true circular economy to one of North America's biggest landfill problems—roof shingles.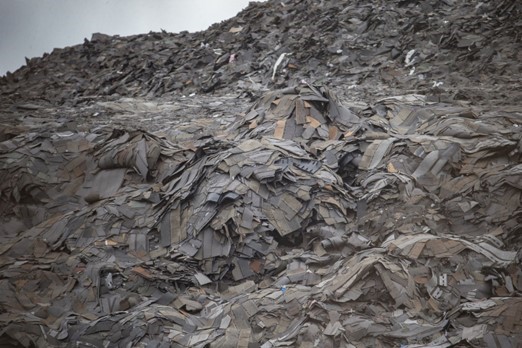 Roughly 80% of all single family homes in the USA have shingle roofs, and as they wear out, over 12 million tons of shingles go into landfills each year.  This has been happening for decades!

Their proprietary process is called BEST—Bitumen Extraction & Separation Technology. Northstar separates all the material in a shingle—asphalt, fibre and sand/aggregate—and can sell that back to asphalt shingle producers (or other customers if they are willing to pay a higher price). It provides a true and tight CIRCULAR economy in the North American roofing business.

Landfills do NOT want old shingles; it's often mandated that they cannot be dumped there.  So Northstar gets paid for their input cost.  That's called a tipping fee, and they can be worth up to 30% of overall revenue (roughly CAD$80-120/t). And then they sell the output in three different markets.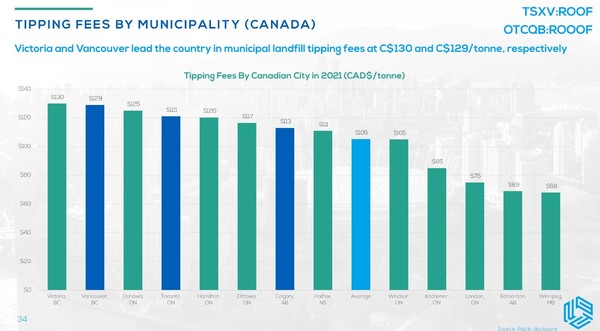 Asphalt has the largest product value–even at wholesale levels that Northstar receives–that would equate to roughly 60% of revenue.  Retail asphalt prices are about CAD$800+ per tonne around Calgary Alberta, where Northstar's first full size facility will be built.  Fiber and aggregate are only 5% of total revenue value. Overall, it has the potential to be a lucrative model—that does not need subsidies. 

Carbon credits are another potential source of revenue, as Northstar's BEST process could generate 60% CO2 savings—about 121 kg or 270 pounds per tonne of asphalt, compared to virgin production. As Canada increases its carbon pricing by $15/t per year until 2030—at which point it will be CAD$170/t—this potential revenue stream gets more lucrative.

You're making money every way you turn!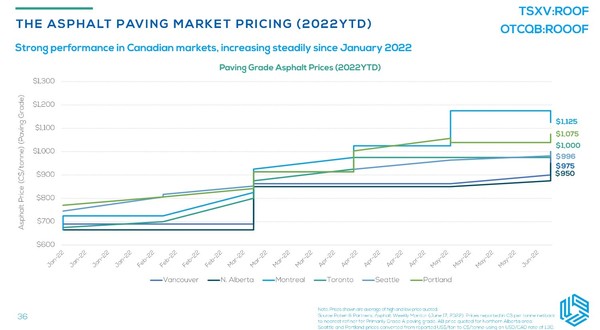 The company's preliminary economics suggest gross margin of 65% and EBITDA margin of 52%–unheard of for any manufacturing business.  That's roughly a 3-4 year payback on the CAD$12 million capex per plant.

CEO Aidan Mills said in an interview this week that the smaller facility—50-75 tons per day (tpd) in 20,000 sq ft–in Delta BC goes into commercial production in November. They already have an initial contract for 80 tons of liquid asphalt that will be produced there.

Northstar has chosen a four-acre, industrial zoned property in Calgary for their first large plant—a minimum 150 tpd, located close to a municipal landfill.

With the new financing now announced, Northstar can start ordering the long-lead items for the plant immediately.  If they meet their timeline, they will be commissioning the Calgary plant in Q4 2023.

This financing has been structured to give Northstar the upfront cash and the flexibility to move quickly and without fear of having to raise more money. The negotiated terms are well above market for the equity, and well below market for the interest rate on any term or convertible debt.

Should Northstar be able to secure non-recourse government debt in the future, they can reduce the strategic partner financing or pay back any capital used with no penalty.

This is the type of company I LOVE to bring you—a junior story, with a great product and great team.  They now have validation, their financing is booked for the next two years / three plants AND they have commercial offtake. 

The stock is 20 cents.  Good luck to us!

DISCLOSURE–Northstar Clean Technologies has been a paying client of the OGIB Corporate Bulletin in the last 12 months
RAISING THE ROOF NEW STRATEGIC FINANCING MEANS NORTHSTAR'S BUSINESS CAN NOW GROW RAPIDLY