Receiving Prop Bets To Watch On Wild Card Weekend: Tee Higgins, Gabriel Davis & Cameron Brate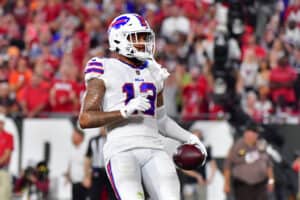 We closed out a winning regular season last week and are back to provide more data-driven value for the playoffs. Here are three receiving prop bets to take advantage of this weekend…
Postseason Packages Now Live
Playoffs record: 147-88 (63%)
Super Bowl record: 25-10 (71%)
WHY YOU SHOULD BET THE UNDER FOR TEE HIGGINS RECEIVING YARDS
Raiders defensive tendencies

Recency bias

SIS Projection: 54 passing yards
Tee Higgins returns to the lineup this week after sitting out alongside Joe Burrow in Week 18 as a safety precaution. The Bengals are -5.5 favorites with a team total of 27.5 points.
65.5 receiving yards on BetMGM (-115)

 
Higgins has emerged as one of the best young wide receivers in the game, albeit in the shadow of his record-setting teammate Ja'Marr Chase this season. As Joe Burrow has taken his game to the next level, he's elevated his receivers along with him.
Unfortunately, this matchup with Las Vegas plays into the wrong side of a few key splits for Higgins.
The Raiders defense plays zone coverage at the league's third-highest rate (74%) and blitzes less frequently than any other team (10%). Higgins has seen a 6% lower share of his team's targets against zone coverage (26%) compared to man schemes (20%).
Meanwhile, the Bengals passing game is spread much more evenly when Burrow isn't faced with a blitz and has extra time to survey the field. When the defense does send one or more extra defenders, 60% of Burrow's passes have been condensed between Chase and Higgins (29% to Higgins), whereas Higgins ranks third on the team with an 18% target share on passes in which the defense doesn't blitz.
Lowest Blitz Rate (2021)
| TEAM | BLITZ RATE |
| --- | --- |
| Raiders | 10% |
| Titans | 15% |
| Texans | 17% |
These two teams squared off back in Week 11. The Raiders played over 70% zone coverage and blitzed only twice. Higgins was targeted on just three of Burrow's 29 passes for a 2/15/0 stat line in a game where nine different Bengals receivers caught a pass.
Additional tips: Higgins's recent success has the public clambering for a big game, but several factors are stacked against him. If this line moves down, play it to 64.5 yards. As a correlation play with the Higgins under, consider also betting him under 5.5 receptions and Tyler Boyd over 3.5 receptions.
WHY YOU SHOULD BET THE OVER FOR GABRIEL DAVIS RECEIVING YARDS
Recent usage spike

Low prop line due to weather concerns

SIS Projection: 47 receiving yards
New England heads back to Buffalo for the third matchup between these division rivals. The weather was a huge factor in their Week 13 visit and may once again play a role here with cold temperatures, wind gusts, and a potential for precipitation in the forecast.
27.5 receiving yards on BetMGM (-115)

 
Even if there's inclement weather at kickoff, indications are it won't be nearly as bad as it was when the Patriots pulled off their memorable win with three pass attempts.
Buffalo is the league's most pass-heavy offense in neutral game scenarios (71%). Weather didn't deter the Bills from airing it out in Week 13 and it certainly won't stop them here either when everything is on the line.
Gabriel Davis has emerged as a main target in the Bills offense down the stretch. He averaged 8 targets and 55 yards per game over his last three contests while accumulating a 23% target share and 28% of the team's receiving yards during those games (both 2nd to Stefon Diggs).
Davis played in the Week 13 game against New England but missed the Week 16 game while recovering on the COVID list. He went over this week's prop line, 27.5 yards, in Week 13 in spite of only running nine routes. Usage shouldn't be a concern for Davis this week, as he's been on the field for 79-of-82 of the team's passing snaps over the last two games.
To go along with the recent usage spike, Davis has proven to be a big-play receiver that has the potential to go over his yardage total with a single catch. Davis has five catches of 25+ yards and leads all receivers at converting targets into explosive plays (20+ yard gains).
Explosive Play Rate (min. 60 targets, 2021)
| TEAM | BLITZ RATE |
| --- | --- |
| Raiders | 10% |
| Titans | 15% |
| Texans | 17% |
Additional tips: Davis has gone over this week's total in each of his last six games, and has eclipsed it in all seven games in which he's run 20+ routes. Feel confident playing the number up to 30.5 yards.
WHY YOU SHOULD BET CAMERON BRATE TO SCORE A TOUCHDOWN
Increased snaps

End zone target share

Eagles vulnerable to TEs
The Bucs begin the next phase of their title defense as 8.5-point favorites against the Eagles. Tampa Bay's receiving options are dwindling, making Rob Gronkowski a popular bet to put up big numbers this weekend, but we will be featuring their lesser-used tight end, Cameron Brate.
Anytime TD on BetMGM (+450)

 
Yes, Gronkowski should see plenty of action and is primed to rack up catches and yards all over the field. However, once the Bucs get down near the goal line, Cameron Brate becomes as much of a factor as anyone in their offense.
Brate and Gronkowski each have nine end zone targets this season, tied for the 2nd-most on the team behind Mike Evans. Despite that stat, BetMGM has made Gronk (+125) almost four times as likely to find the end zone as Brate.
Brate's usage near the goal line has also taken off as of late. He's been on the field for 11 of the team's 14 pass snaps inside-the-10 (79%) over the last three weeks, compared to just 48% of them in weeks prior.
It's not a stretch that both Bucs' TEs could find the end zone on Sunday when you consider their 27.5 projected team total and that their opponent, Philadelphia, has surrendered a league-high 14 touchdowns to opposing tight ends.
Most TDs allowed to Tight Ends (2021)
| TEAM | TOUCHDOWNS |
| --- | --- |
| Eagles | 14 |
| Chargers | 13 |
| Raiders | 10 |
The Eagles have allowed a touchdown to a tight end in 11-of-17 games this season including one to O.J. Howard when these two teams met back in Week 6.
40% of Tampa Bay's passes into the end zone have been targeted to tight ends, while 12-of-34 of equivalent throws against the Eagles have gone to tight ends (36%) – both are well above the 26% league average.
Additional tips: Brate scoring a TD is a long-shot according to BetMGM, who made him the 14th most likely to find the end zone in this contest. The number is off for a player who ranks second on the team in end zone targets and has had a goal line specialist role in recent weeks. If it moves, bet the line down to +400. Also consider loading it in as a leg in one game parlays to sweeten the odds on other bets. For example, Brate TD + Bucs cover would be +625 odds.
Receiving Prop Bets To Watch On Wild Card Weekend: Tee Higgins, Gabriel Davis & Cameron Brate