Regina stadium first to earn accessibility gold rating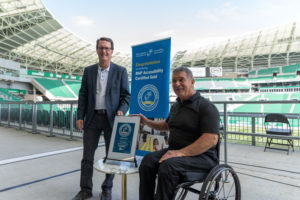 The Mosaic Stadium in Regina has received the 'Accessibility Certified Gold' rating under the Rick Hansen Foundation Accessibility Certification (RHFAC) program.
The venue hosts concerts, community events, sport and recreation programming, and is home to the Saskatchewan Roughriders football club. Mosaic Stadium is the first stadium in Canada to receive the rating and is the first site to be 'Accessibility Certified Gold' in Saskatchewan.
"We are proud to celebrate this prestigious certification," said Mayor Michael Fougere. "When we opened the doors of our new stadium in 2017, we wanted to be sure our entire community felt welcomed to enjoy events here. Working with our partners in the accessibility community has been an enriching experience that will impact the future of our city."
RHFAC is one of the first programs to rate the level of meaningful access based on the holistic user experience of people with varying disabilities affecting their mobility, vision, and hearing.
Mosaic Stadium scored 82 out of 100 points. The accessibility features leading to its gold rating include:
transport;
signage and wayfinding;
assistive listening devices; and
access throughout the stadium.
The post Regina stadium first to earn accessibility gold rating appeared first on Construction Canada.
Regina stadium first to earn accessibility gold rating