RHS Chelsea Flower Show 2021: Tips, Tickets, Transport and Travel
For the first time in its 108-year history, the greatest flower show on earth will be held in Autumn.
Read on to discover everything you need to know about the highly anticipated RHS Chelsea Flower Show.
When is it?

This year the Chelsea Flower Show is set to take place in Autumn rather than Spring. There has been a 2-year gap since the last live event, but a virtual Chelsea Flower Show did take place in May 2021 and May 2020. This year's show will run for six days, from Tuesday September 21 to Sunday September 26. From Tuesday to Saturday visitors can enjoy the show from 8am until 8pm. On Sunday September 26, it is open 8am – 5.30pm. At 4pm on Sunday, the infamous plant sell-off begins.
Where is it?

The Chelsea Flower Show is located on Royal Hospital Chelsea, London SW3 4SR. It has been held in the grounds of Royal Hospital Chelsea every year of its 108-year history since 1913, apart from gaps during the two World Wars and in 2020 because of the pandemic.
Can I still buy tickets?

The first two days of the show (Tuesday September 21 and Wednesday September 22 ) are RHS members only days. Tickets for RHS members on these days are £94.75. Find out more about RHS membership here. 
The show becomes open for non-members (and members too) from Thursday September 23rd through to Sunday September 26th.
Tickets for the public on these days are £83.75, while RHS members pay a reduced price of £66.75.
Show guides can be bought for £12.25 (including postage)
When is the best day to go?

The opening day is always extremely popular as a lot of people want to be the first to get a look of the gardens at Chelsea Flower Show; it's when the displays are at their freshest and of course it means that they can be the first to share their floral photos on social media!
The last day is also popular as this is when all the plants in the show are sold off!
We quite like to avoid the floral frenzy and go mid-week when the most popular gardens are less crowded, and we can peruse the show at a leisurely pace.
How to get there?

If you are travelling by train, then we suggest that you go to Victoria train station and walk (15 minutes) to the show from there. There will also be shuttle buses to the showground from Battersea Park and Victoria Station. Alternatively, the nearest tube station is Sloane Square, which is on the District and Circle lines. If you wish to drive, you need to pre-book parking with your tickets.
If you plan to travel by bus then bus numbers 11, 137, 211, 360, 170, 44 and 452 stop closest to the showground and bus numbers 19, 22, 319 and C1 stop at Sloane Square. Our favourite mode of transport is the Uber Boat by Thames Clippers which takes you to Cadogan Pier or Battersea Power Station, followed by a scenic 15 minute walk to the event.
Show Highlights 
The 'Trailfinders' 50th Anniversary Garden': designed by Jonathan Snow Design will take you to another world, inspired by the landscape, culture and plants of the Himalayan foothills.
The Yeo Valley Organic Garden:  designed by Tommas Massey supported by Sarah Mead. It's a visual representation of soil health and the importance of keeping carbon in the soil.
'Bodmin Jail: 60° East: A Garden Between Continents' by Ekaterina Zasukhina and Carly Kershaw draws upon east and west to create a unique blend of European and Asian planting palettes, while 'Guangzhou China: Guangzhou Garden', designed by Peter Chmiel with Chin-Jung Chen, shows how city planners must work in tandem with nature and design responsibly.
The Florence Nightingale Garden: A Celebration of Modern-Day Nursing by @rmalandscape is particularly poignant after the role our NHS has played since the beginning of the pandemic, and The Mandggarden Garden designed by Harris Buggstudio showcases an oasis for people and wildlife in a busy urban area.
At the heart of the Great Pavilion an Italian-style piazza will surround the Monument with huge olive trees, cypress and characterful handmade terracotta pots adding to the Mediterranean flavour. The setting will be created by olive tree grower and supplier, Villaggio Verde, and provides the perfect backdrop for specialist growers of rare and unusual autumnal produce who would not normally be found at RHS Chelsea.
The 'plant a tree for the Queen' initiative' will take centre stage at the RHS Chelsea Flower Show 2021. Visitors will be asked to plant a tree in honour of the Queen as they admire an RHS flagship garden on the famous 'triangle' – the largest show garden site at Chelsea. The display showcases the Queen's Green Canopy initiative, of which her son, the Prince of Wales is patron.
There are also two new garden categories for 2021, balcony gardens and container gardens, which will provide inspiration for small-space gardening.
Where to stay?

If you are travelling into London for the show and haven't booked your hotel yet, then you had better hurry! Hotels within a handy distance of the show include Sloane Square Hotel, Artist Residence London, The Belgrave, Beaufort Hotel and The Goring, which has enjoyed a particular affinity with RHS Chelsea Flower Show over the years. This year The Goring offers all visitors a bottle of champagne to kick off their stay with a celebratory feel and a chauffeur to and from the Chelsea Flower Show. On returning to The Goring in the evening guests will be served a Rosehip Royale whilst enjoying the views of the beautiful Goring Garden
Where To Eat?

You really are spoilt for choice with the many beautiful restaurants in the surrounding area, many of which are jumping on the Flower Show theme.
The Ivy Chelsea Garden for example has been transformed into an 'Enchanted Escape' in celebration of the show. Autumnal blooms decorate the restaurant's entire exterior, alongside a magical wishing well and moon sculpture seat to mark the change in season, with immersive theatrical immersive performances in their garden.
The Lanesborough, will also be introducing guests to a special edition of the Belgravia in Bloom cocktail accompanied by the Peggy Porschen Afternoon Tea.
Asian fusion restaurant Sticks'n'Sushi on Kings Road, will be displaying an incredible dragon, made entirely of sustainably sourced materials and maintained fresh flowers and foliage as well as offering an exclusive floral cocktail called Chelsea's Hana, which is served with a hibiscus sugar rim and edible flowers as a reference to the Chelsea Flower Show. Building of the dragon starts 18 September
50 Cheyne, a short, picturesque stroll from the show has opened additional lunch-time services so that friends & fans can enjoy Iain Smith's brand new Chelsea Flower Show menus. Served from midday from Wednesday 22nd September.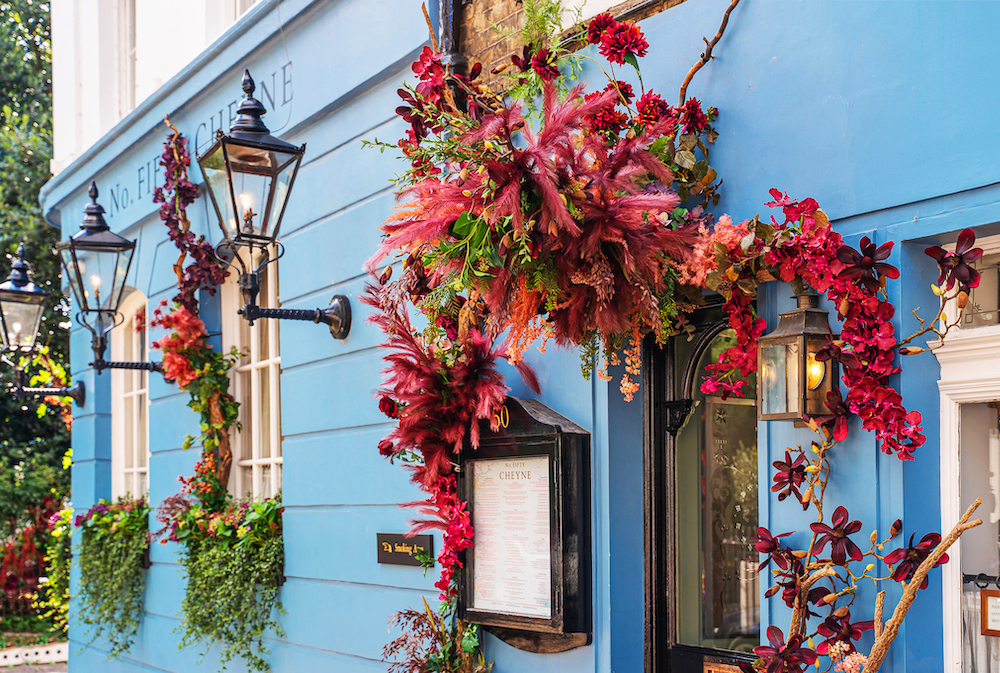 We hope this post helps you plan your visit and wish you a fabulous week of flowers and fun!
If you liked this blog post, then you'll love our instagram. Please do hop over to @londonlivingblog and give us a follow.
HAPPY FRIDAY from the London Living Team!
The post RHS Chelsea Flower Show 2021: Tips, Tickets, Transport and Travel appeared first on London Living.
RHS Chelsea Flower Show 2021: Tips, Tickets, Transport and Travel