Roasted Carrots
To me, roasted carrots are the perfect veggie side dish. They're easy to make (almost no chopping required!), and they're amazingly flavorful. The hot oven intensifies their sweetness, and it makes them soft and tender, with lightly crisp, caramelized edges. You can serve them really simply, seasoned with olive oil, salt, and a few grinds of pepper, and they'll be great just like that. And with a couple more seasonings, they'll be even better.
You'll find my favorite roasted carrots recipe below. It features beautifully browned honey roasted carrots, fresh herbs, earthy spices, and a big, creamy swoosh of Greek yogurt. If you're cooking for a special occasion, make the whole recipe. It's fresh, vibrant, and bound to be a hit. For a streamlined – but still really tasty – weeknight version, skip the yogurt and the herbs, and just cook the carrots. Coated in honey and aromatic spices, they're so simple and so delicious. You'll want to eat them straight off the baking sheet!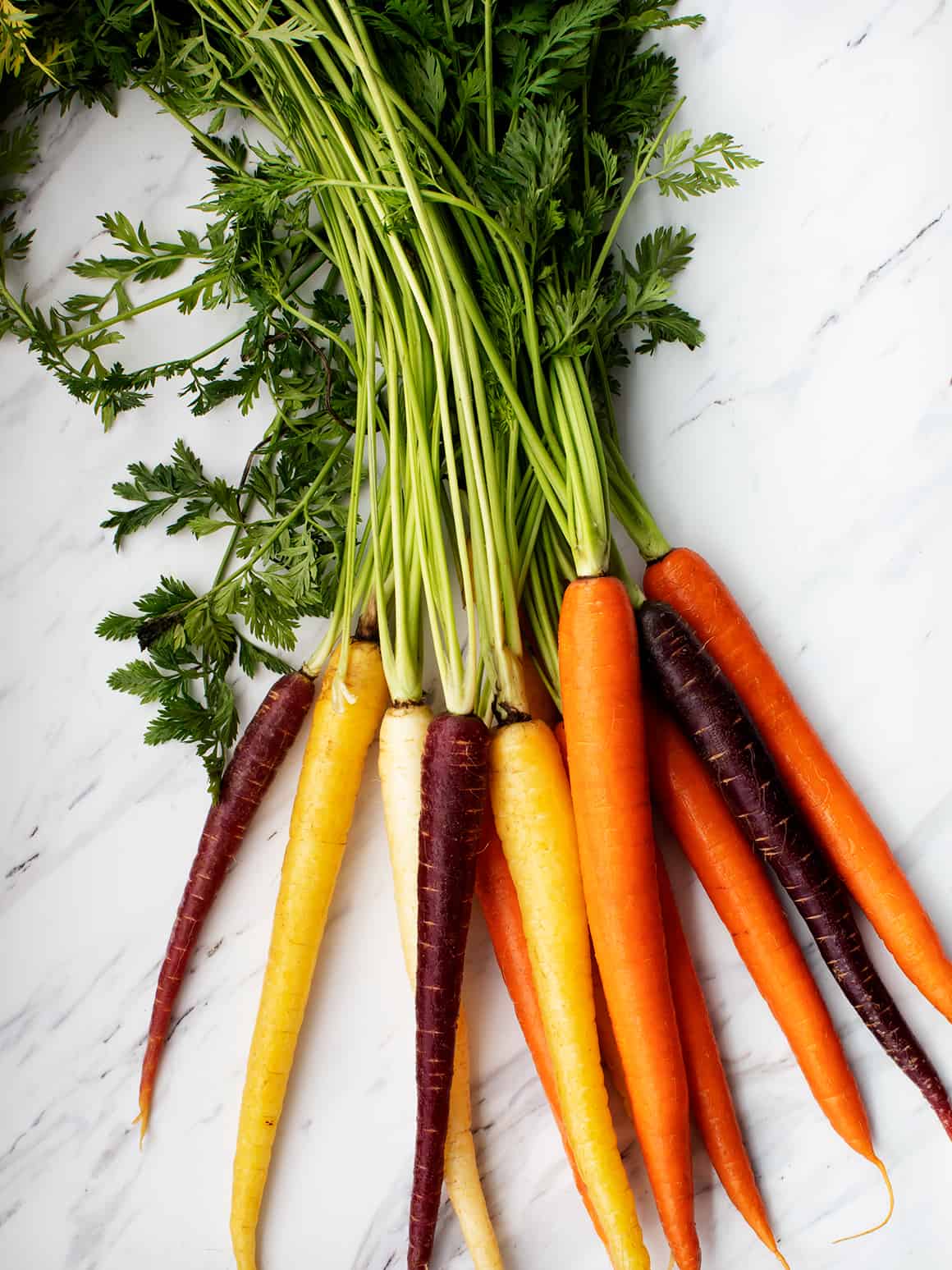 Roasted Carrots Recipe Ingredients
Of course, to make this roasted carrots recipe, you'll need carrots! I like to use a colorful bunch of rainbow carrots here, though regular orange carrots would be just fine too. Please, no baby carrots for this recipe!
If your carrots have tops, snip them off and save them for your next batch of pesto, chimichurri, or homemade vegetable stock.
Here's what else you'll need to make this recipe:
Honey – It enhances the carrots' natural sweetness. Maple syrup works here too!
Ground cumin and coriander – They fill the carrots with earthy flavor.
Extra-virgin olive oil – It helps the carrots caramelize in the oven.
Greek yogurt, olive oil, lemon juice, and salt – Stir them together to create a creamy, tangy base for the honey roasted carrots. I like to use a really thick Greek yogurt in this recipe, such as Fage or Chobani.
Dukkah – This crunchy, aromatic topping originally hails from Egypt. It's traditionally made with spices like cumin and coriander as well as crushed, toasted nuts and seeds. My mix includes cumin, coriander, and fennel seed as well as hazelnuts, pistachios, and sesame. It's so delicious on these roasted carrots!
Fresh herbs – For garnish. I love mint, dill, parsley, and/or cilantro here. The more, the merrier!
And salt and pepper – To make all the flavors pop.
Find the complete recipe with measurements below.
How to Roast Carrots
Once you assemble your ingredients, it's time to cook! Here's my easy method for how to roast carrots:
First, wash the carrots well. There's no need to peel them. Just give them a good scrub, and pat them dry!
Then, season them. Place them on a parchment-lined sheet pan, and toss them with the honey, spices, a drizzle of olive oil, and pinches of salt and pepper.
Use your hands to make sure they are well coated.
Next, roast the carrots. Spread them in a single layer on the baking sheet, and roast at 425°F for 15-25 minutes.
The carrots should be fork-tender and nicely browned, but not mushy.
Stop there, and serve them on their own for a quick and easy veggie side. Otherwise, continue with the recipe to make the full dish with the yogurt, herbs, and dukkah.
Roasted Carrots Serving Suggestions
If you're making the full recipe, allow the roasted carrots to cool slightly. Then, cut them in half lengthwise to expose their vibrant interiors.
Spread the lemon yogurt at the bottom of a serving platter, and arrange the roasted carrots on top. Garnish them with a big sprinkle of the dukkah, the fresh herbs, and a drizzle of olive oil. Season to taste and serve!
This simple, elegant side dish would be a wonderful addition to any special occasion meal. Serve it with a frittata, muffins, and a green salad for a lovely Easter brunch, or bookmark it to add to your fall Thanksgiving feast.
It would also pair nicely with shakshuka or this baked feta for a simple dinner or brunch.
Enjoy!
More Favorite Vegetable Side Dishes
If you love this roasted carrots recipe, try another flavorful vegetable side dish next:
Click here to browse more recipes!
Roasted Carrots