Shrimp Remoulade Sauce – How To Make Healthy and Simple Remoulade Recipe
Shrimp Remoulade Sauce is an all-time favorite!  However, if you order it out at restaurants it is usually high in fat with lots of mayo. To satisfy your cravings, Holly created a simple remoulade sauce recipe that's healthy.  This Shrimp Remoulade recipe in Guy's Guide To Eating Well cookbook is actually from the Obesity & Diabetes Chapter!  How about that! A simple remoulade sauce that you can enjoy eating without any guilt! So, this fantastic shrimp remoulade salad you can whip up in seconds and you'll have a satisfying and impressive wonderful meal.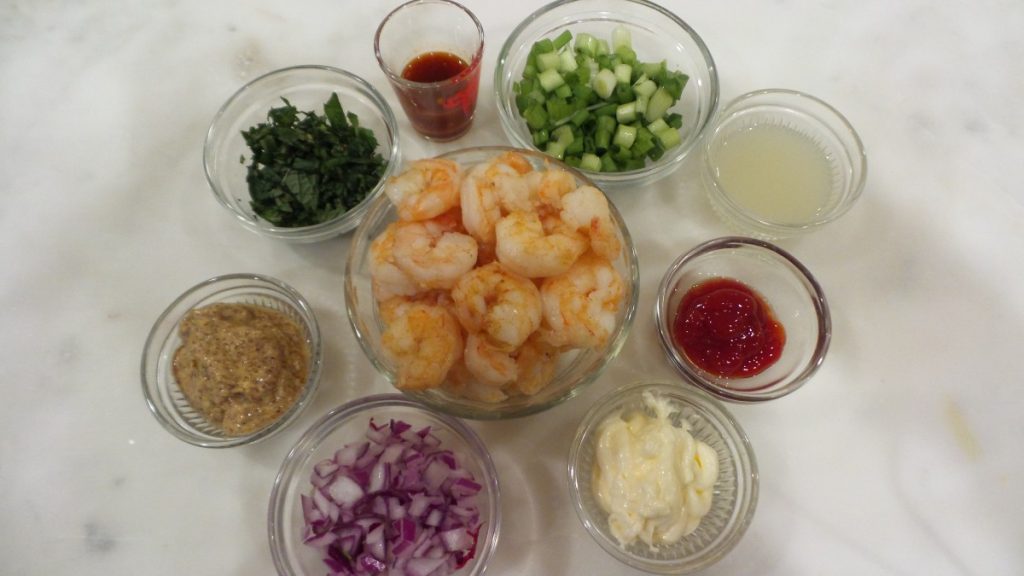 Show off your culinary skills with this dimple remoulade sauce recipe.  Serve on a bed of lettuce for a light lunch or fabulous first course. A healthy diabetic remoulade sauce that's simple and also gluten free!
Servings
8
(1/4 cup) servings
1

pound

medium peeled shrimp

seasoned and cooked

2

tablespoons

light mayonnaise

2

tablespoons

Creole or grainy mustard

1

tablespoon

ketchup

1

tablespoon

lemon juice

Dash hot sauce

1/4

cup

chopped green onions

2

tablespoons

finely chopped red onion

2

tablespoons

chopped fresh parsley
Place shrimp in bowl.  In another small bowl, mix together the remaining ingredients and toss with shrimp. Refrigerate until serving.
Per Serving:  Calories 74, Calories from fat (%) 22, Fat (g) 2, Saturated Fat (g) 0, Cholesterol (mg) 112, Sodium (mg) 243, Carbohydrate (g) 1, Dietary Fiber (g) 0, Sugars (g) 1, Protein (g) 12, Diabetic Exchanges: 2 very lean meat
You might be surprised to find this Louisiana Shrimp Remoulade recipe in this man's cookbook plus in the Obesity & Diabetes Chapter!  First, you won't find an easier remoulade sauce recipe so anyone can whip it up.  This simple remoulade sauce is made with everyday ingredients that you probably already have at home. This book is about simplicity and good food! You'll find a "D" to highlight diabetic recipes like this simple remoulade sauce recipe. It is easy to eat healthy with Holly Clegg's recipes!
You'll find lots of your favorite easy Cajun recipes and southern recipes throughout the book. Cook for your man or get the man in the kitchen for preventive health with these healthy easy recipes!
Don't Turn Up Your Nose To Entree Salads When You Taste This Shrimp Remoulade Salad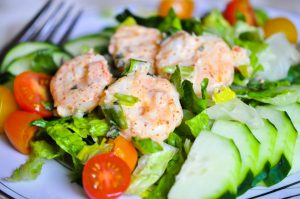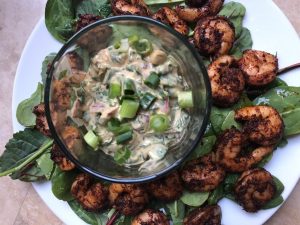 You can use the shrimp remoulade sauce as a dip and serve the shrimp around it. Or, you can serve in martini glasses for an appetizer. Holly's favorite way to enjoy this recipe is a Shrimp Remoulade salad. Add all your favorite fresh salad ingredients to enjoy this wonderful, delicious sauce for the ultimate Shrimp Remoulade Salad that will fill you up and not out! Super-satisfying and simple to create and include whatever fresh vegetables you like.
Get Creative With Shrimp Remoulade Recipe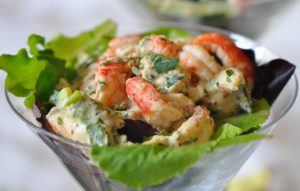 Try Holly's Easy Blackened Fish Recipe with 6 Ingredient Blackened Seasoning and serve it with Shrimp remoulade sauce. Talk about a great combination! Spicy blackened shrimp complements the light tasty remoulade sauce.
Also, who doesn't like Louisiana crawfish recipes? Holly created a Crawfish Remoulade. Perfect for leftover crawfish tails during crawfish season. An easy and fabulous pairing!
Get Fabulous Easily With Simple Remoulade Sauce In Unbreakable Martini Glasses
How fun is it to use martini glasses to serve a shrimp remoulade salad for fun appetizers!?! Keep it casual with unbreakable, good quality martini glasses. Fill the glasses with mixed greens and top with this Shrimp Remoulade recipe or turn into Crawfish Remoulade for the EASIEST but most impressive appetizer!
Of course, these are dishwasher safe.  Start collecting and make your gathering a smashing success!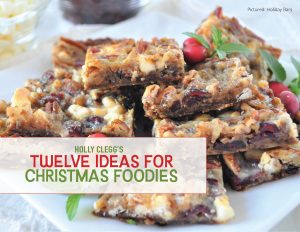 Team Holly is excited to share with you Holly Clegg's 12 Ideas for Christmas Foodies. From evening appetizers to teacher gifts, even – what to cook Christmas morning, these festive favorite recipes will be your go-to dishes that will get you through all of the parties and last-minute family get-togethers this December.  No need to stress with what to make this holiday season! Your Holiday Needs 12 Ideas For Christmas Foodies Downloadable Only $1.99!
Get All of Holly's Healthy Easy Cookbooks
The post Shrimp Remoulade Sauce – How To Make Healthy and Simple Remoulade Recipe appeared first on The Healthy Cooking Blog.
Shrimp Remoulade Sauce – How To Make Healthy and Simple Remoulade Recipe