Smoked Cauliflower Recipe

I'm going to show you how to smoke a whole cauliflower on the barbeque! This smoked cauliflower recipe is packed with flavour and tastes smokey and delicious! Using a delicious combination of seasonings in the rub, as well as using my Napoleon BBQ as a smoker, I smoked a whole cauliflower that tastes like a flavour-packed roast with a herb-caper sauce to finish it off perfectly.
This smoked cauliflower recipe is dairy-free and vegan, which is great to have during a family dinner, especially during the holidays! This recipe is perfect for any party, and makes a great plant-based Thanksgiving "roast". Plus, using the barbeque to cook leaves the kitchen more available for cooking other dishes during busy dinners.
Related Recipe: Fried Cauliflower Bites
Smoked Whole Cauliflower
I was inspired to make this BBQ cauliflower recipe after seeing people online making Thanksgiving roasts in their smokers and I knew I had to use my barbeque to make a plant-based alternative so people can have a veggie alternative that packs the same punch of flavour. My Napoleon Barbecue is reliable and I knew it had the power to infuse this cauliflower with flavour and cook it to perfection while I can walk away and focus on preparing other things inside the kitchen.
This is a perfect centrepiece and conversation starter, this recipe is unique, well balanced and pairs perfectly with other dishes like mashed potatoes, brussels sprouts. And if you don't have access to a barbeque, you can also make this in the oven, but it won't live up to its full potential.
Related Post: Vegan BBQ Recipes
INGREDIENTS FOR SMOKED CAULIFLOWER (VEGAN):
KITCHEN EQUIPMENT: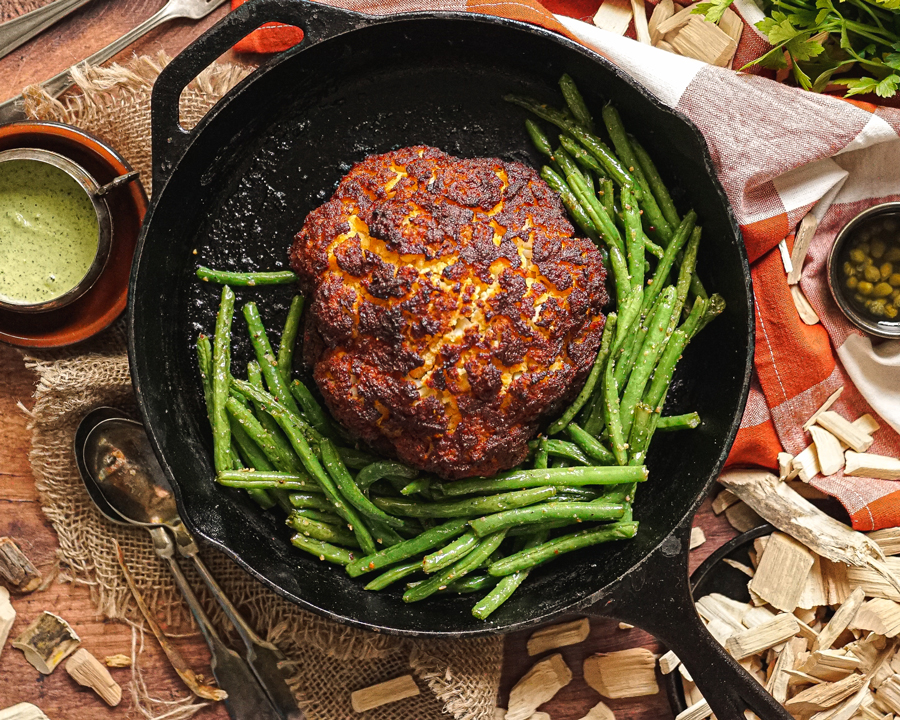 Smoked Cauliflower Roast
I'm going to show you how to smoke a whole cauliflower on the barbecue! This smoked cauliflower recipe is packed with flavour and tastes delicious!
Instructions
Soak your wood chips in water or apple juice for 45 minutes to 1 hour.
Place your wood chips into a smoker box, or wrap them in tin foil and poke some holes into the foil.
Preheat your BBQ to 350F for indirect grilling with wood chips placed into your BBQ above your heat source.
Boil the cauliflower in vegetable broth for 5 minutes, flipping halfway through.
Remove it from the broth and place it on a wire cooling rack for about 10 minutes to drip dry.
Meanwhile, in a small bowl mix together olive oil, soy sauce, maple syrup, tomato paste, dijon mustard, and seasonings: paprika, cumin, garlic powder, onion powder, mushrooms seasoning and black pepper.
Place cauliflower into a cast iron pan and generously rub with the marinade/ sauce we just made.
Place cast iron pan with the cauliflower on the grill away from the main heat source and smoke the cauliflower for 45-75 minutes or until fork-tender. Don't open the lid too much or else you will disrupt the smoking process.
Serve drizzled with herbed caper sauce and garnished with fresh herbs and capers (optional).
Oven-roasting instead of a BBQ? Bake cauliflower covered in foil in your preheated oven at 425F for 45-60 minutes or until fork-tender. You won't get that smokiness that a BBQ provides, but its still tasty!
Notes
What is indirect heat? For indirect heating on my Napoleon Rogue 425 XT, I use only the two outside burners, leaving the one in the middle off. I turn them down to medium or medium-low and allow the grill to preheat. Then, when the grill is warm, place the food in the middle of the grill, over the burner that is not on.
Hey I'm Candice aka The Edgy Veg
– I veganize popular food recipes for vegans, plant-based diets, eco-conscious eaters & people who are trying to eat more plants over… y'know animals or their by-products. I hope you enjoy this tasty vegan recipe!
---
Looking For More Vegan Barbecue Recipes?
Made this recipe? Let me know what you think by leaving a ★★★★★ star rating & comment below. It truly helps me & I really appreciate any support! Feel free to share your food photos on social and tag me @edgyveg so I don't miss it! 
Share My Recipe on Pinterest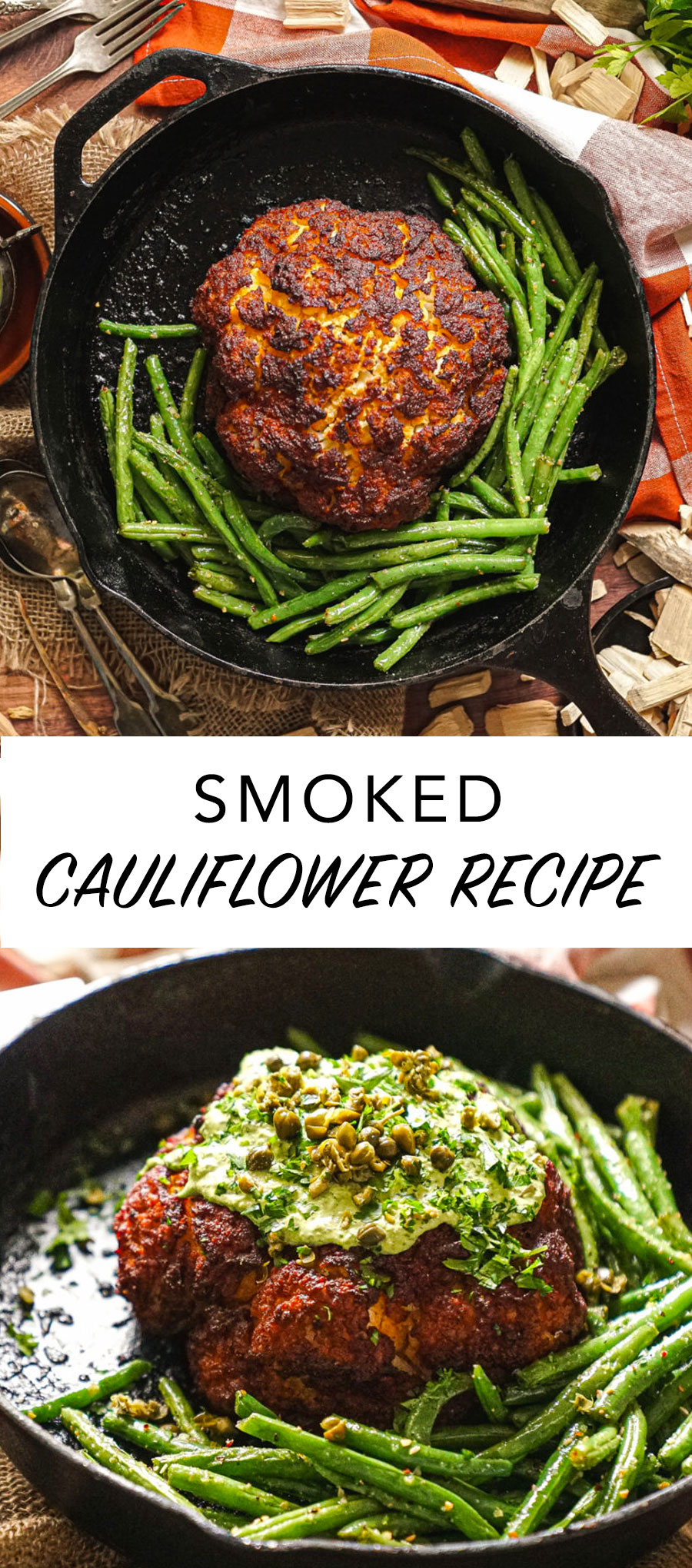 The post Smoked Cauliflower Recipe appeared first on The Edgy Veg.
Smoked Cauliflower Recipe