Southwest Airlines CEO Gary Kelly to step down
Southwest Airlines chief Gary Kelly will step down as CEO early next year.
Kelly, 66, will be succeeded by Bob Jordan, currently Southwest's executive vice president of corporate services.
Want more airline-specific news? Sign up for TPG's free new biweekly Aviation newsletter!
"Bob and I have worked side by side for more than 30 years," Kelly said in a Wednesday statement announcing the transition.
"He is a gifted and experienced executive and well-prepared to take on this important role," Kelly continued. "Working closely with President Tom Nealon and Chief Operating Officer Mike Van de Ven, we will begin developing transition plans in the coming weeks and months. These three top-notch Leaders make for a powerful team to lead us forward."
Jordan, 60, first joined Southwest in 1988.
Kelly began his career at Southwest as a financial controller in 1986, and was appointed chief financial officer three years later, eventually working his way up to CEO in 2004. Kelly replaced James Parker, who succeeded Herb Kelleher, Southwest's legendary co-founder as CEO in 2001.
Under Kelly, Southwest saw transformation and growth, acquiring former rival AirTran Airways, adding dozens of cities to an increasingly wide and dense network map, and flying internationally for the first time in its 50-year history, which the carrier celebrated last week.
In more recent years, Kelly also led the airline through some of the biggest crises in the history of commercial aviation.
The nearly two-year Boeing 737 Max grounding, from early-2019 through late-2020, hit Southwest harder than any other airline.
The carrier, which operates a fleet that consists entirely of various variations of Boeing's 737, had 41 Max aircraft unable to fly during the grounding, out of a fleet of 718 aircraft as of the end of 2020. Southwest is the largest Max customer, and was forced to strike scores of flights from its schedule as it worked to adapt around the unexpectedly lengthy grounding.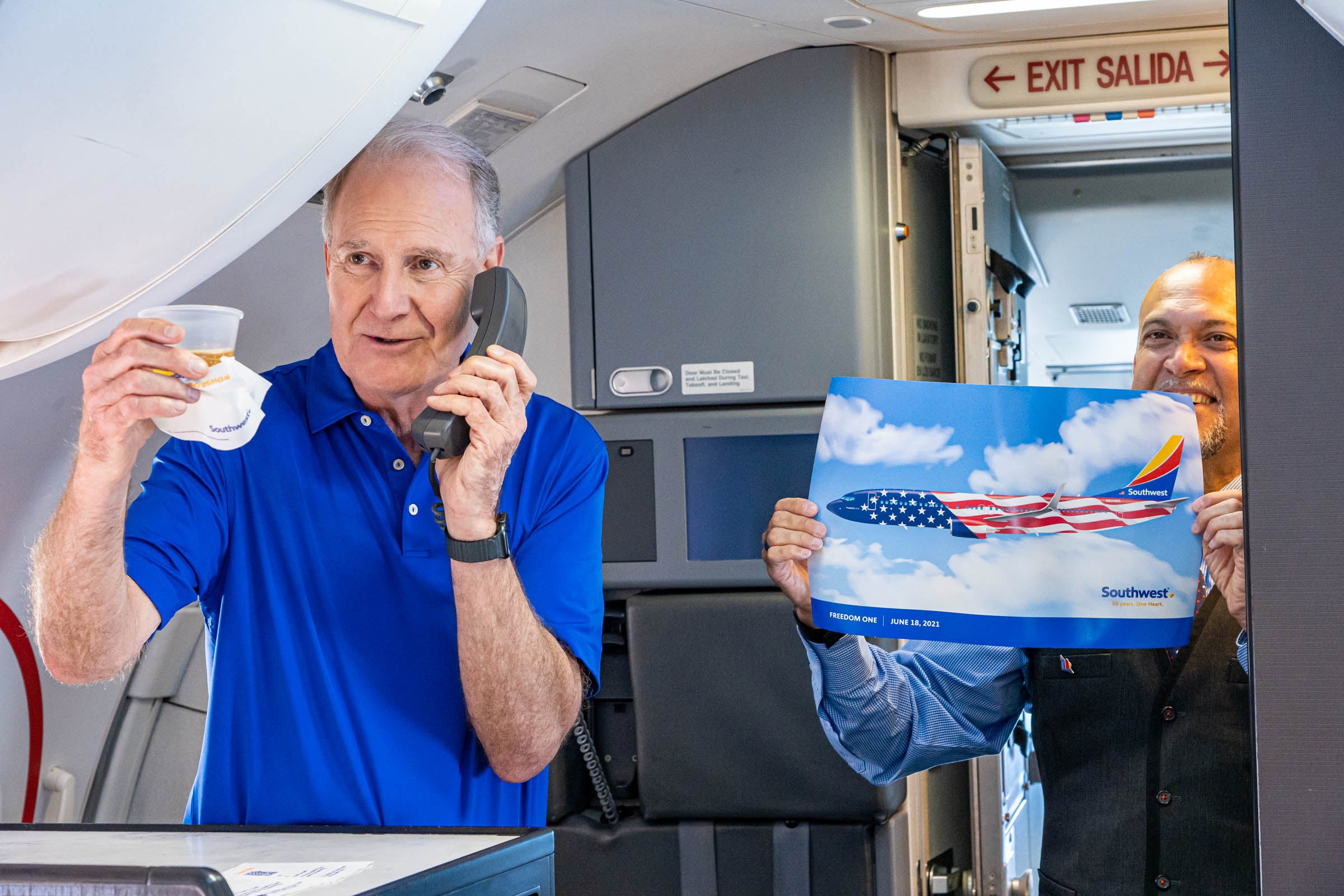 Kelly also stewarded the airline through the COVID-19 crisis, helping the airline shore up its liquidity and overall finances, avoid furloughing employees, and position itself to take advantage the current resurgence of travel demand, even as air travel came to a near stand-still across the globe earlier in 2020.
"I am most proud, especially after a pandemic, that we have never had a layoff, a furlough," Kelly said at an employee event celebrating the airline's 50th anniversary in Houston last week. "No other airline can say that."
"I'm grateful that I joined Southwest in 1986 when I had the chance. I'm grateful that I'm still a part of this great cause of leading Southwest Airlines. I'm grateful that the worst is behind us," Kelly added at the event. "And of course I am very grateful for my Southwest family."
When asked what he thinks the airline will look like in the next 50 years — and in the post-pandemic era — Kelly grew nostalgic in comments to TPG (TPG was not aware of the planned retirement announcement).
"I wish I was going to be around to see what it looks like, because it'll be different. But as long as we continue to offer great service at a low price and continue to innovate, we'll be good."
More: Southwest unveils new 'freedom' livery, gives workers 50,000 points for 50th anniversary
Among the challenges in the coming years and decades, which Kelly's successors will manage, he sees a few areas of focus, including air pollution, use of new technologies, and, likely, an eventual move away from the 737 platform as the next generation of aircraft are developed.
"Air travel's important. I would say we'll still be laser-focused on air travel," he said. "I think our DNA is to try and be as productive and efficient as we can. I think we'll be a world leader in air travel."
Featured photo by David Slotnick/The Points Guy
Southwest Airlines CEO Gary Kelly to step down