Spring glow-up in my Texas garden
April 20, 2022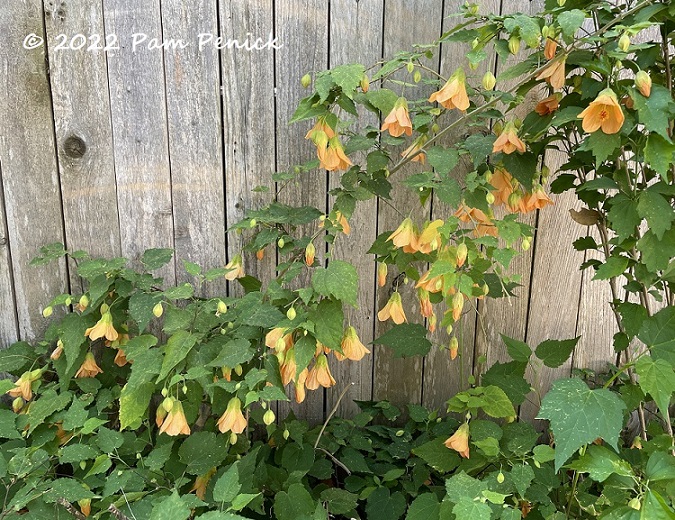 Ah, April. It's a beautiful month for Austin gardens — if you can ignore the live oak pollen catkins hanging off every surface and piling up underfoot. Which I can (just barely). Let's take a spin through the garden to see what's blooming this month. These photos were taken during the past couple of weeks up to today, so not everything is still blooming right now. But most of it is!
Above is 'Bartley Schwarz' abutilon, aka flowering maple. I love, love, love the dangling apricot flowers of 'Bartley Schwarz', which really wants to sprawl. Ideally it would be planted in a shady raised bed where you can look up at it from below, but mine is growing along a fence. I just let it lean on surrounding shrubs and an empty decorative pot to get those flowers up where I can enjoy them. Did this plant survive the 2021 Snowpocalypse and this winter's 20-degree temps? Yes, it sure did.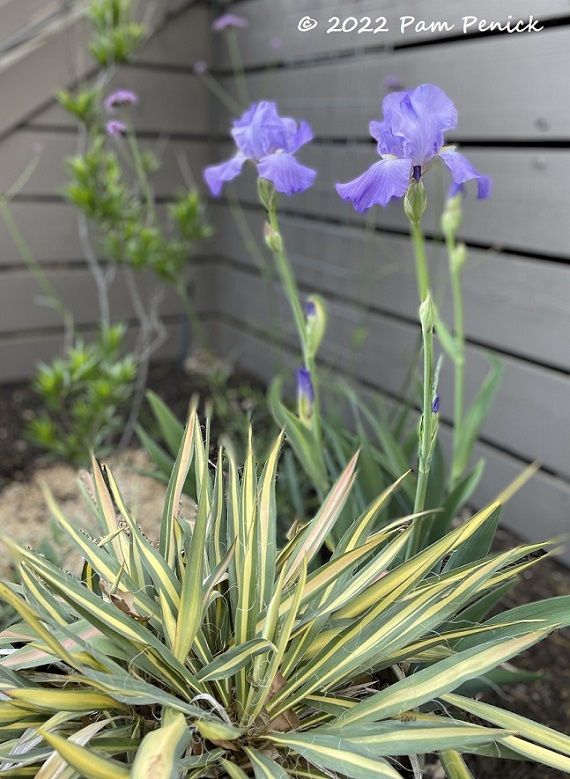 Lavender Shoshana's iris is flowering on tall stems behind a trio of potted 'Color Guard' yuccas.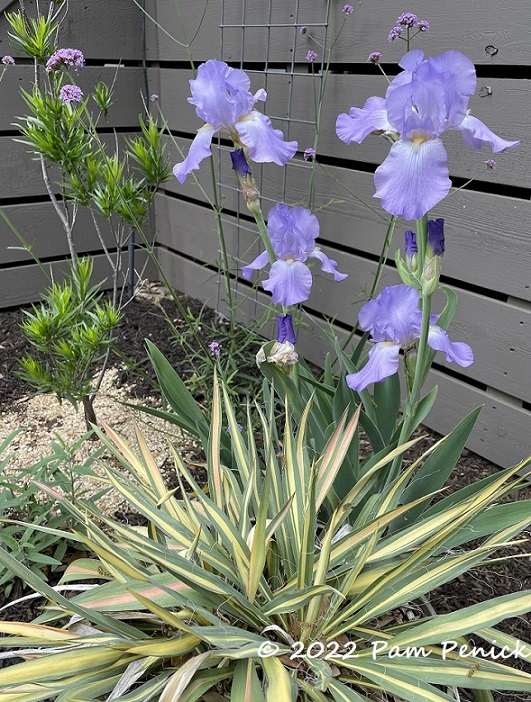 Tall verbena (Verbena bonariensis) has popped up in that bed too, adding more purple. I've also recently planted a 'Desert Diva' desert willow here, which has burgundy flowers. My plan is for it to help shade our heat-blasted deck.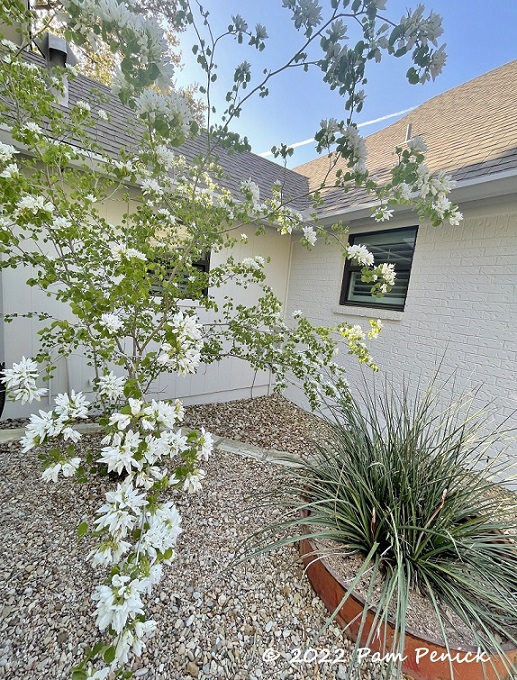 Another native ornamental tree, Anacacho orchid tree (Bauhinia lunarioides) is in beautiful full bloom in the hot and sunny gravel garden near the front door. That's a red yucca (Hesperaloe parviflora) in the red tractor-rim planter beside it. The red yucca is trying to flower, but the deer will soon find those tasty bloom spikes and devour them.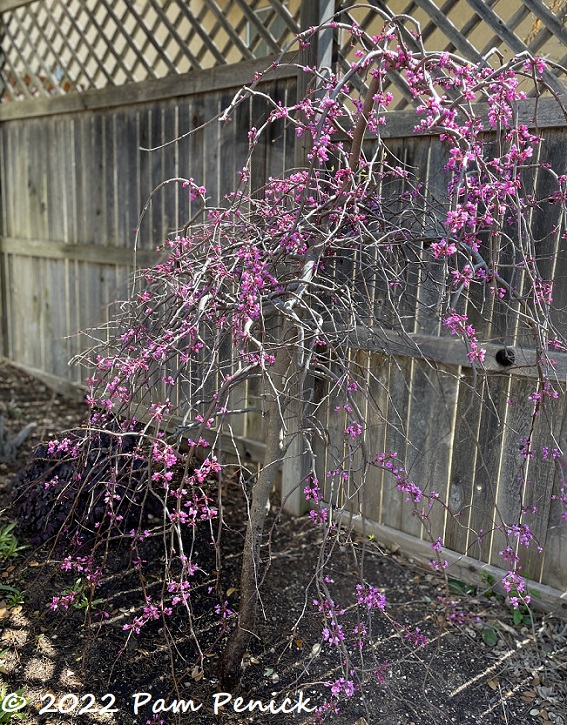 The weeping Texas redbud (Cercis canadensis var. texensis 'Traveller') looked like this about two weeks ago, but it's all gone to green leaves now. Sure was pretty while it lasted though!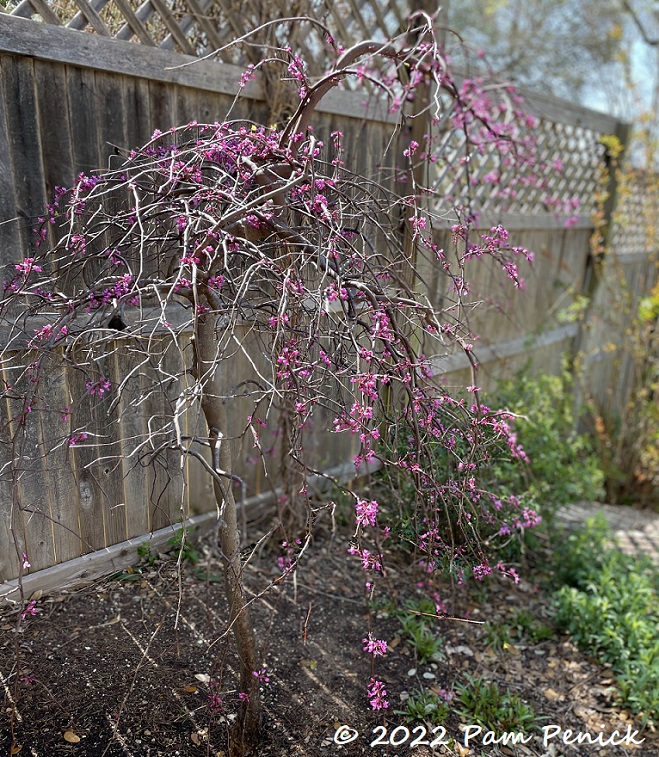 Giving Asian garden vibes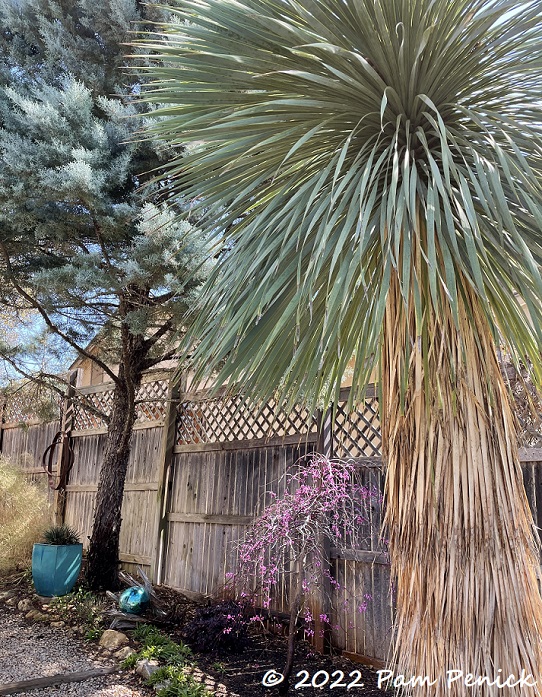 Here it is peeking out behind the massive 'Sapphire Skies' Yucca rostrata. Behind it is a pruned-up 'Blue Ice' Arizona cypress (Cupressus arizonica var. glabra). Almost invisible (for now) in this blue and pink color scheme is a burgundy loropetalum to the left of the redbud. The Snowpocalypse maimed the 6-foot loropetalum that grew in that spot, so I recently planted a new one — 'Cerise Charm'. I look forward to seeing those richly colored leaves filling in the hole.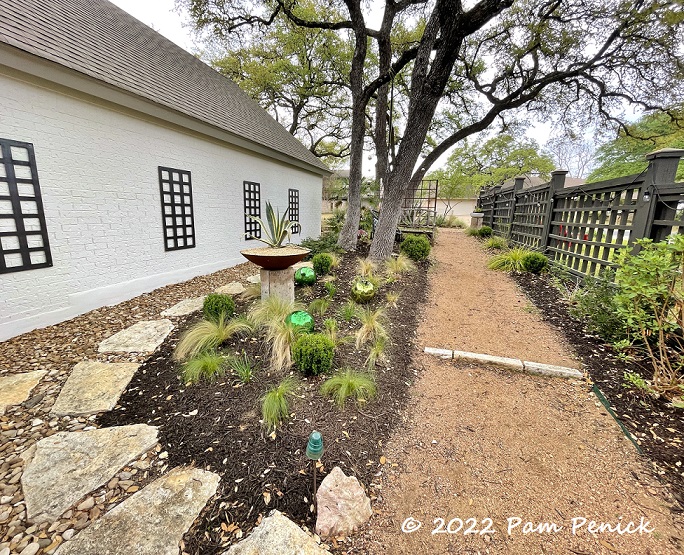 In the side garden, new steel trellises hang in place of the old acrylic-mirrored ones, which began falling apart last winter. The stylized meadow of Mexican feathergrass and 'Baby Gem' boxwood balls is starting to fill in nicely.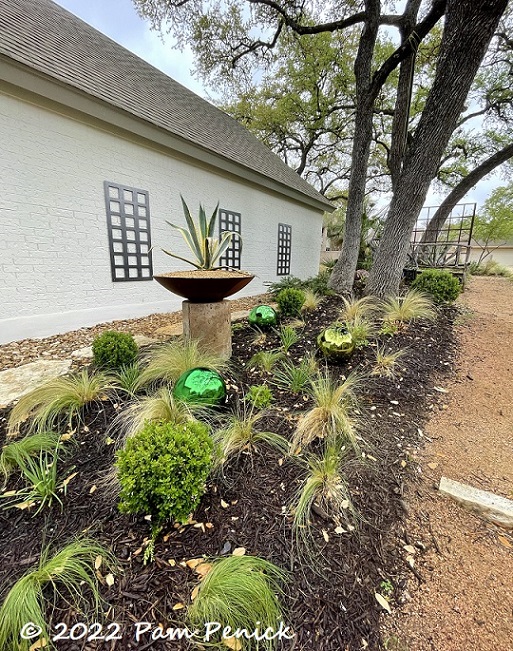 There's also society garlic and coreopsis in there, but no blooms yet. In the steel planter, an 'Opal' variegated American agave holds court.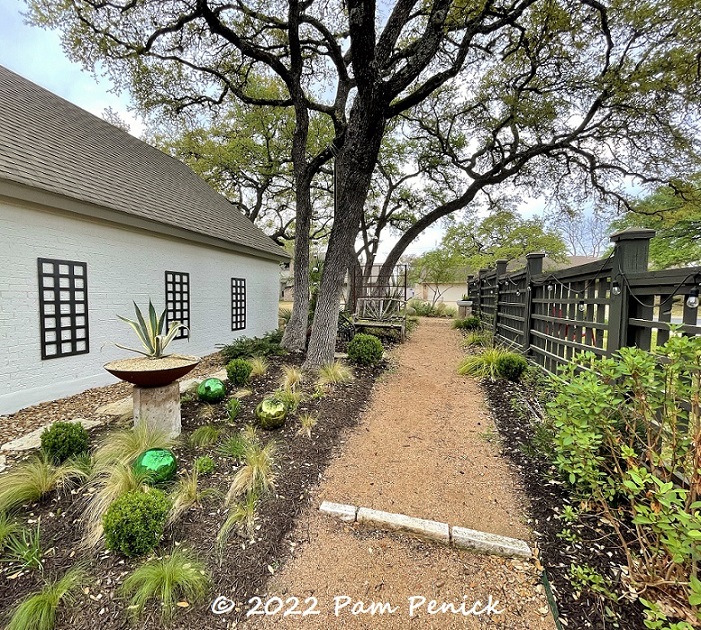 Golden thryallis (Galphimia gracilis) has recovered from the winter freezes and will be blooming soon along the fence.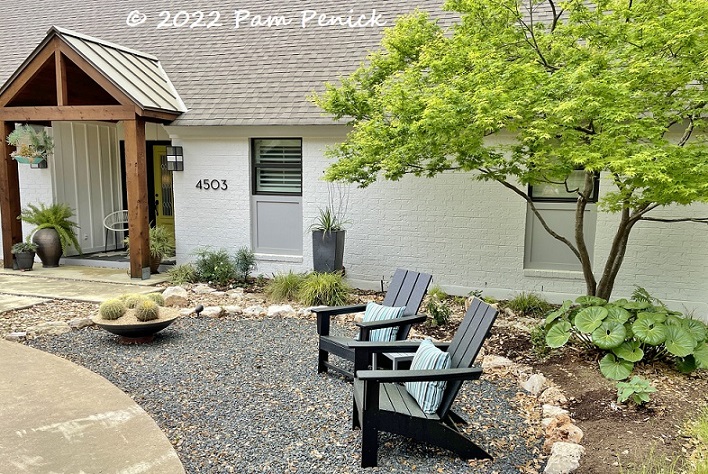 Out front, I've been enjoying the openness of the new front patio — just two Polywood Adirondacks on a semicircle of Texas Black gravel, accented with a Corten planter of golden barrel cactus. I'm slowly filling the planting area behind the rock border with small perennials. But the established trio of giant ligularia (Farfugium japonicum 'Gigantea') is looking lush, as is the newly leafed out Japanese maple (Acer palmatum).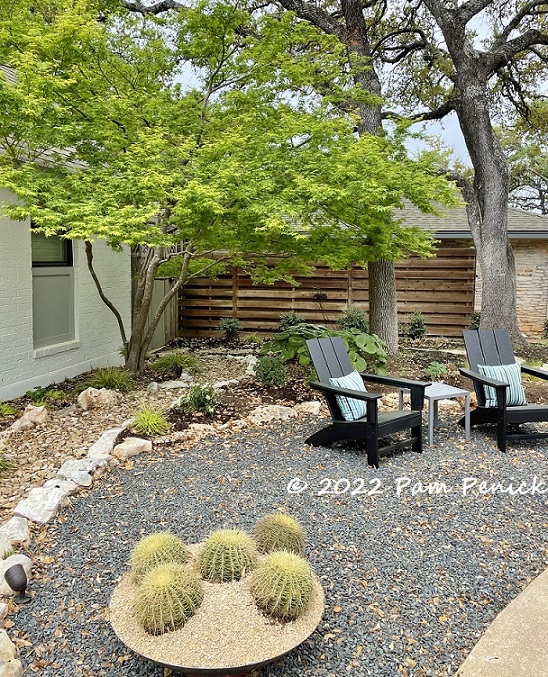 That Japanese maple is now big enough to shade this little patio from the afternoon sun.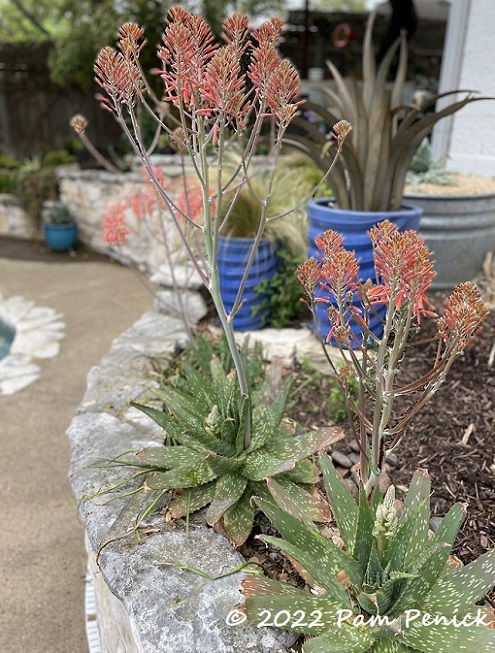 Along the back of the house, soap aloes (Aloe maculata) are blooming like crazy, attracting hummingbirds that spar over access to the candelabra-like flowers.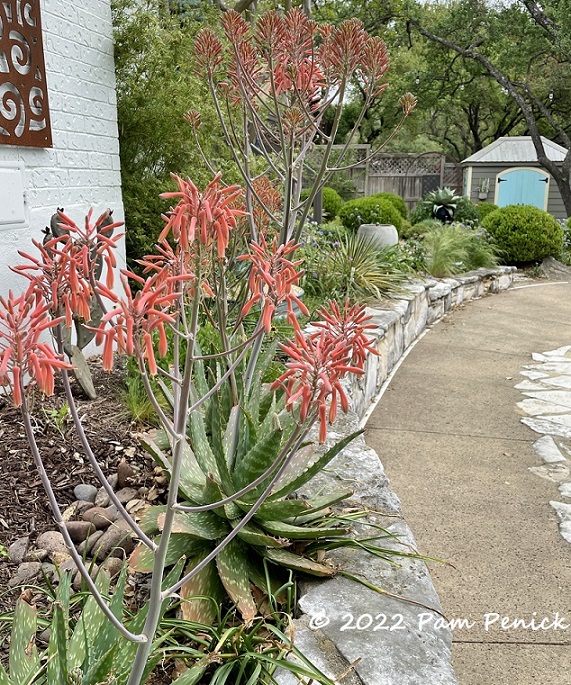 Here they are from the opposite direction.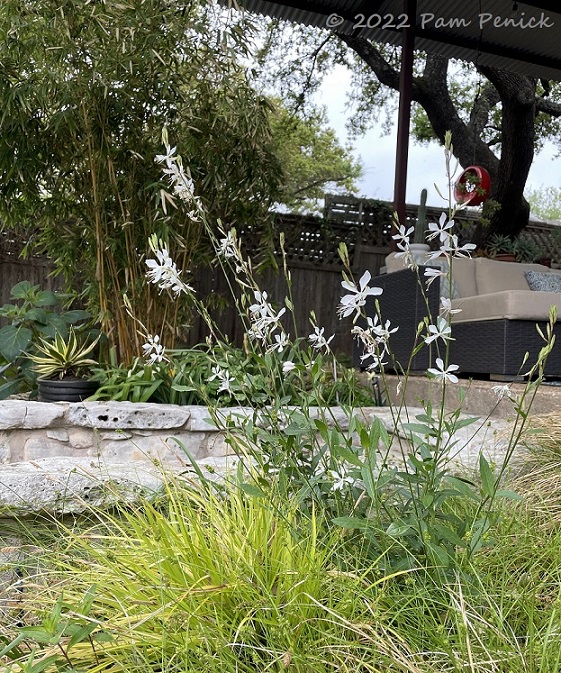 A new gaura (Gaura lindheimeri) is flowering behind 'Everillo' sedge (Carex oshimensis). In the background, 'Quadricolor' agave and 'Alphonse Karr' bamboo add more yellow to echo the sedge.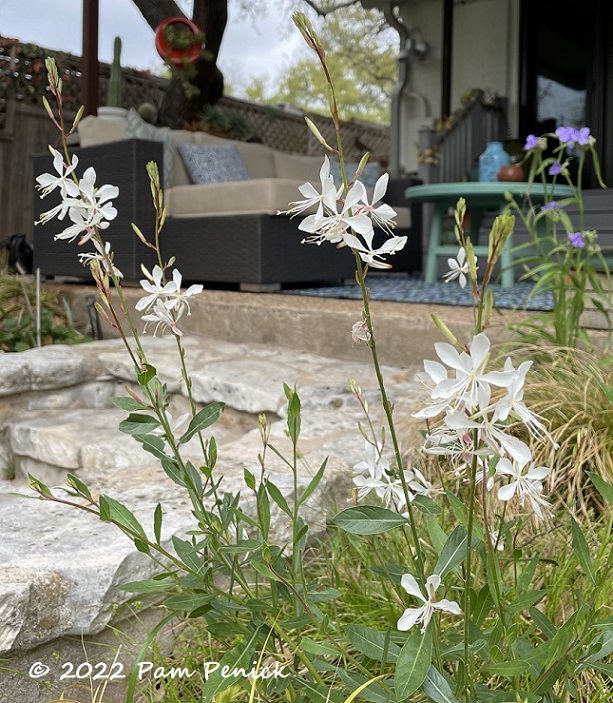 Gaura closeup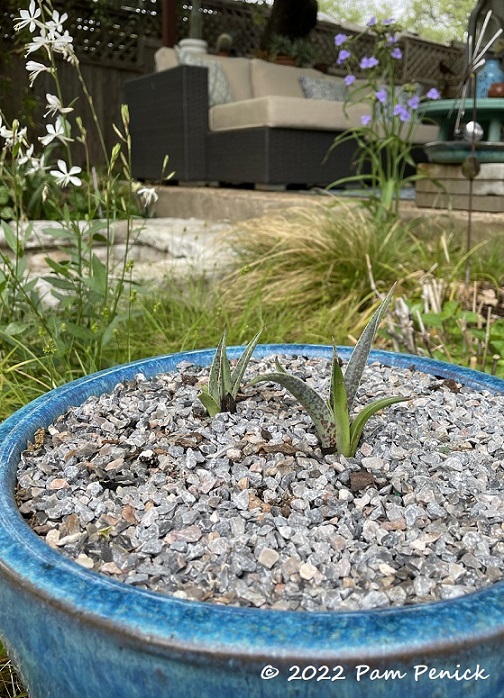 After clearing the dead leaves of a winter-killed 'Moonglow' mangave from this pot, I was delighted to find several small pups coming up from the roots. I've gradually pulled out the runts and am letting the two biggest ones duke it out. Eventually I'll leave just the biggest and hopefully have another full-size plant again by midsummer. I'm glad I wasn't too hasty in buying a new plant for this pot.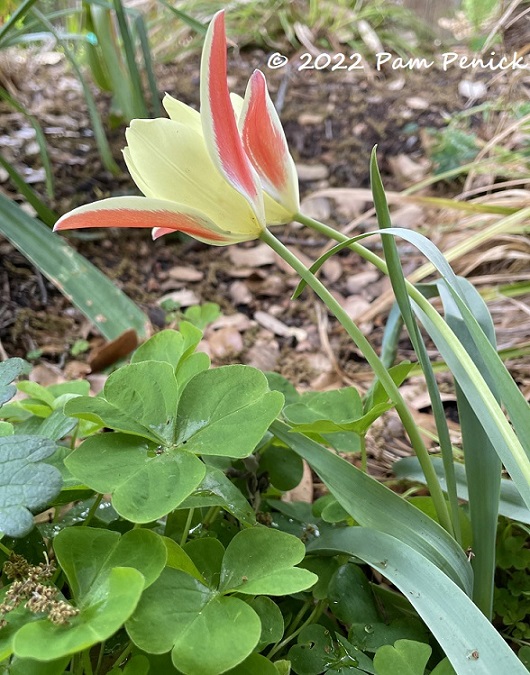 When Jenny of Rock Rose moved away, she gifted me some species tulip bulbs, and now they're blooming — a reminder of Jenny and many pleasant hours spent in her own springtime garden. This is Tulipa clusiana 'Tinka', similar to Tulipa clusiana 'Cynthia', which I've grown before but had faded away over the years. I'm happy to have new bulbs to enjoy.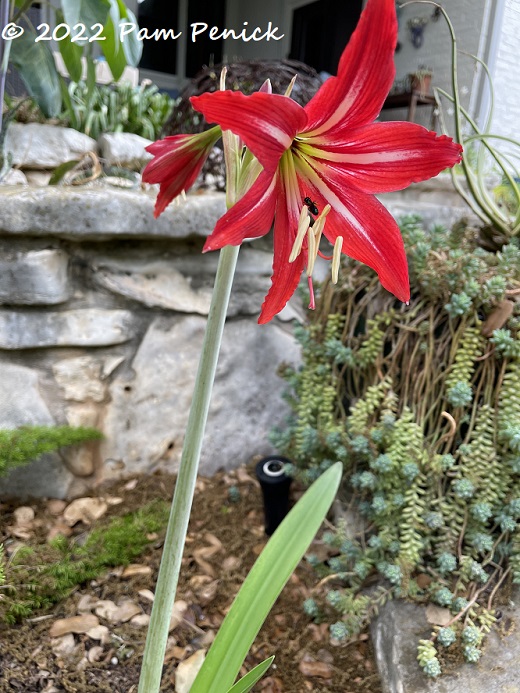 Another gifted bulb, St. Joseph's Lily hardy amaryllis (Hippeastrum x johnsonii), is blooming for the first time. Austin gardener and found-object artist Tom Ellison gave it to me during a visit last year.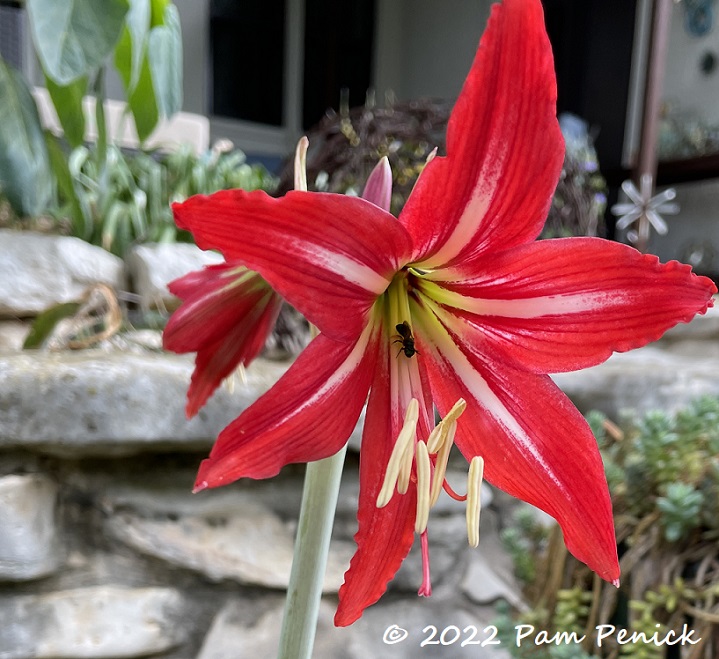 Its big, red trumpet-shaped flowers were attracting pollinators this afternoon.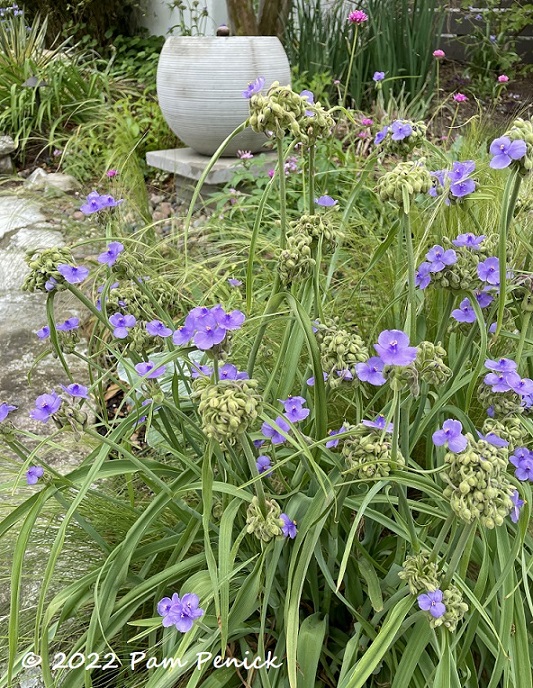 Spiderwort (Tradescantia occidentalis) is winding down after a spectacular early spring show. This year I noticed some variation in flower color, even though I planted just purple ones initially — like these.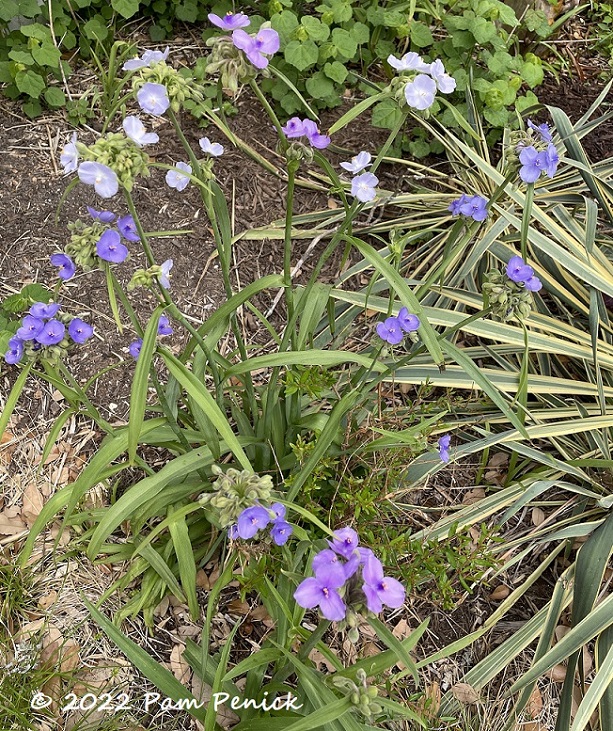 After years of natural hybridization (I guess?) I'm now seeing not only purple flowers but sky blue and icy pale blue, plus dark pink.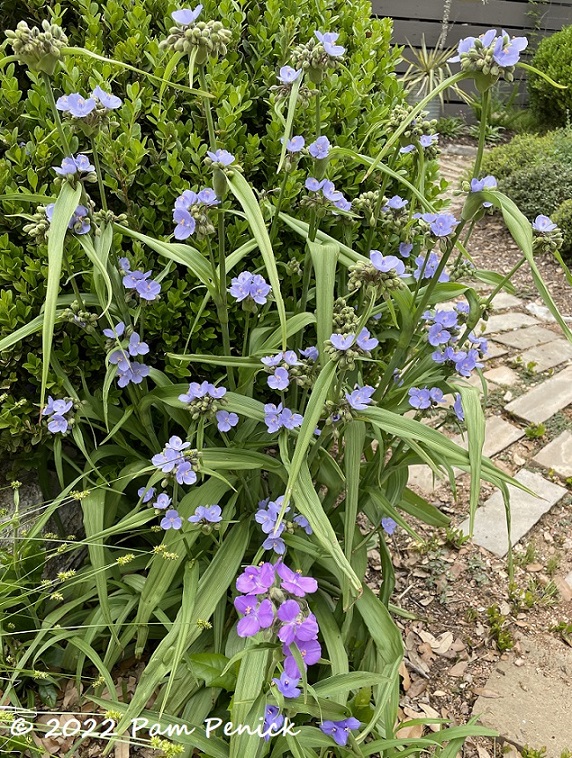 Here's a light blue and a purply pink. Yes, spiderwort does self-sow all over my garden, but I love it and so do the bees. Just don't be afraid to pull it up where you don't want it, and whack some plants back when it starts to go to seed to prevent having tons of seedlings next year. But I always let some go to seed.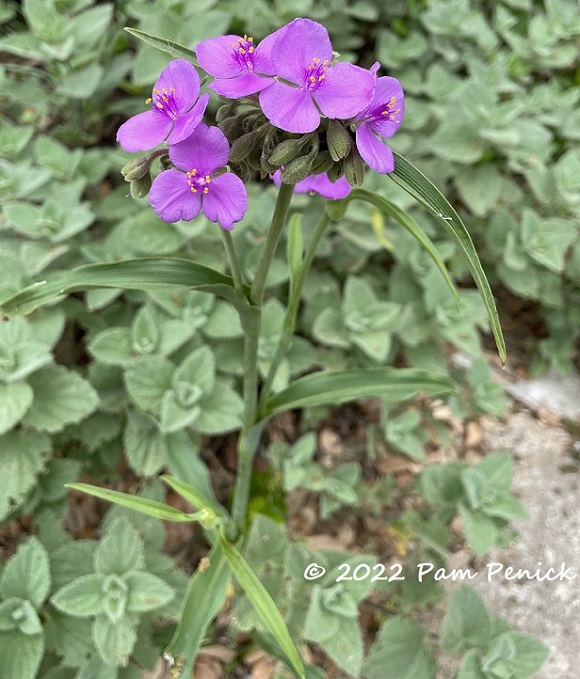 And now I'm rewarded with a colorful assortment of spiderwort flowers.
I welcome your comments. Please scroll to the end of this post to leave one. If you're reading in an email, click here to visit Digging and find the comment box at the end of each post. And hey, did someone forward this email to you, and you want to subscribe? Click here to get Digging delivered directly to your inbox!
__________________________
Digging Deeper
Join the mailing list for Garden Spark! Hungry to learn about garden design from the experts? I'm hosting a series of talks by inspiring designers, landscape architects, and authors a few times a year in Austin. These are limited-attendance events that sell out quickly, so join the Garden Spark email list to be notified in advance. Simply click this link and ask to be added. The 6th season kicks off in fall 2022.
All material © 2022 by Pam Penick for Digging. Unauthorized reproduction prohibited.
The post Spring glow-up in my Texas garden appeared first on Digging.
Spring glow-up in my Texas garden