Spring Quinoa with Asparagus, Peas & Pickled Onion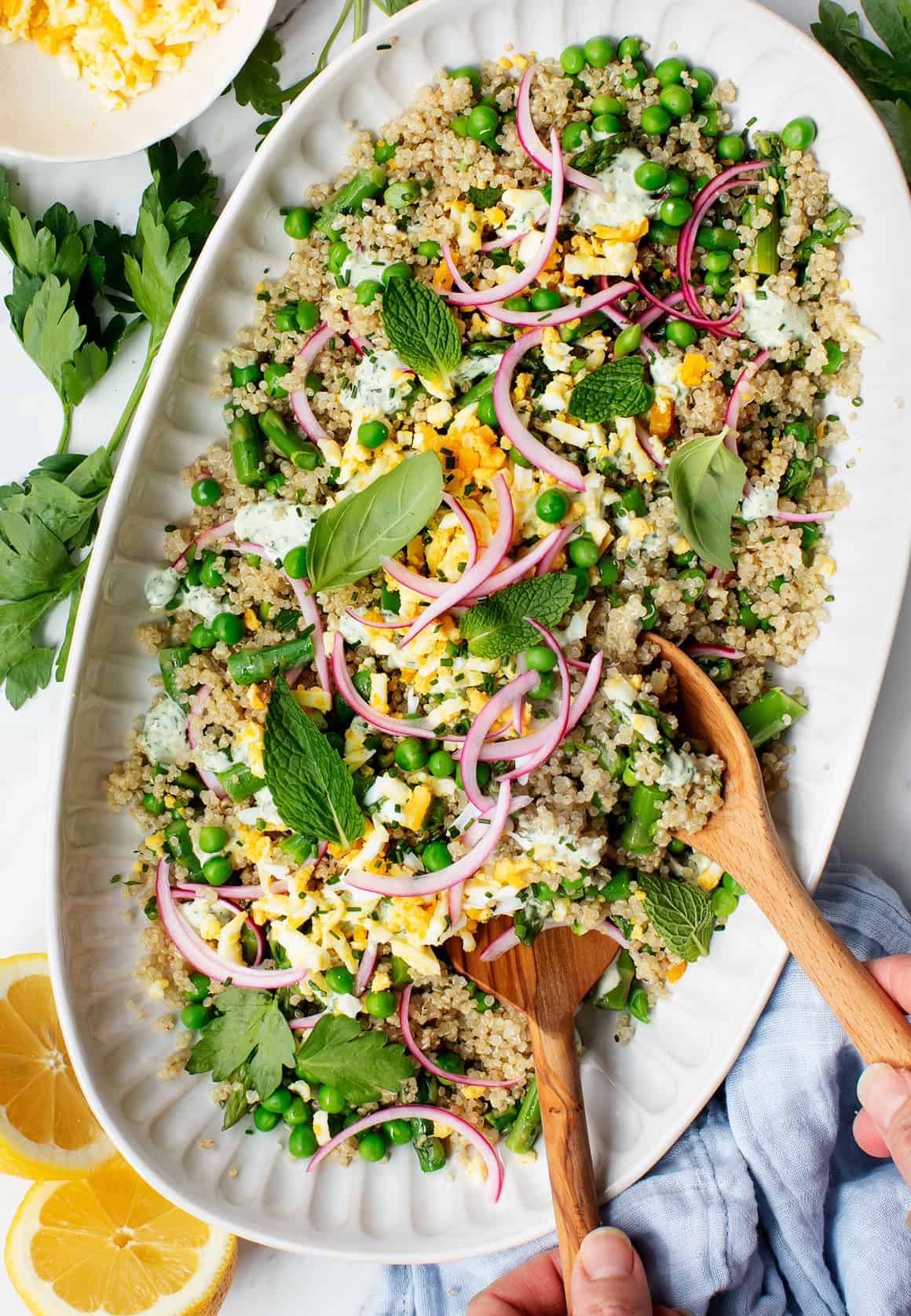 This post is in partnership with Lundberg Family Farms.
When I want to make a simple, yet satisfying, dinner or lunch, quinoa is one of the first ingredients I turn to. I always have a bag of Lundberg's organic quinoa on hand – it cooks quickly, it's rich in nutrients like fiber and protein, and it's super versatile, too. At this point, I've used it in smoky veggie burgers, hearty stews, and salads galore. All that, and I'm still finding new ways to use it!
This spring quinoa dish was one of my more recent experiments, and we liked it so much that I knew I had to share the recipe. I first made it one night when I had a bunch of asparagus and various fresh herbs in the fridge. I didn't have an exact plan for how to use them, but I cooked a batch of my trusty quinoa and ended up with this. Topped with a creamy herbed dressing and poppy pickled onions, it's exactly the sort of fresh fare I crave in the spring. But it's also plenty hearty. There's the quinoa, of course…and a fun, social media-inspired topping: grated hard-boiled egg!
If you're skeptical, I get it. I was too! I watched people grate hard-boiled eggs on TikTok and Instagram for months before I finally tried it for myself. But I have to say, I'm into it! In this salad, I love how the delicate crumbles of egg mingle with the other ingredients without overwhelming them. They're sort of like a sprinkle of feta cheese (which, by the way, would be great here too) – they add richness and a boost of protein, but they still let the spring produce shine. Trust me, it's worth a try!
Spring Quinoa Recipe Ingredients
Want to go for it? Here's what you'll need to make this recipe:
Quinoa, of course! I'm a huge fun of Lundberg Family Farm's Antique White Quinoa because I know it's produced sustainably. It's certified organic and non-GMO, but that's just the start! Lundberg works to build soil health through practices like crop rotation on its farms. It also conserves water and maintains habitat for hundreds of species. Plus, in its on-site nursery, Lundberg studies, selects, and crosses seed to produce the best-tasting grains it can. How cool is that?
Fresh spring veggies – I use blanched asparagus and peas.
Fresh herbs – You'll toss some into the salad and blend more into the dressing. Almost any soft herb works well here. Use a mix of parsley, cilantro, dill, tarragon, mint, chives, and/or basil.
Lemon juice and zest – For bright, fresh flavor.
Extra-virgin olive oil – For moisture and richness.
Pickled red onions – They add sweet, tangy flavor to this hearty quinoa salad.
The creamy green goddess dressing – It's a simple blend of Greek yogurt, tahini, more lemon juice, garlic, and herbs.
A hard-boiled egg – For grating on top.
And salt and pepper – To make all the flavors pop!
Find the complete recipe with measurements below.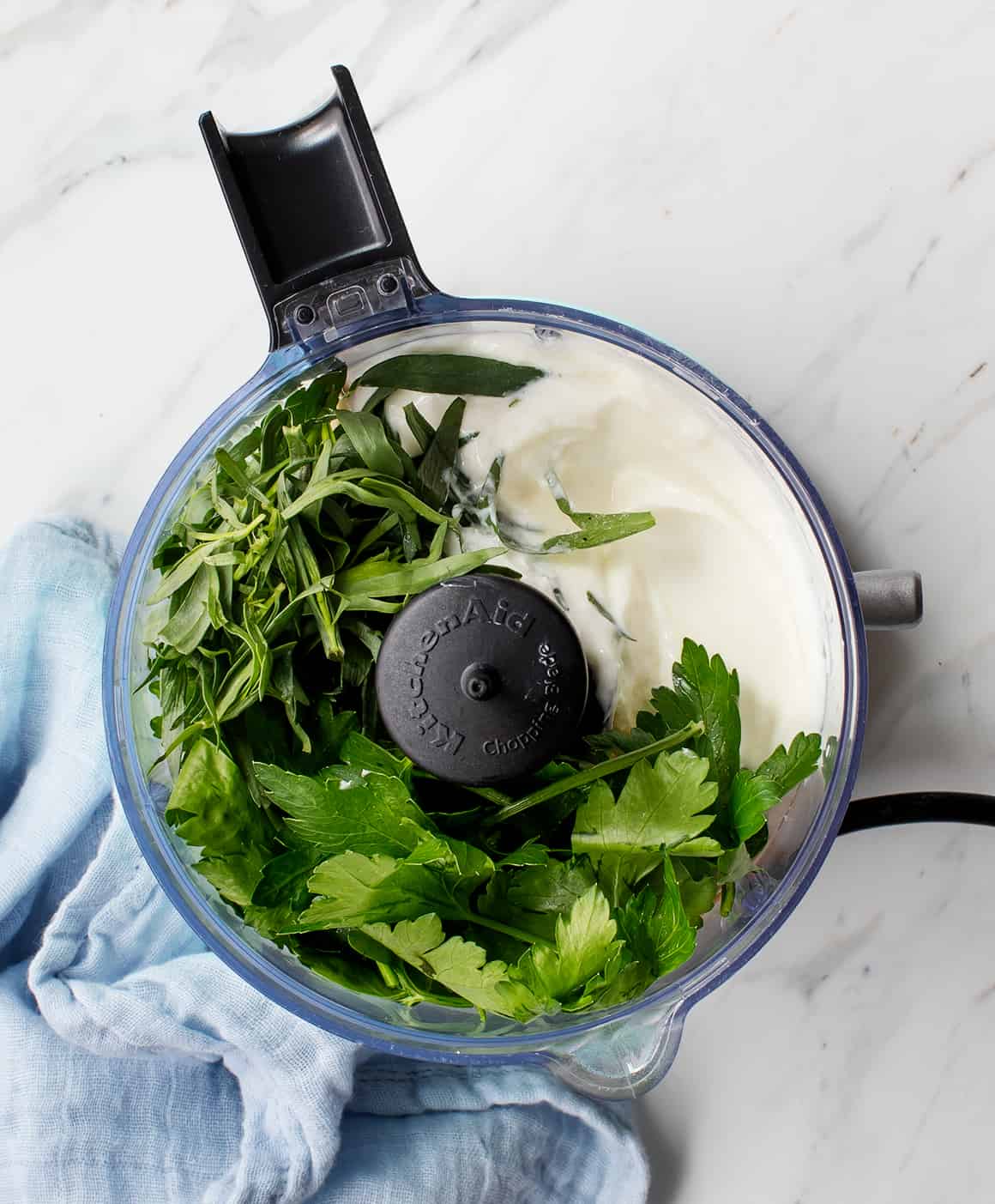 While the quinoa cooks, blitz together the dressing in a food processor.
So creamy!
Then, mix together the salad. Place the quinoa, spring veggies, pickled onions, and lemon zest in a large bowl, and toss to combine.
Add the olive oil, lemon juice, salt, and pepper, and toss again.
Finally, transfer the salad to a serving platter and top it with drizzles of the dressing, more fresh herbs, and the grated hard-boiled egg. Season to taste, and dig in!
Variations
I love this recipe as written, but, of course, you can feel free to change it up! Like most salads, it's fairly adaptable. Here are a few variations that I think would be great:
Add feta cheese. Grated egg not your thing? Sprinkle feta on instead. Torn fresh mozzarella would be yummy here too.
Swap the dressing. My green tahini or avocado dressing would be a perfect sub for the creamy green goddess.
Toss in extra veggies. Tender lettuces, blanched snap peas, or shaved radishes would be delicious!
Throw in a handful of chickpeas. Roasted or regular!
Tri-Color Quinoa. Lundberg also carries a Tri-Color Quinoa blend (which is a blend of white, red and black quinoa). It's slightly more savory and nutty than the Antique White, but would still work great in this salad!
Let me know what variations you try!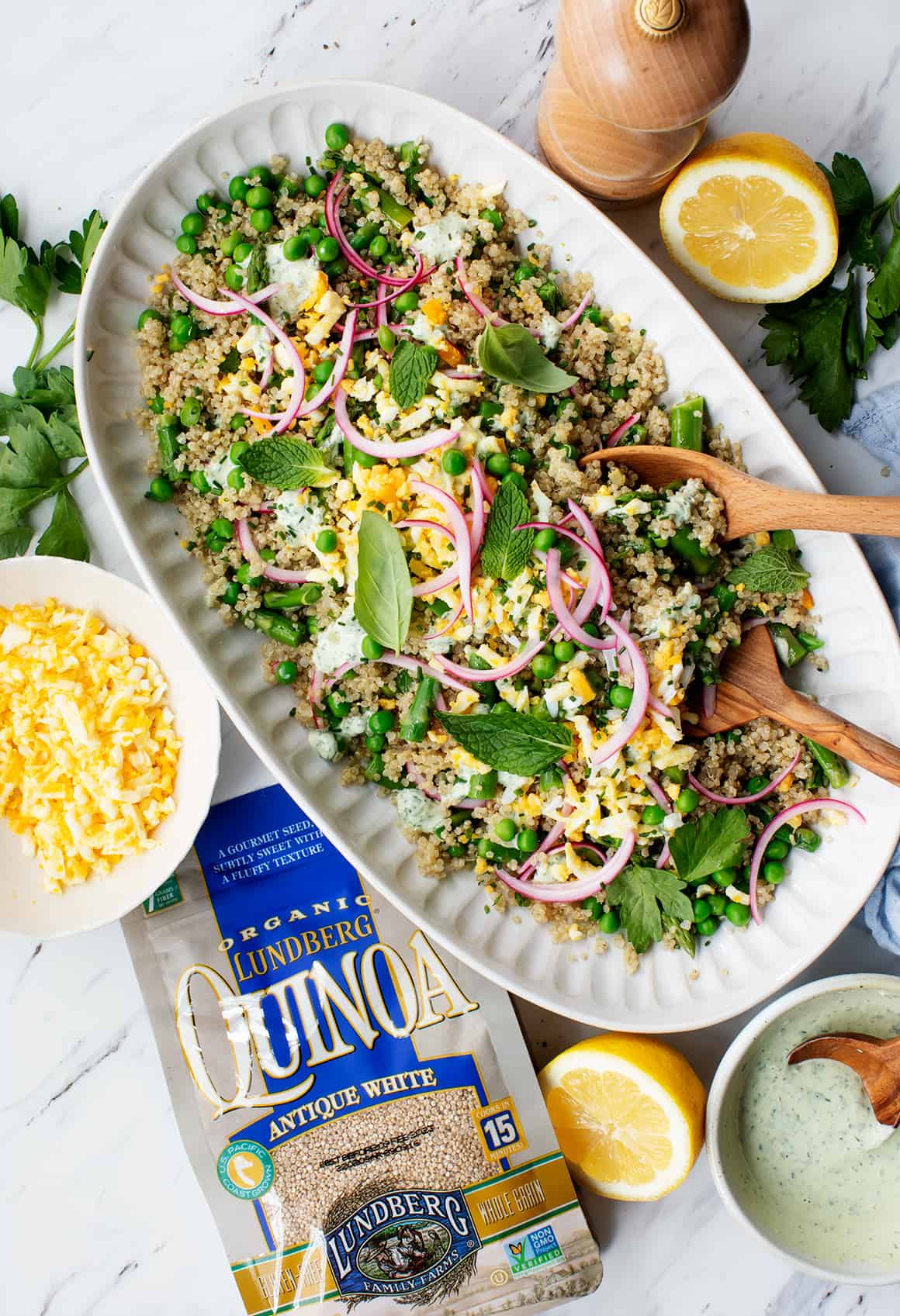 Serving Suggestions
This spring quinoa is a lovely light dinner or meal prep lunch. It keeps well in the fridge for up to 3 days. If you make it ahead, store the creamy green goddess dressing separately. The dish is best when you drizzle it on right before you eat.
Enjoy the quinoa on its own, or pair it with a side dish for a larger meal. I love to serve it with pita and hummus, labneh, or white bean dip or a veggie side dish like roasted carrots or steamed artichokes. Yum!
More Favorite Spring Recipes
If you love this spring quinoa, try one of these fresh spring recipes next:
Click here to browse more recipes!
Spring Quinoa with Asparagus, Peas & Pickled Onion