Steve Bannon Indicted On Two Counts Of Contempt of Congress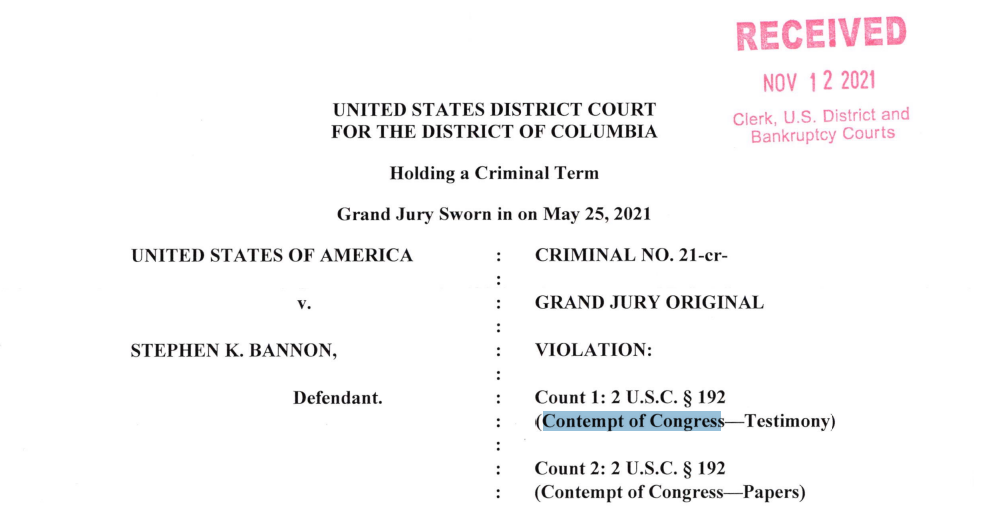 Steve Bannon has been indicted on two counts of contempt of Congress by a grand jury as he continues to fight congressional subpoena by the January 6th Commission.
Former White House adviser Stephen K. Bannon was charged Friday with two counts of contempt of Congress after refusing to comply with a subpoena from the House committee investigating the Jan. 6 attack on the U.S. Capitol.

He was indicted by a grand jury in Washington — a rare move by the Justice Department to escalate the consequences of a dispute involving Congress. Court records indicate only three such cases have been filed in D.C. since 1990.

The charges against Bannon each carry a maximum sentence of one year in jail and may serve as a warning to others seeking to avoid or defy the Jan. 6 committee.

Attorney General Merrick Garland in a news release said the charges reflect the Justice Department's commitment to "show the American people by word and deed that the department adheres to the rule of law, follows the facts and the law and pursues equal justice under the law."

Neither a lawyer for Bannon nor a spokesperson immediately responded to requests for comment. He is expected to turn himself in next week ahead of his first court appearance in the case.

Analysis: Bannon's Jan. 6 role walks the thin line between revolutionary rhetoric and revolution

Bannon, 67, was subpoenaed Sept. 23, one of a number of former advisers to President Donald Trump who have balked at answering the select committee's questions about the events before and during the riot that sought to prevent Congress from formally certifying the election of President Biden.

Bannon worked in the White House in 2017, but the committee is focused on his conversations and activities as an outside adviser and activist in the run-up to Jan. 6 when hundreds of Trump supporters protesting the election's outcome turned violent, attacked police and stormed into the Capitol building, forcing lawmakers to flee for their safety.

In particular, the House select committee wants to question Bannon about conversations Jan. 5 at the Willard Hotel, when pro-Trump activists sought to convince Republican lawmakers to block certification of the election. The committee's subpoena also noted that Bannon was quoted predicting "hell is going to break loose" on Jan. 6.

Ahead of Jan. 6, Willard hotel in downtown D.C. was a Trump team 'command center' for effort to deny Biden the presidency

David Laufman, a former senior Justice Department official now in private practice, said it is unclear if even criminal charges will persuade Bannon to cooperate.

"But it was essential for the Justice Department to hold Mr. Bannon accountable for his brazen flouting of the subpoena, and in doing so to send a message to others who might defy the select committee's investigative authorities," he said. Laufman represents two of the Capitol Police officers who responded to the riot.

The panel has issued subpoenas to at least 20 Trump aides, including former White House chief of staff Mark Meadows. Meadows did not appear Friday for a scheduled deposition, officials said.
Steve Bannon Indicted On Two Counts Of Contempt of Congress