Teamsters 174 on ULP strike at Gary Merlino Construction
The following is from Teamsters Local 174:
SEATTLE (Nov. 23, 2021) — At 5:30 a.m. on Friday, Nov. 19, pickets went up at Gary Merlino Construction plants in Renton and Seattle as workers walked off the job in an Unfair Labor Practice (ULP) strike. The strike was called after GMC management refused to bargain in good faith with Teamsters Local 174.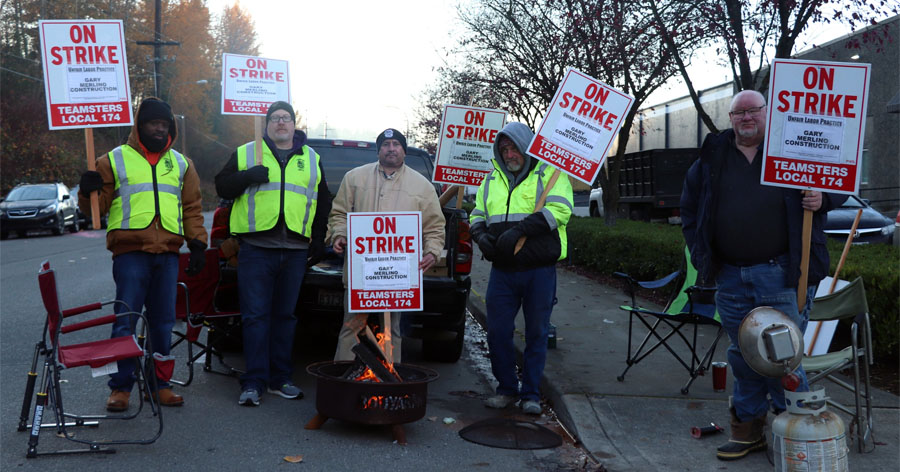 The striking workers have set up picket lines outside several GMC facilities, and concrete mixer drivers for Stoneway Concrete, as well as customers and suppliers of Gary Merlino and Stoneway Concrete and their employees, have the right to refuse to cross the picket lines. The strike has impacted all construction and concrete operations for GMC/Stoneway, and will continue until GMC management returns to the bargaining table ready to negotiate in good faith to reach a deal.
"All we are asking is for Gary Merlino to come to the bargaining table and negotiate with us over contract terms all the other construction companies under Local 174 jurisdiction have already agreed to," said Teamsters Local 174 Secretary-Treasurer Rick Hicks. "It is deeply offensive to us — and especially to these hardworking drivers — that their employer believes they are worth less than their Teamster brothers and sisters doing the same work. If Merlino thinks he can ignore us until we go away, he is wrong. We will stay out on the street as long as we need to get a fair contract for our members."
TAKE A STAND — Join Teamsters picketing in this ULP strike at the following locations:
915 Houser Way N., Renton
9125 10th Ave S, Seattle
6808 S. 140th, Renton
The post Teamsters 174 on ULP strike at Gary Merlino Construction appeared first on The Stand.
Teamsters 174 on ULP strike at Gary Merlino Construction