Test-Optional MBA Programs: Everything You Need to Know in 2022
MBA programs are planning for a return to in-person instruction. Admissions offices are deciding what to keep and what to discard from last year's COVID adaptations. And everyone is holding their collective breath to see if the pandemic restrictions are mostly in our rear view mirror.

What about testing? The situation is very fluid.

Several prominent MBA programs last year went test-optional or offered test waivers. Most of them are continuing with this policy for the 2021–2022 MBA admissions cycle. Admissions offices are increasingly skeptical as to whether all MBA applicants need a GMAT/GRE score to predict that they will be successful in business school. Other programs are allowing applicants to submit the shorter Executive Assessment as an alternative to the GMAT or GRE, and some schools are accepting other tests like the MCAT or LSAT.
Potential for success is predictable without GMAT/GRE
Most business schools use a holistic approach to admissions and view standardized test scores as just one part of a bigger picture. According to Katie Lloyd, associate dean of full-time and evening MBA programs at Georgia Tech Scheller College of Business, "We can predict a candidate's potential for success in and beyond the MBA program without reliance on the GMAT or GRE. Basing a decision on previous academic experience, work history, and interview evaluations has been an effective admissions approach for our Evening MBA program, which began accepting candidates without a test score in 2018."
Full-time MBA programs that don't require the GMAT
School
Are Waiver Requests Reviewed?
Accepts
GMAT
Accepts
GRE
Accepts
EA
Accepts
LSAT
Accepts
MCAT
CMU Tepper
Yes
Yes
Yes
Yes
Cornell Johnson
Yes
Yes
Yes
Emory Goizueta
Yes, under certain circumstances.
Yes
Yes
Yes
Yes
Georgia Tech Scheller
Yes
Yes
Yes
Yes
Yes
Yes
Indiana Kelley
Yes. Candidates applying for a waiver must submit other evidence of academic potential.
Yes
Yes
Michigan Ross
Yes
Yes
Yes
MIT Sloan
Yes, should the applicant's circumstances prevent them from safely accessing the exam.
Yes
Yes
New York Institute of Technology
GMAT is not required for admissions, but may be submitted if your undergrad GPA is below the requirement.
Yes
Northwestern Kellogg
No
Yes
Yes
NYU Stern
No
Yes
Yes
Yes
Yes
Yes
Pace Lubin
Yes. In addition, GMAT/GRE is not required in certain situations.
Yes
Yes
UCLA Anderson
No
Yes
Yes
UNC Kenan-Flagler
Yes
Yes
Yes
Strong scores can be used to build a case for a GMAT/GRE waiver
Strong scores can be used to build a case for a GMAT/GRE waiver
Strong scores can be used to build a case for a GMAT/GRE waiver
University of Delaware Lerner
Yes, if certain requirements are met.
Yes (preferred)
Yes (accepted)
Yes, if you took the test for law school and hold a law degree.
Yes, if you took the test for medical school and hold a medical degree.
University of Texas McCombs

Applicants who are able to take an exam are strongly encouraged to do so.
Yes
Yes
Yes
UVA Darden
Yes
Yes
Yes
Yes
Yes
Yes
***Disclaimer: Information is subject to change. Please check with individual programs to verify.***
If you know of other MBA programs that are accepting tests other than the GMAT or the GRE, let us know! Please email the information to blog@accepted.com with a source that we can confirm.
One implication of reduced reliance on test scores is increased reliance on other elements of your application including your essays, resume, short answer responses, and interview.
With or without test scores, your top-choice MBA is within your reach. Just as we have helped hundreds of applicants get into the MBA program of their dreams, Accepted can help you, too, through professional assessment of your profile, expert honing of your application, and confidence-boosting, targeted interview prep. Check out our MBA Services Packages to get the personalized, one-on-one attention you need to GET ACCEPTED!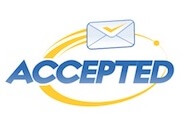 For 25 years, Accepted has helped business school applicants gain acceptance to top programs. Our outstanding team of MBA admissions consultants features former business school admissions directors and professional writers who have guided our clients to admission at top MBA, EMBA, and other graduate business programs worldwide including Harvard, Stanford, Wharton, Booth, INSEAD, London Business School, and many more. 
Want an MBA admissions expert to help you get Accepted? Click here to get in touch!
Related Resources:
The post Test-Optional MBA Programs: Everything You Need to Know in 2022 appeared first on Accepted Admissions Blog.
Test-Optional MBA Programs: Everything You Need to Know in 2022