Thankful Children's Books
Thankful Books! In honor of Thanksgiving coming up, I'm sharing a few of our favorite children's books, focusing on gratitude, family, and a sense of community. We have purchased some of these books and found others at our local library. You can find links to these and a few more on my Bookshop page!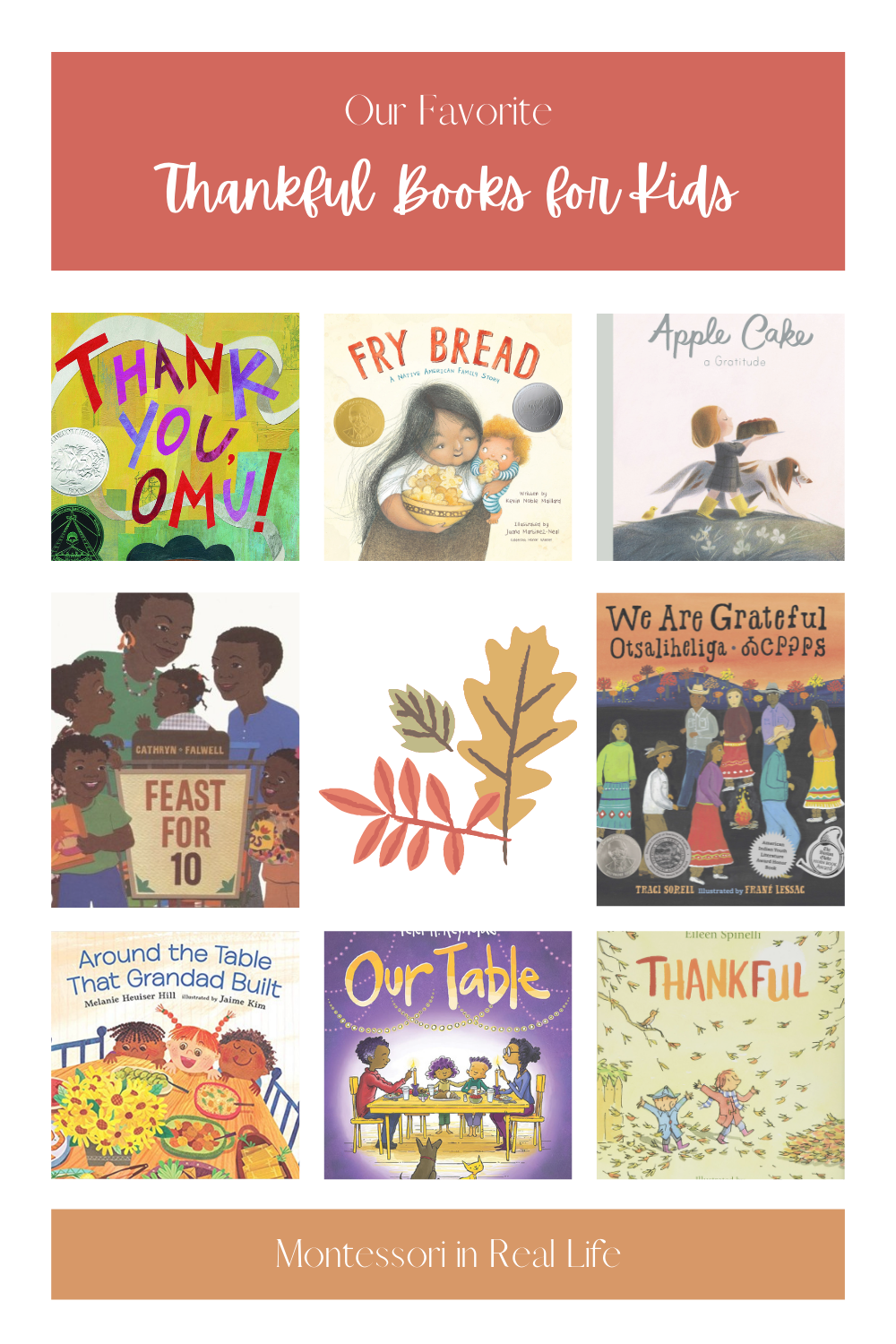 Thank you, Omu - This has been a long time favorite as we are big fans of Oge Mora. This book tells the story of lovely Omu, who makes a big pot of stew, and shares with her neighbors and many community helpers, one by one. Just as she realizes she doesn't have any left for herself, all of her neighbors show up with dishes to share. It is a lovely story of generosity and community. The illustrations are as wonderful as the prose.
Feast for Ten - This is a small board book that's great for babies and still enjoyed by my 4-year-old! In this sweet counting and rhyming book, a mother and her 5 children go to the store to collect all the ingredients for their feast. Back at home, we count to ten again as they prepare the food and sit down to reap the rewards of their hard work. "Eight platters down, nine chairs around, ten hungry folks to share the meal!" I love that on each page, the family is working together, helping prepare this feast as a family.
Around the Table that Granddad Build - This story is cumulative, meaning that the story builds, repeating itself while adding on a new phrase each page. This repetition is great for young children as they enjoy reading along out loud and being able to predict what words come next. In this story, family and friends come together to share a meal, each contributing something they have made that represents their culture or personality. It all starts with the table that Grandad built.
Apple Cake - This is another simple, rhyming gratitute book that even the youngest toddlers will enjoy. In this short story, a little girl goes out for a walk to gather ingredients for apple cake. She thanks the flowers, bees, farmers, friends, and everything and everyone for all the gifts that they share. "Thank you for the food we make. Thank you all for apple cake!" At the end of the book is a delicious recipe for apple cake that is easy enough to do with little ones!
Thankful - Especially in these times, I appreciate how this book celebrates our every day thanks. "The chef for his plates licked clean, the dancer for the beat, the doctor for patients getting well". The images portray one family and how they each play the role of chef, dancer, doctor, and everything else in their day to day life. It's relatable and sweet.
We are Grateful - This tells the story of a Cherokee family and their community expressing thanks, "otsaliheliga", in big and small ways throughout each of the seasons. I love the connection to nature and incorporation of Cherokee traditions and language throughout. There is something new to notice in the illustrations each time we read it.
Fry Bread - This book is a beautiful depiction of a Native American family celebrating fry bread, but more than that, their history, traditions, culture, and community. We love the gorgeous and detailed illustrations and poetic verse. I appreciate the long authors notes at the end with a recipe and an in depth look at this story of fry bread and of indigenous commnities all across America.
The Table - This picture book is brand new and a wonderful addition to our Thanksgiving collection. In this relatable but story, a child remembers all the wonderful times and conversations her family shared at their dinner table. As her family members have become distracted and busy, their family table has grown smaller and smaller until it disappears. She has to figure out a way to create a new table for her family to make new memories and come together to connect once more.
Note: This post contains affiliate links. If you purchase a product through one of these links, you won't pay anything extra, but I will get a small commission, which helps keep this blog going. Thanks for supporting Montessori in Real Life!
Thankful Children's Books