THE CUTER TUDOR - Before and After!
This is officially my second before and after post I've written for our flip houses - our second flip house - but I guarantee that the Cuter Tudor was not your typical second child. Hah! This is the home where we approached a totally different style of home and said HECK YEAH WE CAN DO THIS. And we DID IT! I'm so proud of this tiny little cute house, and simultaneously, so, so exhausted. And OH - we are also already UNDER CONTRACT (after 3 days on the market!) so this definitely feels so rewarding already!
Let me walk back a little bit in time and tell you how this gem came to be ours! My friend Grace is also a real estate investor, and had seen this house and passed on it. (It's funny because I also saw another house and passed on it - she ended up buying it and did things with it that I never could have imagined! We laugh about it but we really believe some houses are YOURS the second you see them. It's a gut feeling!) Anyway Grace called me when I was feeling so anxious that our previous home hadn't sold (when you have a house on the market, time seems to go by SO SLOWLY), and she informed me that I needed a project home to take my mind off of our house on the market. She was totally right, of course. I drove down and saw it that day, and I fell in love with it - plywood front door and all.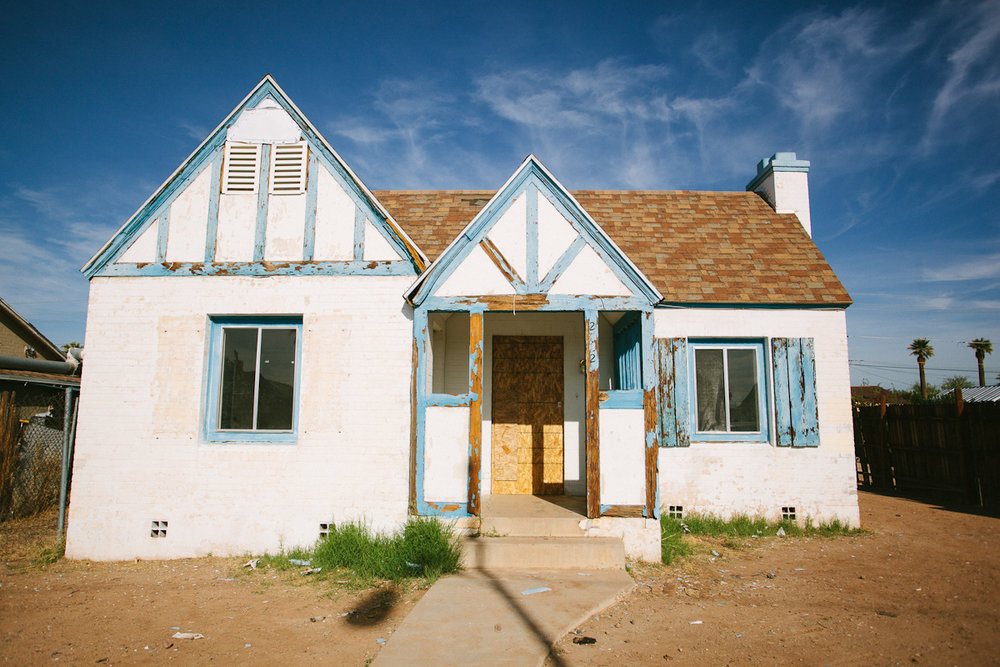 This was absolutely the roughest house we had ever decided to tackle. Both our lender and investor were hesitant - for good reasons! But I was passionate about this house from Day 1, and this neighborhood I'm convinced is the next big development area (it's near the state capitol buildings in Phoenix). I saw the vision though and I wanted to bring some fresh life back to these old bones.
Okay - let's walk inside. :)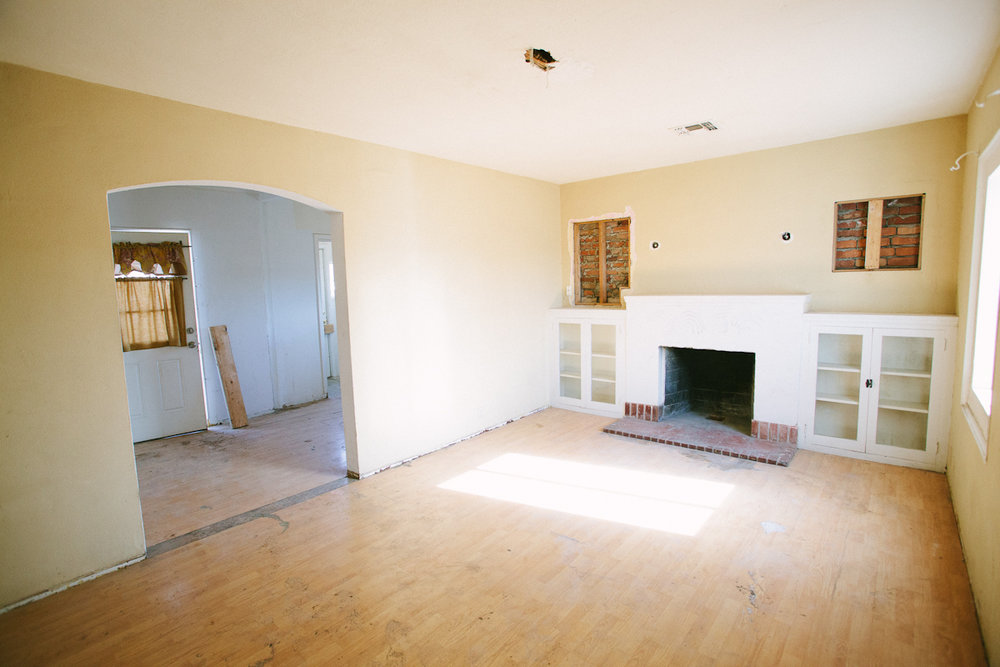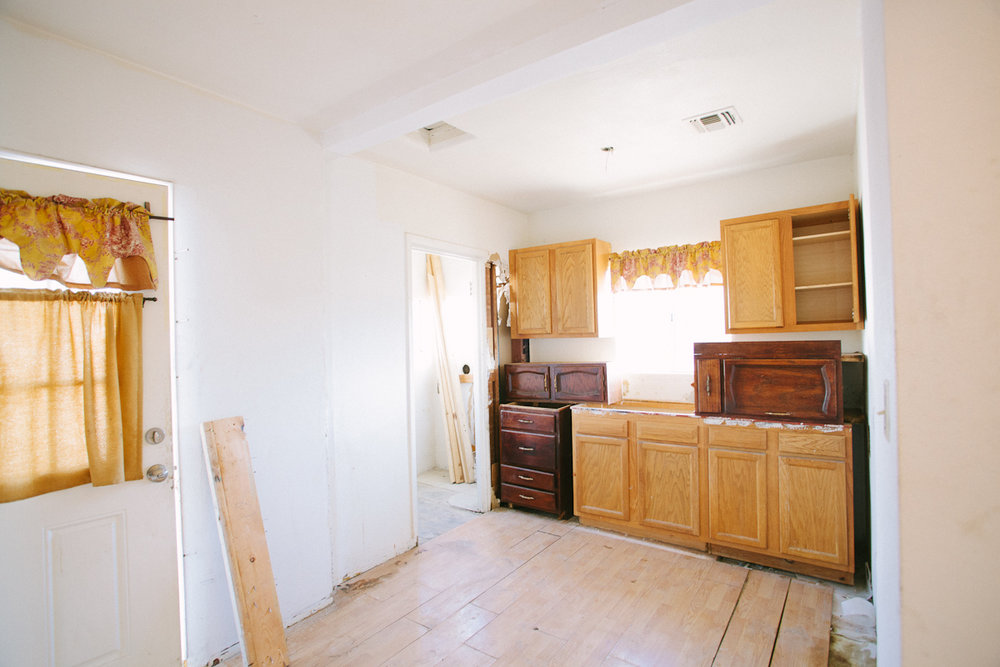 Every room was SCARY. Smelly. TERRIFYING. Baffling. Here were a couple of redeeming factors I saw:
The built-ins in the living room
The natural light
END OF LIST
Not even the original wood floors underneath the urine-soaked laminate flooring were redeemable. Everything had to go. Parts of the floor were even missing where tweakers had come and removed the flooring to get to the copper pipe. Unreal. But here she is today:
The styling vision for this one came VERY quickly as soon as I found the moss green Embrace chairs from Article. Before those chairs hit me like a Mack truck (in the BEST way), I wasn't sure which direction to take the decor for this one. But I loved the deep green of these chairs, the velvet, and the soft lines (reminiscent of a more traditional style) combined with the sleek and modern legs, and I figured it was the perfect direction to take the whole design - combination of traditional, modern, earthy, and unexpected. They set the tone for the rest of the house as soon as you walk in the door (and they're crazy comfortable - It feels like getting hugged when you sit in them). I know that redoing the house is the point of the post, but for me, the end design of it was so essential to making renovation decisions, because it almost felt like having a client in mind, and it made final decisions on hardware and fixtures so much easier. A cohesive and staged house sells so much faster! But more on staging later!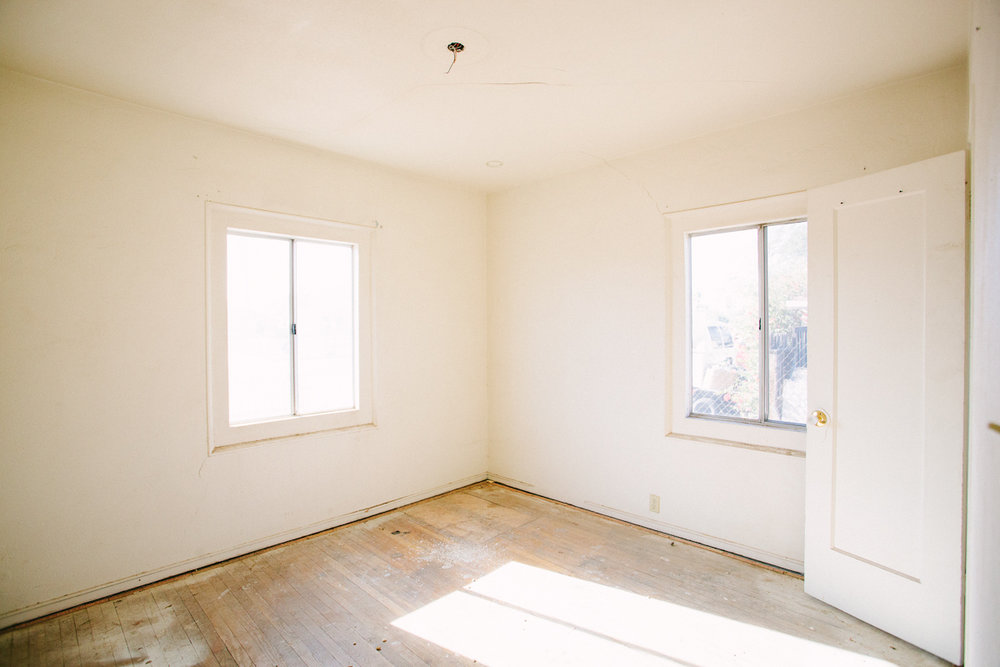 The front bedroom didn't require much work besides the essentials - new flooring, new windows, etc., but it actually had a weird door that led to the front porch, which didn't feel very safe. The old function of two front doors was to allow the breeze to flow freely through the old homes before air conditioning was a thing, but since we here in Phoenix like our modern conveniences of AC, we felt like removing that door and making a usable wall was a better call.
You might have noticed those little concrete side tables (there's one in the living room as well) but my handy and very handsome husband Josh made them! They're light as a feather and super cool, too. I believe he also has a tutorial on how to make them still available on A Beautiful Mess!
The bathroom was by far the scariest part to tackle. It felt scary even walking in there for fear the floor would collapse.
Man, I gotta say - how good are those big black hex tiles? We originally bought them for the bathroom of our last home, but found we needed smaller tile in the shower floor for risk of slipping and falling (grout provides traction. See? These are the weird things you never think about until you purchase the wrong thing).
Also I'm thinking I should probably revisit this photo taken by my friend Constance Higley: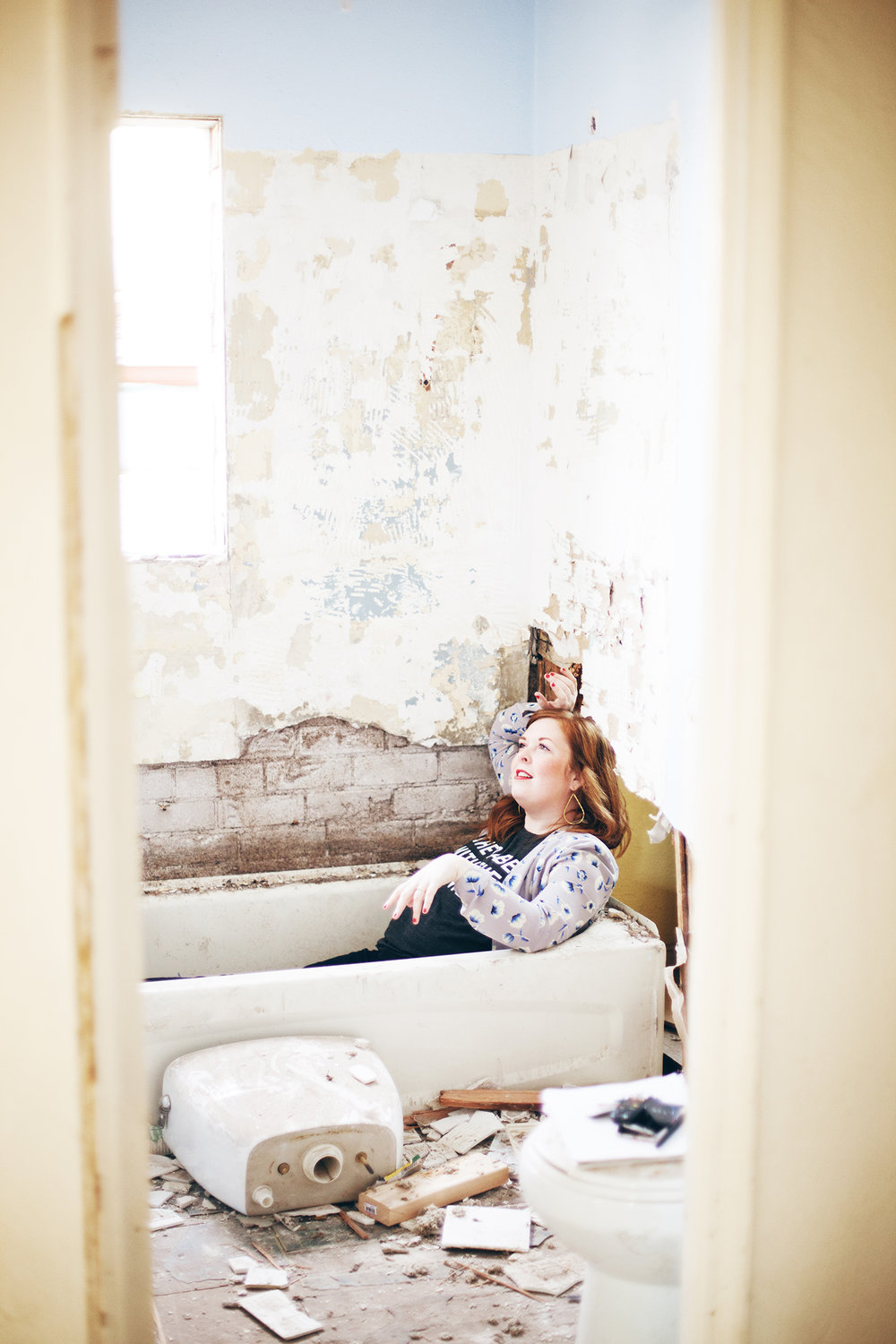 Okay - now the master bedroom is what really stumped us, admittedly!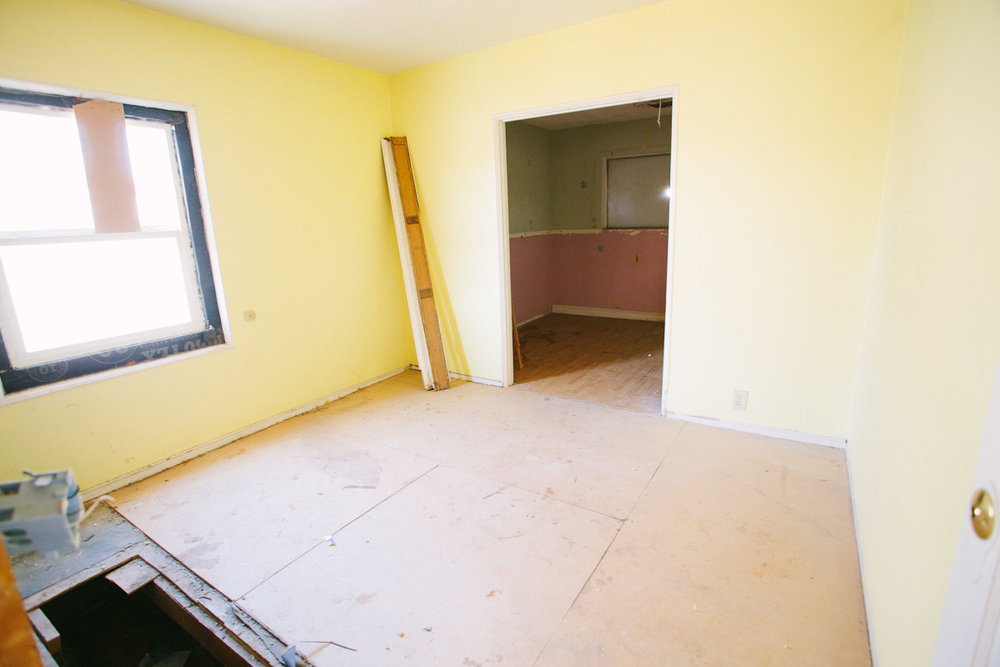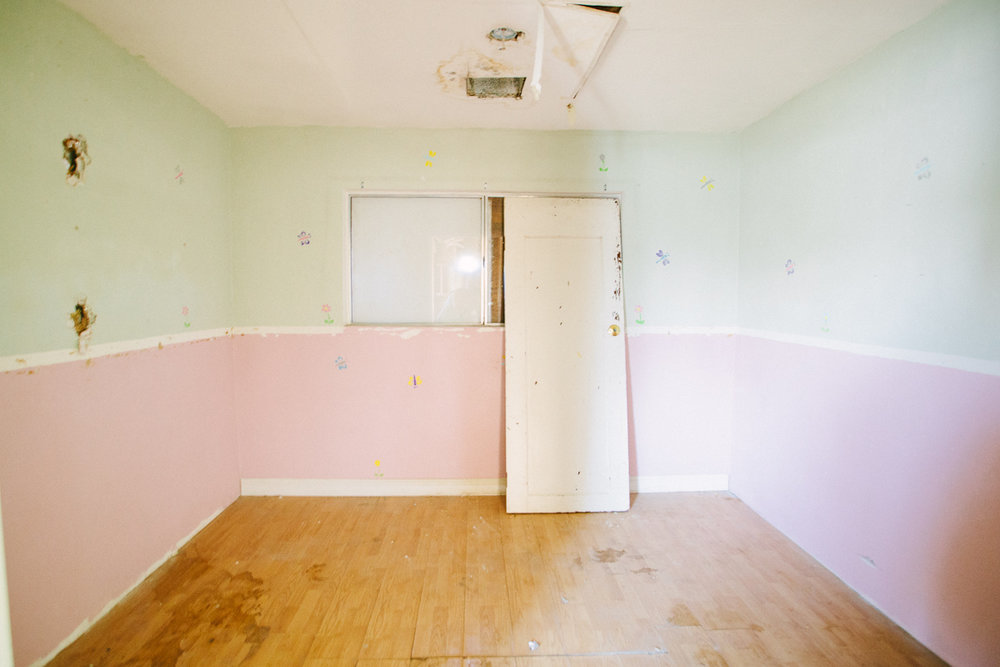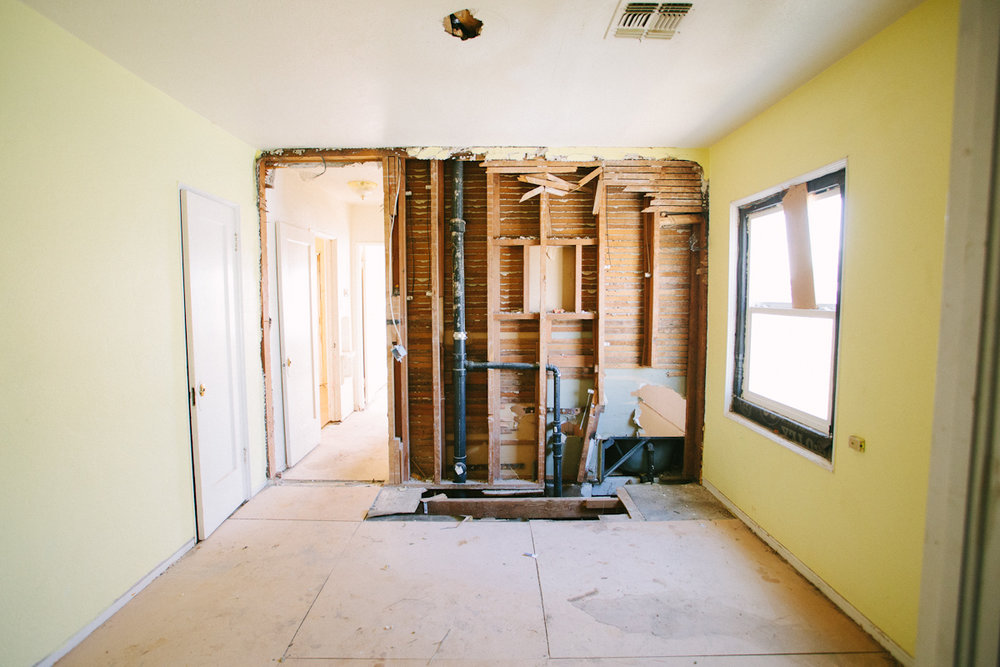 The floor was missing in parts, the closet was impossibly small. It had an extra attached "room" which was really just a closed-in porch that was pieced together. We decided to take that extra room and make a large closet and master bath, and a little hallway nook for plants, reading, yoga, whatever!
It's compact but it makes a big impression, right? The Godsey upholstered bed frame we got from AllModern (similar one here for a lower budget) - it's my favorite upholstered bed frame I've ever seen, and I knew it needed some side tables, but didn't want it to feel cluttered, so we chose the clear acrylic stacking tables from AllModern (they're on sale right now!!) to give the illusion of more space! They're not tricks - they're ILLUSIONS.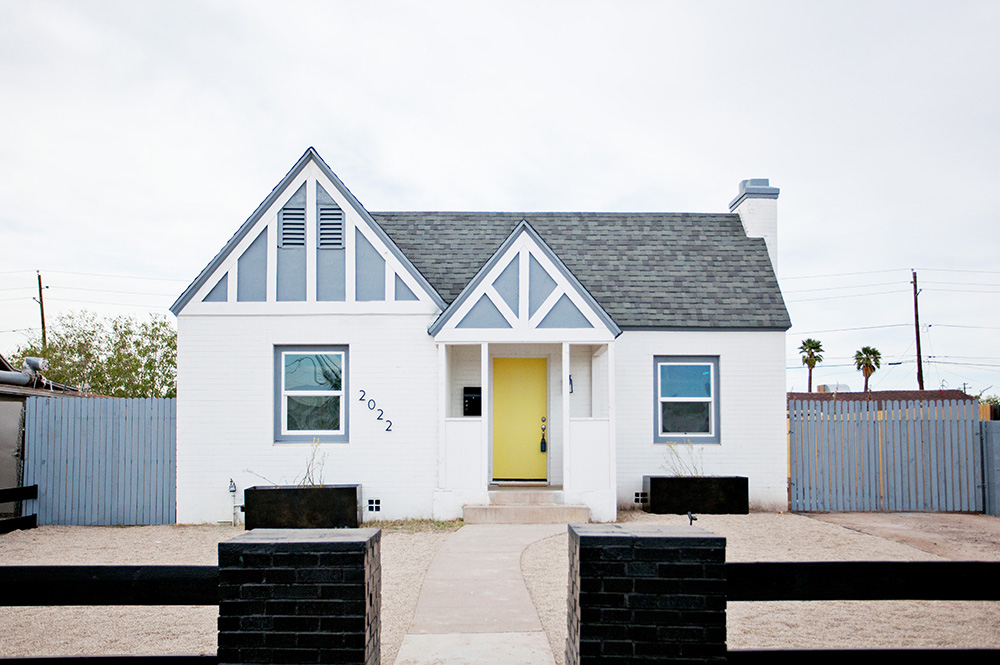 Anyway thanks for sticking with me through this huge commitment of a post!! I'm so pumped on how this turned out and don't worry - I'll be sharing more on my staging and sources soon!! Huge thanks to Article and AllModern for generously providing pieces for staging this home - though this post is sponsored, all opinions are honest and my own! -Sarah
THE CUTER TUDOR - Before and After!