"The Godzilla 4-1-3-2 Tactic" - La Plata: Colombia #FM21
Previously on La Plata: Colombia, Hugo Ojeda's Junior won the 2023 Copa Libertadores.
---
Intro
All FM tactics have names, right? At least, this is what I've done with my tactics in FM21 anyway. For the first 18 months of the save we had El Toque, a narrow 4-2-3-1 that produced everything from the sublime to desperate stagnation. That system eventually led to the birth of the Misery 4-4-2, an effective tactic that saved my blushes and eventually led to the highest moment of this save so far: the 2023 Copa Libertadores trophy (documented last time out).
For reasons explained below, my 2024 Junior side now moves into a third tactical era with a 4-1-3-2 primary tactic. I've dubbed it Godzilla, because why the fuck not? Like Godzilla, we're absolutely monstrous, and more defensively sound than 4-4-2 that came before it. However, before we take a closer look at it; I'll first be updating you on the happenings of the first 6 months of 2024…
---
Season 2024: Apertura
Domestically, the traditional league season has been the strongest in the 3.5 years I've been at Junior Club. Godzilla was brought to life after a 2-2 draw Vs Depo Cali (which also coincided with some leaky performances in the Recopa Finals - more on that later). You can see that the switch led us to ten consecutive clean sheets, and we ended up with our highest ever points total for either Apertura or Clausura campaign with 56 points from a possible 60. Unbeaten too!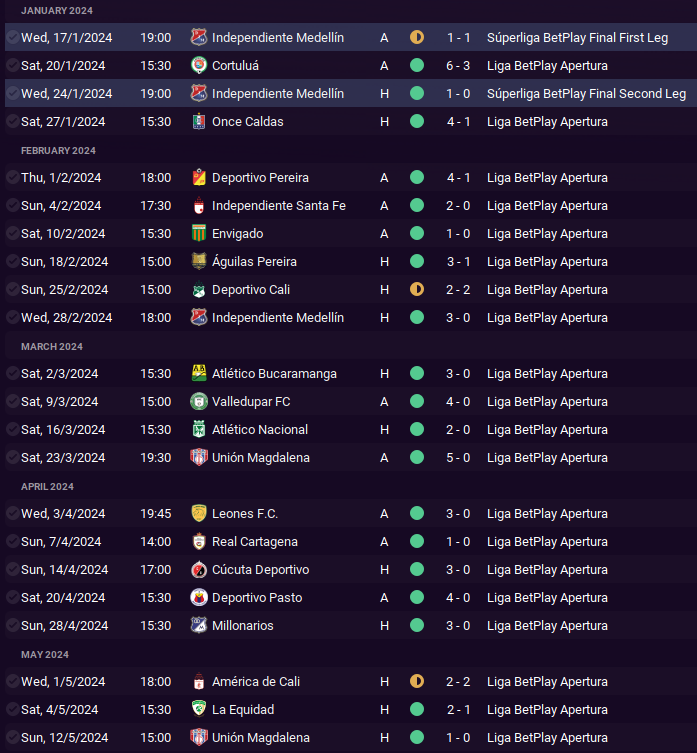 Colombian domestic football is unforgiving though, especially if you don't bring your A Game to the Semi Final Group Stages. Frustratingly, I was without four first team players due to the 2024 Copa América - notably Argentine Goalkeeper Joaquín Blázquez, who has become No.2 to Gerónimo Rulli in the Argentina setup. I was unprepared for it to be honest, it's another FM Life Lesson.
Anyway, my default approach in these situations now is to turn to youth. In Blázquez's place came 17-year-old Rodrigo Vera for his debut, and I suppose the absence of clean sheets shows all too clearly. Vera was very poor, conceding the vast majority of shots he faced in a frustrating Semi Final Group Stage exit.
It wasn't all doom and gloom though. Several other youngsters came into the First Team for this group stage and I was particularly impressed with recently turned 17-year-old Juan Pablo Bohórquez upfront.
2024 Copa Libertadores (and Recopa)
On the continental scene, a chance for an 9th FM21 trophy was taken from us by Sampaoli's Atlético Mineiro (my FM21 bogey side) in the two legged Recopa. The results meant I had not beaten them in six attempts across the save, and I was really sick at the amount of chances we gave them.
It is the one major failing of the Misery 4-4-2: it's wild and sometimes it feels like we have to score six or seven in games (because we'd likely conceded five). So, as previously mentioned we turned to a 4-1-3-2 Godzilla tactic, and it really steadied the ship and helped us finally beat Minerio 4-1 at home - in yet another face-off against them in the Copa Libertadores Group Stage.
Topping the group and defending our Copa Libertadores crown has to be one of our major objectives this season. I am therefore delighted we could navigate this potentially difficult group which also contained fellow Colombian outfit América de Cali and Bolivian cloud toppers The Strongest.
Next up is a tie against Argentine Big 5 side San Lorenzo. Personally, it's refreshing to have a continental knockout match that's not a side from Brazil! San Lorenzo will be a test having finished in the top 3 of Argentina for the previous two years, and to go and take my Junior side to another iconic stadium is pretty exciting.
---
Godzilla 4-1-3-2 🦖
I said last time out that I was pretty fixed on the 4-4-2, and I had planned to use it for at least one more calendar year. It would probably win me further domestic honours, and always promised some insane high scoring games (remember those 7-5s?). However, defeats home and away in the Recopa Final showed me that Brazilian teams could embarrass me on the Continental scene, and maybe I wouldn't be so dominant against them like last season. A further chaotic 2-2 draw at home to Depo Cali prompted me to try the new Godzilla tactic in the subsequent match, a tactic that had always been in my back or my mind [as an eventual tactic to use] having seen three top Colombian youngsters come into First XI reckoning: Asprilla, Bonilla and Padilla.
Godzilla is my way of playing them all together…
View fullsize
View fullsize
View fullsize
I'm willing to write off the early Semi Final Group Stage exit, on the basis that I was missing four key players and did not prepare for that eventuality well enough. The youngsters in the side will hopefully learn from this experience, and I am sure they can have a strong second half of 2024 mainly because I saw such a solid three months between March, April and May.
How, and why, does this system work so well?
Top class Strikers, who have a great partnership - since the Misery 4-4-2 the Durán-Caraballogol dynamic has worked well as Advanced 'n' Pressing Forwards, I was therefore always going to keep two central strikers in my next tactical system. Both players run the channels superbly and take it in turns to run in behind. They have scored a combined 46 goals during Apertura (27 for Durán and 19 for Carabllogol), but also create for one another too. If the challenge last year was to see Caraballogol score 50 goals (he eventually got 49)…there's potential that both could do it this year!

Exceptional Wing Backs, I think one of the reasons my narrow 4-2-3-1 (El Toque) never stuck was the fact that I never had elite wing backs at the time. But now, especially with CWB-As on the right, I am blessed with Ignacio Laquintana 🇺🇾 or Cristian Arrieta 🇨🇴 to call upon - both so good that they are currently at the Copa América representing their respective nations. The CWBs on either flank ask questions of the opposition, by bombing forward and doing what Dani Alves was so adept at: that is to occupy the opposition half as much as their own. The success of any narrow tactic is down to them, and in the Godzilla 4-1-3-2 they are majestic.

Naturally overloads central areas. So, the Half-Back is dropping lovely into the defence which in turn pushes the CBs wider. It's really a back-three and we're not easily 'got at' centrally, despite Anthony Padilla not being perfectly suited for the defensive demands of the role. He is however developing at an insane rate, and his high Decisions, Composure, Technique and two footedness see him assured in possession. In turn, this allows the three midfielders in front of Padilla the luxury to get forward and support the Strikers. Our primary Playmaker (Jorge Carrascal) is a roaming one, so it's no surprise that he gets around the pitch, carries the ball with his great Dribbling and is willing to play the riskier passes (see below example of two sexy assists in the same match Vs Deportivo Pasto).
View fullsize
View fullsize
Out of Possession Vs Atlético Mineiro
It's always good to analyse a big match against top opposition, because you're often tested at both ends of the pitch. Are your strikers getting chances, and are you stopping the opposition from creating them against you? During the home tie Vs Atlético Mineiro in the Copa Libertadores you can see that out of possession the team is very narrow and will retreat into a back four. The central four players will press more urgently as a pack. The advantage here is that is very hard to go through the team vertically, sides will often have to go wide (even without a Team Instruction set to force opposition wide)…which is where space is scarified to the opposition inherent in the narrow formation. Generally I am happy with that, my defenders are quite beasty in the air and I have horrible memories from Season 2 where my CBs couldn't cope with anybody in front of them playing through balls.
If we do regain possession, both AF and PF are matching up against the opposition centre backs - who can easily put one another through on goal during a quick counter attack. As mentioned previously, both are instructed to run the channels and it's often one doing it whilst the other runs into the space created. Glorious.
In Possession Vs Atlético Mineiro
Like any good formation though, it's how the tactic morphs when in possession in order to create an attacking opportunity. Below is an attack Vs Mineiro, which sees the midfield move the ball quickly & vertically…whilst the Complete Wing Backs bomb forward at either side of the pitch. As long as the players are technically capable at moving it forward to feet at this speed, you can bypass the opposition and then have two wing backs crossing towards a front three (as the CM-A pushes up).
Getting numbers into the box is what it's all about, as Jhon Durán goal to make it 3-1 on the night showed. You can see my CM-A (in this game: Ángel) lurking about and being a problem. CM-A is where I think Bonilla is best out of the three illas, due to his higher Off The Ball Rating and trait to Get Into The Opposition Area. Although I may change CM-A to Mez-A to see if I can get even better outputs for goals and assists, as he'd have a greater free role in this side. But I originally opted for CM-A as I'd already have a player roaming next to him (Roaming Playmaker).
Download the tactic, if you can't be bothered to copy or need it quickly translated into another language…
---
Next Steps
I'll be taking the 4-1-3-2 Godzilla with me to La Copa LQ, a prestigious knockout competition that will feature as part of Issue 7 Latte Quarterly. Watch out to see how that fares against some of FM21's greatest club sides: Universidad de Mendoza of Chile and Atalanta of Italy.
In addition to that, I'll be looking for a backup Goalkeeper (in the event of more problematic International call-ups for Joaquín Blázquez) during the off-season (10 days)…before we begin 2024 Clausura.
As always, thanks for reading/sharing and caring.
FM Grasshopper
"The Godzilla 4-1-3-2 Tactic" - La Plata: Colombia #FM21